Landscaping is an umbrella term that covers many services and features installed outside your home. Depending on the size and scope of the project, you can expect to pay between $4,000 and $20,317 for a professionally designed and installed landscape. The national average cost of landscaping across large and small projects is about $12,825.
You can also hire a pro to maintain your existing landscape, with a monthly landscaping cost ranging from $133 to $370, for a national average of $252 per month. That cost fluctuates based on the size and complexity of your yard and the specific services you need, such as lawn mowing, garden care, and bush trimming.
As a standard rule of thumb, the total front yard and backyard landscaping cost should be about 10% of the value of your home. So, if you live in a $250,000 house, a reasonable landscaping budget for you would be around $25,000 (unless you have something particularly expensive or affordable in mind).
Landscaping and more at the click of a button
With LawnStarter
Average Landscaping Costs in 2024
National average cost: $12,825
Typical price range: $4,000 – $20,317
Extreme low end: $2,000
Extreme high end: $38,333
Because there are so many different ways to landscape a yard, the price point of your specific project will depend on the size of your yard and the features you want to add. Most landscaping costs range, on average, between $4,000 and $20,317 for new installations. The average cost for landscaping is around $12,825.
A complicated front yard/backyard design with custom water features, exotic plants, and other unique features will raise the landscape pricing to as much as $38,333. A smaller and simpler project, such as planting a few trees or flower beds, might only set you back about $2,000. These approximate prices include materials and professional labor costs.
Cost Estimator by Size
The size of your yard dictates how much space your landscape designers and installers have to work with. More yard means more softscaping (plants such as shrubs and flowers) and hardscaping (inorganic features like lighting or pavers).
To have a pro landscaper work on your project, whatever it entails, landscaping prices range from $5 to $24 per square foot. Using these numbers, you can figure out your estimated budget.
If you only want simple softscaping, multiply your project's square footage by $5 to represent the lower end of the typical range. For something more involved, such as a man-made pond or full-on outdoor kitchen, multiply by the high end of $24.
Most homeowners' needs will fall somewhere in the middle, so you might be best off using the average landscaping cost per square foot of $15. Remember, when estimating your budget, you don't have to consider the entire yard, only the areas where you want new landscaping.
Pro Tip: Instead of using the size of your whole property, think about how much space you actually want to work with. The cost of landscaping backyard spaces with multiple hardscaping features will be much higher than the cost to landscape front yard areas with a few flower bed installations.
Keep in mind that pro landscapers don't actually charge by the square foot. Your bill will reflect your specific design choices and the challenges that your yard presents. However, estimating a landscaping cost per acre or per square foot can be a useful method for anticipating your budget.
Get quality landscaping at an affordable cost
With LawnStarter
Common Landscape Installation Services
There are as many different options for designing a landscape as there are people to come up with them. You can combine countless elements and features to create an outdoor space that truly suits you and your home.
The following are some of the most common features of pro landscape projects. We've estimated how much you would pay to add each one to your project in a landscape pricing sheet for each type of service, including the cost of materials and a pro landscaper's fees.
Landscaping Services
LANDSCAPING SERVICES
AVERAGE COST
Landscape design
$2,200 – $6,180
Land grading
$100 – $3,400
Mulching
$17 – $68 per cubic yard
Planting flower beds
$650 – $3,000
Planting trees and bushes
$25 – $3,000 per tree or bush
*depends on size
Landscape Design
Landscape design is the piece of the puzzle that brings all of these features together. Your landscape pro may be able to create a design for you, or you may decide to hire a separate designer or landscape architect who specializes in planning.
The exact cost of your landscape design depends on the size of your property, the complexity of the design, and how long it takes to finalize the plans. On average, the typical homeowner will pay about $2,200 to $6,180 for a professional landscape design.
Land Grading
Installing certain landscape features might mean reshaping your property, especially if it includes a drastic incline that would be difficult to build on.
Even if that isn't the case, you may want to reslope your landscape for other aesthetic or practical reasons. Depending on how much work needs to be done, professional land grading can cost from $100 to $3,400.
Mulching
Installing mulch in your plant beds can help prevent weeds and give your whole yard a finished look. You could choose an organic, eco-friendly mulch, such as bark chips or straw, or go for something more aesthetically pleasing and long-lasting, such as rubber mulch or river rock.
The type of mulch you use and the size of your plant beds will determine the cost of mulch for your project. For materials and professional labor, expect to pay anywhere from $17 to $68 per cubic yard.
Planting Flower Beds
Adding a flower bed or two to your landscape is an effective, easy, and relatively inexpensive way to add pops of color to your outdoor space. Costs vary immensely based on the size of the bed, the flowers you use, and other site-specific factors.
How much do landscapers charge for planting flower beds? The average cost of a professionally installed flower bed ranges between $650 and $3,000.
Planting Trees and Bushes
How much you'll pay for new trees and bushes, it all depends on the species you decide to plant. The larger the tree or bush you want planted, the more you'll pay. Choosing plants rare in your area will also result in a higher cost.
The cost of planting trees and bushes can fall anywhere from $25 to $3,000 per plant, with small shrubs on the low end of the spectrum and large, mature trees on the high end. Planting in bulk could result in savings.
Lawn Care Services
| | |
| --- | --- |
| LAWN CARE SERVICES | AVERAGE COST |
| Drainage | $1,899 – $5,346 |
| Sodding | $0.87 – $1.76 per square foot |
| Sprinkler system | $2,400 – $4,200 |
Drainage Installation
Does your front or backyard sometimes flood because of poor drainage? You might be able to solve those problems by installing a new yard drainage system. There are several options for what type of system you should install based on your yard's needs, and each one has its own price point.
Some of the most common types include French drains, catch basins, and yard pipes. Across styles, the national average cost for installing a residential yard drainage system is $1,899 to $5,346.
Sod Installation
Homeowners wanting a luscious, healthy lawn overnight might consider installing new sod. If you hire a contractor to do it for you, you'll have to pay for the sod itself plus hourly labor fees. The cost of sod comes out to about $0.87 to $1.76 per square foot.
Sprinkler System Installation
Is a traditional sprinkler system or a more water-efficient drip irrigation system more appropriate for your home? Either way, your landscaping contractor can most likely install a new system in your yard for about $2,400 to $4,200.
Yard size, placement of the sprinklers, and the type of sprinklers you choose influence your final cost.
Hardscaping Services
| | |
| --- | --- |
| HARDSCAPING SERVICES | AVERAGE COST |
| Decks | $3,920 – $10,540 |
| Fencing | $1,330 – $5,550 |
| Fire pits | $240 – $2,400 |
| Gazebos | $5,358 – $9,058 |
| Landscape curbing | $730 – $1,720 |
| Landscape lighting | $100 – $200 per light |
| Outdoor kitchens | $5,057 – $17,276 |
| Pathways | $8 – $22 per square foot |
| Patios | $2,363 – $5,909 |
| Pergolas | $2,100 – $6,000 |
| Ponds | $3,680 – $14,500 |
| Retaining walls | $3,500 – $9,400 |
| Water fountains/waterfalls | $1,141 – $3,692 |
Decks
Similar to a patio, a deck can be a nice place to relax outdoors, and you can customize your deck design to fit your property and your needs.
You can build your deck from wood, composite, or other materials, depending on how much money you're willing to spend. You could pay anywhere from $3,920 to $10,540 to have a professional landscaper build your deck.
Fencing
How you plan to use your fence will determine how much you have in your budget to spend on it.
For example, if you want privacy, you'll have to pay for the extra materials to build a 6-foot or 8-foot privacy fence.
On the other hand, if you just want to add an aesthetic touch to the front yard, a small 4-foot picket fence would be a better and more affordable option for you.
The height, length, material, and style of your fence will determine how much it costs to install. Based on these variables and others, the cost of most fence projects will fall between $1,330 and $5,550.
Fire Pits
Along with your patio or other outdoor living space, you might want to install a fire pit so you can enjoy your landscape even after dark.
Most firepits cost about $240 – $2,400, depending on the size and the specific type of stone you use.
Gazebos
A gazebo is a less common outdoor living space you can set away from your house. If you want a new gazebo, you can either hire a professional landscaper to build you one from scratch or purchase a prefabricated gazebo kit, which may be easy enough for you to install on your own.
Gazebos come in many different materials, including wood, vinyl, composite, and metal. Gazebos also come in a wide range of styles and sizes for different backyards.
Whatever kind of gazebo you want, installing it will take at least some light construction work to secure the base. The cost of a gazebo can get quite high, typically ranging from $5,358 to $9,058.
Landscape Curbing or Edging
When it comes to landscape curbing or edging, you have two basic options: pre-built blocks or custom-poured concrete. Within the pre-built blocks category, you have dozens of options for the material you want to use, including something simple like concrete or luxurious like flagstone.
The price of landscape curbing on your specific property depends on both the material you choose and how much edging you need. All considered, expect to pay around $730 to $1,720 overall for professional edging.
Landscape Lighting
Adding lights to your landscape can complement the other features in your yard. For example, you could install spotlights to highlight specimen plants you're particularly proud of after dark.
If you have an outdoor living space, such as a deck or patio, adding string lights or lanterns will help you enjoy your outdoor space at night.
Because there are so many different kinds of outdoor lights and ways to use them in a landscape, you should estimate the price of your lighting project based on the average rate of $100 to $200 per light. That cost includes the lights themselves and the labor it takes to hook them up to your home's electricity.
Outdoor Kitchens
An outdoor kitchen can be anything from a grill with a small covering to a fully functional cooking space with a sink, stove, countertops, and cabinets. When you start installing features that need electrical or plumbing hookups, the price of your project can skyrocket.
Overall, the cost of an outdoor kitchen ranges from $5,057 to $17,276, with small, simple spaces on the low end and more deluxe spaces on the high end.
Pathways
The per-square-foot cost of installing a pathway is the same as that of installing a patio. It all depends on which material you choose, with gravel being the cheapest and flagstone the most expensive.
Across all the most common materials, the national average price of a professional pathway installation is $8 to $22 per square foot.
Patios
Backyard landscaping is all about comfort and usable space, and a paver patio is one of the most popular features homeowners use to meet those needs.
Since there are so many different kinds of pavers, and patios can be all different shapes and sizes, the cost of a patio is highly subjective. Overall, a typical backyard paver patio will cost between $2,363 and $5,909.
Pergolas
A pergola can frame your outdoor space and provide some coverage like a gazebo, but it's more affordable and easier to install. The size of your pergola and the material it's made of will influence the cost, with the cost of a pergola usually falling between $2,100 and $6,000.
The most cost-effective pergolas are built with cedar, while the most durable, low-maintenance, and expensive ones are fiberglass.
Ponds
A man-made pond's price varies based on factors including its location, size, and liner material. A large pond for fishing and other recreation will cost significantly more than a small decorative koi pond.
If you want to build a new pond in your yard, you'll have to pay for the labor to dig the pond, the liner, ornamental materials, and any fish or other wildlife you want in and around your pond. Altogether, installing a pond will cost between $3,680 and $14,500 to hire a contractor for this job.
Retaining Walls
When budgeting for a retaining wall, the first thing you have to do is choose your material. Cinder blocks are a versatile and affordable option, while poured concrete is more expensive. Other popular choices include bricks, boulders, and stone veneer.
Depending on which material you choose and the length and width, you can expect to pay between $3,500 and $9,400 for a retaining wall installation.
Water Fountains/Waterfalls
Decorative water features such as fountains and waterfalls can be complicated to install if they require a plumbing hookup or land grading. Custom-built water features will cost more to install than pre-built models because they require more work.
A landscaping contractor will charge about $1,141 to $3,692 to install a water fountain or waterfall, including materials and labor costs.
Lawn treatments and more at the click of a button
With LawnStarter
Common Landscape Maintenance Services
After installation, your landscape needs regular attention to stay well-manicured. While some homeowners might enjoy yard work, others will hire landscapers and lawn care services to handle the maintenance of the lawn and other features.
These are some of the services that typical homes require on a regular basis. The prices used here represent the cost of a one-time job. Signing up for a weekly, bi-weekly, or monthly plan can result in savings per visit.
Lawn Mowing
Mowing the grass is one of the most essential tasks to keep a yard neat and tidy. It's also one of the most common services that lawn care services offer.
How much you pay for a lawn care pro or crew to mow your lawn will depend on the size of your yard and how difficult your grass (obstacles like flower beds or hilly, sloped terrain, for example) is to cut.
Depending on your specific contractor, you may pay per work hour, per square foot, or a flat rate. Whichever pricing method you use, the overall cost to have your lawn mowed should be about $30 to $65.
Lawn Fertilization
Fertilizing your lawn involves adding nutrients to the soil to help the grass grow lush and healthy. Some fertilizers use chemicals, while others feature organic components that foster growth. The type of fertilizer you want to use in your lawn and your contractor's pricing method will determine your overall cost.
Most landscapers charge for fertilization by the work hour or by the square footage of your yard, so you'll pay more to fertilize a larger yard no matter what. For average homeowners, fertilizing the lawn costs between $88 and $540.
Bush Trimming
The price of bush trimming, just like with tree trimming, varies based on the size and location of the plant.
Contractors tend to charge for bush trimming by the work hour or by the bush (if you have multiple getting trimmed at once). National average costs range from $50 to $75 per hour or $6 to $15 per bush. Taller bushes (6+ feet) make up the high end, while shorter bushes make up the low end.
Lawn Aeration
Lawn aeration is all about giving your soil space to breathe and keeping your grass and plants healthier. The process of aeration involves poking holes in compacted soil, and it's especially important for dense soils with a lot of clay.
Most contractors charge for aeration by the square foot, and the average homeowner pays $75 to $225 total.
Yard Cleanup
A general yard cleanup includes various services you may need to keep your yard looking its best. During a yard cleanup, a landscaper can pick up leaves, remove debris after a storm, trim plant beds, remove weeds, mow the lawn, and more.
How much you would pay for a yard cleanup depends on the size of your property and which services you want. Your overall cost will most likely fall between $170 and $375.
Get the best tree care service at an affordable price
With LawnStarter
Tree Trimming
The cost for trimming trees is determined by the complexity of the job and the specific tree.
For example, the price of trimming a tall tree or one in a difficult location, such as close to a power line, will be higher than the price for a smaller tree or one out in the open. In general, you can expect to pay $315 to $700 per tree for tree trimming.
Lawn Seeding
Lawn seeding (as opposed to sodding) is a way to improve your lawn's health and thickness gradually over time instead of overnight.
If you have sparse patches in your lawn, apply seed there to grow more and healthier grass. Seeding a typical lawn costs about $680 to $1,815 overall, depending on the size of the yard and the type of seed you use.
Other Factors That Affect Cost
Certain aspects of your property can add extra costs to your landscaping estimate. For an accurate yard landscaping cost estimate, consider these factors, along with adding up the cost of each individual landscaping service you need.
Soil Type
Especially for a new property you aren't familiar with yet, it's a good idea to test your soil (or have a professional test it) before you start planning your landscape.
Your soil type will dictate what kind of plants are best for your yard, which will affect the overall cost of your project. You may also find out that your soil needs enhancements, which will be an added fee to your landscaping rates.
Permits
For landscaping projects that involve construction work, such as building a fence or resloping land, you may need to pay for a permit before you get started.
If you're working with a contractor, the company will probably obtain any necessary permits for you, but you'll still have to pay the fees, which can range from $20 to $400, depending on the laws where you live.
Land Survey
It's important to know where your property lines lie before you start a landscaping project to ensure you don't build anything where you shouldn't.
You can hire a licensed land surveyor to map out your property for about $350 to $700. The survey could cost more or less based on the size, shape, and history of your property.
Cost of Installing a New Landscape DIY
Many landscape features (such as a pond or retaining wall) are probably too difficult for most homeowners to install on their own, but some are relatively simple.
If you're looking to save money and you have time on your hands, you should be able to landscape a basic yard without too much trouble.
For our purposes, we'll go over the costs and methods of installing a front yard landscape with plant beds and a paver pathway. Both of these features should be easy enough for just about anyone to put together.
Equipment Needed to Install Plant Beds
An avid gardener or home improvement DIY-er will probably own all or most of the tools needed to install a basic plant bed. Planting your own flower beds is an especially cost-effective option if you don't have to buy any of the tools.
However, in case you have to buy shovels, spades, and other gardening tools, we gathered average pricing information from Lowe's, Home Depot, and Amazon to give you a good idea of how much you would pay for each one.
| | |
| --- | --- |
| TOOL | AVERAGE COST |
| Work gloves | $10 |
| Protective safety glasses | $16 |
| Spade | $16 |
| Sod cutter | $26 |
| Round point shovel | $44 |
| Rubber mallet | $16 |
| Ground stakes | $16 for 4 |
| Mason's line | $15 |
| TOTAL | $159 |
Cost of Materials for Plant Beds
Even if you already have the tools you need, you'll have to purchase the actual components of the bed itself — plants, mulch, edging, etc.
How much of each material you need depends on how many beds you want and the size of each bed. Costs will also vary based on the specific plants and other materials you use.
| | |
| --- | --- |
| MATERIAL | AVERAGE COST |
| Mulch | $17 |
| Flowers | $22 |
| Organic soil amendments | $34 |
| Plastic landscape edging | $47 |
| Small trees | $51 |
| Shrubs | $53 |
| Landscape fabric | $101 |
| TOTAL | $325 |
How to Install Plant Beds DIY in 9 Steps
1. Design the beds. Before you break any ground, plan the approximate size, shape, and contents of your landscape beds.
Once you decide where the bed will go, draw out what you want it to look like on a piece of paper so you have a good idea of what you're going for when you start the installation process.
2. Outline the landscaping bed area. Mark the space on the ground where your landscaping bed will go.
For a linear-shaped bed, you can use ground stakes and mason's line (or another string) to create your outline. For a kidney-shaped or otherwise curved bed, you can simply lay your garden hose on the ground in the appropriate shape.
3. Dig around the perimeter. Use a spade to dig a trench around the perimeter of your plant bed. Later, you'll install the edging in this trench.
4. Remove vegetation in the plant bed area. With a sod cutter, pull up any weeds or grass in the way of where you want the plant bed to go.
Remove all vegetation down to the roots so it doesn't grow back and damage your plant bed later. At the same time, remove other debris in the area, such as rocks or twigs.
5. Till amendments into the soil. With your spade and shovel, till soil amendments — preferably organic materials such as compost — into the top 6 or so inches of soil.
6. Lay landscape fabric. Cover the bed with landscape fabric to prevent weeds. Leave a few inches hanging over the edge of the bed so you can secure it under the plastic edging later. Cut X-shaped holes in the fabric where plants will go.
7. Plant. Arrange your choice of flowers, shrubs, and small ornamental trees in the bed. Bury the roots of each plant in about 6 inches of soil.
After planting, tuck the landscape fabric close to each plant, leaving no space around the roots for weeds to break through.
8. Install landscape edging. Place the plastic edging in the perimeter trench you dug earlier. Tuck the loose ends of the landscape fabric under the edging to hold it in place. Drive the edging into the dirt with a rubber mallet and secure it with stakes or pins.
9. Install mulch. Pour a 2- to 3-inch layer of mulch on top of the fabric to help suppress weeds and give the bed a finished look.
Equipment Needed to Build a Paver Pathway
Building a paver pathway to your flower bed is a little more complicated and requires some more advanced tools. Expect to spend significantly more time and money building your walkway than you did on your plant beds.
These are the tools you'll need to get the job done, complete with average prices across major national retailers Amazon, Home Depot, and Lowe's.
| | |
| --- | --- |
| TOOLS | AVERAGE COST |
| Rope | $18 |
| Tape measure | $18 |
| Dust mask | $19 per pack |
| Level | $21 |
| Shovel | $23 |
| Push broom | $31 |
| Finishing trowel | $36 |
| Garden hose with nozzle | $42 |
| Landscape rake | $48 |
| Hand tamper | $62 |
| Leaf blower | $156 |
| Concrete saw | $211 |
| TOTAL | $685 |
Cost of Materials to Build a Paver Pathway
Estimating the cost of materials for a pathway without specific project details is a little tricky. The size of your pathway will determine how much of each material you need, and the type of paver you choose will determine the cost per square foot.
Concrete and granite are both budget-friendly options, while limestone is more premium.
In this example, we estimated the materials needed for a 30-foot long and 3-foot wide path. For a project like this one, you would need approximately 100 1-foot x 1-foot pavers, 2,000 pounds of crushed gravel, 15 cubic feet of paver base sand, and 50 pounds of polymeric sealing sand.
To figure out the total cost of materials, we used average prices from Amazon, Lowe's, and Home Depot.
| | | |
| --- | --- | --- |
| MATERIAL | AVERAGE COST *per item | TOTAL COST *per 30-foot long, 3-foot wide path |
| Pavers | $4 apiece | $400 |
| Paver base sand | $5 per 0.5 cubic foot | $150 |
| Construction adhesive | $7 per 10 oz tube | |
| Polymeric sand | $70 per 50-pound bag | |
| Crushed gravel | $884 per 2,200-pound bag | |
| TOTAL | | $1,511 |
How to Build a Paver Pathway DIY in 6 Steps
1. Outline the pathway. Lay two long pieces of rope along the ground, outlining the course of the path. While creating the outline, use a tape measure to ensure the path is the correct width throughout.
In most cases, a front yard path should be about 3 feet wide, giving enough space for two people to walk side-by-side.
2. Dig a trench. With a shovel, dig a trench about 6 to 7 inches deep between the ropes you laid out. Remove all rocks, vegetation, and other debris as you dig. Use a hand tamper to make the soil at the bottom of the trench firm and compacted.
3. Add a layer of crushed gravel. Pour 2 to 3 inches of gravel into the trench and even it out with a landscape rake. Spray the gravel with a hose and use the hand tamper to compact it, just like you did with the soil.
Keep adding layers of gravel and tamping them down until the gravel base is just below ground level.
4. Spread paver sand. On top of the gravel, add a half-inch layer of paver sand. Spread out the sand and smooth the surface with a finishing trowel.
5. Install pavers. Now that the gravel and paver sand base is ready, it's time to lay your pavers.
Before installing your pavers, spray the sand with a light mist from your hose. As you lay the pavers, fit them together in the pattern and style you've chosen.
Once you've laid out your pattern, use construction adhesive between each row. You may need to use a concrete saw to cut some of the pavers so they fit the shape of your walkway.
6. Add polymeric sand. Before you begin this step, check your local forecast for incoming rain to make sure the sand has several days to set. Dump the sand on top of the pavers and sweep it into the cracks using a push broom.
When all the cracks are full of polymeric sand, blow away any excess with a leaf blower.
Finally, spray another light mist of water over the sand to activate it.
Get quality lawn care at an affordable cost
With LawnStarter
Cost of DIY Landscape Maintenance
There are several basic yard maintenance tasks that should be easy and relatively cheap for you to do on your own. This way, instead of hiring a pro landscaper on a regular service plan, you can pay for the necessary equipment once and maintain your yard for free each subsequent time.
Equipment Needed for Landscape Maintenance
Some of the most essential landscape maintenance tasks also happen to be the easiest. Here are the tools you'll need to maintain your own yard, including lawn mowing, tree and bush trimming, and general yard cleanups. We gathered average prices for each tool from Lowe's, Home Depot, and Amazon.
How to Maintain Your Landscape
Exactly what kind of maintenance your yard needs depends on your own preferences and the specific features you have. As a general rule of thumb, though, here are some services that most landscapes need regularly, with tips on how best to do them yourself.
Lawn mowing: When you mow the lawn is as important as how you mow it. For most lawns, mowing once a week during the growing season should be sufficient.

Whenever you mow, make sure you adjust your mower to the appropriate cutting height for your species of grass. The "one-third rule" dictates that you should never cut more than one-third of the grass height at once. You'll usually want to avoid wet grass, either from rain or morning dew, since cutting wet grass is harder than cutting dry grass.

Along with mowing the lawn, consider using a string trimmer to edge around landscape beds, driveways, and other obstacles. A string trimmer can reach tight spots that a lawn mower can't, eliminating all the unruly grass in your yard for a well-manicured appearance.
Tree and bush trimming: Trimming overgrown trees and bushes is another yard maintenance task that should be easy, as long as the plant isn't too big or close to a power line.

Pay attention to your bushes' growth and flowering periods to know when you should trim them. You should only have to trim mature trees once every few years.

Before you start trimming, it's a good idea to lay a tarp around the base of the plant to catch stray twigs and other debris that fall as you work. Using a tarp will make cleanup much easier.

While trimming, use garden shears or a similar tool to cut overgrown branches back at the base. You'll usually want to start at the bottom and work toward the top. Do your best to maintain the plant's natural shape. Follow the "one-third rule" here, too, and try not to remove more than a third of the plant's size at one time.
Seasonal cleanups: In spring and fall, it's important to prepare your landscape for the oncoming summer or winter.

A spring yard cleanup includes removing debris, such as leaves, pet waste, and twigs, from your grass and plant beds. You should also apply weed and pest control in spring. It's usually a good time to prune shrubs and deadhead perennial flowers, too.

In fall, you'll want to remove all the debris from your lawn again. This time around, you'll have to deal with a lot of fallen leaves. You can choose to rake them up and bag them, remove them with a leaf blower or vacuum, or use them as mulch. Lawn treatments such as aeration and fertilization are usually best to do in fall.
DIY vs. Professional Landscaping Costs
A front yard landscape easy enough for the average homeowner to install would include simple features such as plant beds and a paver pathway leading to the front door.
To buy the necessary equipment and materials for this project, you would spend about $2,680 in total. And if you are wondering, "How much does a landscaper cost?" hiring a pro to install the same landscape would cost around $3,438 based on national average prices.
You could save almost $1,000 on landscaping rates by installing the features yourself, but you'll spend a significant amount of time and effort building your flower bed and pathway.
DIY landscape maintenance is an ongoing chore that takes consistent work and time throughout the year, but it could save you hundreds or even thousands of dollars in the long run as opposed to hiring a lawn care service, pro landscaper, and/or tree trimming crew.
For the necessary equipment for basic yard maintenance, you would pay a one-time cost of about $586. Regular maintenance by professionals runs around $133 to $370 per month nationally.
Cost of Landscaping by Location
Certain materials used in landscaping — particularly lumber and stone — have different price points in different regions of the country. Types of stone or wood native to your local area will cost less than materials that have to be shipped from far away.
If your landscape project involves construction, ask your contractor or a local supplier which materials are the cheapest where you live.
Region also affects the types of plants you can use in your landscape, since certain species do well in certain climates. It's a good idea to use native plants whenever possible because they tend to save you money in the long run and are easier to take care of.
Aside from the availability of natural resources affecting cost by region, labor costs vary from market to market, too. The average price for landscaping will be higher in a large metropolitan city than in a small rural town due to the higher labor costs.
FAQ About Landscaping
1. Does Landscaping Add Value?
Yes, landscaping can increase your home's value. Many landscape features boost curb appeal, and having a well-maintained yard can increase your property value, too. Homes with landscaping tend to have a 5% to 12% cost advantage over similar homes with no landscaping.
2. What Landscaping Adds the Most Value to a Home?
Healthy trees and shrubs, front pathways, functional outdoor lighting, outdoor living spaces in the backyard, and automatic sprinkler systems are some of the best landscape features for increasing property value. So, be sure to include them in your backyard landscaping budget.
3. What are the Elements of Landscape Design?
If designing your own landscape, the design elements you should pay attention to include:
Line: Whether the lines (edges of plant beds, perimeter of a deck, etc) in your design are straight or curved
Color: Choosing the colors of plants and hardscapes either to blend together or create contrast
Form: The shape of your landscape's plants; many landscapes use either tailored, geometric forms or more natural forms
Texture: Texture refers to the roughness, smoothness, coarseness, fineness, etc., of plants and hardscapes
Scale: The size of your landscape features compared to each other and the size of your home
Hire a Pro for Landscaping and Maintenance
Landscaping can mean a lot of different things, from planting new flowers to resloping a property to mowing the lawn. The cost of landscaping a front yard and backyard professionally ranges between $4,000 and $20,317 for most homeowners. The cost varies so much because of the many different features a landscape could include.
On the other side, the average cost of landscaping maintenance is from $133 to $370 per month for a regular service plan. Typical plans include things like lawn mowing, bush trimming, weeding, leaf removal, and other common landscaping needs.
To save money, you could landscape your yard yourself, from installation to maintenance. Going the DIY route would require a lot more work on your part, so you have to decide if budget or convenience is more important to you. If you'd like to just sit and relax while your landscape gets taken care of, call a landscaping pro near you today.
Order top-notch landscaping service with easy online booking
With LawnStarter
Main Photo Credit: Oleg Afonin / Flickr / CC BY 2.0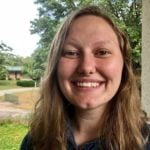 Jordan Ardoin
Jordan Ardoin is a writer and editor with a passion for sustainable, earth-friendly gardening and lawn care practices. When she isn't sharing her knowledge about lawn care and landscaping, you can find her curled up with a good book and a cat in her lap.