Well-designed landscaping adds curb appeal, increases home value, and can turn your yard into a beautiful oasis. The average landscape designer costs $2,200 to $6,180 per project or about $50 to $150 per hour. These fees are only for design services. Materials and installation costs also add to the total cost of a landscape project.
Landscaping and more at the click of a button
With LawnStarter
For this price, you receive a detailed landscaping plan with 2D drawings or dynamic 3D renderings. Most homeowners pay about $4,200 on average for a new landscape design, but prices vary with property size, landscape complexity, and other factors.
In this price guide, we talk about:
Average Landscape Design Costs in 2023
| | |
| --- | --- |
| National Average Cost | $4,200 |
| Typical Price Range | $2,200 to $6,180 |
| Extreme Low-End Cost | $500 |
| Extreme High-End Cost | $15,000 |
These are the typical costs of landscape design services for midsize yards. Most homeowners pay about $4,200 for landscape projects of intermediate complexity, ranging from $2,200 to $6,180. Remember, this is only the design fee. Landscaping materials and installation will cost extra.
If you aim for a charming, low-cost landscaping design, you can lower the price by:
Focusing on a segment of your garden and leaving the rest as a lawn
Going for a simple design with native plants and just a few hardscaping elements, such as edging and walkways
Considering online landscaping services
Searching for a landscaping company that offers the design for free with landscape installation
Expect to pay a high-end price of up to $15,000 or more for:
Landscaping a terrain that requires grading, retaining walls, a new drainage system, etc
A complex design with water features, exotic plants, or an outdoor kitchen
Remodeling a large yard
A full-service designer that works with the landscape contractor during the installation
Landscape Design Cost Estimator by Size
| | |
| --- | --- |
| Area to Be Landscaped | Average Overall Cost |
| ¼ acre | $550 – $1,650 |
| ½ acre | $1,100 – $3,300 |
| 1 acre | $2,200 – $6,530 |
| 2 acres | $4,400 – $13,500 |
Most landscape design companies have price packages for gardens under 1 or 2 acres and custom offers for larger yards. But the size of your property is only one cost factor. The price of landscape design per square foot can change with the season, terrain, designer, and other elements.
Landscape Design Cost per Square Foot
Professional landscape design costs $5 to $45 per square foot but can go as low as $0.05 per square foot for large areas. Although it can be practical when you need garden design services for only a section of your outdoor space, this per-square-foot pricing structure is rare.
| | |
| --- | --- |
| Basic Landscape Design | $5 to $10 per square foot |
| Intermediate Complexity | $5 to $15 per square foot |
| Advanced Design with Full Remodeling | $15 to $45 per square foot |
Landscape Designer Rates per Hour
One way to determine the average cost of landscaping design is to use the hourly rate. A landscape designer typically charges $50 to $150 per hour. Well-known experts with excellent design skills and years of experience cost more. Most landscape professionals include a not-to-exceed amount in the contract to reassure clients about the final cost.
Landscaping Design Price per Site Plan
Landscape design companies can also use a price-per-site plan. In this case, expect a cost of $300 to $1,500 per plan, depending on the following:
Property size
Landscaping complexity
Design plan's final form (2D or 3D)
A garden design plan costs an extra $400 to $500 if you receive a 3D rendering instead of a 2D drawing.
Average Landscaping Design Costs as a Percentage
You might also receive landscape design offers with the price included as a percentage of the total landscaping cost, after the cost of materials and installation. This typically ranges from 15% to 20% and varies with project size and value.
Landscape Designer Fees at a Flat Rate
Expect to pay a flat rate or lump sum if you're looking into online landscape design services. Independent designers and landscape architects also tend to use this pricing structure. Flat fees are often estimated using:
The size of the property (under 1/2 acre, between 1/2 acre and 1 acre, and over 1 acre)
The location (front yard, back yard, side yard)
Some landscape architects and designers start with a flat fee for the design plan, then charge an hourly rate while overseeing construction. Others use a flat fee for the initial consultation and shift to charging by the hour for all following stages.
Retainer or Deposit
Keep in mind that some designers will ask for a retainer fee before starting to work on your design project. This can be a flat amount or a percentage of 25% to 35% of the total design cost.
Get quality landscaping at an affordable cost
With LawnStarter
Other Factors That Affect Cost
The cost of landscape design also varies with other factors, such as:
Design Complexity
The average landscape design pricing ranges from $2,200 to $6,180. Landscapers charge more for residential projects that are difficult or very complex. For example, you'll pay more for a design with a terraced garden on a steep slope. But, it will cost less to do something small like design a butterfly garden or install a water fountain in a flat yard.
Type of Landscaping
There are three main types of landscaping that you can choose from or mix together:
Softscaping includes grass, trees, flowers, bushes, and other live elements.
Hardscaping is landscaping without plants or grass. It refers only to artificial structures like pavers, pathways, decks, or gazebos.
Xeriscaping is the most complex of all. This type of design combines water-efficient plants and structures to minimize water consumption.
Softscaping design is the most simple and affordable. Designing hardscapes and xeriscapes is more expensive and might require a landscape architect.
Landscape Designer Experience
Hiring a landscape designer costs $50 to $150 per hour, but fees vary with experience. Years of successful projects and an impressive portfolio can take hourly fees up to $200.
Consider paying more for an experienced and reputable landscape designer if:
The yard is challenging, with steep slopes, gullies, and a unique shape
You have some complicated ideas and need a skilled professional to avoid an impractical design
Otherwise, you can save money by hiring a newer designer. Remember: less experience doesn't necessarily mean lower quality work.
Landscape Architect vs. Designer
| | |
| --- | --- |
| Landscape designer rates | $50 to $150 per hour |
| Landscape architect rates | $65 to $200 per hour |
Expect to pay about $65 to $200 per hour for hiring a landscape architect. Their studies and experience are more suitable for structural and functional problems, such as:
Dealing with elevation problems, land grading, and leveling
Designing retaining walls
Planning for drainage and irrigation systems
Advising on placing service lines, property entries, and parking areas
Final Product
How much a landscape designer charges by the hour or project also depends on what you receive at the end of the contract. This can be:
A two-dimensional drawing
A 2D digital representation
An immersive, dynamic 3D rendering
Expect to pay an extra $400 to $500 if you want a 3D model.
Season
Landscaping is a seasonal service, more in demand in spring and summer. You can get a better price if you wait for autumn or early winter to hire a landscape designer or architect.
Order top-notch landscaping service with easy online booking
With LawnStarter
Related Services
Landscape design is only the first step in reshaping your garden. You should also take the time to learn about the costs associated with:
Land Grading and Leveling
Garden remodeling can sometimes involve grading the terrain and leveling the surface. Land grading costs $100 to $3,400 for an average yard and is often necessary for uneven or steeply sloped land.
Popular Landscape Materials
Besides design services, landscape material costs are also a factor adding significantly to project costs. Here are some of the most popular materials and their costs.
| | |
| --- | --- |
| Landscaping Materials | Average Cost |
| Sod | $0.30 to $0.83 per square foot |
| Pea gravel | $25 to $67 per cubic yard |
| Crushed stone | $35 – $67 per ton |
| Pavers | $5 to $25 per square foot |
| Stone | $7 – $20 per sq ft |
| Brick | $6.25 – $11 per sq ft |
| Mulch | $2 to $5.50 per bag |
Common Landscaping Structures
There are a few common, simple, beautiful landscaping structures most designers recommend for residential projects. Here's how much they cost to install.
| | |
| --- | --- |
| Landscaping Elements | Average Cost |
| Patio | $8 to $20 per square foot |
| Deck | $15 to $55 per square foot |
| Pergola | $20 – $60 per square foot |
| Pathways | $8 to $22 per square foot |
| Landscape curbing or edging | $988 to $1,611 per project |
| Water fountain or waterfalls | $1,141 to $3,692 per project |
| Trellis | $60 and $350 per linear foot |
Landscape Edging
Landscape curbing or edging costs $990 to $1,610 per project and gives structure and depth to the different parts of a landscape.
Patios and Decks
You can use a patio or a deck to define a leisure area where you can add furniture or even an outdoor kitchen. A patio costs $8 to $20 per square foot to install, while the price to build a deck ranges from $15 to $55 per square foot.
Pergola
A pergola is usually included in landscape design on a patio or deck but can also be installed directly on the ground. With slats for a roof, pergolas provide partial shade. The cost to have a pergola installed ranges from $20 to $60 per square foot.
Trellis
Lattices and trellises are design features used for climbing plants. They can also frame an entrance or a pathway. You can build a trellis for a cost of $60 to $350 per linear foot.
Water Fountains and Waterfalls
Landscape designers use water features to add movement and sound to a garden. They can be part of a low-cost design or high-end landscaping. Water fountains and waterfalls cost about $1,140 to $3,690 to install.
Lawn Care Services
A beautiful landscape includes a well-maintained, green, and lush lawn. You can take care of it yourself or hire professional lawn care services. Here are the costs for the most popular lawn maintenance jobs.
Cost of Landscape Design by Location
The cost of a landscape design consultation and the fee for a site plan also vary with the state you live in, mainly because of yard size. Maryland, California, and New Jersey have the smallest yards, with an average of 0.17 to 0.21 acres. On the other hand, average yards in Vermont and Maine are 1.59 to 1.64 acres, so they are more expensive to landscape.
The cost of living also has an impact on landscape design pricing. The fee of a landscape designer will be higher in expensive states. So, expect to pay more in Hawaii, Washington, Massachusetts, California, and New York and less in Mississippi, Kansas, or Alabama. Also expect higher costs in metropolitan areas.
FAQ
Can I DIY landscape design?
Yes and no. If you're familiar with soil types, plants, colors and shapes, construction materials, and design styles, go for it and draw a plan. But consider investing $100 to $200 and hiring a professional landscape designer to check your ideas. This will prevent you from starting an impractical and costly project.
What is the best landscape design cost calculator?
Most cost calculators available online use your zip code to estimate the total price of a landscaping project. Since they also include materials and installation in their cost estimates, the best way to determine a landscape design cost is to take 15% to 20% of that sum. 

For example, if the total fee for a project is estimated at $30,000, you can estimate that design costs will be about $4,500 to $6,000.
Can designers do landscaping without a license?
Yes, and many of them do. Some are self-taught, and some have studied, but landscape design doesn't necessarily require a license. Landscape architecture does, however, since architects also reshape the land, design service lines, and plan drainage and irrigation systems.
How much does a landscape plan cost?
You can pay, on average, between $300 and $1,500 for a landscape plan with drawings, a project budget estimation, and details regarding landscape materials.
How long should a landscape design take?
If the communication is good between the designer and the customer, it typically takes 3 to 4 weeks to complete a site plan from the initial consultation to the final format, including revisions.
Final Thoughts
Landscape design costs $2,200 to $6,180 on average, and it's the first step to a beautiful yard that can improve curb appeal and increase home value. You could try to design your landscape DIY, but it's a unique mix of art and science that takes knowledge of landscaping elements and a keen eye for aesthetics.
For a charming, elegant, impressive outdoor living space that's easy to build and maintain, consider hiring a pro. Find a landscape designer in your area and set up a consultation to see how much a site plan would cost for your home.
For garden and yard design – find landscaping pros near you
With LawnStarter
Main Photo by: Scott Costello / Flickr / CC BY 2.0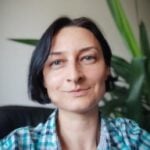 Sinziana Spiridon
Sinziana Spiridon is an outdoorsy blog writer with a green thumb and a passion for organic gardening. When not writing about weeds, pests, soil, and growing plants, she's tending to her veggie garden and the lovely turf strip in her front yard.