If you don't mind putting in a little elbow grease, push lawn mowers (aka walk-behind mowers) are some of the best and most affordable options for small- to medium-sized lawns. We're here to help you wade through the hundreds of models on the market with this ranking of the best push lawn mowers money can buy.
We've collected picks for any preference, whether you want something big and powerful or small and efficient. The gas-powered, electric, and reel mowers on this list represent the best combinations of power, ease of use, and price tag.
Now, let's get into the details so you can figure out which of the 10 best push lawn mowers is best for you.
Top 10 Push Lawn Mowers – Reviews
*Note: All prices listed are subject to change.
This push mower from PowerSmart has all the power you need for a half-acre or less lawn with its 170 cc gas engine. At 54 pounds, it's about 10 pounds lighter than your average gas mower, making it easier to maneuver around a yard.
Bonus points: Several reviewers said this mower's easy-pull cord consistently starts the motor on the first try.
For even more convenience, the PowerSmart DB8621CR has five cutting height adjustments with a simple lever switch. It also has 8-inch rear wheels that make it easier to push through rough or uneven terrain. The "2-in-1" in its name refers to its discharge chute and mulcher for grass clippings.
For the low price tag, this gas lawn mower delivers a tough, reliable performance and all the features the average homeowner needs to mow a lawn.
Specifications:
Type: Gas
Power: 170 cc
Cutting width: 21 inches
Weight: 54 pounds
Pros:

✓ Powerful engine
✓ Lightweight
✓ Cheap
Cons:

✗ No bagging feature
✗ Oil not included in purchase
With this corded electric mower, you won't have to worry about mixing or storing fuel like you would with a gas mower. You won't be limited by a battery run time, either. On the other hand, you'll have limited movement depending on the length of your extension cord, so this mower is really only an option for smaller yards.
If you can get past the cord, the BLACK+DECKER MM2000 is a great mower that costs around $200. Its 13-amp motor is strong enough to plow through thick, overgrown grass, and its "EdgeMax" deck design lets you mow right along the edge of fences or landscape borders. This is the perfect mower if you have a small yard with a lot of landscaping to mow around.
Worth noting: The MM2000 has seven cutting height settings ranging from 1.5 to 4 inches. Its handle folds conveniently for carrying and storage. The deck has bagging, mulching, and side discharge capabilities.
Specifications:
Type: Electric (corded)
Power: 13 Ah
Cutting width: 20 inches
Weight: 46.2 pounds
Pros:

✓ No gas or battery to deal with
✓ Lightweight
✓ EdgeMax deck design
Cons:

✗ Tethered to a cord
✗ Plastic deck
Especially for a battery-powered mower, Sun Joe's 17-inch model is extremely lightweight at only 38 pounds. That means it's easy to lug around the lawn, even for people with minimal upper body strength (such as seniors). The mower's easy-glide wheels also help it maneuver through long grass without resistance.
Even though the double 24-volt batteries (48 volts total) don't pack the most powerful punch, they should be enough to mow a small lawn with grass that isn't too overgrown.
For under $200, this is about the best battery-powered lawn mower you could ask for. On top of that, the battery runs for up to 75 minutes on a single charge (many electric mowers run out at 60 minutes).
One disadvantage of the Sun Joe is its lack of special features. It doesn't have a side discharge chute or mulching capabilities, only a rear bag to collect grass clippings. It does, however, have six cutting height options between 1 and 3 inches.
Specifications:
Type: Electric (battery)
Power: 48 volts
Cutting width: 17 inches
Weight: 38 pounds
Pros:

✓ Lightweight
✓ Cheap
✓ Long battery run time
Cons:

✗ Low voltage
✗ Small cutting width
✗ Can't mulch or discharge grass clippings
With side discharge and mulching capabilities, this powerful and versatile mower can tackle your landscaping needs in a snap.
Although it's a higher price point than some of the other mowers on this list, that price reflects the quality. The 140 cc engine is equipped with recoil start and primer, so you can get started on the job quickly and easily.
Great for small to medium-sized properties, this mower's durable 11-inch rear tires with bar treading can handle a wide variety of terrains.
You can adjust this tool to six different heights, and with a 21-inch cutting width, you can cut through all types of grasses in one pass.
This Yard Machine's maintenance is hassle-free since it doesn't require oil changes like other gas mowers. All you have to do is keep an eye on the oil level and add more when needed.
Specifications:
Type: Gas
Power: 140 cc
Cutting width: 21 inches
Weight: 66 pounds
Pros:

✓ Powerful engine
✓ Multiple height settings
✓ Side discharge and mulching capabilities
Cons:
✗ May struggle on wet ground
✗ Some reviewers had issues with missing pieces
Reel lawn mowers like this one require more work than gas or electric mowers. As you push a reel lawn mower, you're manually making the blades spin.
That being said, reel mowers can be an affordable, eco-friendly option for small lawns and homeowners who don't mind a little extra sweat.
If you think a reel mower might be up your alley, the 2000-20 model from Scotts Outdoor will give you the best bang for your buck. The mower has a 20-inch cutting deck, larger than most other reel mowers (even more expensive ones). Its ergonomic handle has a cushioned grip to help counterbalance the extra strain a reel mower puts on the user.
Since it doesn't have a motor, the Scotts Outdoor 2000-20 is the lightest push mower on our list. You won't have to worry about buying fuel, charging batteries, or avoiding a cord. This mower runs on pure manpower.
Specifications:
Type: Reel
Power: N/A
Cutting width: 20 inches
Weight: 34 pounds
Pros:

✓ No power source to worry about
✓ Lightweight
✓ Eco-friendly
Cons:

✗ More work than other mowers
For the less than $300 price tag, the TB160 from Troy-Bilt is a great value. It has one of the strongest engines on our list: a 160 cc Honda engine. The Honda name promises reliability and longevity. Plus, the engine has auto choke, which means it's easier to start.
This mower has 3-in-1 capabilities for disposing of grass clippings, and it comes complete with bagging and mulching attachments. It also features Troy-Bilt's special TriAction cutting system, which uses a rake bumper to lift the grass, a fine mulching blade, and a symmetrical deck with even airflow to create a cleaner cut.
With six cutting height adjustments, the TB160 is as versatile as it is powerful. It doesn't include too many frills, but it's a solid and reliable mower that should meet all your residential needs.
Specifications:
Type: Gas
Power: 160 cc
Cutting width: 21 inches
Weight: 69.5 pounds
Pros:

✓ Powerful, reliable Honda engine with auto choke
✓ TriAction cutting system
✓ 3-in-1 grass clipping disposal
Cons:

✗ Heavy
Comparable to a gas-powered mower, the 60 v Greenworks Pro cordless electric model is a powerful and eco-friendly option for all sizes of residential properties.
The single-lever, seven-height adjustment allows you to cut through a variety of grass types with ease. The tool also has a 3-in-1 discharge design, which will enable you to mulch, bag, or discharge grass clippings through the side, depending on your needs.
The mower has a brushless motor, which provides quieter work, more torque, and increases the life of your mower.
Bonus points: This Greenworks mower also comes with LED lights so you can mow at the crack of dawn or while the sun is setting.
The biggest downside to this mower is the price point. It costs more than any electric or gas mower on this list and is more akin in price to a riding mower than a push behind.
Specifications:
Type: Cordless electric
Power: 60 V
Cutting width: 21 inches
Weight: 65 pounds
Pros:

✓ Easy to use
✓ 50 minute run time
✓ No pull cord
✓ Powerful
Cons:

✗ Expensive
This 11-amp corded electric mower is great for small to medium-sized properties. Affordable, lightweight, and quiet, this is an excellent option for families on a budget.
This mower has a good cutting width at 14 inches and can be adjusted to five heights, so you can switch between a slight trim to a full cut with ease.
As a 2-in-1 mower, this device has a rear discharge and mulching system, but it's the little details that make this mower great. This tool comes with a 16-gallon grass bag to catch any debris, and the grass level indicator lets you know how much grass you've collected.
This mower also has a compact and slim frame with foldable handles, making it easy to store and maneuver.
Specifications:
Type: Corded electric
Power: 11 amps
Cutting width: 14 inches
Weight: 21 lbs
Pros:

✓ Folding handles for easy storage.
✓ A great alternative to gas mowers.
✓ Lightweight
✓ Quiet
Cons:
✗ You can only go as far as the cord.
✗ Some users struggled on challenging terrain
If you already have other EGO Power+ tools, the LM2000-S cordless mower would make a great addition to your collection. It runs on the same lithium-ion batteries as other EGO products, so you wouldn't have to purchase a new battery or charger.
This mower runs for up to 45 minutes at a time on a 56-volt battery, which should be enough time and power to handle an average yard.
Even if you aren't an established EGO fan, you might consider this mower for its high-torque magnetic motor that doesn't require the fuel and maintenance of a gas engine. The LM2000-S also has an easy push-button start and 3-in-1 mulching, rear bagging, and side discharge capabilities.
The downside of premium battery-powered mowers like this one is the cost. This cordless mower goes for about $100 more than the most expensive gas mower on our list. That being said, if you're looking for an eco-friendly alternative to traditional mowers, this is a high-quality option you can count on.
Specifications:
Type: Electric (battery)
Power: 56 volts
Cutting width: 20 inches
Weight: 56.2
Pros:

✓ Uses the same batteries as other EGO Power+ tools
✓ Push-button start
✓ 3-in-1 grass clipping disposal
Cons:

✗ Expensive
✗ Battery run time less than an hour
This battery-powered mower from Snapper is one of the best electric lawn mowers on the market (if you're willing to splurge a little). Its 82-volt battery runs for up to 90 minutes on a single charge. That's more power for the motor and a drastically longer run time than most other battery-powered models.
What's more, the rapid charger charges the battery in an hour or less.
The Snapper XD 82-volt MAX is also built for convenience. Users can shift between its seven height adjustment settings with a single lever. The mower folds easily for vertical storage, which is helpful since this 90-pound behemoth takes up a lot of garage space.
You get some nice bells and whistles for the extra money with this mower, too. It can mulch, discharge, or bag grass clippings, which isn't the most special feature but is nice to have. The truly distinctive feature here is the mower's intelligent load-sensing technology. It automatically adjusts blade speed depending on grass length, saving battery power and increasing efficiency.
Specifications:
Type: Electric (battery)
Power: 82 volts
Cutting width: 21 inches
Weight: 90 pounds
Pros:

✓ Powerful engine
✓ Long battery run time
✓ Smart load-sensing technology
Cons:

✗ Expensive
✗ Heavy
Buyers Guide
All these numbers and stats could make your head spin, but they're useless if you don't know what they mean and what you're looking for.
In this buyers guide, we'll explain the different types of push lawn mowers and what kinds of jobs each one is suited for. We'll also go into detail about the parameters we used to choose and rank our top picks.
Types of push lawn mowers
You probably noticed that our list includes three different types of push lawn mowers: gas, electric, and reel. Here's the difference between the three:
Gas push mowers
As you can guess, gas lawn mowers run on … well, gas. That means you'll have to store fuel for a gas mower and refill the tank when it gets low.
Gas engines also require more maintenance than other types of mowers, since most of them need regular oil changes. Gas mowers are loud, and their emissions aren't great for the environment.
On the flip side, gas engines pack the most power, and they aren't limited by a battery's run time or an extension cord.
If you have a large yard with a lot of difficult terrain that needs high torque, a gas mower is your best bet.
Electric push mowers
The category of electric lawn mowers includes both battery-powered and corded models. Each type has drawbacks since batteries create time limits and cords deter movement, but each type has benefits, too.
Electric mowers are eco-friendly, quiet, and low-maintenance. For a small- to mid-sized yard (especially one with close neighbors), electric mowers are an excellent choice.
Reel push mowers
Reel mowers are old-school. They don't have a motor: You manually make the mower blades spin as you push it.
Reel lawn mowers are typically cheaper than other types (for obvious reasons), and they're the most eco-friendly option since they don't use gas or electricity.
Still, mowing a full-sized yard with a reel mower might take more effort than it's worth. Reel mowers are best for small urban/suburban yards or side yards.
What to look for
When you're shopping for a new push lawn mower, there are several important factors to consider. The most generally important, and the ones we used to rank our picks, are:
Power
Power is measured differently for gas-powered, corded, and cordless mowers. In gas engines, we measure power by size, using the unit cc (cubic centimeters).
For gas, the larger the engine (the more cc), the more powerful it is.
Corded models use amps (ah) to measure their power, and the same principle stands: More amperage means more power.
For cordless mowers, we measure the voltage of the battery in volts. Higher voltage means higher power levels.
Whichever type of mower you're looking for, a more powerful engine means the mower blades will move faster and stronger, which in turn means you will be able to take on thicker and taller grass.
In general, gas mowers tend to be the most powerful of the three and therefore are usually best for tougher jobs.
Cutting width
A lawn mower's "cutting width" refers to how wide its deck is.
The width of the deck determines the area of grass you can cut in a single pass. With a larger cutting width, you can mow your lawn faster, since you will cover more ground with each pass.
If you have a small yard with a lot of twists and turns (around landscaping, trees, or swimming pools, for instance), a smaller cutting width might actually be more convenient for you. Otherwise, a larger cutting width is better because it means spending less time on mowing.
Weight
Weight is important in push lawn mowers for obvious reasons. If you have limited upper body strength and you buy a mower that weighs, say, 90 pounds, you're going to wear yourself out pushing it across your entire lawn.
It's simple: The lighter a mower is, the easier it will be to use. You definitely want to go with a lightweight mower if you expect children or seniors to use it.
Price
Push mowers are drastically cheaper than riding mowers, but they still vary widely in price. Some premium models cost $1,000 or more, and you can find extreme budget picks for under $100. Deciding your price point before you start shopping will likely narrow down your choices significantly.
Battery-powered electric mowers tend to be the most expensive, while reel mowers tend to cost the least. However, you'll notice that our list includes options under $200 for all types of push mowers.
FAQs About Push Lawn Mowers
1. What is the best push lawn mower to buy?

The PowerSmart DB8621CR 21″ 170cc 2-in-1 gas mower offers the best bang for your buck when it comes to push lawn mowers.
2. How hard is it to push a reel mower?

Not too hard if you mow your lawn every week and don't have a lot of weeds. In fact, reel mowers are lighter than other mowers because they don't carry a power source.
3. What is the easiest lawn mower to push?

Of our top picks, the Sun Joe 24V-X2-17LM-CT 17-inch 48V cordless electric mower is the easiest to push because it's the lightest one that isn't a reel mower.

For a mower that requires even less effort, check out self-propelled lawn mowers.
Conclusion
Buying a lawn mower is a big commitment. You're spending at least $100, which is nothing to sneeze at, and it's something you will use often, hopefully for years to come. That's why we're here to help you make the best decision for your yard.
Whatever your lawn care needs, we hope we helped you find the mower of your dreams for a price that won't give you nightmares.
Main Photo Credit: Pixabay
LawnStarter participates in the Amazon Services LLC Associates Program, an affiliate advertising program. LawnStarter may earn revenue from products promoted in this article.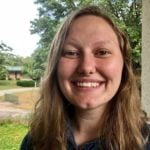 Jordan Ardoin
Jordan Ardoin is a writer and indoor plant enthusiast hailing from Florida. In her spare time, she enjoys chasing her two cats around the house and trying to keep her houseplants alive.