A string trimmer, aka weed eater, weed wacker, weed trimmer, or grass trimmer, is an essential tool for any homeowner who is serious about lawn care.
With thousands of options on the market (that all look the same at first glance, I might add), which one is best for you? We can help you answer that question with our detailed reviews of the 10 Best String Trimmers for the money this year.
Do you need the impressive power of a gas string trimmer? Or are you more interested in an eco-friendly corded or cordless electric model? Either way, we've got you covered. Our top picks include the best of all types of string trimmers, separated into categories so they're easier for you to compare. In this line-up, you'll find:
You'll also find important specs and tips from customer reviews, followed by a buyers guide to help you navigate your choices. Without further ado, here are the best string trimmers of the year based on value, power, size, and ease of use.
10 Top String Trimmers [Reviews]
Top Gas String Trimmers – Reviews
Ryobi, usually known for battery-powered tools, makes a top-notch gas trimmer for an affordable price with the RY253SS. Its 25 cc full crankshaft engine is plenty powerful enough for most residential needs, and it will last longer than a typical half crank engine.
The large 18-inch cutting head and long straight shaft for getting around obstacles will help you get the job done faster. The dual line trimmer head, loaded with professional-grade 0.095-inch thick string, can hack through thick weeds and grass.
While some reviewers had complaints about the head attachment popping off while in use and the carburetor needing a replacement early on, most homeowners found that the RY253SS was easy to use and met all their needs.
One feature that makes it so convenient to use is the reel-easy string head, which makes reloading the line easier and quicker.
The RY253SS isn't limited to trimming, either. Since it's compatible with Ryobi's line of "Expand-It" attachments, you can easily convert this trimmer to an edger, blower, tiller, and other lawn care tools.
For only about $150, this reliable and versatile tool is a great value.
Specifications:
Power: 25 cc
Cutting swath: 18 inches
Line diameter: 0.095 inches
Weight: 12.2 lbs
Pros:

✓ Durable full crank engine
✓ Large cutting swath
✓ Uses professional-grade string
✓ Converts to other power tools with Ryobi attachments (sold separately)
✓ Inexpensive
Cons:

✗ Some users reported their trimmer head falling off regularly
✗ Some users reported issues with bad carburetors
Husqvarna is one of the best brands for all kinds of gas power tools, including the 128LD string trimmer. The 128LD is even more powerful than our top pick from Ryobi, with a 28 cc engine that packs more than enough power for trimming grass and weeds around the house.
Husqvarna's proprietary SmartStart technology reduces resistance in the starter cord to make starting that powerful engine easier on you.
The 128LD has more special features to make use more convenient, too. You can easily release new trimmer line while you use this tool by bumping the head against the ground and activating the "Tap 'N Go" line release feature.
Husqvarna's T25 trimmer head is also easy to load when it's time for a new spool of string. Not to mention, the 128LD is the lightest gas trimmer of all our top picks.
Much like Ryobi, Husqvarna also has simple-to-install "click on" attachments that can convert your trimmer to an edger, cultivator, or pole saw. It also uses the same professional-grade 0.095-inch string as our top pick, so it can take on tough jobs with ease.
Many users reported that the Husqvarna 128LD handles their property's thick grass and weeds without any issues.
Specifications:
Power: 28 cc
Cutting swath: 17 inches
Line diameter: 0.095 inches
Weight: 11 lbs
Pros:

✓ Powerful engine with easy starts
✓ Easy to load and release line
✓ Uses professional-grade string
✓ Converts to other power tools with Husqvarna attachments (sold separately)
✓ Lightweight compared to similar gas trimmers
Cons:

✗ Expensive
✗ Users reported the shaft being too short for someone around 6 feet to use comfortably
✗ Some users reported issues with the engine stalling out regularly
The Poulan Pro PR28SD is similar to our Husqvarna gas pick in many ways, but this string trimmer is less expensive. Like the Husqvarna, this Poulan Pro model has a powerful 28 cc engine, easy spring-assisted starting, and "Tap 'N Go" line release.
What's more, the PR28SD has even more attachment capabilities than the comparable Husqvarna. Poulan Pro has attachments to turn this tool into a brush cutter, hedge trimmer, pole saw, and other power tools useful for lawn and tree care.
One downside of the PR28SD is its weight. This is the heaviest tool of all our top picks at 14 pounds, and it may be difficult for some homeowners to carry for long periods of time.
Some users also reported that restringing this trimmer is too complicated, since you have to take the head apart to load new string.
Though it isn't quite as easy to use, you can think of the Poulan Pro PR28SD as a budget version of the Husqvarna 128LD. If you choose the Poulan Pro, you'll pay less and still get a reliable, powerful weed trimmer.
Specifications:
Power: 28 cc
Cutting swath: 17 inches
Line diameter: 0.095 inches
Weight: 14 lbs
Pros:

✓ Powerful engine with easy starts
✓ Converts to other power tools with Poulan Pro attachments (sold separately)
✓ Uses professional-grade string
✓ Inexpensive
Cons:

✗ Heavy
✗ Difficult to restring
✗ Many users had a negative experience with Poulan Pro's customer service when trying to resolve issues with the trimmer
The CRAFTSMAN WS205 is the cheapest gas string trimmer in our lineup, but that doesn't mean it isn't a high-quality tool that will serve you well.
This model's 25 cc engine isn't quite as beefy as some others on this list, but it matches our top pick from Ryobi and should be plenty of power for residential use. The WS205 from CRAFTSMAN uses commercial-level, heavy-duty line like the rest of our gas picks, too.
One benefit of this CRAFTSMAN model is that its design focuses just a little more on user comfort than some of our other top picks. The adjustable multi-position handle makes the WS205 more ergonomic for a wider range of users and dampens vibrations, so you can use the tool comfortably for longer. Another convenient feature of the WS205 is the Easy Start technology.
Though many users reported continued satisfaction with the CRAFTSMAN WS205, some claim their trimmer stopped working after only about six months.
If you don't have a lot of experience with maintaining and repairing gas-powered tools, this might not be the best option for you, even though it would save you money for the moment compared to our other top picks.
Specifications:
Power: 25 cc
Cutting swath: 17 inches
Line diameter: 0.095 inches
Weight: 13 lbs
Pros:

✓ Inexpensive
✓ Ergonomic design
✓ Uses professional-grade string
✓ Converts to other power tools with TrimmerPlus attachments (sold separately)
Cons:

✗ On the heavier side
✗ Some users reported the trimmer dying after a short time and CRAFTSMAN not replacing it
✗ Some users had trouble with the bump-feed feature not releasing string properly
Top Corded Electric String Trimmers – Reviews
Our pick for the best corded electric string trimmer for the money is the 2-in-1 BESTA510 from BLACK+DECKER, which easily converts between a trimmer and a wheeled edger.
This little tool has a 6.5-amp motor, about average for a corded model. Its 14-inch cutting head isn't the biggest, but it's perfect for trimming weeds in flower beds and other tight spots. Best of all, this trimmer only weighs about 5 pounds, so it should be easy for anyone to carry.
The BESTA510 isn't only easy to use because it's incredibly lightweight. It also has convenient features such as an automatic feed spool that releases string as needed while you work and a cord retention system that prevents disconnecting from the cord when you move around.
This trimmer is easy on your wallet, too, costing only about $45.
Most users praise the BLACK+DECKER BESTA510 for how simple it is to use, even for people who aren't familiar with power tools or have limited upper body strength.
This trimmer probably isn't powerful enough to tackle overgrowth that's too thick, but that's to be expected with an electric model. The BESTA510 should meet all your typical trimming needs around the yard, and it's a great value.
Specifications:
Power: 6.5 amps
Cutting swath: 14 inches
Line diameter: 0.065 inches
Weight: 5.3 lbs
Pros:

✓ Inexpensive
✓ Lightweight
✓ Easy to use
✓ Converts to wheeled edger
Cons:

✗ Not compatible with some 3-prong extension cords
✗ Some users reported problems with the auto-feed not releasing the right length of line
The Toro 51480, like the BLACK+DECKER model, switches from trimmer to wheeled edger with one simple step. It also has a similar cutting head with a 14-inch cutting swath.
What makes the Toro our runner-up instead of No. 1 is its motor, which only packs 5 amps of power. While this should be sufficient for residential use, it's relatively weak compared to most other corded electric trimmers.
That being said, the Toro 51480 has some features that give it a leg up on the BLACK+DECKER model. One is the trigger-operated line release that gives the user more control over when and how much line gets released.
The Toro also features a telescoping shaft, which gives the tool an extended reach and helps you work around obstacles.
At over 6 pounds, the Toro 51480 is a little on the heavy side for a corded electric trimmer, but many users reported that it's still lightweight enough for most people to carry.
Users also said that while this tool can't handle as much as, say, one of our gas picks, it's great for around-the-house use and definitely worth the low price tag.
Specifications:
Power: 5 amps
Cutting swath: 14 inches
Line diameter: 0.065 inches
Weight: 6.3 lbs
Pros:

✓ Inexpensive
✓ Easy to use
✓ Converts to wheeled edger
✓ Telescoping shaft
Cons:

✗ Relatively weak engine
✗ A little heavy for corded
Top Cordless Electric String Trimmers – Reviews
When it comes to battery-powered string trimmers, the LST02010 model from Earthwise is your best bet for the money. At about $65, it's inexpensive for a cordless string trimmer, plus it's easy and comfortable to use.
The trimmer, even with the battery, weighs less than 5 pounds, so just about anyone should be able to carry it for extended periods of time.
Of course, the extremely light weight comes with some tradeoffs. For one, this trimmer has a small cutting width of only 10 inches, meaning it will take longer to trim your yard with the LST02010 than it would with a larger trimmer head.
This trimmer also has a small 20-volt battery, which, while it should be sufficient for trimming around an average yard, is one of the weaker batteries among our top picks.
Users reported that the Earthwise LST02010 is useful and reliable (as long as you don't expect too much power). Several reviewers noted that they were impressed with the trimmer's battery life.
If you are looking for an affordable trimmer suited for the average homeowner, this might be the one for you.
Specifications:
Power: 20 volts
Cutting swath: 10 inches
Line diameter: 0.065 inches
Weight: 4.4 lbs
Pros:

✓ Inexpensive
✓ Lightweight
✓ Long battery run time
Cons:

✗ Relatively weak battery
✗ Small cutting swath
You might say the PS76110A model from PowerSmart is an even more affordable version of the Earthwise LST02010. The two are similar in many ways, including a 20-volt lithium-ion battery and a compact 10-inch trimmer head.
The most significant differences between the two are the price and the weight. PowerSmart's PS76110A is only about $45, but it might not be as easy to use as some of our other cordless picks because it's on the heavier side at 7.5pounds.
Even though it isn't super lightweight, the PS76110A is convenient in other ways. It features an auto-feed spool so you don't have to worry about manually releasing line as you work.
Plus, the handle is adjustable to be ergonomic for different users, and the head rotates 90 degrees to get into awkward tight spots. Because of the rotating head, you can use this tool as a string trimmer and edger.
If you need a weed eater for thick growth or an especially large property, this probably isn't the one for you, but most users reported that the PS76110A can handle all the trimming needs of a small yard.
A few warnings from reviewers: This model tends to go through string quickly, and the battery sometimes dies after about 10 minutes.
Specifications:
Power: 20 volts
Cutting swath: 10 inches
Line diameter: 0.065 inches
Weight: 7.5 lbs
Pros:

✓ Inexpensive
✓ Converts to edger
Cons:

✗ Relatively weak battery
✗ Small cutting swath
✗ A little heavy for electric
✗ Short battery life
If you're looking for a cordless electric string trimmer with the power of gas, the WORX WG191 is for you.
This trimmer has a powerful 56-volt lithium-ion battery that reaches full charge in just 90 minutes. It uses commercial-grade 0.08-inch trimmer line that can slice through thicker grass and weeds than our other electric picks, which all use 0.065-inch string.
Power isn't the only appeal of the WG191. It's versatile, too, with a pivoting head that works well on uneven terrain and the ability to convert to a precise-cutting wheeled edger.
With this tool's variable speed control, you can increase the torque for tough spots on your lawn and decrease it during the easy parts to save battery.
Of course, the extra power comes at an extra cost. You'll pay more than twice as much for the WG191 than the other electric picks we've listed so far, so you'll have to decide if that 56-volt battery is worth doubling your budget.
The good news is that the battery isn't too heavy, and even with commercial-grade power, the WG191 weighs only about 6 pounds.
Specifications:
Power: 56 volts
Cutting swath: 13 inches
Line diameter: 0.08 inches
Weight: 6.3 lbs
Pros:

✓ Powerful battery
✓ Variable speed control to increase battery life
✓ Converts to wheeled edger
✓ Uses professional-grade string
Cons:

✗ Expensive
✗ Users reported it runs loud for an electric model
✗ Several users said it handles awkwardly
The Greenworks 21302 2-in-1 trimmer and edger falls right in the middle of our other top electric picks in terms of price point and value.
Its 40-volt battery isn't quite as powerful as the WG191, but it's still able to handle thick grass and weeds much more efficiently than a 20-volt trimmer. The multi-position cutting head and edger wheel make the trimmer useful for all kinds of terrain.
While this model has some special features that make it more convenient to use, including an auto-feed spool and a telescoping shaft, the trimmer is unfortunately quite heavy, especially for an electric model.
It's over 9 pounds, which is closer to the weight you would expect of a gas string trimmer. This isn't necessarily a deal breaker, though, and the Greenworks electric model still runs significantly quieter than its gas counterparts.
Perhaps because of its good balance of price and power, the Greenworks 21302 is extremely popular with homeowners. Most users find it reliable, powerful, easy to use, and ultimately worth the cost for a small- to mid-sized yard.
Specifications:
Power: 40 volts
Cutting swath: 13 inches
Line diameter: 0.065 inches
Weight: 9.3 lbs
Pros:

✓ Powerful battery
✓ Converts to wheeled edger
✓ Telescoping shaft
Cons:

✗ Heavy
Buyers Guide
What is a string trimmer?
String trimmers have many common names, including weed wacker, weed eater, weed trimmer, and grass trimmer, but all these terms refer to the same simple tool.
Basically, a string trimmer is what you use to cut grass and weeds in spots where a lawn mower won't reach. That usually includes the lawn near flower beds and hardscapes and tight spaces between landscape features.
To reach these unusual spots in your yard, a string trimmer features a long shaft with a cutting head on one end. The cutting head spins a single or dual line (string) rapidly enough to cut down vegetation.
As you've seen in our top picks, string trimmers can run on gas, electricity from a cord, or rechargeable batteries.
Gas vs. corded vs. battery-powered
Each type of leaf blower has advantages and disadvantages. No one can say definitively if one power source is better than the others because every homeowner and every lawn has different needs. So, which type would be better for your yard?
About gas string trimmers
Gas string trimmers are all about power. They can take down the toughest thickets of grass and weeds. Along with that high power level, gas trimmers have less limitations than either type of electric.
With a gas engine, you don't have to work within a battery's run time or an extension cord's reach. You can work for as long as you want (as long as you have enough gas) and go as far as you want with a gas trimmer.
The combination of high power and high mobility comes with several downsides, though. As a rule, gas string trimmers are louder, heavier, and more difficult to start than their electric counterparts.
Those powerful gas engines require a lot of maintenance, too. You'll either have to mix gas and oil (for a 2-cycle engine) or perform regular oil changes (for a 4-cycle engine).
On top of the extra work, gas string trimmers can be detrimental to both the environment and your health because of the emissions they produce.
If you need to trim a large area or you have to deal with a lot of thick overgrowth, a powerful and mobile gas string trimmer might be the best option for you. For most average homes, though, the cons of a gas trimmer outweigh the pros.
About corded string trimmers
As is the case with most power tools, a corded electric string trimmer is generally the cheapest option. Corded string trimmers are usually lighter than others, too, since they don't include the extra weight of a gas tank or battery.
Compared to gas trimmers, corded ones are much quieter and easier to operate. Of course, corded trimmers are also better for the environment because they don't produce harmful fumes.
Corded electric trimmers have one major disadvantage, though: the cord. You won't be able to move freely around your yard with a corded trimmer, since it has to stay plugged in.
You can move only as far away from a power source as your extension cord will allow. Plus, the cord can get in the way of your work or damage landscaping if you don't pay attention to it.
For these reasons, a corded string trimmer is best for smaller, emptier yards. If you have an extension cord long enough to reach your whole yard and you aren't concerned about the cord getting in the way, there's no reason not to save money and energy with a corded model.
About battery-powered string trimmers
Battery-powered string trimmers are great because they combine the quiet, eco-friendly operation of a corded electric model with the mobility and convenience of a gas model.
That's a pricey combination, though, and battery-powered trimmers can get quite expensive. You can almost always find comparable gas or corded models for cheaper.
The battery, which is a cordless trimmer's greatest strength, is also its greatest weakness. A trimmer's batteries usually last only about half an hour or less, which might not be enough time to do all the work you need your trimmer for.
And once the battery runs out of juice, it takes more than an hour (several hours in some cases) to recharge.
So, battery-powered models are perfect for people who want to save the environment but need mobility. Because of the limitation of battery run time, a cordless electric trimmer probably wouldn't be the best choice for a large property (unless you keep a second battery charged and ready to go).
What to look for in a string trimmer
While shopping for string trimmers, you probably will notice that product pages on various retailers' websites list a lot of specs. In this section, we'll help you understand how you can use some of those numbers to choose the best string trimmer for you. These are the specs we used to rank our top picks and what each one means for you.
Power: A string trimmer's power level determines how well it will be able to handle thicker grass and weeds. Essentially, the more power a trimmer has available, the better it can spin its line, and the tougher jobs it will be able to take on.
We measure the power of a gas trimmer in cc (cubic centimeters), which tells how large the engine is. We measure the power output of corded electric trimmers in amps and the power output of a cordless trimmer's battery in volts.
It's hard to compare the different measurements, but in general, you can assume that a gas trimmer will be the most powerful.
Cutting swath: The cutting swath, or the width of the cutting head, tells you how much grass and weeds you'll be able to trim at once. A machine with a larger cutting swath will cover more ground in less time, so you'll be able to trim your lawn faster.
However, if your yard has a lot of tight spots to trim, a smaller cutting swath might be better for you.
Line diameter: Line diameter is basically a fancy way of saying "string thickness." The larger the line diameter, the thicker the string. Thicker string is more durable and better at cutting dense growth.
You may have noticed based on our top picks that gas trimmers tend to hold thicker string and are therefore better suited for more heavy-duty work.
Weight: Always pay attention to the weight of power tools like string trimmers, which you have to carry while using. If you choose a trimmer that's too heavy for you, you'll quickly wear yourself out.
Generally speaking, gas trimmers tend to be the heaviest, while corded electric ones tend to be the lightest.
Price: String trimmers are available at a wide variety of price points, ranging from less than $100 to $400 or more.
For the purposes of our list, we focused on models that are good for residential use and affordable for the average homeowner, but there are more commercial-grade, premium options available if you have the budget for them.
You'll typically pay more for things like higher power levels, larger cutting heads, and specific special features.
FAQs About String Trimmers
1. What size string trimmer do I need?

Something smaller (10- to 15-inch cutting head) should be sufficient for a typical residential yard. If you have a large open space to trim and you want the job to go faster, a large cutting head of around 18 inches would be helpful. 
2. Can I use thicker trimmer line?

Using thicker trimmer line than the manufacturer recommends for a specific model can result in less power from your trimmer. The heavier string will create more resistance as the cutting head spins, so it will take more power to move it. This is especially bad for battery-powered models, which already tend to be on the weaker side. 
3. Are trimmer heads universal?

Technically, no, but a gas trimmer usually can work with any trimmer head you're able to attach to it. With electric models (corded or cordless), you usually can't change out the head. 
Conclusion
When you want a new string trimmer, you've got tons of options. You could go for power or efficiency or convenience — whatever will best benefit you and your lawn.
As you shop, keep our tips and suggestions in mind to help you choose not only the best string trimmer but the best string trimmer for you.
Main Photo Credit: Chaoborus / CC BY-SA 4.0 / via Wikimedia Commons
LawnStarter participates in the Amazon Services LLC Associates Program, an affiliate advertising program. LawnStarter may earn revenue from products promoted in this article.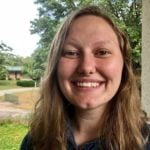 Jordan Ardoin
Jordan Ardoin is a writer and indoor plant enthusiast hailing from Florida. In her spare time, she enjoys chasing her two cats around the house and trying to keep her houseplants alive.