Landscaping pavers come in many materials, shapes, sizes, and colors, and are cost-efficient to install and to maintain, making them a popular choice for use at a home. If you decide to use them, here are some paver ideas for your yard.
Landscaping and more at the click of a button
With LawnStarter
What are Pavers?
Pavers or paving stones are a landscaping material designed to be used outdoors. Typically made of concrete, stone, or brick, they are set on a prepared stone, sand, or mixed base. Some have an open-cell design to allow for permeability, but most are designed for water to drain between them.
Common Uses for Pavers & Patio Bricks
Pathways
Driveways
Edging
Garden features
Fire pits

Patios
Swimming pool area
Stepping stones
Brick pavers are sturdy, traditionally made from clay and baked in a kiln. Red is the most common color but dyes can be used to change the look. Traditional brick comes in one shape; brick pavers can be curved or rounded.
The benefits of brick pavers: Low maintenance, durability, and strength. However, like all bricks, you should expect them to fade over time.
Concrete pavers are made of concrete poured into molds, allowing them to be shaped. They are often used commercially.
The benefits of concrete pavers: Low cost, easy installation, and easy maintenance (pressure washing cleans them).
Stone pavers come from quarries, not a manufacturing plant, making them a natural product. Most are limestone, bluestone, flagstone, or granite. Because of the expense of mining, the cost is greater.
The benefits of stone pavers: The look, for people who want a connection to what can be seen in nature. Low maintenance. Colors that don't fade.
If your job is large enough, say a driveway or a paver patio, you should consider permeable pavers. These catch rain or runoff, store it below, then slowly release it into the soil. Use of them helps the environment, especially in urban and suburban areas.
Backyard Landscaping Ideas With Pavers
Your backyard is where you want to hang out on a cool evening or a bright sunny day. Maybe you want to entertain friends in a custom outdoor living space, or maybe you want a winding path through your garden where you can commune with nature.
Whatever activities you've got planned, pavers can help make your backyard the perfect staging ground.
1. Go for a Rustic Look Around a Fire Pit
Create an outdoor space with a little extra spark in the form of a fire pit. You can use pavers of different shapes, textures, or colors in your patio design to complement your fire feature. For example, the rustic design pictured above uses rough-looking brick pavers to match the natural stone fire pit in the center. Fire pit installation costs $750 on average.
2. Build a Paver Pathway to Your Patio
Adding a cover or pergola to your backyard patio is a good way to make it look and feel like its own space, separate from your home or the rest of your yard.
For the same reason, it's a good idea to build your outdoor patio a bit away from the house, like the one pictured above. Then, you can have a paver pathway leading to the seating area.
Once you've chosen the pavers you want to use, you can pick matching materials for your other hardscapes, like the natural stone columns and retaining wall pictured.
3. Create a Pool Deck of Pavers
If you have an in-ground swimming pool, consider installing a budget-friendly, stylish pool deck made of pavers. You can use geometric concrete pavers, like the ones pictured, or any other shape and material that suits the look you want for your pool area.
4. Mix Pavers and Mulch for Color and Texture
Even if you don't have a lot of room in your backyard or the budget for an outdoor living space, you can still use pavers to elevate your landscape design. Pavers are perfect for creating a pathway through your garden. The garden path pictured above uses irregularly shaped pavers with mulch filling the gaps to create a cottage-like aesthetic.
5. Add Paver Shapes for an Ordered, Geometric Look
A pathway isn't the only way to upgrade your garden design with pavers. Give your basic garden a modern, elegant look by including geometric pavers lined with a ground cover material such as river rocks or pea gravel. This can be a good DIY project.
Get quality landscaping at an affordable cost
With LawnStarter
Front Yard Landscaping Ideas With Pavers
The goal for front yard landscaping is much different than that of backyard landscaping. Whereas you want a place to unwind in peace in the backyard, the front yard is all about curb appeal.
Pavers are a helpful tool for impressing guests, neighbors, and potential homebuyers. They can make your front yard's landscape design look more organized, polished, and attractive.
1. Use Pavers as Edging Between Gardens
Just as the rain garden pictured above uses concrete pavers as a border, you can use pavers for landscape edging. Geometric pavers will create a clean outline for your garden bed, while irregularly shaped flagstone pavers will give it a quaint, vintage look.
2. Go With Circular Pavers for a Whimsical Look
Pavers truly come in any shape or size you might want. Circular pavers make great stepping stones that are easy to incorporate into any part of your landscape and have a whimsical look.
3. Make a Decorative Walkway in Your Yard
Maybe you want your home to have a wilder appearance. Pavers could still be the right fit for you. Just arrange them in a spaced-out pattern with grass or ground cover plants filling the gaps. You can create a pathway with this design, like the one pictured, or simply use the pavers as decoration.
4. Direct People to Your Door with Pavers
One of the most popular paver projects for a front yard is a wide walkway leading to the front door. A paver walkway like the one pictured above is just one of the design ideas that will welcome guests into your home and, as an added bonus, keep them from walking through your lawn or garden.
5. Create a Distinctive Driveway With Pavers
Your driveway takes up a big chunk of your front yard. Why not make it an interesting part of your landscape? Set your home apart from all the others in your neighborhood with a driveway or carport made of pavers.
Order top-notch landscaping service with easy online booking
With LawnStarter
Choosing the Right Pavers for Your Project
Once you've decided how you want to landscape a yard, it's time to figure out which type of paver is best for your patio design project. As you consider your design ideas, there are three basic questions to answer when you're searching for the perfect pavers for your outdoor space.
1. What's the Aesthetic of Your House and the Rest of Your Landscape?
You want to make sure you choose pavers that will look good with your house and your existing landscape features.
For example, if you have a brick house, you might choose to edge your garden beds with brick pavers. If your home has stone veneer siding, you might want a matching cobblestone paver pathway.
2. How do the Pavers Feel Underfoot?
If you're building a landscape feature that people will regularly walk on, such as a pathway or an outdoor living space, you'll want to choose pavers that are comfortable for walking.
A rough or uneven style of paver might make people trip. On the other hand, a surface that's too smooth might get slippery (especially if you're building a pool deck or a garden that will be watered regularly).
Take action: Consider your specific project and choose the paver texture that you think will work best.
3. What's your Budget?
Some pavers are affordable for just about any homeowner, while others can get quite expensive. Your price range will determine which pavers are options for you.
Concrete pavers and decomposed granite are both inexpensive options that would work for any paver project you have in mind. Local stone will cost less than materials that have to be shipped.
Luxury materials with high price tags include limestone, bluestone, flagstone, or granite and other natural stone pavers.
What is the Cost of Using Pavers?
There are quite a few variables when it comes to installing pavers, but LawnStarter has done a major review, and found this:

National Average: $4,537 (for a 400-square-foot paver patio) or $11.34 per square foot

Typical Range: $3,476 to $8,872 (for a 400-square-foot paver patio) or $8.69 to $22.18 per square foot

Curious to know how much other paver projects cost?

A pool deck ($7 to $36 per square foot)

A driveway ($10 to $30 per square foot)

A walkway (same as an outdoor patio, $8.69 to $22.18 per square foot)
The guide also discusses the costs of the different materials and locations, and whether it is DIY or professionally done.
FAQ About Landscaping With Pavers
What Should I Put Under my Pavers?
Make your paver base out of crushed stone. Crushed gravel is a common choice. On top of that, a layer of bedding sand is often recommended.
How Do I Prevent Weeds From Growing Between Pavers?
Applying polymeric sand to the seams between your pavers is the most effective way to prevent weeds.
What Can I Do if Weeds are Growing Between my Pavers?
If you already have weeds growing between your pavers, there are eco-friendly weed killers that won't damage the pavers:

• Pour boiling water over them. 

• Pour white vinegar on them. You can do this right from the bottle.

• Burn them with a propane torch. Remember: Fire can spread, so do this carefully.

• Pull them up by hand. It can work with small growths. 
What is the Cheapest Patio Paver?
Concrete pavers are the cheapest option at about $2.50-$5 per square foot.
When to Call a Landscaping Professional
The DIY process of installing pavers might be a little too complicated for homeowners. It involves excavating and using tools (such as a hand tamper or plate compactor) that most people don't have on hand.
If you're working on a larger project that you want to last for many years to come, such as an outdoor patio or driveway, you should definitely consider hiring a professional landscaper or landscape architect to install it for you.
For garden and yard design – find landscaping pros near you
With LawnStarter
Pavers can be both functional and attractive, but you don't want to have regrets later. Review the possibilities for installation, use, and maintenance, then act. Pavers are designed to last a lifetime; with planning, it won't be a lifetime of regrets.
Ask The Experts
Jon Burley
Associate Professor, Department of Landscape Architecture
Sadik C. Artunc, FASLA
Professor and Head, Department of Landscape Architecture, College of Agriculture and Life Sciences
Jon Burley
Associate Professor, Department of Landscape Architecture
Michigan State University
Which type of paver gives you the most bang for your buck?
I am a little biased as I prefer stone pavers such as granite or bluestone for their durability. They often last longer than the building and can easily be reused.  When concrete pavers crack, often the interior of the paver does not truly match the exterior of the paver.   Although at times I have used heavy thick stone-like tumbled concrete pavers.  I have used Design Concrete paver/tiles by Studio5051 and Howard Merriam. Their tiles make a nice permeable surface with a high-quality design. 
Ugly at any price is of no value – and there is a lot of ugly out there.  I try and use locally quarried stone, but I am willing to pay the extra price for bluestone and that includes shipping.  While I like stone, I avoid flagstone for paving, as it seems dysfunctional for furniture and barefoot walking. 
Avoid marble too. When wet it is more slippery than ice.  Limestone has a tendency to dissolve and looks like concrete to the untrained eye.  If one likes stone, visit the local quarries and see what is available, it will reduce shipping costs to buy locally.
What paver project would be the easiest for a homeowner to build DIY?
Smaller pavers are easier for the homeowner to move around and set.  But smaller pavers are less ideal for vehicles. 
Rectangular pavers are often easier to install than interlocking pavers.  I saw interlocking pavers on a volcanic hillside in Indonesia. Because the base work was not well done, they were dismantling and sliding down-hill, it was really ugly. There were huge 6-inch gaps in the paving.
What type of pavers do you recommend for a pool deck? Why?
In some states, the laws require non-permeable concrete around the first 10 feet of the pool for health reasons. Even this concrete is somewhat permeable as even concrete has a permeability, it's just low.
I do like bluestone beyond that distance as it has a texture for grip and feels good on the feet.  But I would use Dezign Tile Pavers too.
What paver feature is best for boosting curb appeal?
Start with the color of wood, stone, brick on the structure and try and tie the paving system into a unified look.  If the project is not coordinated, one can spend a lot of money and the project just looks like a clown suit.
To help unify the site, use the pavers in key areas, such as at landings and junctions in the yard, even an edging of papers to transition into concrete or asphalt.  Good paving work means the details and transitions have been thoughtfully mastered. 
A run of pavers looks nice. But it's important they transition to other materials, changes in direction, lighting, and utilities. Walk Tokyo for a week and see mastery at work.  Go to Jakarta and see madness and insanity in the suburbs.  When I take students to London, there is always street utility work, and they use pavers for pedestrian-ways. They're easy to remove and reset after the work is done.  Students learn a lot. 
I urge people really interested to go to Kyoto too and see how stone paving is masterfully used to signify arrival, thresholds,….  this is where various sizes of stone paving is helpful to signify use and intention.
What material do you recommend using as a base for pavers and why?
It depends upon the load the pavers have to support.  I have even set pavers over concrete or asphalt for trucks.  I have used pavers for small bridges with marine plywood under the pavers. 
On clay soils I spend a lot of time grading water away from the paving, installing drain tile, using compacted crushed limestone or recycled crushed concrete as a base. 
In my classes, I emphasize the keys to good long-lasting surfaces are a good foundation base.  I travel the world and have witnessed many projects that were broken, ponding and in a mess in a couple of years because of poor base work. 
Laying pavers is the easy part, doing all the site preparation takes a fair amount of time.  The key to a good base is having it be permeable, but well-graded (meaning many sizes of particles), and compacted.  You can purchase such materials by the bag from a home supply store or by the yard if you have a trailer and a nearby aggregate supplier.
Sadik C. Artunc, FASLA
Professor and Head, Department of Landscape Architecture, College of Agriculture and Life Sciences
Mississippi State University
Which type of paver gives you the most bang for your buck?
There is no single paver type that meets all project needs to give us the most bang for our buck. The project budget, scope, concept, available labor/skill, location collectively determine the best alternatives.
What paver project would be the easiest for a homeowner to build DIY?
The pavers that are locally available at a reasonable cost, and easy to work with are easiest to use. They are also lightweight and durable and don't require specialized tools. 
What type of pavers do you recommend for a pool deck? Why?
Depends if the pool deck is being used above a drainage layer or simply placed on a base with or without mortar. The criteria for safety is that the pavers must be non-slip.
What paver feature is best for boosting curb appeal?
Curb appeal depends on the selection of materials (do they fit the context and the design intent?), successful use of materials, et.al. If pavers are used poorly, they will take away from the curb appeal instead of adding to it.
What material do you recommend using as a base for pavers and why?
Some pavers may be placed on a subsoil if the subsoil is sandy. However, if the soil type is clay and not friendly for infiltration, you need to use a gravel layer.
There is no single answer here, but generally, subsoil type is the most critical determinant for the selection of pavers and the subbase.
Main Photo Credit: btwashburn / Flickr / CC BY 2.0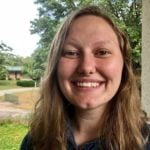 Jordan Ardoin
Jordan Ardoin is a writer and editor with a passion for sustainable, earth-friendly gardening and lawn care practices. When she isn't sharing her knowledge about lawn care and landscaping, you can find her curled up with a good book and a cat in her lap.