They say the streets of heaven are paved with gold. Well, earthly pavers may not be golden, but they can still turn your landscape into a beautiful haven for spending time with family and friends.
If you've never considered how to landscape with pavers, you've come to the right place. We'll tell you what pavers are and how to use them in your landscape. Luckily, pavers come in many different materials, shapes, sizes, and colors, so your landscape design options are just about limitless.
What are Pavers?
Pavers are pretty self-explanatory: They're paving stones. They can be made of brick, concrete, or natural stone (such as limestone, bluestone, or granite). They come in hundreds of different colors, styles, textures, and shapes.
People use pavers for all sorts of things. You could build a paver patio, pathway, or pool deck. When it comes to pavers, if you can dream it, you can do it.
With so many options, figuring out where to start can be intimidating. We've compiled advice and design ideas to help you along the way as you landscape with pavers.
Backyard Landscaping Ideas With Pavers
Your backyard is where you want to hang out on a cool evening or a bright sunny day. Maybe you want to entertain friends in a custom outdoor living space, or maybe you want a winding path through your garden where you can commune with nature.
Whatever activities you've got planned, pavers can help make your backyard the perfect staging ground.
1. Go for a rustic look around a fire pit
Create an outdoor space with a little extra spark in the form of a fire pit. You can use pavers of different shapes, textures, or colors to make your patio complement your fire feature. For example, the rustic design pictured above uses rough-looking brick pavers to match the natural stone fire pit in the center.
2. Build a paver pathway to your patio
Adding a cover or pergola to your backyard patio is a good way to make it look and feel like its own space, separate from your home or the rest of your yard.
For the same reason, it's a good idea to build your patio a bit away from the house, like the one pictured above. Then, you can have a paver pathway leading to the seating area.
Once you've chosen the pavers you want to use, you can pick matching materials for your other hardscapes, like the natural stone columns and retaining wall pictured.
3. Create a pool deck of pavers
If you have an in-ground swimming pool, consider installing a budget-friendly, stylish pool deck made of pavers. You can use geometric concrete pavers, like the ones pictured, or any other shape and material that suits the look you want for your pool area.
4. Mix pavers and mulch for color and texture
Even if you don't have a lot of room in your backyard or the budget for an outdoor living space, you can still use pavers to elevate your landscape design. Pavers are perfect for creating a pathway through your garden. The garden path pictured above uses irregularly shaped pavers with mulch filling the gaps to create a cottage-like aesthetic.
5. Add paver shapes for an ordered, geometric look
A pathway isn't the only way to upgrade your garden design with pavers. Give your basic garden a modern, elegant look by including geometric pavers lined with a ground cover material such as river rocks or pea gravel.
Front Yard Landscaping Ideas With Pavers
The goal for front yard landscaping is much different than that of backyard landscaping. Whereas you want a place to unwind in peace in the backyard, the front yard is all about curb appeal.
Pavers are a helpful tool for impressing guests, neighbors, and potential homebuyers. They can make your front yard's landscape design look more organized, polished, and attractive.
1. Use pavers as edging between gardens
Just as the rain garden pictured above uses concrete pavers as a border, you can use pavers for landscape edging. Geometric pavers will create a clean outline for your garden bed, while irregularly shaped flagstones will give it a quaint, vintage look.
2. Go with circular pavers for a whimsical look
Pavers truly come in any shape or size you might want. Circular pavers make great stepping stones that are easy to incorporate into any part of your landscape and have a whimsical look.
3. Make a decorative walkway in your yard
Maybe you want your home to have a wilder appearance. Pavers could still be the right fit for you. Just arrange them in a spaced-out pattern with grass or ground cover plants filling the gaps. You can create a pathway with this design, like the one pictured, or simply use the pavers as decoration.
4. Direct people to your door with pavers
One of the most popular paver projects for a front yard is a wide walkway leading to the front door. A paver walkway like the one pictured above will welcome guests into your home and, as an added bonus, keep them from walking through your lawn or garden.
5. Create a distinctive driveway with pavers
Your driveway takes up a big chunk of your front yard. Why not make it an interesting part of your landscape? Set your home apart from all the others in your neighborhood with a driveway or carport made of pavers.
Choosing the Right Pavers for Your Project
Once you've decided how you want to landscape your front or backyard, it's time to figure out which type of paver is best for your project. There are three basic questions to answer when you're searching for the perfect pavers for you.
1. What's the aesthetic of your house and the rest of your landscape?
You want to make sure you choose pavers that will look good with your house and your existing landscape features.
For example, if you have a brick house, you might choose to edge your garden beds with brick pavers. If your home has stone veneer siding, you might want a matching cobblestone paver pathway.
2. How do the pavers feel underfoot?
If you're building a landscape feature that people will regularly walk on, such as a pathway or an outdoor living space, you'll want to choose pavers that are comfortable for walking.
A rough or uneven style of paver might make people trip. On the other hand, a surface that's too smooth might get slippery (especially if you're building a pool deck that will be wet most of the time).
It's up to you to consider your specific project and choose the paver texture that you think will work best.
3. What's your budget?
Some pavers are affordable for just about any homeowner, while others can get quite expensive. Your price range will determine which pavers are options for you.
Concrete pavers and decomposed granite are both inexpensive options that would work for any paver project you have in mind. Local stone will also be cheaper than rare materials that have to be shipped.
Luxury materials with high price tags include limestone and other natural stone pavers.
FAQ About Landscaping With Pavers
What should I put under my pavers?
Make your paver base out of crushed stone, sand, stone dust, or compacted soil.
How do I prevent weeds from growing between pavers?
Applying polymeric sand to the seams between your pavers is the most effective way to prevent weeds.
If you already have weeds growing between your pavers, try pouring boiling water over them for an eco-friendly weed killer that won't damage the pavers.
What is the cheapest patio paver?
Concrete pavers are the cheapest option at about $2.50-$5 per square foot.
When to Call a Landscaping Professional
The DIY process of installing pavers might be a little too complicated for inexperienced homeowners. It involves excavating and using tools (such as a hand tamper or plate compactor) that your average Joe or Jane doesn't have on hand.
If you're working on a larger project that you want to last for many years to come, like a patio or driveway, you should definitely consider hiring a professional landscaper to install it for you.
Aside from their construction expertise, professional landscape architects also have a trained eye for design. They can help you create a unique landscape with pavers made for your home specifically.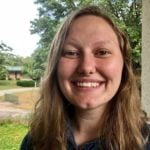 Jordan Ardoin
Jordan Ardoin is a writer and indoor plant enthusiast hailing from Florida. She enjoys reading fantasy novels, cuddling with her bulldog, and collecting succulents (because they're so hard for her to kill).