The national average for a professionally installed patio is around $3,994, but the average range starts around $2,363 and goes up to $5,909. This includes excavating the patio site, materials, materials delivery, and labor – a full installation, in other words.
Don't expect to pay much less than $1,212, but some customers spend up to $8,431 for more expensive materials, complex designs, or larger square footage.
In general, expect to pay $8 – $20 per square foot for the complete patio installation.
How Much Does a Patio Cost?
National average cost: $3,994
Typical price range: $2,363 – $5,909
Extreme low end: $1,212
Extreme high end: $8,431
Patios can be enjoyed throughout three or even four seasons in most areas, but hardscaping projects are often a significant investment.
If you've ever wondered how much it would cost to enjoy a little more time outside throughout the year, stick around as we explore pricing averages, material options, money-saving considerations, and additional costs to consider before making the leap onto your new outdoor patio.
On This Page
Cost Estimator By Size
Size is an important factor to consider when building your patio. This and materials are your largest cost considerations (besides labor).
You don't want to build it too small and not have enough room to enjoy friends and family, but larger square footages can quickly add hundreds or thousands of dollars to the total cost.
We'll take our $8 – $20 per square foot average range and apply it to small, medium, and large patios to get an idea for an average cost range for each size.
Small – 8' x 10' (80 square feet): $640 – $1,600
Medium – 12' x 12' (144 square feet) : $1,152 – $2,880
Large – 20' x 20' (400 square feet) : $3,200 – $8,000
Other Factors That Affect Cost
Materials and square footage are probably the two most important considerations if you are trying to control your costs. Below are the average ranges for some of the most popular patio materials.
Note: These prices are for the materials only. These prices do not include labor or miscellaneous costs.
TYPES OF PATIO MATERIALS
COST
*per square foot
Gravel
$0.81 – $2.85
Concrete pavers
$2.67 – $6.00
Poured concrete
$3.38 – $8.12
Brick pavers
$6.75 – $10.00
Flagstone
$8.65 – $20.65
Stamped concrete
$9.15 – $16.30
Patio materials
These are average material costs, so there may be some instances in which costs land outside of these ranges. Again, this is for the cost of materials only, not including installation, excavation, labor, other materials, or any additional costs.
If you are interested in looking into all of your materials options, you'll probably price the big box home improvement stores, of course, but don't forget about local stone yards and reclaimed brick, for example.
Here's why: Local stone and reclaimed materials suppliers may be a money-saving option depending on what is available in your area.
Maintaining your patio
Think your patio is a maintenance-free part of your landscape? Not so fast. True, it doesn't require weekly mowing or weeding, but you'll need to evaluate your patio once or twice a year to keep it in good working order.
Every six months or so, check to see if the regular or polymeric sand between your pavers is low. Keep the sand filled to a quarter inch below the pavers' surface.
A regular 40-pound bag of patio sand runs around $4, and 48 pounds of polymeric sand costs about $22. These will cover from 30-45 square feet for a new patio, so if yours is established, adjust the amount down from there.
Another aspect of patio maintenance is whether you want to seal your pavers. Most experts say it is not necessary, but they are quick to point out that it is very beneficial. Sealers help protect the pavers and the joint sand, reduce the chance of permanent staining, and help maintain the initial color.
Sealing should be done every 2-5 years depending on the manufacturer's instructions. One gallon of sealant costs about $30 and covers 125 square feet of patio.
Patio accessories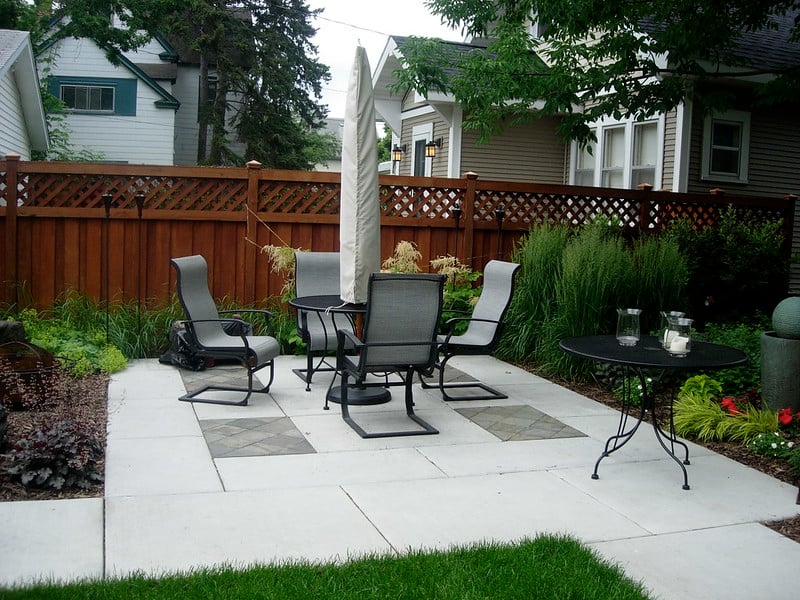 Your patio is done, the fire pit is installed, and you have your first outdoor dinner party on the calendar. But where will everyone sit? In addition to the cost of the patio, plan to factor in costs for seating.
A basic two-chair table set starts at around $100, but be prepared to pay up to several thousand dollars to outfit a large patio with several dining sets, sectionals, and chairs.
Interested in a new hammock? Free-standing hammocks start at around $100.
Extra Services
You might need more than pavers to create that outdoor living space you've always dreamed of. Here are a few other costs you may want to consider to bring all the pieces together.
Fire pit installation
Fire pits are a great gathering space for family and friends. If you're having one installed, they range from about $367 – $2,233.
The minimum you should expect to pay for a fire pit is $250, while the maximum may run up to $7,500 or more for custom work. The average fire pit installation costs about $850.
Lighting
Lighting helps to extend the time you're able to enjoy your outdoor living space. No sun? No problem.
If you're interested in having your contractor install lights, expect to pay from $188 – $325 per light, with the average per-light cost running around $260.
The average total ranges from $1833 to $5333 for an average lighting project.
Landscaping
Many companies that do hardscaping work will do softscaping and other landscaping as well.
If you'd like to install seasonal color, perennials, flower beds, or shrubs around your new patio area, plan on $4 – $14 per square foot in installation costs.
Cost of a DIY Patio
If you're interested in controlling the costs for your patio project, you probably have considered the DIY option.
Labor and equipment costs on a professional installation are significant. Average labor costs run around $9.69 per square foot. Some estimate that labor costs make up over 50% of the total costs. Having said that, by eliminating this cost, you'll reduce your outlay significantly.
Let's say you want to build a simple 12' x 20' (240 square foot) concrete paver patio. (We'll assume you have all the necessary tools already.) The average cost for the pavers is $4.34/square foot. Let's do a quick breakdown:
MATERIALS
COST
Gravel
*2.96 cubic yards (or 4.15 – 5 tons) for a 4" depth
$17.69/ton x 4.15 – 5 tons
Landscape fabric
$22
48' edging and steel spikes
$69
Concrete pavers
$1,041.60
TOTAL
$73.41 – $88.45
Sand
*.074 cubic yards of sand (or 1 ton) for a 1" depth
$29
Delivery fee (if applicable)
up to $100
TOTAL
$1,235.01 – $1,250.05
Equipment Needed
This is a basic list of materials. Your list will vary depending on the materials you use to build your patio.
EQUIPMENT NEEDED FOR DIY PATIO
COST
String lines
you probably have string
Eye protection
$2 – $20
Ear protection
$3+
Proper footwear and outerwear
prices vary
Tape measure
$3 – $30
Hammer
$5+
Square 2'x4'
(to level out the sand – as a screed rail)
$5
Rubber mallet
$6 – $27
Garden hose if using polymeric sand
$10+
Gloves
$10 – $15
Trowel
$15
Level
$17 – $75
*4' – 6' level
Safety masks
$17+
*for a five pack of KN95
Leaf blower
$20
Diamond blade
*for cutting concrete
$20
Plate compactor or mechanical compactor w/ carpet or other base protection
Rents for $60/half day OR $86/full day
Bobcat (rental)
$200 – $230 for four hours OR $289 – $330 per day
Bobcat alternative:
–a bunch of friends
–shovels
–wheelbarrows
Cost of lunch
$8+
$40+
Circular saw (Cordless kit w/ two batteries)
$350
How to install a DIY patio
If you're an advanced DIYer who wants to take a crack at your own patio, here is a general overview to consider:
Check with your city's building department to see if you need a permit. It is unlikely you will need one for a grade-level freestanding patio, but double-check anyway. And while you're speaking with them, ask them about code and inspection requirements.
Consult your HOA.
Draw a plan or blueprint.
Call the local utility department to ensure you won't dig into any utility lines.
Grab a friend or two.
Properly prepare your patio area.
Install the patio materials according to code.
Pass the inspection with flying colors (if applicable).
Bring out your furniture, and start enjoying your new outdoor living space.
DIY cost vs. professional service
So, our average 240 square foot DIY concrete paver patio comes out to $1235.01 – $1250.05, plus delivery fees, if applicable.
If we use our $8 – $20 square foot average, a 240-square-foot professionally installed patio comes to $1,920 – $4,800.
Cost of a Patio By Location
Think of it this way: Patio materials are heavy. Materials sourced further away will be more expensive, so if you are looking to cut costs, ask your contractor which materials are locally available.
Also, consider your local labor prices. These vary from region to region and are factored in when contractors do their bids.
FAQ About Patios
1. How long does it take to install a patio?

A well-oiled crew can install a simple patio in a day or even several hours. If you have an intricate paver design or multi-tiered building plans, for example, extend the time accordingly. 

If you are a DIYer, expect the process to take about two to four weekends, depending on the complexity of your design and any extras you are building (seating walls, fire pits, etc.).
2. If you am interested in hiring a professional, how many companies should you consider?

Most experts recommend getting estimates from at least three companies before making your final decision. Have a list of questions prepared in advance so you can compare the same information across all three contractors.
3. How long will a paver patio last?

People have been putting stones on the ground as roads and patios for thousands of years. Your installer may not give you a multi-generational warranty, but most say that paver patios should last "a lifetime." 

This doesn't mean that you won't have to do regular maintenance. Regular maintenance is key to the longevity of any hardscaping project.

There are other critical factors as well, such as the preparation and stability of the subbase materials (including soil, sand, and stone), chemical exposure, quality of the patio installation, and whether the site is regularly maintained with joint sand and sealer. 

Another thing: Many manufacturers offer warranties on their products, and if a paver were to crack, you can switch it out for another one.

With a solid foundation and a little TLC, homeowners should expect several decades of life out of their investment. 
Conclusion
Whether you are an avid DIYer or you want someone else to handle logistics and installation, a patio can be an affordable way to enjoy more sunshine and outdoor time with family and friends.
Remember that the DIY option offers significant savings, but so does choosing the size of the patio and materials wisely.
Main Photo Credit: dailyinvention / Flickr / CC BY 2.0
Sarah Bahr
Sarah is a writer who has previously worked in the lawn care industry. In her spare time, she likes to garden, raise chickens, and mow the grass with her battery-powered lawn mower.