Whether you want a gazebo over the grill or a structure for outdoor entertaining, buying a gazebo kit could make the process easier and less expensive. Gazebo kits are relatively easy to assemble and come in many sizes, styles, and construction materials. But a new gazebo is an investment, so we'll explain everything you need to know about gazebo kits before you buy.
Everything you need to know about gazebo kits:
Types of Gazebo Kits
Pop-Up Gazebo
Pop-up gazebos are usually simple in construction and appearance. They're intended for occasional use, say at a cookout, a wedding, or a gathering to watch the big game. These gazebo kits are easy to assemble and disassemble. They are not made to stand up to strong winds, so make sure to dismantle them when storms are in the forecast.
A pop-up gazebo might be for you if you anticipate using it only once in a while and don't want to make the financial commitment of a permanent outdoor structure.
Permanent Gazebos
These are for homeowners who want to integrate a stylish outdoor living space into their landscaping. These structures require an anchor or concrete footing to help them weather storms.
Note that installing a permanent gazebo, even with a building kit, is more expensive and labor-intensive than building a pop-up.
What to Look For in a Gazebo Kit
Hardtop Gazebo
Hardtop gazebos are sturdier and are the better choice if your area frequently experiences high winds and heavy rain. Hardtop canopies are typically made of long-lasting, durable materials such as shingles, asphalt, wood, or aluminum.
Soft Top Gazebo
A soft top gazebo feels airier and more open, and it would be less expensive. Soft top canopies are made of fabric that can be removed. Look for one with high-quality, weather-treated fabric such as polyester or polyethylene, and be sure it's constructed with heavy-duty stitching.
Sizes and Shapes
Size matters when it comes to gazebos. Does your yard have space for a large structure that can handle a dining table? Or is there just enough room for a small, secluded spot for two? The good news is that you'll likely find a kit in the right size.
Gazebo kits come as small as 8 feet by 5 feet and as large as 30 feet by 30 feet. Many common, inexpensive, DIY gazebos measure 10 feet by 10 feet or 12 feet by 12 feet.
Gazebo kits also come in a variety of shapes to suit your yard or patio. The basic shape options are square, rectangle, hexagon, octagon, and round.
Gazebo Kit Materials
Is your perfect gazebo made of wood? Metal? Or do you prefer easy-care material? There's likely a gazebo kit that will fit your style and budget.
Wood
Wood gazebo kits are available for a wide range of budgets. The type of wood you choose decides cost and quality.
Natural redwood is the most durable and expensive option. Cedar is slightly softer and less hardy, but it's a popular choice because it's budget-friendly. Pressure-treated lumber is another option. All three are resistant to pests and decay.
Many traditional wood gazebos have knee-high railings around the perimeter, but you can also find more modern, open gazebo designs.
Metal
Metal gazebos often feature metal frameworks topped with fabric, shingles, or aluminum roofing. The metal frames are usually made from steel or aluminum, both durable options. Aluminum requires less maintenance since it doesn't rust.
Metal gazebo kits range in price, but they're usually less expensive than their wood counterparts. Metal kits also tend to be simpler in design. Many have only four posts and a roof, without the traditional railing typical of wood gazebos.
Vinyl
Vinyl gazebos are less common and more expensive than wood or metal. They come in different colors and styles, both traditional and contemporary. Vinyl gazebo kits often come in panels that are especially easy to assemble.
Vinyl is durable and nearly maintenance-free. It doesn't require painting or staining, nor does it need rust protection. Generally, a good spraying with a hose or pressure washer is enough to keep your vinyl gazebo looking good.
Special Features and Add-Ons
Perhaps you need more than a basic gazebo kit. Some manufacturers offer special features and add-ons to their gazebo kits that might make them better suited for your needs.
Some features come with a gazebo kit, while others are sold separately.
Floors
Most gazebo kits don't come with flooring. Usually, the floor is the surface a gazebo is placed on, be it a concrete base, a deck, or patio. However, some kits do come with matching floor panels.
If your kit doesn't come with floor panels, it's still possible to have a floor. Depending on the gazebo's base and your budget, you can choose from a variety of flooring materials, such as decking, pavers, outdoor tile, interlocking rubber tiles, or even artificial grass.
Walls
Your gazebo may be intended as a private outdoor living space, home to a hot tub, or a secluded seating nook. If that's the case, you'll probably want a kit with walls.
Gazebo walls can be solid panels or screens, like those on a screened porch. But if your chosen gazebo doesn't come with walls, you have options. You can buy shades in various materials — bamboo, fabric, or specialized sun shades — to create privacy or a cool spot.
Vented Roof/Cupola
A vented roof will allow more air and sunlight to reach your gazebo. If you plan to grow plants in your gazebo, look for one with a vented roof. That way, your plants will have access to direct overhead sunlight.
A cupola (a small dome or square structure that sits atop the roof) serves the same purpose as a regular roof vent and adds an extra style element. Keep in mind that cupolas can add to the kit's price and might make installing the gazebo's roof a little tricky.
Lighting
If you intend to use your gazebo at night, choose a kit with lighting capabilities. Some gazebo kits come with attached lighting, while others simply have the hardware to hook up lights.
Unless you use battery or solar-powered lights, your gazebo will need to be within an extension cord's reach of your home or another power source for this feature.
Mosquito Netting
In warmer climates, spending time outside in the summer can be frustrating (and itchy) because of mosquitoes. Luckily, many gazebo kits come with mosquito netting, or the hardware to attach it. That way, you can enjoy sunshine and fresh air without the bug bites.
Assembly Tips
When you buy a gazebo kit, you have two choices: Build it yourself or hire someone to do it for you. If you want to go the DIY route:
Pay attention to the difficulty level. Don't choose a gazebo kit that's above your construction-skill level. Check the manufacturer's website and customer reviews for an accurate assessment of difficulty.
Don't do it alone. It's a good idea to recruit at least one friend to help you. Assembling a gazebo kit is much easier than building from scratch, but the job still requires some elbow grease and heavy lifting.
Follow the directions. Above all, follow the assembly instructions that come with your kit. Pay careful attention to each step, as every gazebo and brand is slightly different. Plan to spend a couple of hours assembling a small pop-up gazebo or an entire weekend on a permanent one.
Keep it level. Whether your gazebo has a floor or not, build it on level ground, clear of roots that might interfere with the structure. You may have to remove some roots yourself, either by digging them up or using herbicides.
How Much Does a Gazebo Kit Cost?
The answer: It depends. A permanent gazebo kit will cost more than a pop-up. Style, shape, and materials will affect the price, as will the brand and the retailer you choose. Generally, most gazebo kit prices start around $1,500. On the low end, you can spend around $325. 
But don't forget that any add-ons, such as wall or floor panels, shades, or floor coverings, will add to the price. And perhaps some new outdoor furniture would look good …
FAQ About Gazebo Kits
When to Hire a Professional
Installing your own gazebo from a kit — especially a permanent gazebo with extra features — takes a solid amount of work, time, and planning. But DIY is not for everyone. If you don't have the time or construction know-how, or if your property has difficult or hilly terrain, then consider hiring a professional landscaper to do the job for you.
Main Image Credit: Needpix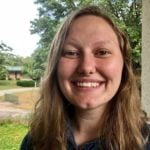 Jordan Ardoin
Jordan Ardoin is a writer, editor, and classical literature student based in Colorado. When she isn't reading or writing, she enjoys goofing off with her cats and spending time in nature.