Affordable lawn care services at the click of a button
Affordable Pricing • Fast Online Ordering • Quality Service
As seen in...
How LawnStarter works
Get started in under 5 minutes

View Pricing

Choose your service date

Let our pros do the work
Why LawnStarter?
5 Minute Setup
View pricing, choose your options, and schedule service in 5 minutes or less.
Online Account Management
Payment, scheduling, feedback... all done through a convenient app.
All Services Covered
Lawn mowing, fertilization, bush trimming, weeding and more. We can do it all.
Fully Insured Professionals
You are covered. All LawnStarter pros are required to carry liability insurance.
Quality Service
We ask you to rate each service to make sure you are satisfied.
Hundreds of Raving Reviews
Don't take our word for it... read our five star reviews on Google and Shopper Approved!
Teri B. in Manassas, VA

LawnStarter has been phenomenal with their communication the whole 8 months we've been using them. Love the notifications and the app in general. Our home looks beautiful and we don't have to worry about a thing!

Andrew G in Herndon, VA

So convenient! It took less than ten minutes for me to schedule lawn mowing service online, and the work the lawn crew did was fantastic. Additionally, their customer service is very prompt and professional. I highly reccomend LawnStarter!

Adena F. in Richardson, TX

The crew that does my lawn is friendly, professional, and efficient. Unlike many local lawn mowing services, they have paid meticulous attention to detail around my edges and flower beds. It's also great being able to manage things through the app.
Take your lawn on the go.
An app for lawn care, seriously? You betcha! Stay up‑to‑date on your lawn wherever you go.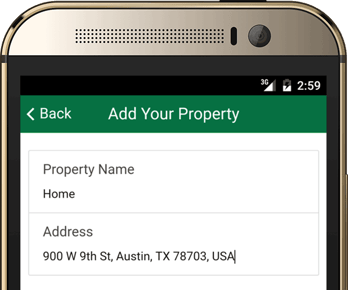 About Our Service Pros
LawnStarter strives to partner with top local professionals to bring you the best service possible while helping Lawntrepreneurs run a thriving business. We are proud to support small businesses — most service pros grow their businesses by more than 30% with LawnStarter.
The LawnStarter Guarantee
Professional lawn care equipment
Insurance verification
Pros must maintain minimum ratings
Average of 12 years experience
Become a LawnStarter Pro →
"
Lawnstarter has been an essential part of my company's growth. I went from 10-15 maintenance clients to 150+ maintenance clients at the peak of the season.

Andrew W. at Terra-Dura