Some landscaping ideas, such as flower beds, may be better suited for the front yard than the back. Adding an outdoor kitchen is more a backyard landscaping idea.
So how do you decide which features are better for the front yard vs the backyard when it comes to landscaping ideas?
Think of the two sides of landscaping as a bit like a mullet: Formal in the front and a party in the back.
Let's explore front yard vs. backyard landscaping ideas.
Goals of Front Yard Landscaping
A well-groomed front yard welcomes neighbors, guests, and potential homebuyers when you're looking to sell. Front yard landscaping is all about appearances. We're talking about curb appeal.
Curb appeal
You're not like everyone else, so why should your home or front yard be? That's one goal of landscaping, making your property beautiful and unique. Most people don't have the privilege to see inside your home or the backyard, so the front should proclaim your individuality. If your front yard is neat and trimmed, people assume your home is just as well-kept.
Your front lawn should dazzle passersby. But you need more than grass to grab attention. Consider planting a cornucopia of flowers and trees. Decorate the path to your front door with landscaping rocks. The walkway itself can be part of the landscaping. Rather than something similar to the sidewalk, have some decorative brick or flagstone.
You may not hang out in the front yard, but your neighbors will enjoy the view, and appreciate what a pristine yard does to the nearby property values.
Welcome guests
Another reason to invest more in front yard vs. backyard landscaping is for your guests. Many people work to make their home an inviting space, both for themselves as well as loved ones, so why should the first thing they see be any different?
Many front yard landscaping ideas center around making it an inviting space, directing a visitor's attention to walking through the front door.
Imagine a weaving path through lush garden beds, step beds with different ornamental grasses, and shrubs. A little stroll that offers your guests a sigh of tranquility before being welcomed into your home. It will lift your front yard from pretty to a work of art.
Low Maintenance
Easy maintenance is essential when trying to sell your home. Most homebuyers don't want to spend hours taking care of a lawn or flowerbed. You can cut down on the number of chores by choosing native plants, trees, and grasses.
Imagine having a beautiful landscape just outside your front door that needs little management.
Whether you're designing and installing the landscape yourself or hiring a contractor, a low maintenance front yard is a major point when choosing plants as well as placement.
Goals of Backyard Landscaping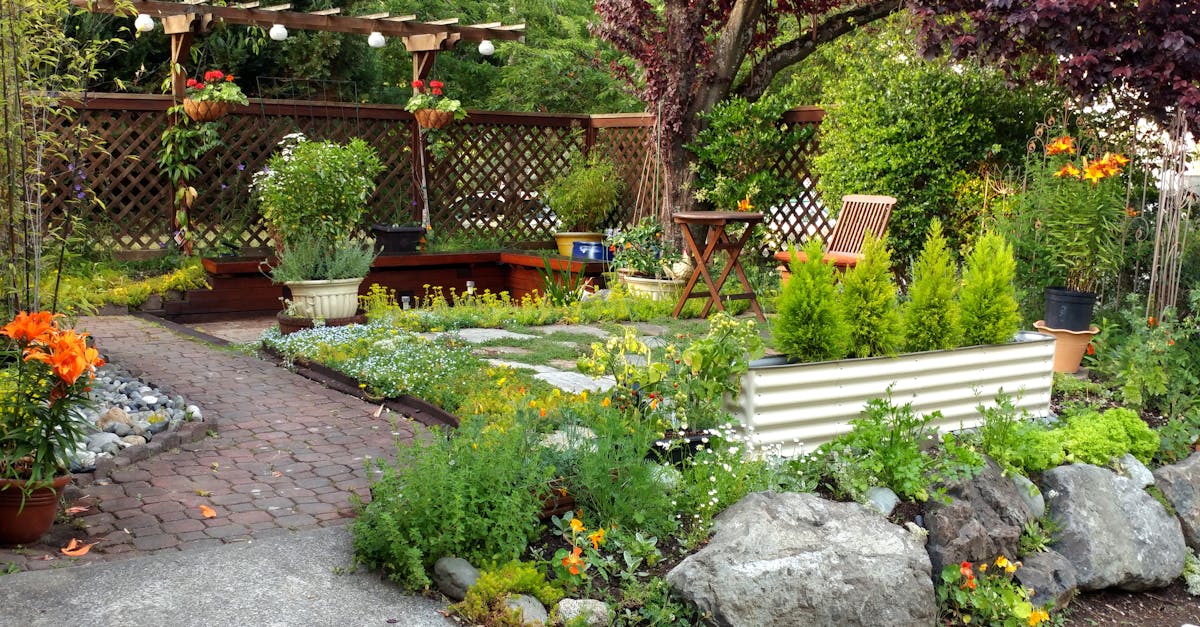 The backyard is the main focus for most homeowners when it comes to landscaping. That's where you and your family entertain, have cookouts and relax. It's where the kids and pets play, enjoying the fall breeze or summer sun. Your landscaping goals for the backyard are different from those for the front yard.
Privacy
We may like our neighbors but everyone needs their alone time. Part of backyard landscaping is sharing that space with only those you invite. Many people immediately jump to fencing when they think of privacy, but there are many other landscaping options.
You could plant tall, bushy trees, install living walls, or use a trellis, and weave vines through it. You could even place stepping beds that are high enough to use small shrubs for privacy. You're not obligated to create a yard-wide privacy fence, perhaps there are just little areas of your yard (maybe a hot tub or patio) you'd rather be secluded.
Note: If you have a backyard pool, in-ground or above ground, fencing is a must! The rules vary from city to city, so it's best to check building codes.
Entertaining
The front yard may be inviting, but it's the backyard you're inviting guests to — assuming the weather is in your favor. It only makes sense to spend more of your landscaping dollars on entertainment spaces.
Combining entertaining with privacy, you could have an outdoor living room surrounded by living walls. A pathway from the outdoor kitchen to a small pool. An outdoor kitchen could save you the trouble of having to run back inside during cookouts. An awning or pergola will provide shade and protection from the elements.
The options are endless with the backyard because that's where you and your guests will spend time without worrying about the rest of the neighborhood.
Aesthetics
Fewer people will see the backyard, but you still want the landscaping to be impressive. Native flowers and plants need little water or care and will last longer than tropical plants. They will also attract beneficial insects to your yard rather than troublesome pests.
Pro tip: Plant marigolds and pest-repelling herbs. They'll blend in with the landscape and keep the bugs away naturally.
Break Away
Everyone needs a getaway and it would be rather difficult to find it in the front yard.
With backyard landscaping, you can create secluded spaces that are geared toward alone time. Perhaps a single sofa or bench for reading, maybe a little fountain with a meditation space. Think of it as an adult treehouse but, not in a tree or for children. It's your little vacation spot.
Mullet Landscaping
Front yard vs. backyard landscaping ideas center around what's most appropriate for the space. You wouldn't cook in your bathroom or sleep in your kitchen, right? Well, you wouldn't put an outdoor living room or a swimming pool in your front yard, nor would you design the center of your backyard around the back door.
See what makes sense for your space and for your lifestyle. And if your grand plan is too much for you tackle yourself, call a landscaping service near you for advice or to make your front yard and/or backyard plans a reality.
Main Photo Credit: Photo Courtesy of Kgbo
Phillip Forsgren
Quirky, corny, and a little too invested in research. Phillip Forsgren grew up laboring over book reports and, as a result, became a freelance writer.