Front yard landscaping may be about first impressions, but backyard landscaping ideas will help you make memories.
Your backyard is an extension of your home. It's where you gather as a family for privacy, entertainment, and relaxation. But without an inviting backyard landscape, you're left cooped up inside with screens and paperwork that have you missing the chance to grow a garden, roast marshmallows, and grill.
So we've gathered 21 backyard landscaping ideas that bring you all outside, and most importantly, bring you together.
1. Fire Pit
A firepit in the backyard creates a cozy evening outdoors. If the cold air keeps you and the family locked inside with the heater, a fire pit will have you all rushing outside for a warm night by the crackling fire.
Set up comfortable chairs, and you'll be sharing jokes, stories, and memories until way past bedtime.
Have a sweet tooth? A fire pit is a perfect excuse to melt chocolate and roast marshmallows for some irresistible s'mores.
Cost: Fire pit prices start below $100 and can run as high as $1,400.
2. Pergola
A pergola can look empty on its own, but you can hang flower pots along the top, grow self-climbing plants along the sides, or hang curtains for privacy.
Pergolas turn an area into a beautiful outdoor living space. Maybe you want a cozy outdoor living room where the family can play board games and hang out, or perhaps you need an elegant seating area for catching up with friends.
Cost: The average cost of building a pergola is $3,500​. Some pergolas run as high as $6,000.
3. Outdoor Kitchen
Say hello to excellent entertainment and goodbye to expensive restaurant bills. Having an outdoor kitchen in your backyard will make you the most popular host in the neighborhood.
Every cook knows a busy kitchen cranks up the temperature, causing the air conditioner to work a double shift. Cooking outdoors gives your air conditioner a break and helps you save on utility bills. Outdoor cooking also keeps the smells outside. Keep the food prep outdoors, and those burning smells won't be spoiling the air.
Cost: A typical outdoor kitchen ranges from $5,000 to upward of $20,000. A luxury outdoor kitchen may cost up to $100,000.
4. Swimming Pool
Turn your backyard into a personalized resort with a customized pool design, stunning ornamental grasses, and stylish furniture.
You don't have to spend any more days at the public swimming pool worrying about how clean the water is or if anyone has used it as a bathroom.
This backyard landscaping idea includes adding plants around the pool. Tropical plants will thrive in the increased humidity.
Cost: In-ground pools typically cost between $20,000 and $65,000. An above-ground pool is much cheaper, typically costing between $730 and $4,000 depending on your budget and the quality of the pool. Unlike in-ground pools, which can last for decades, an above-ground pool may last between seven and 15 years if properly maintained.
5. Vegetable Garden
Growing a small garden in your backyard can be an enjoyable experience and something to cross off the bucket list.
Gardening encourages exercise, stress relief, and a healthier lifestyle. Consider adding textured mulch or stylish edging to your garden design. Talk to a landscaper about a customized garden fence or raised garden beds.
Once you design the garden, get the family involved by picking out the vegetables you want to grow together. Garden-based learning is a great way to teach children about community and healthy foods. The kids will enjoy eating a salad a lot more when they know they helped grow the food!
Cost: Your garden's seeds will cost you as little as $2 a pack. Related costs will vary depending on your garden's size, whether you install a fence, and whether you build a raised garden bed. Keep in mind: While you may have to pay an upfront cost, your garden will pay for itself after a few good harvests.
6. She-Shed or He-Shed
Everyone needs a little alone time. The she-shed or he-shed can make a great addition to your backyard and provide you with a special space that's all your own.
Turn your shed into a DIY landscape project, or talk to a landscaper about installation and accessories, like window boxes, hydrangeas, or pavers.
Maybe you'll want a professional to give it a paint job, or have someone install a small picket fence around your shed.
Cost: According to She Shed Living, you may pay as low as $600 to build your shed, or as high as $30,000.
7. Playset
Every parent recalls the car ride in which the kids are screaming and insisting you left the park too soon. Dinner then turns into a negotiation, and the kids are too upset for bedtime stories. A playset in the backyard can solve this.
A playset can be a fun, creative solution that adds appeal and joy to your backyard. Consider hiring a professional to plant shady trees, lay down mulch under the swing set, or plant wear resistant grass that can tolerate the heavy foot traffic.
Cost: Playsets or jungle gyms can cost between $200 and $5,000 — or more.
8. Outdoor Sauna
A sauna is an entertaining feature to have in your backyard and should be used safely. When designed correctly, it can provide a charming focal point, endless relaxation, and can double as a pool house.
Once you have a sauna installed, you can enjoy designing your backyard around this rustic building and create a cozy getaway that encourages a stress-free environment.
Cost: Outdoor sauna installations cost between $3,000 and $6,000.
9. Greenhouse
If your family loved the backyard garden last summer, then building a greenhouse will take this family pastime to the next level. Create a backyard oasis around your greenhouse with raised beds, a charming garden path, greenery, and elegant water features.
Greenhouses offer longer growing seasons, provide your plants with shelter in harsh weather, and protect your garden from animals, insects, and other pests that like to chew on your greens.
Cost: A greenhouse costs $18,000 on average, with most people paying as little as $7,000 and as much as $30,000.
10. Privacy Fence
The backyard is about family experiences, and nothing makes quality time with loved ones more intimate than privacy. A privacy fence can also protect your family from wind, wild animals, and unwanted visitors. And if you're dealing with noisy neighbors (or if you're the noisy neighbors), privacy fences can be an effective solution to blocking sound.
Cost: You should expect to spend $2,500 on a new privacy fence, each linear foot costing between $8 and $18 on average.
11. Outdoor Dining
You'll want family dinners every night of the week when you've got an outdoor dining area. Sit around the table together and enjoy the sounds of birds and warm sunlight as you dig into your favorite meals.
Guests will always want to come to your dinner parties and experience a night of outdoor entertainment.
Cost: Shopping on a budget? You can buy cheap outdoor patio furniture sets with a table and chairs for as little as $150-$200. If you're looking to make a comfortable dining space and spend a few dollars, patio furniture that suits your tastes may cost up to $2,000 or more.
12. Landscape Lighting
The school day is over, and you've sent your last email. Sometimes the evening is the only time everyone in the family is free. Landscape lighting can help you enjoy your backyard even after the sun goes to sleep.
Hang string lights along the back porch or around your pergola and create an intimate space for fun and family time.
Cost: Outdoor string lights may cost you between $15 and $50. If you prefer lamps, a bundle of six or ten lamps may cost you between $20 and $100. If you're interested in hiring a professional to create a complex lighting design for your home, you may pay between $2,000 and $6,000.
13. Patio
Before you can start designing your outdoor living space, you need to consider where to put it. Having the furniture sit on grass isn't ideal, especially when the rain makes it muddy. A brick or stone patio is a perfect solution to protecting your living space from grass stains and dirt while also creating a comfortable walking surface.
Cost: Patio installation costs typically range between $1,800 and $5,000.
14. Hammock
The hours fly by when you're resting on a hammock with a good friend or favorite book.
Hang this beautiful addition in your backyard, and you and the family will find yourselves spending countless afternoons swinging, laughing, and enjoying the peace of nature.
Cost: A sturdy hammock may cost between $100 and $500.
15. Water Feature
A simple waterfall, fountain, or pond will make your backyard more inviting. Set up some chairs, bring a pitcher of ice-cold lemonade, and sit around a tranquil and calming water feature.
Wildlife will also venture through your yard for a sip of cold water. Water features can blend in with the natural environment or be designed to appear modern and chic.
Cost: A backyard water fountain or waterfall typically ranges between $900 and $5,000.
16. Gazebo
A gazebo can add a glamorous touch that's both a focal point and functional.
When you've cooked up a savory dinner in your outdoor kitchen, head over to the table and chairs under the gazebo for an intimate dinner for two (or four or more if it's a big gazebo).
Cost: The average gazebo cost is $6,000.
17. Rock Garden
A rock garden can add a very Zen touch to your backyard. And it's the ultimate low-maintenance landscape idea — set it and forget it. Just add rocks (round ones, smooth ones, big ones?), plants (shrubs, flowering bushes, cactus, trees?), a border (rock, wood, cement block?) and you're all set.
Figure out what mood you want to set with your rock garden, and the selections will be easier.
Cost: Landscaping rock projects cost an average of $600 to $700. Homeowners may pay between $400 and $1,000 to buy and install rocks, stones, and boulders. Consider asking a farmer or construction worker if they have any rocks they plan to throw away. You may happen to find yourself coming home with a giant, free rock. Hunting in your yard for small stones is also an excellent way to collect some of your favorites for free.
18. Tool Shed
Your lawn mower, rakes, weed trimmers, wheelbarrow, ladder, and snow shovels need to be stored out of the elements.
But how to make your tool shed a part of your landscaping? Pick the right place and then select a tool shed that has some style and character. Some sheds look like little houses with windows or a small barn.
Plant evergreens, shrubs or flowers around your shed and you've got a storage area with color and style.
Cost: A standard tool shed costs between $300 and $2,000.
19. Butterfly Garden
Invite nature's guests to stop and smell the roses, tulips, beautyberries and whatever native plants where you live will draw butterflies and hummingbirds to your yard. Even better? You get to gaze out at all that color as you watch a show as monarchs and rapidly flittering wings pop from one flower to another right before your eyes.
Cost: Your butterfly garden cost will vary depending on the size of your garden and which plants you buy. Most plants from a nursery will cost between $10 and $30.
20. Treehouse
When your kids need to get away, keep them in the yard and in your eyesight and earshot with a treehouse.
Treehouses can be rustic or wired with light for reading at night — but make sure your treehouse is safe. A few scrapes and bruises are good for kids, but falling from several feet up can cause broken bones.
Cost: Building a treehouse varies widely in cost, typically ranging between $400 and $15,000.
21. Stepping Stones
Tie your backyard elements together with pathways of stepping stones. From the back door to the she-shed, or tool shed, stepping stones or paving stones set in the ground are easier to walk on (and roll your lawn mower on).
Stepping stones are both practical and add character — and that's what it's all about in your backyard — creating memorable and functional space for you and your family.
Cost: You can buy pavers and stepping stones at your local home improvement store and typically range between $1 and $15 each.
When to Call a Landscaping Professional
While you can install many of the above backyard designs yourself, hiring a professional can make things easier along the way and save you from costly mistakes. Call a professional landscaper near you to discuss cost estimates, design ideas, and the installation process.
If you're struggling to implement your ideas because of a small yard, a professional can help make the most of limited space with expert hardscape and landscape designs.
Need backyard landscaping ideas on a budget? Many landscape designers market themselves as budget-friendly and work closely with clients to design within budget.
Main image credit: William LeMond, Pexels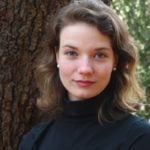 Jane Purnell
Jane Purnell is an artist, writer, and nature lover. She enjoys teaching readers about the importance of eco-friendly lawn care, integrated pest management, biodiversity, and sustainable landscaping.