A poolside retreat, a shelter for an outdoor entertainment center, a place to nap or swing, a bit of privacy around your hot tub — pergola ideas cover a lot of ground.
What is a pergola? Long and narrow, a pergola's pillars and open ceiling of trellis-like latticework bring beauty, shade, and ambiance to your outdoor living space.
Wrap fabric through the top beams of your pergola for a splash of color or focal point in your backyard. Plant some climbing vines to give your pergola a Mediterranean feel.
Where to put your pergola in your landscaping plans? That's the first question. Then it's all up to you to figure out how best to use the pergola once it's standing.
Here are nine pergola ideas you can try out in landscaping your yard.
9 Cool Ways to Use Pergolas Around Your Home
1. Install a poolside pergola
Create a shady spot on your pool deck with a freestanding pergola — it's perfect for lounging, cocktail and book in hand, in between swims. For extra protection from the sun, hang curtains down the sides or install a retractable cover.
Besides shading a large area, a pergola can add visual interest by acting as a focal point and boosting the overall beauty of the surrounding environment.
Plus, the open beams allow air to circulate for added cooling.
Customize your pergola to match the architectural design of your home, or keep things simple with a DIY pergola kit like this one.
2. Build an entertainment HQ
Transform a lackluster patio into your own, private entertainment venue. Ideal as a seating area for family game nights or for outdoor dining with friends, a patio pergola can designate a portion of your backyard as a party space.
Level up the ambiance of this al fresco living room with string lights (the solar option means no worries about access to outlets), a chandelier, potted plants, or speakers for music. Ceiling fans hung from the overhead slats will help keep things cool on summer nights, while a fire pit can warm things up in fall and winter.
3. Embrace Mediterranean vibes
Especially functional for a small backyard (or if you have no backyard at all), a pergola is a great way to extend your outdoor space and take advantage of vertical gardening.
Here's how: Attach one to an exterior wall of your home to grow climbing plants, as they do in Italy, such as clematis, wisteria, ivy, or roses. In fact, as early as the ancient times of Rome and Egypt, people used pergolas for this very purpose.
Or, if securing to a balcony area or incorporating a freestanding one into your deck design, consider hanging baskets from the slats. Using the "thriller, filler, and spiller" method, plant a mix of climbing and clumping plants, including geraniums, heliotrope, petunias, ivy, and ornamental grasses.
4. Provide privacy for your hot tub
By covering the open sides and top with panels or retractable shades, you can soak the day's stress away in your hot tub — without worry of prying eyes.
Not only will privacy screens create a sense of tranquil seclusion from the outside world, they'll also block the sun's rays, allowing you to enjoy the outdoors a little longer.
Another way to establish privacy, is to attach trellises to cover the pergola's open spaces. Along these trellises, you can train vining plants to grow, giving you living walls that also enhance your view, increase your property value, boost your mood, and provide shade.
5. Introduce color and contrast
Mostly made of wood — think cedar or redwood — other materials to choose for your pergola design include brick, fiberglass, and vinyl.
While each pergola material brings its own textural addition to a space, fiberglass is the easiest to customize with color (it's also the most expensive choice).
Brick and wood pergolas also can be painted, like the white pergola pictured above, while vinyl is limited to the color it comes in.
However, if you're simply looking for a low-maintenance pergola option, vinyl is your best bet. You'll never have to worry about repainting or staining and vinyl can never be infested with termites.
6. Swing into relaxation
Upgrade your porch with a pergola swing. What better way to take in your property's views than by swaying back and forth as the breeze blows by and the sun filters through the slats.
Taking time to relish nature in this way also helps lessen stress and anxiety and improve your overall mood. Commit to further relaxation by allowing the swinging motion to gently rock you to sleep.
7. Designate a napping nook
If you'd rather not risk a nap on the front porch in open view of the neighbors, you can set up an outdoor area specifically for sleeping. Attach your pergola along your fence line for privacy or build a freestanding napping space, hanging the hammocks from your pergola's beams or posts. 
Better than an outdoor bedroom setup with an actual bed, hammocks have been shown to help people fall asleep faster and sleep deeper, thanks to the rocking motion they provide.
8. Create a kids-only place
Not enough square footage indoors for a playroom? Take the toys — and the kids who love them — to a pergola clubhouse. Or, give your older ones a place to escape for quiet studying or movie watching on their laptops.
A pergola can be situated atop a child-friendly hardscape, such as soft, shock-absorbing patio tiles, and enclosed with colorful curtains and a retractable pergola roof cover. These add-ons will lend brightness to the space, and they'll also protect your mini-me's from wind, rain, and excess sun.
9. Shelter your outdoor kitchen
Make your bar the focal point by installing a small pergola specifically over it; or, keep your cool as you cook by shading the grill area with one.
Come winter, hang curtains and put in a retractable cover, so you can protect your outdoor appliances from the elements — and make your dreams of grilling in the snow a reality.
FAQ About Pergolas
How much does it cost to build a pergola?
If the custom-built option is the way you'd like to go, and you're not well-versed in building, well, anything yourself, hiring a contractor can run you an average of $3,500.
Or, choose a DIY pergola kit. Available in an array of sizes, shapes, colors, and materials, kits can cost anywhere from $400 to almost $2,000.
What is the point of having a pergola?
Besides adding beauty to an outdoor space, other benefits include:
Enabling vertical gardening
Providing protection from the sun and other elements
Acting as a privacy screen
Extending living rooms from the inside, out
When to Call in the Landscaping Pros
For those of you always up for a DIY project, building a pergola may be a perfect fit. If you're a homeowner who'd rather leave the heavy lifting to someone else, it's time to call in the pros.
A landscape architect can help you choose a location for your pergola, as well as assist with material selection and appropriate sizing. Then, a contractor can come out to do the actual construction.
Either way, you'll have the same end result — a spruced-up space you can't wait to enjoy.
Main Photo Credit: Unsplash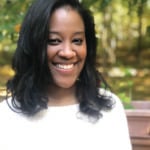 Andréa Butler
Descendant of the Fulani tribe, Gettysburg-obsessed Marine Corps brat, and lover of all things writing and editing, Andréa Butler launched Sesi magazine and has penned articles for sites, such as LivingSocial, Talbot Digital, Xickle, Culturs magazine, and Rachel Ray. Andréa holds a B.A. in English from the University of North Carolina at Greensboro and an M.A. in magazine journalism from Kent State University.