Pouring a concrete patio can cost $2,532 on average, with most homeowners spending between $1,533 and $4,740 or between $4.40 and $16 per square foot. These prices include the costs for the materials and labor required to install the concrete patio.
Small concrete patio installation projects average around $650, while an extensive concrete patio costs $8,050 on average.
Why add a concrete patio? Concrete is an affordable material for many homeowners, and it has many benefits, too. It's tolerant of harsh weather conditions, easy to maintain, and can replicate the look of brick and stone.
While most homeowners pay between $4.40 and $16 per square foot for a new concrete patio, many factors can affect the total price. The cost per square foot might fall below or above the average range depending on the patio's size, shape, finish, and location.
Want to add an outdoor kitchen or fire pit to your patio? Read on to find out how much those popular patio features will add to your bill.
How Much Does a Concrete Patio Cost?
National Average: $2,532
Typical Range: $1,533 to $4,740 or $4.40 to $16 per square foot
Low End: $650
High End: $8,050
The average cost for a poured concrete patio is $2,532. Most homeowners can expect to pay between $1,533 and $4,740 or between $4.40 and $16 per square foot for materials and labor.
Prices will vary depending on your concrete patio's design, durability, and location. A low-scale concrete patio project costs around $650, while large-scale concrete patio installation costs most homeowners $8,050.
Cost Estimator by Size
Your patio's size will have a significant impact on your total bill. Most concrete patio contractors charge between $4.40 and $16 per square foot, depending on the patio's shape and finish.
The larger your patio is, the more you can expect to pay the pros for labor and materials. A 400-square-foot concrete patio will cost four times more in labor and materials than a 100-square-foot patio.
Below you'll find the average cost estimates for installing a concrete patio. Keep in mind these average costs cover only the materials and the labor needed to install a concrete patio. The prices do not include land preparation costs, such as grading or resloping the site, nor high-end finishes.
| | | |
| --- | --- | --- |
| SIZE | SQUARE FOOTAGE | AVERAGE COST RANGE |
| 10×10 | 100 | $440 to $1,600 |
| 12×12 | 144 | $634 to $2,304 |
| 14×14 | 196 | $862 to $3,136 |
| 16×16 | 256 | $1,126 to $4,096 |
| 17×17 | 289 | $1,272 to $4,624 |
| 18×18 | 324 | $1,426 to $5,184 |
| 20×20 | 400 | $1,760 to $6,400 |
Other Factors That Affect Cost
The size of your patio won't be the only cost factor. Some patios are more complex than others, leading to various costs. Your patio may have an intricate stained finish, curves, or additional reinforcements to enhance its strength.
If you're planning a plain concrete slab patio with no bells and whistles, expect to pay much less than $16 per square foot.
Other factors that affect cost include:
Thickness: The thicker your concrete slab, the higher your bill.
Shape: Rectangular patios are the easiest to install. Patios with custom shapes are more challenging to install, leading to higher labor costs.
Reinforcements: A patio with reinforced concrete will have enhanced durability but will drive up costs.
Type of Finish: Want to give your concrete an added splash of color, a special texture, or an elaborate design? Decorative concrete will increase the bill.
Grade of Concrete: High-quality concrete mixes will cost more than lower-quality concrete mixes.
Location: Costs will rise if your patio site is hard to reach or its soil conditions are poor.
Concrete Removal: Need to remove an existing patio before you install the new one? Concrete removal will be an additional cost.
Thickness
A concrete patio's thickness should be a minimum of 4 inches. Some concrete patios are up to 6 inches thick. The thicker the concrete slab, the stronger and more durable it will be.
Most homeowners can expect to pay more per square foot for thicker patios. Why? Because more labor and materials are required to complete the job.
On average, a basic concrete slab costs $6.60 per square foot to install, not including detailed finishes, designs, or reinforcements. A 4-inch concrete slab averages around $5.35 per square foot, while a 6-inch concrete slab typically costs $6.19 per square foot.
How thick should your patio be? The best thickness for your patio will depend on what you're using the patio for. If you expect your patio will have to withstand excessive weight, such as supporting a hot tub, then a thicker patio is better.
THICKNESS
AVERAGE COST
* per square foot
4 inches
$5.35
5 inches
$5.78
6 inches
$6.19
Shape
If you're installing a rectangular or square-shaped concrete patio, costs won't get too high. A rectangular or square-shaped concrete patio is the most straightforward shape to install for most concrete contractors.
But if your concrete patio design has curves, multiple-levels, or several angles, then it's normal for labor costs to rise.
Reinforcements
A reinforced concrete patio slab contains features within itself that help increase its strength and durability. These reinforcing items include rebar or wire mesh, a vapor barrier, or styrofoam, and they help keep the slab in good condition over time.
Reinforced concrete slabs cost more than a basic concrete slab without reinforcements. A plain concrete slab ranges between $4.34 and $7.73 per square foot, while a reinforced slab ranges between $9.29 to $10.04 per square foot.
The prices below do not include the cost of attractive finishes or custom designs for your patio. They are the average costs for an unfinished, rectangular slab of poured concrete.
REINFORCEMENT
AVERAGE COST
* per square foot
DESCRIPTION
4-inch concrete slab
$5.35
A basic 4-inch concrete slab with no reinforcement.
Wire mesh
+$0.35
Reinforces the slab's strength.
Vapor barrier
+$0.50
Protects the concrete from any moist soil underneath
Increase to 6 inches
+$0.84
Increases the slab's strength and weight tolerance
Increasing edge thickness (between 12 inches and 2 feet)
+$1.00 to $1.75
Pros use a concrete edger tool to reinforce the slab's sides
2-inch styrofoam
+$1.25
Styrofoam insulates concrete flooring
Total Slab Reinforcement Cost:
$9.29 to $10.04
Type of finish
When you think of a concrete slab, you most likely imagine an unattractive, gray, dull square. But a concrete slab with a special finish is anything but drab.
Concrete slab prices will vary depending on the type of decorative finish you choose, as some are more expensive than others. Take a look below to see what different styles will cost you and what you can expect from them.
FINISH TYPE
AVERAGE COST
* per square foot
DESCRIPTION
Polish
$3.00 to $7.25 / High End $14 to $30
The pro grinds the concrete to eliminate imperfections and your desired sheen.
Stained Concrete
$3.40 to $9.75 / High End $25
Concrete can be stained many different colors.
Epoxy
$4.75 to $10.25
Epoxy sealer creates an abrasive-resistant coating and a glossy appearance.
Stamped Concrete
$9 to $16.25 / High End $25.25
Stamped concrete mimics the look of cobblestones, tiles, and brick pavers.
Grade of concrete
Reinforcements and thickness will help your concrete patio slab remain durable over time.
Another factor that will impact the patio's longevity is the concrete's quality. Concrete is a mixture of sand, cement, water, and loose aggregates, and the mixture's ingredient ratio will affect its overall quality.
How is concrete quality determined? Concrete grades help pros and DIYers identify the most suitable concrete mix for their project. The concrete's minimum strength measured in newtons 28 days after setting determines its concrete grade.
Because concrete quality varies between mixture compositions, some grades of concrete are more expensive than others. Higher concrete quality means higher costs.
Location
There are three significant ways your patio's location can affect total costs:
If the area's soil condition is poor, you'll likely need to pay extra for slab reinforcements or land prep. The soil is the concrete's subgrade. If the soil is shifting around beneath the concrete, then the slab will become susceptible to cracking. Your concrete slab is only as strong as the subgrade beneath it.
Secondly, if the soil is moist or has poor drainage, you'll need to invest in a vapor barrier to protect the concrete from moisture damage.
If the area is hard to access, expect to pay more in labor costs. A site that's difficult to access only makes the pro's job harder.
If your patio site is on hilly terrain, you'll need to hire a pro to reslope or grade the land. A patio should be installed on a flat, level surface.
Concrete removal
When installing your new concrete patio, there might be some old concrete that needs removing first. On average, concrete removal ranges between $2 and $6 per square foot.
Extra Services
Once the concrete patio is installed, you may want to add some landscaping features to make it a focal point. Maybe you'll want to surround it with vibrant flower beds, or perhaps you'll be headed to the store for some new outdoor furniture.
You can transform your patio into any outdoor space you want it to be –– even a kitchen or a living room.
Landscaping, pergolas, outdoor kitchens, fire pits –– the possibilities for your new patio are endless. Let's check out how much some of these extras cost:
Landscaping
Homeowners who have installed a concrete patio typically spend between $4,000 and $20,317 to remodel the landscape, but the total bill will vary depending on the added project or feature.
| | |
| --- | --- |
| LANDSCAPING PROJECT | AVERAGE COST |
| Sod Installation | $0.87 to $1.76 per square foot |
| Pathway Installation | $8 to $22 per square foot |
| Tree and Bush Planting | $25 to $3,000 |
| Mulch Installation | $37 to $113 per cubic yard |
| Flower Bed Planting | $650 to $3,000 |
| Retaining Wall Installation | $4,025 to $8,711 |
| Gazebo Installation | $5,364 to $9,027 |
Pergola
Building a pergola is an excellent way to give your patio a bit of shade. A pergola has a slatted roof, which means it still lets in a bit of sun but not too much. Growing flowering vines along the pergola's roof is an easy way to add more shelter and beauty.
Pergolas cost between $2,216 and $8,959 for professional installation.
Outdoor kitchen
An outdoor kitchen is a gathering spot, a place to entertain guests, and, yes, it's practical, too. While the party guests are enjoying themselves on the patio, you needn't be stuck inside alone in the kitchen.
Prepare the meal outdoors where all the fun is. And since you'll be the one with the appetizers and snacks, everyone will want to be in your company. On average, an outdoor kitchen costs between $5,057 and $17,276.
Fire pit
Gather the whole family around the fire pit on your new patio for an evening of conversation and s'mores. Installing a fire pit costs most homeowners between $367 and $2,233, depending on its materials and design.
Cost of Concrete Patios Across the U.S.
The prices listed in this cost guide are all national averages. Demand and access to materials will vary depending on where you live, leading to diversity in prices on a local scale.
Some regions may have better access to materials and local contractors than others. If there aren't many concrete installers in your area, the lack of competition may affect total costs.
Cost of Concrete Patio vs. Brick Pavers
The average cost of a poured concrete patio ranges between $4.40 and $16 per square foot. Brick pavers are a bit pricier, ranging between $10.08 and $19.33 per square foot.
What are patio pavers? Pavers are individual cut blocks. They can be made of many different materials, including concrete, brick, or stone. Pavers are installed one by one to create a durable, interlocking system.
Cost of Concrete Patio vs. Flagstone Pavers
Flagstone pavers are flat slabs of natural stone, including slate, limestone, and sandstone. These pavers feature a variety of colors, shapes, and patterns. A flagstone paver patio is more expensive than a poured concrete patio, typically ranging between $14.68 and $25.34 per square foot.
Cost of Concrete Patio vs. Concrete Pavers
A concrete paver patio is slightly more expensive than a poured concrete patio, costing between $8.67 to $16.67 per square foot.
Concrete pavers take longer to install than poured concrete, but no setting or drying is involved, which means you can use your concrete paver patio almost immediately.
Cost of Concrete Patio vs. Deck
If you're deciding whether to install a patio or a wood deck, a patio will save you more money. On average, building a deck costs $22 to $48 per square foot, depending on its design and materials.
Cost of DIY Concrete Patio Installation
Pouring concrete yourself can save you between $2.50 and $9 per square foot in labor costs. For a 100-square-foot DIY concrete patio, you could save between $250 and $900.
If you don't have experience working with concrete, it's best to hire a professional for this home improvement project. Pouring the concrete yourself could lead to expensive mistakes, unprofessional results, and possible damage to your skin.
Pouring concrete is also a labor-intensive and time-consuming project. A concrete contractor can help take the burden off your hands. Otherwise, asking a friend for help can make the job less complicated.
The bottom line: Even if you have experience pouring concrete, hiring a professional saves you time and helps you avoid expensive mistakes. If you don't have any expertise pouring concrete, it's wise to call in a professional and not attempt the project yourself.
DIY concrete patio installation
If you want to instal the concrete patio slab yourself, here's what you can expect:
Clear the site. Remove any grass, shrubs, bushes, rocks, and even old concrete until the soil is exposed. The soil is the concrete's subgrade, and you'll need to tamp it down until it's compact. If the soil is not compact, then it may compromise the strength of the concrete.
Apply the subbase, the layer above the soil subgrade. Gravel is a common subbase material. Tamp down the subbase before moving on to the next step.
Install a wooden perimeter that outlines the shape of your patio. The frame will allow you to achieve better precision when pouring the concrete over the subbase.
Install the reinforcing wire mesh or rebar.
Mix your concrete aggregates using a concrete mixer or a wheelbarrow and shovel. Wear a mask, rubber gloves and boots, safety glasses, pants, and a long sleeve shirt.
Pour your concrete inside the perimeter and spread the mixture around using shovels and rakes.
Level and smooth out the wet concrete by using a screeding tool.
Run a bull float across the concrete's surface. This tool pushes down any floating aggregate and allows aggregate-free concrete to rise to the surface.
Use a concrete edger to edge the sides of the concrete. The edger helps make the sides less susceptible to cracking and appear more precise.
Make joints every 5 to 6 feet to help limit cracks in the concrete. Use a groover to do this.
Sweep your new patio. Here's why: Sweeping the concrete slab's surface with a broom helps create traction on the concrete. Otherwise, the surface might be slippery.
Apply a concrete sealant to help the concrete cure.
Need a visual DIY guide? Check out this detailed instructional video by MARSHALLTOWN:
FAQ About Concrete Patios
1. What are the advantages of a concrete patio?
A concrete patio has many benefits: 

— It's an inexpensive material.
— It's easy to maintain.
— It can withstand harsh weather conditions.
— It can replicate the appearance of other patio materials, such as brick or cobblestone.
2. How much does a cement patio cost?
The terms cement and concrete are often used interchangeably, but they're not the same thing. Cement is an ingredient in concrete and can't make up a patio by itself. When someone refers to a cement patio, it's actually a concrete patio. 
Conclusion
A concrete patio opens a wide door of opportunity for a grand outdoor space. Enjoy mealtimes on the patio, or relax beneath the shade of your patio's pergola.
Not sure how to make the most of your new concrete patio — or you'd prefer for an expert to build that pergola or plant privacy hedges — call up a local landscaping professional near you.
The average cost to pour a concrete patio is $2,532 for labor and materials. Most concrete patio prices range between $1,533 and $4,740 or between $4.40 and $16 per square foot. Small-scale concrete patios average around $650, while large concrete patio installation projects cost an average of $8,050.
Main Photo Credit: Decorative Concrete Kingdom / Flickr / CC BY 2.0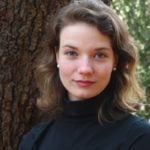 Jane Purnell
Jane Purnell is an artist, writer, and nature lover. She enjoys teaching readers about the importance of eco-friendly lawn care, integrated pest management, biodiversity, and sustainable landscaping.