The average cost to install a semi-inground pool is $11,700, with most installation costs ranging from $8,400 to $22,500.
While $11,700 is what most homeowners pay to build a semi-inground pool, many factors can affect your total bill, including the pool's size, material, and location. You don't want to forget about long-term costs either, such as pool maintenance plans and additional homeowners insurance.
Want to landscape around your new pool or build a pool deck? Our semi-inground pool pricing guide has you covered there, too.
How Much Does it Cost to Install a Semi-Inground Pool?
What is a semi-inground pool? Torn between building an in-ground pool or an above-ground pool? Semi-inground pools offer the best of both worlds.
You'll find that a semi-ground swimming pool is significantly deeper than a regular above-ground pool, but doesn't cost nearly as much as a traditional in-ground pool. Usually, most of a semi-inground pool is below ground level, with only a few feet of the pool wall visible above ground.
Average National Cost: $11,700
Typical Cost Range: $8,400 to $22,500
The costs listed above are national averages, and they should help you estimate your total cost for a semi-inground pool. Keep in mind that many facets can affect overall costs, including the pool's material, quality, and size.
Let's go over these different factors in detail below so you can better understand the type of semi-inground pool you're looking for and how much you can expect to pay.
Cost Estimator by Material Type
There are two ways to install a semi-inground pool:
You can sink an above-ground swimming pool into the ground to make a semi-inground pool, also known as a semi-above pool.
You can raise an in-ground pool to make a semi-inground pool.
So to get the semi-inground pool of your dreams, you can either bury an above-ground pool or raise an in-ground pool.
The method you choose will affect which materials your pool is made of, affecting your cost. In-ground pool materials are typically pricier than above-ground pool materials.
In-ground pool types
While inground-pool materials are more expensive than above-ground pool materials, they are usually more durable and visually appealing. They also make for longer-lasting pools. The downside to in-ground pools is the long-term maintenance costs.
Let's take a closer look at the three types of inground pools (vinyl liner, fiberglass, and concrete), detailing the pros and cons of each material.
Vinyl liner
A vinyl-liner pool is typically the most affordable option if you want your semi-inground pool to be a raised in-ground pool. Vinyl liner costs are significantly lower than concrete and fiberglass, and maintenance requirements are moderate.
The vinyl liner usually needs to be replaced every 7 to 10 years, costing most pool owners $3,000 to $4,200 per replacement. Remember that some above-ground pools are equipped with liners, costing $350 to $1,500 to replace on average.
Pros:
✓ Most affordable in-ground pool material
✓ Non-abrasive surface
✓ Pool shape is customizable.
✓ Resists algae growth.
✓ Moderate maintenance
Cons:
✗ Not as durable as concrete or fiberglass semi-inground pools
✗ Metal walls are not compatible with saltwater systems.
✗ Pool owners typically consider concrete and fiberglass pools more visually appealing than vinyl liner pools.
✗ Vinyl liner needs replacement every 7 to 10 years.
Fiberglass
Fiberglass pools are low-maintenance, saltwater compatible, and retain heat much better than concrete and vinyl pools. A fiberglass pool is a pre-made shell placed into an excavated hole that matches its size and shape. These pools aren't customizable like vinyl and concrete pools, but they have many advantages.
Most fiberglass pool owners don't need to resurface their pool. But if the pool shell is low quality or you treat the pool with lots of chemicals, you may need to resurface it. Expect to pay between $3,500 to $10,000 to resurface a fiberglass pool, depending on its size.
Pros:
✓ Quicker to install than concrete and vinyl pools.
✓ Conserves heat better than concrete and vinyl pools
✓ Algae cannot grow on a fiberglass pool's surface.
✓ Smooth surface
✓ Saltwater compatible
✓ Usually does not need resurfacing.
Cons:
✗ Gel coat may need resurfacing depending on the shell's quality and exposure to harsh chemicals.
✗ No shape or size customization. Shells are pre-made.
✗ The surface can be slippery.
✗ Shells usually measure no more than 16 feet across.
Concrete / gunite / shotcrete
Concrete pools, also known as gunite or shotcrete, are high maintenance. They're susceptible to cracking and algae, and concrete pools require routine upkeep.
To keep your concrete pool clean, you'll need to perform an acid wash every three to five years. Most pool owners spend $290 and $400 to have their concrete pool acid washed.
To remedy the cracking and surface damage, you may need to replaster the pool every 10 to 15 years. Replastering a concrete pool typically starts at around $2,500.
Pros:
✓ Concrete pools can last up to 50 years.
✓ Shape and size are customizable.
✓ Visually appealing
✓ Durable
Cons:
✗ Expensive
✗ High maintenance
✗ Requires lots of electricity and chemicals to stay clean and swimmable
✗ Grows mold and algae
✗ It has an abrasive surface that can make feet bleed. Children's soft feet are especially vulnerable to the harsh surface.
✗ Not compatible with saltwater systems
✗ Concrete pools take longer to install than other pool types
Above-ground pool types
Above-ground pools are often sold in kits with easy-to-follow instructions. Above-ground pool kits usually cost between $1,463 to $6,150 and can be installed without a professional's help, as long as you feel comfortable with the project.
But when it comes to converting an above-ground pool to a semi-inground pool, it's best to call a professional pool installer. When buying your above-ground pool kits, make sure the pool is well suited to be a semi-inground pool.
Why? Because not every above-ground pool kit can be converted into a semi-inground pool.
Remember that most above-ground pools are equipped with a vinyl liner that needs to be replaced every 7 to 10 years. The cost to replace an above-ground pool liner ranges from $350 to $1,500.
Above-ground pool kits typically come in one of three materials: steel, resin, or aluminum.
Steel
Pros:
✓ Most affordable above-ground pool material
✓ Steel is the strongest material of the three
✓ Newer steel pool models are designed to have more rust resistance.
Cons:
✗ Steel will rust over time.
✗ Susceptible to corrosion and oxidation
Resin
Pros:
✓ Rust resistant
✓ Not susceptible to oxidation
✓ Resin is often cheaper than aluminum but more expensive than steel.
✓ Does not become hot to the touch as steel and aluminum do, proving beneficial on those warm, sunny days.
Cons:
✗ Winter weather and UV exposure make resin susceptible to cracking and fading.
Aluminum
Pros:
✓ Resistant to rust and corrosion
✓ Can withstand cold temperatures and winter weather better than resin
✓ Much lighter than steel, making it easy to move and assemble
Cons:
✗ Aluminum is usually the most expensive above-ground pool.
✗ Holes may develop in the pool's liner due to the aluminum oxidizing.
Other Factors That Affect Cost
Your semi-inground pool's material type will significantly affect the total cost, but many factors will raise or lower your overall bill. You may even want to consider the long-term costs of owning a pool, including increased homeowners insurance and monthly pool maintenance costs.
Other factors that may affect your spending total include:
Pool size: The bigger your pool, the higher you can expect your bill to be. Small pools are typically more affordable, as they are made of less costly materials and require less labor to install.
Ground prep: A pro may need to slope or grade your yard to get the ground just right for your semi-inground swimming pool.
Brand: A pool's quality will vary significantly based on the pool's brand. A high-quality pool almost always will cost more than a low-quality pool.
Location: Is your pool site hard to access? Installation pros will have to work even harder to install your pool, increasing the total cost.
Soil condition: Do you have rocky soil? That also may raise the price.
Pool permit: You may need to pay for an expensive permit to build your semi-inground pool.
Increased insurance: A pool raises the odds of someone getting hurt on your property, so your homeowners insurance likely will increase.
Pool maintenance: Keeping your pool clean and swimmable will add weekly or monthly expenses.
Pool size
The bigger your pool, the longer it will take the pros to excavate and install it, leading to higher labor and material costs.
If you're looking to save on costs, pool size matters. Consider small pools. You can buy a small above-ground pool kit or opt for a tiny in-ground pool style, such as a plunge pool, cocktail pool, or a spool (spa and small pool combined).
Ground prep
Semi-inground pools are typically great for sloped yards. A sloped yard can even add to a semi-inground pool's appeal.
However, if a part of the terrain does make installing the pool difficult, you may have to pay for grading or sloping services.
Location
If your pool site is in a hard-to-reach area, pool pros may have to bring expensive equipment to install the pool, such as a crane.
The bottom line: The more difficult it is to install your pool, the higher you can expect your bill to be.
Soil condition
Rocky soil isn't an ideal soil condition for pool builders as they risk damaging or dulling their excavation equipment. If your pro's tools hit multiple rocks during excavation, you may be charged an additional fee.
Permit
Depending on where you live, you may need to get an expensive permit to build a semi-inground pool in your yard. When calculating your total pool costs, don't forget to consider the permit amount.
Increased insurance
A pool provides lots of fun for the whole family, but it also increases the chances of someone getting hurt. Your homeowners insurance may rise after building your semi-inground pool now that someone is more likely to get injured on your property.
Pool maintenance
Pool maintenance can be a DIY job, or you can hire a professional to do the work for you. On average, homeowners spend $1,080 to $1,800 per year for pool service.
Keep in mind costs will vary depending on how often you have your pool cleaned and whether your semi-inground pool is a raised in-ground pool or buried above-ground pool.
Add-Ons and Extra Services
If you want a relaxing retreat in your backyard, you might want to add a few extras around your pool. Adding these attractive features will cost you more, but they can make a day at your pool feel like a resort getaway.
Common add-ons and extra services include:
Pool decking: Adds visual appeal and can help adults keep an eye on kids in the pool.
Pool lighting: For a relaxing ambiance at night
Pool heater: For a more comfortable swim on those brisk days
Water features: Enhanced relaxation and visual appeal
Pool fencing: Adds privacy and helps prevent children from entering the pool area without an adult.
Pool cover: Keeps debris out of the water and helps prevent drownings.
Pool enclosure: Added privacy and security.
Pool house: A pool house serves many benefits, including a built-in guest house or sauna.
Landscaping: Give your backyard a makeover to go with your new semi-inground pool.
Saltwater conversion: Skip the harsh chemicals and enjoy a smooth swim in a saltwater system.
Pool deck
Want to entertain your guests around the pool? Build a pool deck. It's a great place to dry off without getting your wet feet dirty and is the perfect spot to set up outdoor furniture.
A pool deck also offers visual appeal, enhancing the look of your semi-inground pool.
Since you're building around a semi-inground pool, your pool deck's style can be that of an in-ground pool deck or above-ground pool deck.
Above-ground pool decks are made similar to a wooden house deck, costing between $15 to $30 per square foot.
In-ground pool decks are built more like paver patios. Most homeowners spend between $3,600 and $15,733 to install a pool deck around their in-ground pool, depending on the deck's size and material.
Pool lighting
Pool lighting is more than an attractive feature for your pool. It also helps enhance safety. If you're swimming at night, pool lights can help you find the pool ladder or watch your step down the pool stairs.
Pool lighting also helps highlight your pool's architecture, sets the mood for a romantic evening, and lets the pool party go on after sunset.
In-ground pool lighting typically costs $617 to $1,567, with smaller LED lights running much cheaper than high-end fiber optics.
Lights for an above-ground pool cost much less, as they aren't installed in the pool like lights for an in-ground pool can be.
Consider buying floating or underwater lights for your in-ground pool, typically costing between $23 to $113 per light.
Pool heater
A pool heater is a smart way to prolong your swimming season. As the temperature begins to drop, a heater can help you squeeze in a few more weeks of swimming.
A heater is a great addition to your pool, but it can come at a high price. In-ground pool heaters usually range in cost from $1,833 to $6,483, while a heater for an above-ground pool will likely set you back from $170 to $2,197.
Water features
Your semi-inground pool doesn't feel like a magical hideaway yet? A splashing waterfall or trickling fountain may be what you need to put your mind at ease while relaxing on a pool floatie.
To add a built-in water feature to your raised in-ground pool, expect costs to start around $1,500, with an elaborate custom water feature costing as much as $21,666.
Water features for a sunken above-ground pool will usually be stand-alone, as they can't be installed directly into the pool design. A basic, stand-alone water feature typically costs between $28 and $101.
Pool fencing
Building a fence around your pool helps enhance privacy and visual appeal. Pool fencing also helps ensure wandering children can't enter the pool area.
Pool fencing typically ranges between $1,700 to $8,133, depending on the fence's material and the size of your pool. Adding a fence gate with a self-closing latch often costs $200 to $366 per gate. Common pool fencing materials include:
Ornamental designs
Mesh
Aluminum
Wood
Plexiglass
Tempered glass
Pool cover
Installing a pool cover has many benefits. A pool cover can:
Help prevent falling leaves, curious animals, and buzzing insects from getting in the pool water.
Help prevent drownings.
Help keep heat in the water. If you're investing in a pool heater, buying a pool cover can save on energy bills.
Most above-ground pool covers cost less than $100 but can reach up to $375. A high-end pool cover can cost upward of $1,000.
In-ground pool covers typically cost from $392 to $2,400. High-end automatic pool cover costs range from $4,600 to $13,666.
Pool enclosure
A pool enclosure is typically made of wood, plastic, vinyl, or glass and can be a screened-in structure. Pool enclosures are excellent for keeping out debris, limiting exposure to UV light, and controlling access to the pool.
Building a pool enclosure typically costs pool owners between $6,333 and $19,666 or as much as $200 per square foot.
Pool house
Adding a pool house to your outdoor oasis can be a worthwhile investment. Usually costing between $100 to $600 per square foot, a pool house can serve many functions, including:
Changing Room: Tired of wet feet dirtying up your floors? Send people to the pool house to change instead.
Guest House: Your weekend visitors will love waking up to the sparkling pool. The added privacy is a plus too.
Bathroom: No one likes having water, grass, and mud brought into the home when a swimmer needs to use the bathroom. Include a bathroom in your pool house for easy access and convenience.
Storage: Need a place to store your floaties and water volleyball nets? That's what the pool house is for.
Sauna: Add an extra dose of serenity to your backyard oasis with a steaming sauna. Keep in mind that a sauna should always be used safely, just like your pool.
Outdoor Shower: No need to track mud and dirt inside. Wash up the dog or the kiddos outdoors before they take their afternoon dip in the pool.
Outdoor Living Space: A pool house can help protect outdoor furniture from rain and snow and even provide shade for an outdoor kitchen or bar.
Landscaping
After the pros have installed your pool, your yard may be looking a little rough around the edges. Landscaping can help put it back together again. If you want to give your yard a complete facelift, a new landscape design will do the trick.
Common services that can help spruce up the landscape are:
Retaining Wall Installation: $4,025 to $8,711
Pathway Installation: $8 to $22 per square foot
Pergola Installation: $2,216 to $8,959
Gazebo Installation: $5,364 to $9,027
Flower Bed Planting: $650 to $3,000
Tree and Bush Planting: $25 to $3,000
Outdoor Kitchen Installation: $5,057 to $17,276
Sod Installation: $0.87 to $1.76 per sq. ft.
Saltwater conversion
Swimming in chlorine can be hard on the skin and hair. It can even fade bathing suits over time.
A skin-friendly, low-maintenance alternative to a chlorine system pool is a saltwater pool. A saltwater system offers a smooth, silky swim experience and has low levels of chlorine.
The cost to convert a pool to a saltwater pool depends mostly on the pool's size and the type of pool. Converting a 10,000-gallon above-ground pool to a saltwater system typically costs $475 to $1,045. The cost to convert a 50,000-gallon in-ground pool to a saltwater system often ranges from $908 to $2,393.
Keep in mind: If your raised in-ground pool is small, converting it to a saltwater pool may cost similar to converting an above-ground pool to a saltwater system.
DIY vs. Hiring a Professional
Installing a semi-inground pool is not considered a DIY project, because it's tedious, detail-oriented, back-aching work.
Attempting to install a semi-inground pool yourself could lead to significant damages to your property. You also risk harming yourself and others when trying to use heavy machinery you're not trained to operate.
Your best option? Hire a professional to build the semi-inground pool of your dreams.
Cost of Semi-Inground Pools Across the U.S.
The costs we've listed in this pricing guide for semi-inground pools are all national averages. These prices will vary depending on where you live. Local pool builders and pool companies adjust their prices based on the local market and the region's demand.
FAQ About Semi-Inground Pools
1. How long does a semi-inground pool last?

Semi-inground pools typically last 10 to 20 years, depending on the pool's material and manufacturer. 

By comparison, the average above-ground pool lasts 7 to 15 years, while a concrete in-ground concrete pool can last up to 50 years or more. 
2. What are the cost differences between in-ground, above-ground, and semi-ground pools?

Prices vary significantly among in-ground, above-ground, and semi-inground pools. 

— In-ground pools cost an average of $45,583 with a typical range between $32,408 to $60,873.

— Semi-inground pools cost an average of $11,700 with a typical range between $8,400 to $22,500. 

— Above-ground pools cost an average of $2,693 with a typical range between $1,698 to $5,969. 
Conclusion
A semi-inground pool gives you the best of both pool worlds (above-ground and in-ground) while keeping your wallet fat. They're beautiful, deep like an in-ground pool, and affordable. Call a local pool builder or professional landscaper near you to design and build your backyard vacation spot.
Remember, the average cost to install a semi-inground pool ranges between $8,400 and $22,500, with most homeowners paying $11,700.
Your semi-inground pool options include raising an in-ground pool or sinking an above-ground pool. Costs will vary depending on many factors, including the pool type, size, and the pool material you choose.
Main Photo Credit: Petr Kratochvil / PublicDomainPictures.net / CC0 1.0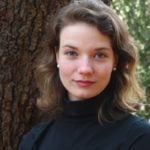 Jane Purnell
Jane Purnell is a freelance writer and actor in New York City. She earned her B.A. from the University of Virginia and enjoys a warm cup of French press coffee.