Do you struggle to hold the landscape together when dealing with messy soil erosion, poor curb appeal, and sloping terrain? Let these 25 practical retaining wall ideas for extra curb appeal bear the weight for you.
What is a Retaining Wall?
A retaining wall is a wall structure that retains the soil behind it. Brick, stone, timber, railroad ties –– your garden retaining wall can show off your favorite building material. In this article, we've rounded up 25 retaining wall landscaping ideas that are perfect for protecting flower beds from erosion, keeping critters away from your vegetables, and landscaping on a hill.
Whether you're a fan of stacked stone or haven't a clue where to start the design, our examples of retaining walls will help spice up your curb appeal and make your landscape the best on the block.
25 Retaining Wall Ideas to Shore Up Your Yard
1. Natural Stone Retaining Wall
A natural stone wall will blend into the surrounding environment with ease. The various stone textures and colors will help draw the eyes but won't distract too much from attractive surroundings, such as a vibrant flower bed or giant oak tree. Stone wall garden ideas are as abundant as the nature around us. Look to nature for inspiring color and texture combinations.
And there are several stone types to choose from, too. Big, small, bumpy, smooth –– no two natural rocks are alike. Two popular natural stone retaining wall ideas include fieldstones and flagstones.
2. Outdoor Kitchen
Here's another way to incorporate a retaining wall in backyards: Get creative with your new outdoor kitchen. How to do this? Grow a raised herb garden right behind your outdoor kitchen countertops.
Pro tip: Instead of growing an ordinary raised garden, why not create a pizza herb garden? Pick a few fresh green basil leaves, sprinkle them onto the pizza, and then slip your family dinner right into the kitchen oven.
3. Retain a Water Feature
Just as you can have a garden without soil, you can have a retaining wall without soil. Why not retain some water for a change? Give your landscape a makeover with water features, and use retaining walls to keep the water in its place.
Water features can turn any backyard into a calming oasis filled with soothing rushing water sounds. Let the after-work stress wash away by your outdoor fountain.
4. Gabion Basket
Gabion baskets are enclosures or cages made of galvanized or stainless steel wire. Fill these baskets with inorganic materials, such as rock or brick, to create a retaining wall for the landscape.
Gabion walls are easy to install and allow homeowners to use materials that make stacking a retaining wall difficult, such as small rocks, river rocks, or round rocks.
Gabion baskets are also low-maintenance. You needn't worry about correcting an unflattering crack similar to what can happen in a concrete retaining wall. So if you're looking for creative and practical garden wall ideas, search no more: Gabion baskets are here for you.
5. Mix Rock Sizes
A rock wall's different shapes and sizes will be a real treat for the eyes, especially if you're able to mix in some fun colors, too. You can play with different rock wall landscaping ideas and add a touch of personality to your garden area.
Not only will your wild rock patterns add instant curb appeal, but you also will have a chance to play a round of real-life Tetris.
6. Build on a Slope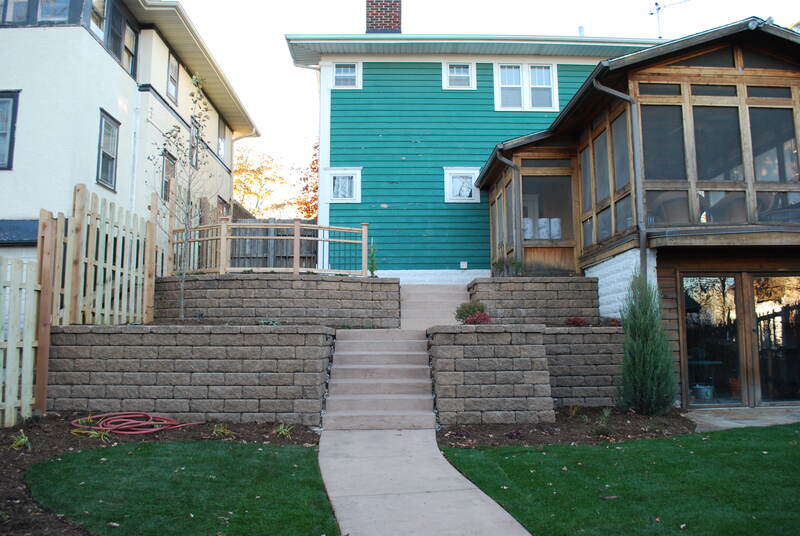 Attempting to landscape on a slope or hill can feel impossible. After all, what's the point in trying to combat gravity? The good news is that retaining walls can trap the slope's soil and hold the land together.
Your next steps?

Pick your favorite retaining wall materials.
Talk to a professional landscaper or landscape architect about the best outdoor design for your sloped yard. Discuss your retaining wall landscape ideas to see if they're possible in your yard.
And transform that space-hogging hill into an area you can finally use and enjoy.
7. Highlight a Tree
Does your favorite dogwood or oak tree need a spotlight? Bring it center stage with a small retaining wall by day (and some sort of landscape lighting at night).
A retaining wall will help protect the tree's roots from erosion. It even provides space for a decorative flower bed. Splash some color and texture around your tree's trunk with bright blossoms and mulch for the finishing touch.
Have more trees you need to showcase? Check out 9 ways to landscape around trees.
8. Timber Retaining Wall
Wood retaining walls can be an environmentally friendly, sustainable option for many homeowners. Wood has a smaller carbon footprint than standard building materials like steel or concrete blocks, making timber an eco-friendly and cost-effective material for your yard wall ideas.
Talk to a landscape professional about wood sustainability options. Some landscape companies offer recycled wood materials, while others may not. Don't be afraid to ask if the landscape timber is sustainably sourced from responsibly managed forests.
9. Landscaping Blocks
Build a retaining wall with landscaping wall blocks for easy and fast installation. Landscaping blocks are made with a self-locking flange in the back, and a lip that overhangs and grasps the block stacked underneath. This technology allows you to turn your block wall landscaping ideas into reality easily.
Depending on your backyard landscaping project, you typically don't need a mortar or adhesive to hold these locking blocks together. Easy to build and visually appealing, block retaining wall designs are certain to enhance your home's curb appeal.
10. Brick Retaining Wall
Spruce up your landscape's greenery with brick. A classic brick block and brick paver retaining wall brings a sturdy order to the lawn. A brick wall's red clay will make your flower bed stand out.
11. Boulder Retaining Wall
Go big with your retaining wall and round up your favorite boulders. A retaining wall doesn't always have to show off small landscaping blocks. Stack these large boulders to hold back soil and help control erosion.
Note that moving boulders can be a difficult feat if you lack the necessary equipment. Connect with a local landscape professional for assistance with transporting these rocks from Point A to Point B so you can make your garden retaining wall ideas a reality.
12. Stone Veneer Retaining Wall
Stone veneer, also known as faux stone, is a man-made material replicating the look of natural stone. Stone veneer offers a realistic aesthetic and various textures, patterns, and colors from which to choose.
While some people may prefer the authenticity of natural stone, stone veneers can still make an attractive material for your garden retaining walls.
13. Corten Steel Retaining Wall
Give your landscape a makeover with the rugged look of Corten steel. This durable material is made with alloys that cause the steel's surface to develop a protective coating of rust.
Advantages of Corten steel include it is corrosion-resistant, has low maintenance needs, and saves money on paint.
14. Render a Retaining Wall
If your lawn is craving a retaining wall but doesn't need the added texture, colors, and patterns of most hardscape building materials, render your landscape retaining wall instead.
Wall rendering involves adhering a mixture of sand and wet cement to a wall with a trowel. This process gives the retaining wall a solid cement appearance and can conceal existing wall material.
15. Cinder Block Retaining Wall
Better to put leftover cinder blocks to good use in the landscape than to dump them in a landfill. Design a retaining wall with these stackable blocks for your outdoor gardens or flower beds. You can also use them to build a vertical garden.
You can play with different heights by mixing ideas for a low retaining wall with other high retaining wall ideas to create a more complex garden design. Or try adding raised garden beds to your backyard for an extra bit of color.
16. Living Retaining Wall
With the right garden retaining wall ideas, design, and structure, your retaining wall can hold back the landscape's soil and grow a garden from its walls. A vertical garden wall allows for easy vegetable picking and helps protect your plants from disease and pests.
Your vertical garden needn't only be reserved for vegetables. Grow your favorite ornamental plants (such as succulents, vines, and herbs) to create a magnificent living green wall that provides privacy and absorbs noise.
17. Install a Fence
Building retaining walls around your property's sloped perimeter? Install a protective fence to ensure no one falls off the landscape's sudden drop.
A fence also provides privacy, establishes boundaries for young children, and helps to keep out intruders. There are also many different fence types and prices to choose from:
18. Raise the Flower Beds
Retaining walls not only help to hold in soil and mulch around your flower beds, but they can also raise your flower beds from the ground. Flower bed retaining walls have many benefits, including:
Limited weed competition
Less soil compaction from foot traffic
Fewer pests
Less soil contamination
Better control over drainage
19. Raise the Vegetable Garden
It's not just your flower beds that retaining walls can raise. You can raise your garden beds, too. Raised garden beds include the same benefits as raised flower beds and can serve as a pleasing aesthetic in the vegetable garden.
20. Add Stairs
Here's another idea for using a retaining wall in backyards: Build a set of stairs in your retaining wall that allows you to enjoy the perks of a retaining wall while also having the freedom to access usable space the retaining wall may block. Stairs also make your landscaping retaining wall project on a hill or slope more manageable.
21. Build a Centerpiece
Is your front yard not catching the neighbor's attention? Creating a centerpiece or focal point is one of the best front yard wall ideas to catch your neighbors' eye.
Some examples? A retaining wall provides a foundation for an elegant water feature, vibrant flower bed, or small tree.
22. Master the Waterfall
Wow the neighborhood with this retaining wall idea. A retaining wall can help support the land around a waterfall. Go big and create a waterfall masterpiece, or go small and design a peaceful outdoor area.
Whichever size you choose, a waterfall breaking through a retaining wall creates an astounding effect on your outdoor space.
23. Short Retaining Walls
Think small with these short retaining wall ideas: Match short retaining walls with native vegetation and native flowers to create an idyllic landscape. If you opt for natural stones, you can give a more rustic and prairie-like vibe to your project.
As they also serve as sitting walls, you can use them to create a reading spot where you can sit and enjoy the summer days. And why not match them with succulents and pansies to create an ethereal fairy garden?
24. Paver Retaining Walls
Paver bricks offer the best of both worlds — they're a durable material, resistant to cracking and chipping, and are also aesthetically pleasing. You can complement your paver retaining wall idea with a paver pathway to create a matching backyard design and add extra curb appeal.
25. Patio Retaining Wall Ideas
You can use retaining walls to add an extra element to your yard, for example, as a complement to an outdoor patio. Adding a retaining wall to your patio expands your usable patio space and visually enhances the area.
And here's an extra pro tip: Why not add a fire pit to give it a cozy feeling and make the best out of your outdoor patio?
How Much Does a Retaining Wall Cost?
A retaining wall costs $3,500 – $9,400 or $6,300 on average, depending on its size and the materials you choose.

Some DIY retaining wall projects are simple for beginners. But advanced retaining wall projects require the hands of a professional. Remember, hiring a professional will include material and labor costs.
Costs by Material

Landscaping blocks allow for easy installation, bringing your block retaining wall ideas to life quickly. Their costs typically range between $2 and $5 per block, depending on which home improvement store you shop at and the materials you choose.

Prefer stones over landscaping blocks? Natural stone generally costs between $30 and $40 per square foot, while stone veneer averages around $10 per square foot. So, when researching the best natural rock retaining wall ideas, keep in mind that the costs will be higher when compared to other materials — a crucial factor when deciding the best option for your project.

Interested in turning the retaining wall into an outdoor kitchen? You may need your credit card — or a loan — for this one. An outdoor kitchen typically ranges between $5,057 and $17,276 (though a luxury outdoor kitchen may cost as much as $40,000 or more).
FAQ About Retaining Walls
Can Retaining Walls be Built into Other Landscaping Features?
Retaining walls needn't always stand alone. Our list of ideas includes retaining walls built to include stairs, water features, and outdoor kitchens, but that's just for starters. A retaining wall can be incorporated into many landscape elements:

• Patios
• Decks
• Outdoor living spaces
• Walkways
• Driveways
How High Can my Retaining Wall Be?
Check the guidelines of your local building codes or homeowners' association. These guidelines may govern how high your retaining wall, or other landscaping features, can be. You may need to acquire a builder's permit before building your retaining wall.
What is the Difference Between a Wall and a Retaining Wall?
A retaining wall is built to hold a slope or hill in place, receiving pressure horizontally. Common walls, on the other hand, receive pressure vertically to support a building structure.
When to Call a Professional
While some retaining walls may be easy to install, you may need the skills of a professional. Connect with a local landscape professional near you to install your retaining wall for you.
By hiring a pro, you avoid heavy materials, costly mistakes, and potential injuries in the course of building your retaining wall.
A professional landscaper can also provide the best retaining wall options, develop landscape design plans, and perform retaining wall maintenance.
Main Photo Credit: Redi-Rock International / Flickr / CC BY 2.0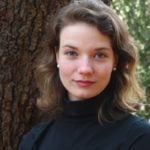 Jane Purnell
Jane Purnell is an artist, writer, and nature lover. She enjoys teaching readers about the importance of eco-friendly lawn care, integrated pest management, biodiversity, and sustainable landscaping.