Looking for ideas to landscape a small backyard?  You're in luck.
Depending on where you live, acreage may be in short supply. But, good things come in small packages — including small plots of land.
Whether you live in a townhouse, up on a hillside, or in an urban setting, landscape design ideas for your small backyard can include plentiful greenery, a welcoming dining area, and innovative garden plans.
But First, the Basics
No matter the size of a space, it should be fashionable and functional. Keep the following design principles in mind, and you'll achieve the right balance:
Follow a base plan. A base plan lets you know where your property begins and ends, as well as the locations of your utility lines, walkways and driveway, and other features.
Consider scale. Installing plants that are too large or too small for your yard will affect its curb appeal.
Frame your house with trees, being careful not to block the view of the house.
Balance the landscape. Don't overplant in one area while neglecting other areas.
Create a focal point with a water feature, fire pit, ornamental, or statue — scaled to your space, of course.
And now, on to the landscaping ideas that will upgrade your small space:
8 Awesome Backyard Landscaping Ideas
1. Use Fine-Textured Plants
Give your backyard a sizable look with large accent pieces, such as oversized planters, and fine-textured plants — pretty sedge, tall verbena, and baby's breath. Spiky, low-growing succulents like blue chalk sticks are also good for small gardens.
2. Create an Outdoor Venue
Whether it's an alfresco dining area, a reading nook, a play place, or a hot tub or sauna, give your small backyard purpose. Doing so helps this realm feel more like an addition, rather than a subtraction of space — an extension from the inside, out.
To establish such a "room," simulate floors, walls, and ceilings using a mix of lawn space, flower beds, shrubbery, and trees. Define "rooms" further with a pergola, fencing, small patio, pavers, string lights, and outdoor furniture.
3. Maximize Multifunctionality
Make your hardscaping pull double duty as décor and storage. That stone retaining wall? It can serve as extra seating, too. And that wooden bench? It's the perfect place to keep holiday decorations, tools, potting soil, toys, and anything else you need to hide from view.
4. Embrace Vertical Space
The perfect weekend DIY project? Transform that blank wall trellis or backyard fencing into a garden of its own. Pick up a set of vertical planters online or at your local store, and fill them with colorful flowers or grow an herb garden. You can also repurpose empty plastic containers, bottles, or tin cans to be used as planters.
For more garden ideas, think wall art, and install a living still life, such as this succulent tray vertical garden.
5. Take the Plunge
Make your staycation dreams a reality by constructing a small plunge pool out back. Able to take on just about any shape and size necessary to fit into your small space, plunge pools can be built right off your patio, deck, or even the wall of your house.
Ornamental pools are another option — more for increasing a tranquil vibe, rather than for swimming.
6. Install a Fire Pit
Besides providing warmth on a cool, fall evening, fire pits also create a natural gathering spot. Assemble friends and family for ghost stories and s'mores or wine and cheese. Or, light it purely for added ambience.
7. Hang String Lights
When the sun goes down, it shouldn't stop the party. Use lighting to set an overall mood, brighten the space, or accent your favorite backyard feature — think patio, fire pit, or dining area. Available in an array of colors, shapes, and styles (solar or electric), these lights can be strung overhead, wrapped around the trunks of trees, or draped over garden hedges and shrubs.
8. Forge a Path
To enjoy the different "rooms" in your backyard, construct a pathway that leads to each one. Based on your design aesthetic, choose a material (concrete pavers, crushed gravel, or wood pallets, for example) that best fits the space. This will not only add beauty, but also help prevent accidental slips and falls and keep shoes free of mud.
When to Call Landscaping Professionals
If you don't have a green thumb and would much rather hire someone to execute those backyard landscaping ideas you have in mind, there are plenty of local landscapers dedicated to enhancing your property's value and appeal.
A crew will come out to survey your space, and then develop a custom hardscape and landscape design plan, including plant selection, outdoor lighting, fire and water features, irrigation solutions, and even routine lawn care.
A welcoming outdoor paradise isn't dependent on size. It's all about using the space you have to its full potential.
Main Photo: Fluteflute / CC BY 3.0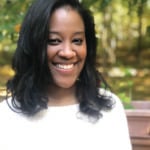 Andréa Butler
Descendant of the Fulani tribe, Gettysburg-obsessed Marine Corps brat, and lover of all things writing and editing, Andréa Butler launched Sesi magazine and has penned articles for sites, such as LivingSocial, Talbot Digital, Xickle, Culturs magazine, and Rachel Ray. Andréa holds a B.A. in English from the University of North Carolina at Greensboro and an M.A. in magazine journalism from Kent State University.