Looking for a simple way to give your yard a facelift? Landscaping with pea gravel is the perfect solution. These smooth, crushed-rock pebbles are incredibly versatile, easy to install and require very little maintenance.
When it comes to landscaping, nothing adds structure and eye-catching appeal like good hardscaping. Landscaping with pea gravel might be the easiest and most cost-efficient way to add hardscaping that's both functional and attractive to your yard.
Hardscapes include garden paths, patios, sitting areas, and any solid surfaces designed to relieve your lawn from the stresses of foot traffic. They also make for great accents and contrasts to surrounding gardens, flower beds, and planters.
Landscaping and more at the click of a button
With LawnStarter
Here's everything you need to know about transforming your yard by landscaping with pea gravel.
What is Pea Gravel?
Pea gravel refers to small, rounded stones about the size of the green vegetable they're named after. Similar to river rocks, they get their smooth texture from flowing water and are typically found near riverbeds and bodies of water.
Because the small stones are formed by natural weathering, pea gravel comes in all kinds of natural colors, including shades of brown, gray, and white.
What is Pea Gravel Used For?
Pea gravel has tons of uses thanks to its durability, shapeable properties, and classic look. Pea gravel is frequently used for playgrounds, plumbing pipe beds, patios, pathways, dog runs, drainage, and many other high-traffic locations because of its smooth quality.
The soft, smooth texture of the stones makes it great for footpaths, xeriscaping, and makes a beautiful border for a garden or home.
Pros of Pea Gravel
Pea gravel is a beautiful and practical landscaping component for mulching and constructing patios.
✔ Improves drainage
✔ Easy to install
✔ Inexpensive
✔ Deters weed growth
✔ Low maintenance
✔ Prevents erosion
✔ Doesn't decompose like organic mulch
✔ Used around the base of your home, it works as a rodent barrier
Cons of Pea Gravel
Pea gravel has some disadvantages, such as the tendency for the rocks to spread, the risk of weeds (if it is not installed properly), and worries over furniture sinking into the rocks.
✘Requires refilling about every four years
✘ Can be painful to walk on with bare feet
✘ Needs an edging barrier to keep it contained
✘ Does not offer a sturdy foundation for furniture
✘ Makes snow removal difficult
✘ Will shift underfoot unless the base rock is installed
✘ Hard to remove if you decide to change the landscape later
✘ Keep these things in mind when completing a DIY install with pea gravel.
Get quality landscaping at an affordable cost
With LawnStarter
How to Install Pea Gravel
Pea gravel is pretty simple to install in comparison to other hardscaping materials.
Things you need:
Heavy string or rope
Shovel
Weed block fabric
Edging material
Tamper
Garden hose
Crushed rock (for base layer)
Pea gravel
How to install:
Mark off the area where you want to spread the gravel using a heavy string or rope.
Remove soil to a depth of six inches.
Install edging to keep gravel in place.
Place a layer of the landscaping fabric on the bottom.
Install 2 inches of base rock with a rough texture, often known as crushed rock.
Spread a three-inch layer of pea gravel evenly.
Tamp down the area until level.
Spray gravel with a garden hose to help settle rocks.
Pro Tip: If the pea gravel area you now have moved about, it was likely installed without base rock. It can be stabilized by adding stone dust.
Pea Gravel Patio Ideas
Looking for some pea gravel inspiration? Check out these ideas for the perfect pea gravel patio.
A mixed-material patio using smaller gravel and larger decorative stones, like flagstone or bluestone, is a classic landscape design. The same concept applies to a pea gravel path with stepping stones.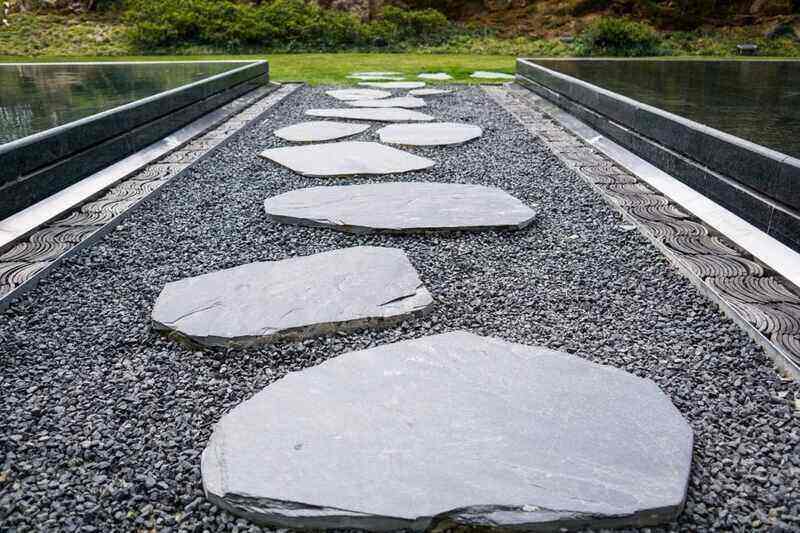 Use a pea gravel patio border to enhance your existing outdoor space
A pea gravel epoxy patio gives you much better support than loose gravel and means more options for outdoor furniture.
You can use a fire pit area as the centerpiece or an add-on to your pea gravel patio.
Pea Gravel Landscaping FAQ
1. Is Pea Gravel Good For Patios?
Yes. Pea gravel is a cheap and easy-to-maintain patio material that can be used on its own or with other elements like stones, pavers, or cement.
2. What Do You Put Under Pea Gravel?
Landscaping fabric and sand or crushed rock (or both) are the most common. You can also use a honeycomb grid for extra stability.
3. What Type of Gravel is Best For Patios?
Pea gravel is a top choice and is very versatile. Standard gravel, crushed stone, river rock, and decomposed granite are other popular choices.
4. How Much Does Pea Gravel Cost?
Prices for pea gravel range from $25 to $67 per cubic yard. Purchasing by the cubic yard is sufficient for most home projects. For larger projects, purchasing pea gravel in bulk is less expensive. The average price per ton is between $25 and $53.
5. How Much Will a Ton Of Pea Gravel Cover?
A ton of pea gravel should cover about 60 square feet at four inches deep, 80 square feet at three inches, and around 120 square feet at 2 inches deep. This pea gravel calculator will tell you how much pea gravel you need for your job.
6. Can You Walk Barefoot on Pea Gravel?
Pea gravel is considered uncomfortable to walk on barefooted. Although it's possible (people walk on burning hot coals), you wouldn't want to.
7. What is the Difference Between Pea Stone and Pea Gravel?
Nothing. Pea stone is just another name for pea gravel. It's sometimes called pea pebbles, too.
8. Is Pea Gravel Cheaper Than River Rock?
Yes, pea gravel is typically less expensive than river rock. Plus, pea gravel is smaller and lighter so buying by the pound will yield greater coverage with pea gravel compared to the same weight of river rock.
9. Does Pea Gravel Wash Away?
Pea gravel can wash away in heavy rain or if placed in front of downspouts or areas that flood. It's best to use some sort of border to contain it and prevent it from traveling.
When to Call a Landscaping Professional
Call a landscaping professional near you if you need assistance with your pea gravel patio installation, maintenance, or other landscaping ideas. Working with hundreds of pounds of small rocks can be a weighty endeavor, and you'll likely need help lugging them around.
Reaching out to a professional to take care of the more challenging home improvements just might save you a trip to the chiropractor.
Professional landscapers can also advise you on making the right aesthetic decisions, like what color pea gravel to use or what other stones to incorporate into your patio or landscape. Their eye for design could be the difference between landscaping that you love and a regrettable design decision.
Order top-notch landscaping service with easy online booking
With LawnStarter
Main Image Credit: MabelAmber / Needpix
Ryan Plank
Ryan Plank is a freelance writer and journalist in Orlando, Florida. He studied at Florida State University and is an avid golfer.