Xeriscaped yards can reduce irrigation needs by 50%, saving precious water and money in dry regions. The typical xeriscaping cost ranges from $10,000 to $19,000, with a nationwide average of $17,000. Design is $200 per hour, and installation adds an hourly fee of $50 to $100.
Very popular in the Western half of the United States, xeriscaping is a water-efficient landscaping style. It uses rocks and mulch to trap rainwater in the ground. Mix that with drought-resistant native plants, and you get a yard that needs little to no water beyond what nature provides.
All said and done, there's no secret that professionally xeriscaping a garden can be expensive. Homeowners pay about $5 to $20 per square foot, and the cost varies with:
Xeriscaping style
Location and climate
Rockeries and plants
Soil quality and amendments
Most say the cost is worth it, since you save long-term on water bills and garden maintenance costs. What if the budget is tight? Can you xeriscape DIY? Yes, but with some limitations. We discuss both options in this article, with cost factors and benefits to consider.
In this guide:
Average Xeriscaping Costs in 2023
| | |
| --- | --- |
| National Average Cost | $17,000 |
| Typical Price Range | $10,000 – $19,000 |
| Extreme Low-End Cost | $4,000 |
| Extreme High-End Cost | $24,000 |
The average American yard is about 10,080 square feet, or one-quarter of an acre, but few landowners decide to xeriscape their entire property. Since this service can be costly, the average xeriscaped area is 1,000 to 2,000 square feet, costing between $10,000 and $19,000.
To move toward a low-cost xeriscape project:
Use a high percentage of affordable materials such as mulch and pea gravel
Reuse boulders, rocks, and wood from around the house for hardscape features
Seed most of the plants or buy them small instead of fully-grown
DIY some of the labor
Keep the design simple
Factors to keep an eye on because they can take your xeriscaping to premium costs, are:
Xeric (water-saving) trees and large drought-resistant plants
Covering large areas with boulders and rocks
Custom-made hardscape features
All these depend on the size of the xeriscaped yard, so let's see how square footage changes the cost.
Xeriscaping Cost Estimator by Size
You can expect to pay $10,000 to $19,000 to xeriscape a garden. Pricing includes materials and labor costs and varies widely with several factors, starting with yard size.
Cost to Xeriscape by Yard Size
The cost of installing a xeriscape garden for water conservation is $2,500 to $10,000 for a 500-square-foot area and $10,000 to $40,000 for 2,000 square feet of land. Here are some rough estimates for the most common xeriscaping project sizes.
| | |
| --- | --- |
| Project Size | Average Overall Cost |
| 500 sq. ft. | $2,500 to $10,000 |
| 1,000 sq. ft. | $5,000 to $20,000 |
| 1,500 sq. ft. | $7,500 to $30,000 |
| 2,000 sq. ft. | $10,000 to $40,000 |
Xeriscaping Cost per Square Foot
It costs $5 to $20 per square foot to xeriscape a garden, but pricing varies with materials, plants, and labor rates. For example, a simple design with mulch, pea gravel pathways, affordable ground covers, and small plants will be closer to $5 per sq. ft. On the other hand, placing large boulders, installing stone pavers, and planting tall trees can raise the price to $20 per square foot.
Cost of Xeriscaping by Yard Section
Because xeriscaping can be expensive, most landowners choose to landscape only a part of the garden. They typically choose the front yard or backyard, the area around a patio, or a swimming pool. Here's what to expect as costs if you plan such a project.
| | |
| --- | --- |
| Yard Section | Average Overall Cost |
| Xeriscaping a patio | $2,500 – $8,000 |
| Swimming Pool Xeriscaping | $4,000 – $16,000 |
| Front Yard Xeriscaping | $9,000 – $16,500 |
| Backyard Xeriscaping | $6,000 – $22,000 |
Other Factors That Affect Cost
Project size impacts the cost to xeriscape a yard, but it's not the only factor. When estimating the budget you also need to consider the following:
Xeriscape Designer Services
Hiring a landscape designer costs about $50 to $150 per hour. With xeriscaping, you can expect the fee to go up to $200 if you need the designer or architect to manage land grading, soil drainage, and irrigation systems.
Design Style
There are four main xeriscaping styles: classic, desert, cottage, and modern. Choosing is often a matter of price but also of personal preference and climate.
Desert: Imagine rocky areas mixed with succulent desert plants, such as cacti, agave, or aloe. This is what a desert xeriscaping style looks like, costing $8,000 to $18,500 to install. It's typically rich in hardscape elements that can increase the total cost. The best way to save money is by using reclaimed rocks or molding concrete slabs DIY.
Cottage: At the other end of the spectrum is the cottage garden xeriscape, with a typical cost of $11,000 to $15,000. It's focused on colorful flowering plants and has fewer hardscape elements. Most designs installed in arid locations need drip irrigation systems. To pay less for this style, consider:
Growing plants from seeds
Buying smaller plants instead of fully grown
Classic: Classic xeriscaping costs $10,000 to $18,000, and it's the closest option to the natural look of your yard. A good designer will reduce lawn surfaces, increasing flower beds and areas covered with mulch or gravel. They will recommend:
Drought-tolerant plants native to your area
Buffalograss or other types of sod with minimal water requirements
Artificial turf (if you're ok with that)
Modern: Modern xeriscaping looks neat and organized. This style uses gravel, stepping stones, and retaining walls to define yard areas. While it seems simple and airy, it uses enough softscaping and hardscaping elements to drive the cost to about $8,500 – $15,000.
Installation Costs
Hiring a xeriscaping contractor to install the planned landscape elements costs $50 to $100 per hour, but the total price varies with project size and complexity. Contact a local landscaping company and get an estimate for your garden for an accurate quote.
Xeric Plants
It costs about $3,200 to integrate drought-resistant plants, or xerophytes, in a midsize xeriscape design. The most common types of xeric plants used by landscapers are:
Xeric Ground Covers
Drought-tolerant ground covers cost $10 – $25 per square foot to plant. According to Colorado State University, this category includes low-growing plants less than 24 inches tall that spread easily by themselves.
Ground covers function like natural mulch, shading the soil and keeping it moist and cool. They also add texture and colors, level sloped areas, and reduce soil erosion. Here are some popular ground covers to consider for your project and the cost per square foot for each.
| | |
| --- | --- |
| Drought-Tolerant Ground Covers | Average Cost Per Square Foot |
| Juniper blue | $16 to $30 |
| Moss phlox | $8 to $20 |
| Japanese spurge | $10 to $20 |
| Creeping thyme | $8 to $30 |
| Kurapia | $5 to $8 |
Note: Prior to planting, you will need to remove all weeds and aerate the soil.
Succulents
Succulent desert plants cost $16 to $70 each. They have a mucilaginous interior tissue that stores water, helping the plants thrive in dry climates. These xeric species can get by with only natural rainwater and need minimal watering.
| | |
| --- | --- |
| Succulents for Xeriscaping | Average Cost Per Plant (Without Installation) |
| Houseleeks | $9 – $11 |
| Cacti | $16 – $70 |
| Sedum | $10 – $15 |
| Aloe | $12 – $25 |
Most succulents are perennial, so they can be a one-time investment if you plant them correctly.
Xeric Flowering Plants
If you want color in your garden, the cottage xeriscaping style with lots of flowering plants suits you best. Drought-resistant flowers cost about $0.15 to $6 per 100 seeds, depending on the size of the pack. You'll pay more if you want organic or choose to plant bulbs or seedlings.
| | |
| --- | --- |
| Xeric Flowers | Average Cost Without installation |
| Perennial Alyssum | $3 per 100 seeds |
| Calendula | $2 per 100 seeds |
| Primrose | $2.5 per 100 seeds |
| California Poppy | $1 per 100 seeds |
Drought-Resistant Trees
The cost of planting a tree in your garden ranges from $150 to $1,850, including transportation and labor. Trees protect the soil from direct sunlight and heat, limit water evaporation, and keep the ground cooler. They are also a long-term investment, and, according to Homes and Gardens, can increase property value by up to 10 – 15%.
Here are some of the most popular drought-resistant woody trees to choose from:
| | |
| --- | --- |
| Xeric Trees | Average Cost (Without Installation, for Trees 2 to 7 Feet Tall) |
| Kentucky coffee tree | $115 to $140 |
| Hackberry | $45 to $90 |
| Golden rain tree | $70 to $125 |
| Bur oak | $50 to $100 |
The average cost of a xeric tree, without installation, ranges from $50 to $120 if bought from a tree nursery. You can save by:
Choosing smaller plants sold at $15 to $40 per plant, available at Lowe's and Home Depot, depending on the species
Waiting for discounts – most nurseries take 20% to 45% off during the off-season
Xeric Shrubs
Drought-resistant shrubs cost $12 to $70 per plant without installation, depending on their size and variety. The smaller the plant, the more money you'll save. But you'll have to wait for the shrubs to grow to enjoy their full height.
You can use shrubs to create green fences and private spots or to give depth to your garden design. See below some popular shrubs for xeriscaping and the price for each.
| | |
| --- | --- |
| Drough-Tolerant Shrubs | Average Cost Without Installation |
| Adam's needle (Yucca filamentosa) | $30 to $60 |
| Lantana camara | $12 to $40 |
| Evergreen sumac | $14 to $25 |
| Russian sage | $18 to $34 |
| Southern wax myrtle | $40 to $70 |
| Japanese holly | $15 to $50 |
Before moving on to hardscape materials, here's an article that can help you landscape using color theory like a pro for your new xeriscape design.
Xeriscaping Materials
The main materials used in developing a drought-tolerant garden are mulch, rocks and stones, gravel, and artificial turf. Hardscaping typically takes the biggest toll on your xeriscaping budget, so knowing how to finagle these elements can be a good way to save money.
These are the comparative costs of the four main categories of xeriscaping features:
| | |
| --- | --- |
| Xeriscaping Materials | Average Cost (Without Installation) |
| Mulch | $17 to $68 per cubic yard |
| Gravel | $25 to $67 per cubic yard |
| Artificial Turf | $5.50 to $18.75 per square foot |
| Boulders and Stones | $40 to $140 per cubic yard |
Mulch
Mulch costs from $17 to $68 per cubic yard or 75 square feet with a 4-inch thick layer. It's affordable, easy to use, and reduces the cost of xeriscape installation and maintenance. Spreading mulch across flower beds and free soil:
Keeps the ground cooler
Helps water absorption and prevents evaporation
Limits weed growth
To save time, hire a professional to spread the mulch for you. Installation costs $20 to $45 per cubic yard or $43 to $98 per hour. To save money, spread it DIY and consider looking for sources of free mulch.
Gravel
Gravel costs range from $25 to $67 per cubic yard or $4 to $7 per bag, without installation. If spreading a 2 to 4-inch layer, you'll pay $0.30 to $0.60 per square foot.
Prices vary depending on shape and size, with pea gravel being the most affordable. Gravel does the same excellent job as mulch in allowing water to pass through and trapping it in the soil. But gravel degrades more slowly than organic mulch. You can install gravel on pathways or patios, and it fits like a glove in a modern xeriscape design.
Artificial Turf
Artificial turf is an excellent option if you'd rather not wait for xeric ground covers to grow and spread or if you want a huge, beautiful lawn in an arid location. It costs $5.50 to $18.75 per square foot to install synthetic grass, and it looks green and lush all year round.
Rocks and Stones
The price of rocks and stones ranges from $40 to $140 per cubic yard and varies with type and size. Lava rocks, river rocks, flagstone, cobblestone, and brick are the most popular.
Rockeries add depth and dynamic to your yard and help prevent water evaporation. They also increase the total cost fast, especially boulders. To keep the budget under control:
Use reclaimed stones and rocks
Consider molding concrete slabs DIY
Related Services
There are a few related services you need to consider when estimating your budget. The most common connected with xeriscape installations are:
Yard Grading
Xeriscaping requires aerated soil with good drainage and a perfect slope to control water flow and to be easy to work with. This is done by grading sloped land for a cost of $100 to $3,400, often paid separately. A grading permit might be necessary, adding $150 to $485 to this part of the project.
When grading an area, landscapers remove topsoil and reshape the dirt beneath. This changes the slope angle and improves drainage. In the end, fresh topsoil is returned and leveled.
Drip Irrigation
It costs $1.60 to $4 per square foot to set up drip irrigation. Many landowners install it for prolonged droughts to water more sensitive plants. Whether your xeriscaped garden needs it depends on the following:
Soil quality
The xeric plants you choose to grow
Location and climate
With drip irrigation, water drips at the base of each plant, so evaporation and water waste are minimal. This makes drip irrigation more efficient than a sprinkler system.
Soil Test
A basic soil test costs anywhere from $14.50 to $100 and will help determine:
The type of xeric plants that can grow best on your land
What soil amendments to use to enrich nutrients and improve texture
Soil Amendments
Adding soil amendments to your garden costs about $10 to $50 per cubic yard. Xeriscape contractors use them to:
Reduce runoff and improve soil texture and water-holding capacity
Add nutrients
Alter the soil's pH
Good quality soil retains moisture and reduces irrigation needs and maintenance costs.
Xeriscaping Maintenance
Xeriscaped gardens need less maintenance than traditional landscapes. The specific things to take care of occasionally are:
Irrigating during prolonged droughts and adjusting the system for seasonal changes in rainfall
Checking the yard for pooling water or dry spots
Trimming and pruning trees and shrubs to help them keep their shape and grow healthy
Removing debris and weeds
You can also hire a pro to clean up your yard from time to time for $170 to $375.
Pro Cost vs. DIY Cost
Professionals do a better job in installing water-efficient gardens. Such a project requires specific knowledge about soil, native plants, drainage, and irrigation systems. For example, boulders and rocks must be placed to allow water absorption and prevent heat islands. Plants with similar water needs should be in the same area to facilitate efficient watering.
All said and done, if your budget is tight, you can still try to put in place a xeriscaped yard DIY. Just keep it simple. You can start by reading our guide on xeriscaping for beginners. We also prepared below some estimated costs for tools, materials, and plants for a 500-square-foot project, which you can use as an example to prepare your own budget.
| | |
| --- | --- |
| DIY Equipment | Average Cost |
| Shovel | $20 |
| Rake | $25 |
| Wheelbarrow | $60 |
| Garden hose | $38 |
| Level | $35 |
| Measuring tape | $18 |
| Marking paint | $45 |
| Sod cutter (rental for 1 day) | $91 |
| Compactor (rental for 1 day) | $95 |
| Total Cost of Equipment | $430 |
It costs you about $430 to put together the tools you need for preparing the yard and installing xeriscaping elements (assuming you don't already own some of these tools).
You'll also require hardscape elements and plants. Here's a list with estimated costs for a 500 sq. ft. yard with a 25-by-2-foot gravel pathway and a cottage-style xeriscape design.
| | |
| --- | --- |
| DIY Xeriscaping Materials | Average Cost |
| Path Edging | $125 to $210 |
| Pea Gravel | $30 to $35 |
| Base Rock | $23 to $55 |
| Landscape fabric | $23 to $40 |
| Mulch | $90 to $380 |
| Xeric trees / 2 trees | $100 to $280 |
| Ground covers (Kurapia for 200 sq. ft.) | $1,000 to $1,600 |
| Houseleeks (10 plants) | $90 to $110 |
| Cactus (3 plants) | $48 to $210 |
| Aloe (2 plants) | $24 to $50 |
| Xeric flowers seeds | $15 |
| Boulders and rocks (1 cubic yard) | $40 to $140 |
| Total Cost of Materials and Plants | $1,610 to $3,125 |
The cost of materials and plants for DIY xeriscaping a 500 sq. ft. yard is about $1,610 to $3,125. Remember this is only an example, and prices can change with added plants and hardscapes.
| | |
| --- | --- |
| DIY Equipment Cost | $430 |
| DIY Materials and Plants Cost | $1,610 to $3,125 |
| Total DIY Cost for Xeriscaping 500 sq. ft. | $2,040 to $3,555 |
| Total PRO Cost for Xeriscaping 500 sq. ft. | $2,500 to $10,000 |
The total DIY cost, including equipment, is $2,040 to $3,555, while a professional installation for the same yard size is priced between $2,500 and $10,000. The difference is not only in labor costs but also in the choice of design and landscape features. It's worth finding a local contractor and checking the professional cost for your project before starting a DIY installation.
Note: If you have some extra money, invest it in a few hours with a professional xeriscape designer checking your ideas. Also, invest time and research thoroughly the most suitable local drought-resistant plants.
Cost of Xeriscaping by Location
Where you live plays a vital role in xeriscaping installation costs. For starters, labor and materials are cheaper in rural areas than in cities.
Costs also vary with state and local climate. The western half of the United States has water-saving landscape rebates. This type of program is used in drought-affected states such as:
Arizona
California
Colorado
Kansas
Nevada
Texas
Utah
Homeowners in these states receive financial rewards for xeriscaping their yards. For example, in Santa Monica, a family could receive $3.50/sq.ft. (up to $6,000) in 2023 to replace turf grass with mulch and drought-tolerant plants.
FAQ
What are the disadvantages of xeriscaping compared to traditional landscaping?
Besides its known benefits, xeriscaping also presents some disadvantages, such as:

• High price – with a cost of $5 to $20 per square foot, xeriscaping can be expensive to install. 
• Little to no lawn – even with native ground covers, xeriscaping lacks the green, soft, lush look of natural grass lawn. 
• Overall sparse look – large areas with rocks, gravel, and mulch can make the design seem barren. 
How much does it cost to xeriscape 2,000 square feet?
It costs between $10,000 and $40,000 to xeriscape a 2,000 sq. ft. yard, and from $2,500 to $10,000 to install xeriscape features on a 500 sq. ft. area.
How do I prepare my yard for xeriscaping?
To prepare for xeriscaping, remove the grass and weeds from the yard and clean up the area. Take a soil test to check pH and nutrients and add soil amendments to improve drainage, texture, and composition. Gather all reusable debris, such as boulders, rocks, and wood pieces and prepare them to be added to your xeriscape. 
How do you xeriscape on a tight budget?
To xeriscape cheaply, use organic, homemade nutrients to amend the soil and mulch to cover areas you don't plant. Do the installation labor yourself and try to include only reclaimed hardscape materials. Use seeds and plant divisions from your friends and neighbors, or buy tiny seedlings. Choose plants that are non-invasive but spread fast.
How long does it take to xeriscape a yard?
Depending on the square footage and landscape features, it can take one to two weeks to finish xeriscaping a midsize yard.
Final Thoughts
It costs $10,000 to $19,000 to install a xeriscape garden that allows native plants to thrive with less water. This price includes materials, plants, and installation and can go up or down depending on the yard's size, design style, and location. Find a local contractor and see what it would take to transition your garden from traditional to xeriscape.
Main Photo by: Rawpixel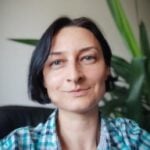 Sinziana Spiridon
Sinziana Spiridon is an outdoorsy blog writer with a green thumb and a passion for organic gardening. When not writing about weeds, pests, soil, and growing plants, she's tending to her veggie garden and the lovely turf strip in her front yard.