Is your large yard too much for a modern electric mower to handle? You can rely on the tried and true power of a traditional gas lawn mower. We've ranked several options from different brands to give you the best gas lawn mowers of the year, including:
Push mowers
Riding mowers
Note: The prices of gas push mowers and gas riding mowers are vastly different with push lawn mowers costing a couple of hundred dollars and riding mowers costing a couple of thousand dollars (or more).
What do you look for in a best lawn mower? Do you need one that's lightweight and easy to maneuver? Is budget a major concern? Or are you prepared to pay extra for a mower with maximum power? Whatever you need, we'll guide you to the best gas lawn mower for you.
Top 7 Gas Lawn Mowers
Our list of the top 7 gas lawn mowers of the year includes:
4 push lawn mowers
3 riding lawn mowers
4 Best Gas Push Lawn Mowers – Reviews
1. PowerSmart DB8621CR 170 cc 21″ 2-in-1 gas lawn mower
Best Gas Push Mower
PowerSmart DB8621CR
PowerSmart's DB8621CR has a steel body, the most power you can get in a mower, and variable cutting heights.
This mower from PowerSmart earns top marks for power and durability. It features a 170 cubic centimeter (cc) 4-stroke gas engine, which is about the most powerful engine you could hope for in a push lawn mower. The 21-inch mowing deck is perfect for large yards, and the deck is made of steel, which means it will last for a long time if you take care of it.
Is it expensive? For all the power it packs, this PowerSmart mower is actually the most affordable push mower on our list (at the time of publication). We take budget into account when ranking lawn mowers, so there's no question that this one, which offers a huge bang for your buck, should hold the top spot.
Adjustable mowing options: Some sections of your grass may grow taller than others and need you to cut them to different heights. You can adjust the cutting height of this mower for such situations. The heights range from 1.18 to 3.05 inches, and you can raise or lower the deck with a simple single lever.
You also can change how you dispose of grass clippings to account for different needs since this 2-in-1 model includes a side discharge chute and a mulcher.
Specifications:
Power: 170 cubic centimeter engine
Cutting width: 21 inches
Weight: 54 pounds
Price range: Under $300
Pros:
✓ Powerful 170 cc OHV engine
✓ Affordable
✓ Adjustable cutting height
✓ Folds for easy storage
✓ 3-year warranty
Cons:
✗ Plastic handle isn't very durable
✗ Some users reported the mower smokes if you don't add oil regularly
2. YARDMAX YG1650 170 cc 21″ 3-in-1 gas lawn mower
Runner-Up
YARDMAX YG1650
The YARDMAX YG1650 is also powerful with variable cutting heights, but it also has adjustable handle positions for comfort.
The YG1650 model from YARDMAX has a lot in common with our top pick. It has a powerful engine, a heavy-duty steel deck, and adjustable cutting height options.
What's different? This YARDMAX mower has a single-lever adjustable mowing deck with seven height settings ranging from 1.25 to 3.75 inches, so it's better for tall grass types than the PowerSmart mower.
What makes this mower special? YARDMAX mowers have a spiraled deck design that improves airflow for a cleaner cut. Plus, this model includes special features to improve user comfort and make the mower easier to use.
Features for user comfort: You can adjust the handle height to three different positions, which means you won't have to stoop and hurt your back every time you mow the lawn. The 7-inch double-ball-bearing wheels make the mow smoother, so you don't have to push the mower quite as hard to get through the grass.
Specifications:
Power: 170 cubic centimeter engine
Cutting width: 21 inches
Weight: 60 pounds
Price range: Under $300
Pros:
✓ Spiraled deck for a cleaner cut of the grass
✓ Powerful 170 cc engine
✓ Adjustable cutting heights
✓ 3-in-1 discharging, bagging, and mulching for grass clippings
Cons:
✗ Collection bag for grass clippings is smaller than the standard, so you have to empty it more often
✗ Can be difficult to start
3. Craftsman M105 140 cc 21″ 3-in-1 gas lawn mower
Craftsman M105 140cc 21-Inch 3-in-1 Gas Powered Push Lawn Mower with Bagger
Craftsman's M105 is a mower that also mulches, discharges, and bags clippings. It's also adjustable for different grass heights.
Craftsman's M105 mower offers a lot of variety for homeowners with many different needs.
Adjustable and convertible: This mower features a simple two-lever cutting height adjustment system that lets you change the height mid-mow if needed. There are six different height settings from 1.25 to 3.75 inches. The M105 is another good option for lawns that require you to mow high.
This mower comes with a rear bag for collecting grass clippings and a built-in mulching feature, along with the standard discharge chute for returning grass clippings to the lawn whole. It's easy to convert from one function to another, so you can switch between them for different areas of the lawn if needed.
Perfect for rough or uneven terrain: Does your yard have rocky or mucky patches that some mowers have a hard time pushing through? The M105's durable wheels with thick treads are perfect for tough terrain.
Specifications:
Power: 140 cubic centimeter engine
Cutting width: 21 inches
Weight: 65 pounds
Price range: Under $300
Pros:
✓ 3-in-1 convertible mowing deck with mulching, discharging, and rear bagging
✓ Adjustable cutting height up to 3.75 inches for tall grass types
✓ Wheels can handle difficult terrain
Cons:
✗ On the heavy side
✗ Some users report the mower doesn't work well on wet grass (Note: It's never a good idea to cut the grass when it's wet.)
4. Yard Machines 132 cc 20″ gas lawn mower
Yard Machines 132cc 20-Inch Push Gas Lawn Mower
The Yard Machines Push Mower is smaller than some of the other picks here, but it's perfect for flat residential lawns.
This mower from Yard Machines is rather small, but that isn't necessarily a bad thing. While the 132 cc engine isn't as powerful as some of our other top picks, it's plenty effective for most residential needs.
The bright side of that smaller engine? This mower is lightweight at less than 50 pounds, and it's easy to maneuver.
This mower has an adjustable mowing deck with three height positions. One downside is that you have to adjust the height with a bolt instead of the easy lever system that most of our other top picks feature.
Best for small, flat lawns: A small mower like this one is exactly what you need for a small yard with tight corners to work around. The 20-inch cutting deck, 7-inch wheels, and general compact construction make this Yard Machines model perfect for small, flat yards and tight storage spaces. And if for some reason this mower isn't a great match for your lawn, check out some of our other Best Lawn Mowers for Small Yards.
Specifications:
Power: 132 cubic centimeter engine
Cutting width: 20 inches
Weight: 47 pounds
Price range: Under $300
Pros:
✓ Compact for storage
✓ Lightweight
✓ Adjustable cutting heights
✓ 1-year warranty
Cons:
✗ No lever for adjusting deck height
✗ Not suitable for large yards
3 Best Gas Riding Lawn Mowers – Reviews
1. Husqvarna Z254 26 HP 54″ zero-turn riding mower
Best Gas Riding Mower
Husqvarna Z254
The Husqvarna Z254 has a powerful engine with a smooth ride. It also mulches and bags, but those parts are sold separately .
Husqvarna makes many of the most reliable riding lawn mowers on the market, and the Z254 model is one of the company's best. This mower features a durable 54-inch reinforced steel deck for heavy-duty work and a 26-horsepower Kohler engine with hydrostatic transmission. Kohler makes dependable engines, and the hydrostatic transmission makes your ride smoother.
What special features does the mower have? Husqvarna has a patent-pending brake system that activates the brake as soon as you move the steering levers outward. This feature improves both the safety of the mower and the ease of use. Another special feature is the deck design, which improves airflow to hold grass upright for a cleaner, healthier cut.
The Z254 has a 3-in-1 deck that can discharge, mulch, or bag grass clippings as you mow. Unfortunately, the mulching and bagging attachments aren't built-in, and you have to buy them separately.
Specifications:
Power: 26 horsepower engine
Cutting width: 54 inches
Fuel capacity: 5 gallons
Maximum speed: 6.5 miles per hour
Price range: Under $4,000
Pros:
✓ Large cutting width so you can mow the lawn in fewer passes
✓ Reliable Kohler engine
✓ Hydrostatic transmission
✓ Husqvarna-exclusive features
Cons:
✗ Mulching kit and grass collection bag sold separately
✗ Some users had issues with assembling the mower after buying online
2. Craftsman 17ARFACQ091 24 HP 50″ zero-turn riding mower
Runner-Up
Craftsman 17ARFACQ091
Craftsman's 17ARFACQ091 has a 24-horsepower, easy-start Kohler engine. The downside? Its fuel tank is small.
The Craftsman 17ARFACQ091 zero-turn mower is the next best thing to the Husqvarna Z254. This Craftsman riding mower has a dependable 24-horsepower Kohler engine, an easy starting system with no prime or choke, and a durable steel frame. All these features indicate a high-quality machine, and you're lucky to find them in a model that costs less than $4,000.
Versatile to cover all your needs: Another great feature in this Craftsman zero-turn is the adjustable mowing deck. Just like with many of the push mowers listed above, you can raise or lower the cutting height for different grass types, different times of the year, or any other needs. The height options on this mower range from 1.25 to 3.75 inches, so it's good for lawns that need a higher mow.
Designed for your comfort: Comfort is no small thing if you'll be driving your mower around for hours on a property of several acres. That's why Craftsman designed this zero-turn with a high-back cushioned seat and a hydrostatic transmission that promises a smooth ride.
As with our top pick from Husqvarna, you can mulch grass clippings as you mow and return them to the lawn to improve soil health with this Craftsman mower, but the mulching kit is sold separately.
Specifications:
Power: 24 horsepower engine
Cutting width: 50 inches
Fuel capacity: 3.5 gallons
Maximum speed: 7 miles per hour
Price range: Under $4,000
Pros:
✓ Reputable Kohler brand engine
✓ No-prime, no-choke starting system
✓ Hydrostatic transmission
✓ Adjustable cutting height
Cons:
✗ Mulcher sold separately
✗ Fuel tank is small for a zero-turn, resulting in a shorter run time before you have to refuel
3. Husqvarna TS348XD 24 HP 48″ lawn tractor
Husqvarna TS 348XD (48″) 24HP Kawasaki Garden Tractor
The Husqvarna TS348XD is a lawn tractor with a Kawasaki engine. The deck is made of welded steel, but this pick is pricey.
Looking for a traditional riding lawn mower (aka lawn tractor) instead of a zero-turn? The TS348XD model from Husqvarna is the best option for your money. As we already mentioned, Husqvarna is known for making high-quality riding mowers, so you can trust that this model will perform well, even under tough conditions, for years to come.
High-quality engine: The 24 horsepower V-twin OHV engine comes from Kawasaki, one of the best names in the game. You can expect this engine to be quieter, produce gentler vibrations, and burn fuel more efficiently than your typical lawn mower engine.
As expected from Husqvarna, the TS348XD's deck is made of welded steel, which means you can rough it up quite a bit on rocky or uneven terrain without causing significant damage.
Comfort features: The TS348XD has features aimed at user comfort, too. In addition to the lessened vibrations from the V-twin engine, which reduces user fatigue, this mower has an ergonomic high-back seat and a soft cushion around the steering wheel.
Specifications:
Power: 24 horsepower engine
Cutting width: 48 inches
Fuel capacity: 4 gallons
Maximum speed: 5.5 miles per hour
Price range: Under $5,000
Pros:
✓ V-twin Kawasaki engine
✓ Durable construction
✓ Comfortable to use
Cons:
✗ Expensive for a lawn tractor, even more expensive than the zero-turn mowers on this list
Buyers Guide
Shopping for a lawn mower can be confusing for a new homeowner who's never had to think about lawn care tools before. There are so many different types of mowers, all with different features. Even when we're only talking about gas lawn mowers, there's a lot of information to unpack.
Here, we'll cover the basics to help you understand what we've been talking about throughout this guide.
Push mower vs. riding mower
The difference between a push lawn mower and a riding lawn mower is fairly obvious.
Push lawn mowers (sometimes called walk-behind lawn mowers) are the small ones that you walk behind and push around your lawn. For most suburban homes, a push mower should handle all your lawn's needs. These mowers are best for lawns of an acre or less. (See our Best Push Lawn Mowers article for our top picks.)
When you have a larger property, pushing a 50-pound (or heavier) gas lawn mower can get exhausting.
Riding lawn mowers are the huge ones that you sit on and drive around the lawn like a vehicle, maybe with a cupholder so you can sip cold tea while you mow your grass in the heat. (Ride on over to our Best Riding Mowers article to check out our top picks.)
There are two main types of riding lawn mowers:
Lawn tractor
Zero-turn mower
Lawn tractors are the more traditional riding lawn mowers that you're probably used to seeing. You control these with a steering wheel, just like a car or golf cart. Lawn tractors are more stable than zero-turns, so they're the best choice for sloped or uneven lawns.
Zero-turn mowers can turn 360 degrees, and you operate them using one or two lap bars depending on the model. Zero-turns are faster and much more maneuverable than lawn tractors.
If you have a lawn of several acres to mow, a zero-turn mower will make your life easier. Beware that zero-turn mowers usually come with a higher price tag than lawn tractors.
What to look for in a gas lawn mower
Now, we'll go over the factors we considered when choosing the best gas lawn mowers. These are the specifications you should look at to help you decide which mower will most likely be best for your needs.
Power: More power is the biggest advantage gas lawn mowers have over their electric counterparts. If you're shopping for a gas mower, power is likely important to you.
In a gas push mower, we determine power based on the size of the engine, measured in cubic centimeters (cc). Those with larger engines (higher cc) will have a higher potential power output. Most push lawn mowers have engines ranging from 140 cc to 200 cc.
For riding mowers, we measure the power of the engine with horsepower (HP), as you do for a car. The more HP an engine has, the higher its power output. Most riding lawn mowers have anywhere from 14 to 24 horsepower. Those closer to the high end of that range are best for properties of several acres.
Cutting width: A mower's cutting width is determined by the size of the mowing deck. The wider the deck, the more ground the mower will be able to cover at once, and the fewer passes you'll have to make to mow the lawn.
Keep in mind that wider mowing decks also mean worse maneuverability and more difficult storage. Smaller cutting widths may be better for homes with smaller yards and limited storage space.
Weight: Weight is only important in push lawn mowers. Think about it: The heavier the mower, the sooner you'll wear yourself out when pushing it. Unfortunately, gas mowers are usually the heaviest options. If weight is a big concern for you, you're probably better off with a lightweight electric mower.
Fuel capacity: The size of the fuel tank in a push mower doesn't usually vary much, so you don't have to pay that much attention to it.
If you're shopping for a riding lawn mower, however, keep in mind that a larger fuel tank means a longer run time. When you're mowing several acres of land, you may not be able to stop mid-mow and refuel. That's where thinking about fuel capacity becomes important.
Maximum speed: Some riding lawn mowers can go several miles per hour faster than others. When you have a lot of ground to cover, a faster mower could shave a significant amount of time off how long it takes you to mow the lawn.
Bear in mind that a mower's maximum speed is the fastest it can go, and it may not reach that speed on sloped land or uneven terrain. Zero-turn mowers tend to be faster than lawn tractors.
Price range: Your hard-earned money is important to you, so it's important to us. We take affordability into account during our ranking process. If a mower is too expensive for the average homeowner to realistically afford, it doesn't matter how well it works.
Some push lawn mowers can cost close to $1,000, while riding mowers can sometimes reach $10,000. Our top picks strike a good balance between high quality and low budget.
FAQ About Gas Lawn Mowers
1. Are gas lawn mowers better than electric?
Whether a gas or electric lawn mower is better for you and your yard depends on your needs. Gas lawn mowers are more powerful, but electric lawn mowers are easier to start, lower maintenance, and way better for the environment.

You have to decide what's most important to you in a lawn mower, then you can decide whether gas or electric is better. 
2. How do you maintain a gas lawn mower?
Just like with a car, your lawn mower's gas engine will need an oil change every so often. You should change the oil whenever it becomes contaminated or goes cold.

As a general rule of thumb, you need at least one oil change per mowing season. You should also change the air filter and spark plug annually. 

Aside from engine maintenance, it's smart to clean the undercarriage of your mower throughout the mowing season so it doesn't get caked in grass and eventually rust.

Sharpening the blade regularly is another must for a long-lasting mower that doesn't decline in performance over the years. 
3. What happens if you leave gas in a lawn mower over winter?
Leaving old gas in your lawn mower can clog the carburetor and cause the inside of the fuel tank to rust. In many cases, lawn mowers won't start after sitting with unused gas in the tank for a long period of time.
4. Are gas lawn mowers dangerous?
Any time you're using and storing a flammable liquid like gas, there's a certain level of fire hazard. Be careful about how you store your fuel. 

The weight of gas lawn mowers and the high velocity of their blades also can make them more dangerous than electric mowers if you aren't careful while mowing. 

As with anything else, gas lawn mowers can be dangerous if you don't take the necessary precautions to prevent mishaps. There's more potential for danger with gas lawn mowers than electric mowers, but injuries are usually avoidable as long as you stay smart. 
What to do now that you've found your perfect gas mower
Finding the perfect gas lawn mower is only the first step to having a perfect lawn. Now that the easy part is over, it's time to roll up your sleeves and use your new mower once a week throughout spring and summer.
If you don't care about having a pristine lawn, you can mow the lawn every two weeks instead. But you shouldn't go any longer than that during the grass's growing season.
Sounds like a lot of work, doesn't it? It doesn't have to be. Instead of buying yourself a new lawn mower, put that money toward a professional lawn mowing service that can take care of the lawn for you.
Then you won't have to worry about which lawn mower to buy or how often to cut the grass. You can leave it all behind and relax while the pros do all the hard work.
LawnStarter participates in the Amazon Services LLC Associates Program and other retailer affiliate programs. LawnStarter may earn revenue from products promoted in this article.
Note: Amazon star ratings and the number of reviews for the products listed above may have changed since that material was collected.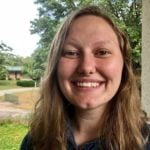 Jordan Ardoin
Jordan Ardoin is a writer and editor with a passion for sustainable, earth-friendly gardening and lawn care practices. When she isn't sharing her knowledge about lawn care and landscaping, you can find her curled up with a good book and a cat in her lap.