Zero-turn lawn mowers make mowing a large yard much easier — and, by all accounts, a lot more fun. But they're also a big investment, with price tags ranging in the thousands.
If you can't decide which mower is worth investing in, we're here to help with these top 5 picks for the best zero-turn lawn mowers on the market.
To rank our top 5, we took into account engine power, speed, and price to find the zero-turn mowers that will give you the best bang for your buck. Whether you're on a budget or shopping for a premium model, you'll find options perfect for you on this list.
Top 5 Zero-Turn Lawn Mowers – Reviews
*Note: All prices listed are subject to change.
1. Husqvarna MZ61
Best Overall
Husqvarna MZ61
Husqvarna MZ61's wide cutting deck and large fuel tank make this the perfect mower for large properties.
Our top pick for the best zero-turn mower is Husqvarna's commercial-grade MZ61 model. This is the perfect mower for large properties that would otherwise take a long time to mow.
Let's break down what makes the MZ61 so great for large yards. First of all, it has a much wider cutting deck than your average zero-turn, so you can cover more ground with each pass. And its top speed is faster than its typical counterparts by about a mile and a half per hour, which cuts down your mowing time even more.
Another feature you'll come to appreciate is the mower's large fuel tank. Your miles per gallon will vary based on your speed and the condition of the grass, but you should easily be able to mow several acres with the MZ61 without stopping to refuel.

Bonus points for ergonomics: The MZ61 is also one of the most comfortable zero-turn mowers out there – something that becomes extremely important when we're talking about huge lots that have you in the field for hours at a time. It has a high-backed seat with armrests and vibration dampeners, not to mention a hydrostatic transmission for easier starting.
Specifications:
Power: 27 horsepower
Cutting width: 61 inches
Fuel capacity: 5 gallons
Max speed: 8.5 mph
Pros:

✓ Reliable Briggs & Stratton engine with hydrostatic transmission
✓ Large cutting width
✓ High speed
✓ Large fuel capacity
✓ Comfortable design
Cons:

✗ Expensive
✗ Mulching and bagging sold separately
2. Craftsman Z550
Best Value
Craftsman Z550
The Craftsman Z550 is suited for residential yards and is a great value in that midrange of prices.
The Z550 zero-turn mower from Craftsman combines comfort and durability. Along with quality Craftsman construction, it has a reliable 24 HP Kohler engine. The steel frame is rust-resistant, and Craftsman's frame design is sleek for improved maneuverability and easier storage.
A dual hydrostatic transmission ensures a smooth and easy ride, and the high-back seat cushions you while you work long hours in the yard.
This mower features a 50-inch cutting deck, which may be smaller than other options on this list but should be large enough for any residential yard. The deck is versatile for different types of grass, with adjustable cutting height settings ranging from 1.25 to 3.75 inches.
While the Z550 isn't the largest or most powerful zero-turn mower available, it's a solid mid-range option for a great value.
Specifications:
Power: 24 horsepower
Cutting width: 50 inches
Fuel capacity: 3.5 gallons
Max speed: 7 mph
Pros:

✓ Reliable Kohler engine with hydrostatic transmission
✓ Durable steel construction
Cons:

✗ Relatively small for a zero-turn
3. Cub Cadet Ultima ZT2
Runner-Up
Cub Cadet Ultima ZT2
The Cub Cadet Ultima ZT2 has a Kawasaki engine, variable cutting heights, large mowing deck, and LED headlights.
Cub Cadet's ZT2 model is a more affordable alternative to our top pick from Husqvarna. It's almost as big, with a 60-inch cutting deck that makes quick work of mowing large residential or commercial properties.
This mower runs on a Kawasaki V-twin engine with 24 horsepower. Like our other top picks, it features a hydrostatic transmission for a smoother ride.
Special Cub Cadet features: Aside from the size and the engine, here's what makes the Ultima ZT2 stand out:
The heavy-duty tubular steel frame with a triple-guard corrosion defense coating resists damage and rust.
Cub Cadet's triple-blade Aeroforce cutting system gives you a cleaner cut with fewer clumps and less tearing than mowers from other leading brands.
And the whole mower is highly customizable, from the variable cutting height of 1 inch – 4.5 inches to the adjustable high-backed seat, armrests, and lap bars.
Specifications:
Power: 26 horsepower
Cutting width: 60 inches
Fuel capacity: 3.5 gallons
Max speed: 7.5 mph
Pros:

✓ Large mowing deck
✓ Heavy-duty construction
✓ Wide range of cutting heights for different grass types or uneven terrain
✓ LED headlights for mowing in the early morning or evening
Cons:

✗ More plastic parts than previous Cub Cadet models
✗ Deck collects caked-on grass quickly
4. Ariens APEX 60
Ariens APEX 60
The Ariens APEX 60 runs at a max speed of 8 mph and has a a wide 60-inch deck. The drawback? It's very expensive.
The commercial-style Apex 60 features durable steel construction and a wide 60-inch deck. It improves on other Ariens models in several ways (for a price). For one, it has a 5-gallon fuel tank suited for long jobs. With a max speed of 8 miles per hour, the Apex 60 also moves faster than your typical Ariens.
Another big difference between the Apex 60 and other Ariens mowers is the engine. This mower features a Kawasaki V-twin engine, which isn't necessarily better or worse than the Kohler engine featured in many similar mowers, but rather a matter of user preference.
The Apex 60 has features that make it easy to use, too. One is the simple, foot-operated deck lift system. Another is the self-adjusting belt technology.
And don't worry about comfort. Like most mowers designed for use on large properties, the Apex 60 has a padded high-back seat and armrests suited for long hours in the field.
Specifications:
Power: 24 horsepower
Cutting width: 60 inches
Fuel capacity: 5 gallons
Max speed: 8 mph
Pros:

✓ Reliable Kawasaki engine
✓ Durable construction
✓ Large cutting width
Cons:

✗ Expensive
✗ Mulching attachment sold separately
5. John Deere Z375R
Best Budget Pick
John Deere Z375R
John Deere's Z375R is a high-quality machine with a 54″ cutting width. Pro: It's affordable. Con: Its gas tank is small.
If you think a zero-turn mower is the best option for your property but you're on a budget, the John Deere Z375R is worth a look. With a price tag under $4,000, it's much cheaper than most zero-turns without sacrificing quality.
The engine itself comes from John Deere, and it has 25 horsepower. It's branded as an "extended life" engine with an advanced filtration system that helps keep it at the top of its game for longer.
For being so inexpensive, the Z375R is pretty big, with a cutting width greater than 50 inches. In that way, it's well-suited for large properties. But beware that you might have to stop and refuel in the middle of mowing if your yard is a few acres or more because the mower's fuel tank is quite small.
Specifications:
Power: 25 horsepower
Cutting width: 54 inches
Fuel capacity: 2.1 gallons
Max speed: 7 mph
Pros:
✓ Inexpensive for a zero-turn
✓ ReadyStart system for easy, choke-free starting
✓ Easy-to-use, adjustable controls
✓ Heavy-duty welded steel frame
Cons:
✗ Small fuel tank
✗ Vibration in the handles can be too intense if you're mowing for a long time
Buyers Guide
If you're looking into zero-turn lawn mowers for the first time, you might not be sure what exactly to look for. In this buyers guide, we'll help you figure out if a zero-turn mower is right for you (as opposed to other riding mowers or push mowers).
We'll also explain how to choose which of the best zero-turn mowers is actually best for your lawn.
What is a zero-turn lawn mower?
Let's start with the basics. What makes a zero-turn lawn mower different from standard riding mowers (also known as lawn tractors)?
The biggest advantage of a zero-turn lawn mower is maneuverability. Zero-turn mowers have wheels that turn at sharp angles to make turning the mower around much easier than with a lawn tractor.
With a zero-turn mower, mowing around obstacles like trees and landscaping takes less effort and less time.
Zero-turn mowers also tend to be faster than lawn tractors. That means you'll finish mowing your lawn in less time. The difference in mowing time can be significant for large areas.
The downside of zero-turn mowers is that they don't typically do well on hills. If you have inclines on your property, you might be better off with a different type of riding lawn mower.
Which zero-turn mower is right for you?
The parameters we used to rank our top 5 are power, cutting width, fuel capacity, max speed, and price. All these factors affect how a mower works and, in turn, whether or not that particular mower will work well for you.
Now, we'll go over how you can use this information to choose the best zero-turn lawn mower for your needs.
Power: A more powerful engine means a mower than can take on tougher jobs. Rough terrain, inclines, and wet or overgrown grass all take more power to handle. If your yard is difficult to mow, you might need to spend more money for more power in your mower.
Cutting width: The cutting width, determined by the mower deck size, tells how much grass you can mow in one pass.
A mower with a larger cutting width will get the job done faster because it won't need to take as many passes to cover the whole lawn. On the other hand, a smaller cutting width means a mower that's easier to store and that can get into tighter spots.
Fuel capacity: All the zero-turn mowers on our list are gas-powered, which means they can run only as long as they have gas in the tank.
If your mower has a large fuel capacity, you'll be able to mow for a long time without refueling. If your mower has a small fuel capacity, though, you could potentially run out of gas in the middle of long jobs.
Max speed: While zero-turn mowers are usually faster than lawn tractors as a rule, there is a lot of variety in the speeds of different zero-turn mowers. If you have a large yard with a lot of open space, you'll probably want a mower with a higher max speed to cut down your mowing time.
Price: 9 times out of 10, the larger and more powerful a mower is, the more you're going to pay for it. You'll have to consider your yard and decide what size and power level you need.
Maybe you think the extra money is worth the time a larger mower would save you, or maybe you'd rather go for a budget pick. Either way, be prepared to spend at least $2,000 on a zero-turn mower. If you don't want to spend that much, consider a push mower instead.
Battery-powered zero-turn lawn mowers
As we mentioned earlier, all the mowers in our top 5 are gas-powered. That isn't the only option out there, though. Battery-powered zero-turn lawn mowers exist, and they're a lot quieter and more eco-friendly than their gas-powered counterparts.
What's more, battery-powered zero-turn mowers don't need all the maintenance that comes with a gas engine.
However, battery-powered mowers are limited by a battery's run time. Most gas mowers are significantly more powerful, and they give you more bang for your buck, since battery-powered models tend to cost more for less size and power.
If you have taken all this into consideration and decided a battery-powered mower is the right choice for you, we recommend the Ryobi RY48ZTR100.
This Ryobi zero-turn can mow up to 3 acres on one battery charge, and it has a 42-inch cutting width. It also costs about $500 more than the most expensive gas-powered mower on our list.
FAQ About Zero-Turn Mowers
1. Is a zero-turn mower worth the money?

Zero-turns are easier to maneuver and faster than lawn tractors. Most users find zero-turns a lot more entertaining to drive, too. If all that sounds worth a few extra hundred dollars to you, then yes. 
2. What is the most reliable brand of lawn mower?

Husqvarna is the best and most reliable brand for zero-turn lawn mowers. That's one reason Husqvarna landed atop our top five. 
3. What is the best zero-turn lawn mower?

The Husqvarna MZ61 is the best zero-turn lawn mower in our ranking, but all of our top five are great choices, depending on the size of your yard and other factors.
Conclusion
A zero-turn lawn mower can take cutting the grass from a tedious chore to a fun ride around the yard.
Zero-turn mowers aren't only more fun, though. They also give you more maneuverability and speed for that high price tag.
If you have decided a zero-turn lawn mower is worth the extra money for you, any of our 5 top picks would be an excellent choice.
LawnStarter participates in the Amazon Services LLC Associates Program and other retailer affiliate programs. LawnStarter may earn revenue from products promoted in this article.
Note: Amazon star ratings and the number of reviews for the products listed above may have changed since that material was collected.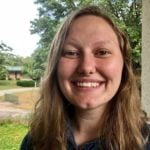 Jordan Ardoin
Jordan Ardoin is a writer and editor with a passion for sustainable, earth-friendly gardening and lawn care practices. When she isn't sharing her knowledge about lawn care and landscaping, you can find her curled up with a good book and a cat in her lap.