If you're shopping for a new electric string trimmer, you've come to the right place. We've collected detailed information on some of the best electric string trimmers (weed eaters, grass trimmers, weed wackers, etc. — they're all the same thing) for homeowners.
All the options on this list of the best electric string trimmers are affordable and should be plenty powerful to meet your needs.
Electric string trimmers are more eco-friendly, easier to use, and easier to maintain than their gas counterparts. The "electric" category includes both corded and battery-powered models.
Since different power sources make for different tools, we've separated the 7 best electric string trimmers into two types (corded and cordless) for easy comparison:
Whether you want something corded or cordless, our top picks represent the best electric string trimmers for the money.
Top 3 Corded Electric String Trimmers – Reviews
This 2-in-1 string trimmer and wheeled edger from BLACK+DECKER is lightweight and comfortable to use with adjustable ergonomic handles and height positions.
It's simple to convert between the two uses — all you have to do is rotate the head. Releasing line is easy, too, thanks to BLACK+DECKER's Automatic Feed Spool technology.
The BESTA510 isn't only easy to use. With a 6.5-amp motor, it's also powerful enough to handle thick weeds and overgrowth. Its 14-inch wide cutting head, while smaller than many gas string trimmers and more premium electric models, is the perfect size to efficiently tidy up the edges of a typical lawn.
Perhaps most importantly, the BESTA510 is one of the most affordable options of our top picks, with a price tag of around $45.
Thousands of reviewers have reported that this trimmer meets all their needs while being lightweight enough for anyone to use without difficulty, including seniors.
If you need a string trimmer for basic household use and you don't want to break the bank for anything too fancy, BLACK+DECKER's corded BESTA510 might be perfect for you.
Specifications:
Power: 6.5 amps
Cutting swath: 14 inches
Line diameter: 0.065 inches
Weight: 5.3 lbs
Pros:

✓ Cheap
✓ Lightweight
✓ Easy to use
✓ Converts to wheeled edger
Cons:

✗ Some users reported issues with the auto-feed mechanism breaking or not functioning properly
✗ Some users claimed it eats through line too quickly
Toro's 51480 model is another great 2-in-1 tool that switches from trimming to edging with the push of a button. Users can easily control the auto-feed line with a trigger in the handle. This tool is all about simple, easy-to-understand controls.
For people with a lot of landscape features and other obstructions in their yard, the Toro 51480 might be a better choice than the BLACK+DECKER BESTA510. That's thanks to the Toro model's telescoping shaft, which gives it an extended reach and lets you maneuver it around obstacles with little effort.
While this trimmer's 5-amp motor might not be able to handle huge, overgrown yards, users reported that the tool is more than powerful enough for light residential use.
For a low price, you get a reliable string trimmer with convenient features perfect for homeowners who don't have a ton of experience with power tools.
Specifications:
Power: 5 amps
Cutting swath: 14 inches
Line diameter: 0.065 inches
Weight: 6.3 lbs
Pros:

✓ Easy to use
✓ Telescoping shaft
✓ Cheap
✓ Converts to edger
Cons:

✗ Comparatively weak motor
✗ On the heavier side for a corded electric string trimmer
✗ Some users had problems with the auto-feed jamming
For a little more money, the CRAFTSMAN CMESTE90 combines the best of our other top corded picks. It features a telescoping shaft for working around landscape features and a 6.5-amp motor powerful enough for thick grass and weeds.
Also like our other picks, the CMESTE920 model easily converts to a wheeled edger by turning the cutting head.
Unlike the Toro and BLACK+DECKER models, with their auto-feed line that can sometimes cause inconveniences, this CRAFTSMAN trimmer gives you complete control over the cutting string's length with a push-button feed system.
You also have control over the shaft's length, which can be adjusted for users of different heights. If you're 5 feet with a 6-foot partner, you should both be able to use this trimmer comfortably.
Even though the CMESTE920 has convenient controls, it might be more difficult for some homeowners to use because of its weight. At about 7 pounds, it's heavy for a corded trimmer and might not be as easy to use for long periods of time as the other corded options here.
Specifications:
Power: 6.5 amps
Cutting swath: 14 inches
Line diameter: 0.065 inches
Weight: 6.9 lbs
Pros:

✓ Converts to a wheeled edger
✓ Adjustable telescoping shaft
✓ Push-button line feed gives user more control
Cons:

✗ Heavy for a corded electric string trimmer
✗ Users reported the plug is too small for some standard extension cords
Top 4 Cordless Electric String Trimmers (Battery-Powered) – Reviews
If you want the mobility of a cordless electric string trimmer, your best bet for the money is the LST02010 20-volt battery-powered trimmer from Earthwise. It's super lightweight at less than 5 pounds, and this "little engine that could" has enough power for most trimming jobs around an average yard.
Even if your yard has uneven terrain or unusual angles, the LST02010 should be able to handle your needs with ease. Its cutting head has three adjustable positions for edging around hardscapes, trimming weeds in flower beds, and odder jobs you might need done.
Plus, the flip-down steel edge guard will protect your plants and other landscape features from damage while you cut down weeds.
That being said, the LST02010 might not be the best choice for larger properties because of its small 10-inch cutting head. While this size is perfect for cleaning up tight spots, it will make trimming around open spaces take longer.
Still, this trimmer is easy to use and well worth its price, especially for a battery-powered option.
Specifications:
Power: 20 volts
Cutting swath: 10 inches
Line diameter: 0.065 inches
Weight: 4.4 lbs
Pros:

✓ Cheap
✓ Lightweight
✓ Versatile adjustable cutting head
Cons:

✗ Small cutting swath
✗ Some users reported issues with the cap that holds the line spool breaking
The PS76110A from PowerSmart is the best battery-powered trimmer for homeowners on a budget. For less than $50, you get 2-in-1 trimming and edging capabilities, a 20-volt lithium-ion battery that charges in an hour or less, and an automatic feed spool feature.
The tradeoff is a small cutting width of only 10 inches and a weight that's on the heavier side at about 7.5 pounds.
While the battery charges quickly compared to others, several users reported that it sometimes only runs for about 10 minutes at a time. Others reported that the 20 volts of power is not enough for tough weeds but is perfect for trimming tall grass and other light jobs.
What this means: If you have a large yard or a lot of overgrowth to plow through, the PS76110A probably isn't the right trimmer for you.
However, if you have a small yard and you're looking for a quality, easy-to-use string trimmer that doesn't cost much, this PowerSmart model is a solid option. Even if your trimmer does have issues, many reviewers said the brand's customer service is helpful and easy to contact.
Specifications:
Power: 20 volts
Cutting swath: 10 inches
Line diameter: 0.065 inches
Weight: 7.5 lbs
Pros:

✓ Very cheap for a battery-powered string trimmer
✓ Converts to edger
Cons:

✗ Heavy
✗ Small cutting swath
✗ Short battery life
The WORX WG191 is a powerful, professional-grade string trimmer for homeowners willing to pay a premium price. Its 56-volt battery packs enough cutting power to take down thick grass and overgrown weeds.
The variable speed control feature extends the battery's run time because it lets you use more power when you need it for tough spots and less power when you don't, to give the battery a break.
This trimmer is versatile, with a cutting head that pivots 90 degrees to reach any angle.
Like many of our other top picks, you can convert the WG191 from a weed eater to a wheeled edger. Transitioning between the two tools is as easy as pushing a button.
Controlling the length of the trimmer line is easy, too, with WORX's Command Feed system that also works with the press of a button located conveniently on the handle.
One other factor that sets the WG191 apart from our other top recommendations as a premium pick is that it holds a thicker 0.08-inch string.
A thicker string might not seem like a big deal, but it's more durable than the conventional 0.065-inch strings used in most residential weed eaters, and it's part of the reason the WG191 can slice through thicker growth than our other top picks.
Specifications:
Power: 56 volts
Cutting swath: 13 inches
Line diameter: 0.08 inches
Weight: 6.3 lbs
Pros:

✓ Powerful battery
✓ Variable speed control for longer battery life
✓ Converts to wheeled edger
✓ Lightweight for a battery-powered string trimmer
✓ Holds professional-grade 0.08-inch string
Cons:

✗ Expensive
✗ Some users reported that the tool isn't balanced well and handles awkwardly
✗ Users reported that this machine can run as loud as gas power tools
✗ WORX batteries typically die after a few years and are expensive to replace
The Greenworks 21302 model is Amazon's No. 1 best-selling string trimmer, and for good reason. It's a great value for under $100, especially since it packs 40 volts of battery power.
That battery runs for up to an hour on a single charge, which is an impressively long time compared to batteries from many other brands.
In addition to being powerful, this trimmer has several features that make it convenient to use, including a four-position pivoting head for reaching different angles, and a telescoping shaft.
The 21302 model easily converts to a wheeled edger, too.
On the other hand, it's definitely heavy (the heaviest on this list) and might not be suitable for homeowners with limited upper body strength.
This Greenworks trimmer might not be the best choice for yards with a lot of tough overgrowth, either. Even with its 40-volt battery, this string trimmer sometimes struggles against thicker weeds and grass because of its 0.065-inch single trimmer line (as opposed to a dual line, which can usually handle more heavy-duty jobs).
Still, most users reported that the Greenworks 21302 makes quick work of typical around-the-yard trimming.
Specifications:
Power: 40 volts
Cutting swath: 13 inches
Line diameter: 0.065 inches
Weight: 9.3 lbs
Pros:

✓ Powerful battery
✓ Long battery life
✓ Telescoping shaft
✓ Converts to a wheeled edger
Cons:

✗ Heavy
✗ Doesn't handle thick overgrowth as well as you would expect
✗ Some users reported that the edging wheel is wobbly and unstable
Buyers Guide
Why do you need a string trimmer?
If you've found that mowing your lawn isn't quite enough to get the pristine, manicured look you want, a string trimmer is what you're missing. String trimmers cut grass and weeds in those hard-to-reach spots that a lawn mower can't reach.
String trimmers are also good for cleaning up the grass borders around flower beds, hardscapes, and other landscape features you don't want to risk damaging with a lawn mower.
String trimmers go by many names, including weed eater, weed wacker, weed trimmer, and grass trimmer. Any time you see one of these terms, it's talking about the same type of tool.
These tools consist of a long straight shaft or curved shaft with a cutting head on one end. The cutting head spins a single or dual string rapidly to slice through vegetation. Using a string instead of a blade is where the term "string trimmer" comes from.
Corded or battery-powered?
If you're reading this article about electric string trimmers, you probably already know what makes them better than their gas counterparts. Electric string trimmers don't produce emissions, so they're better for the environment than gas models. They're also lighter, quieter, easier to use, and lower maintenance.
So, you know you want to go with electric over gas, but would a corded or cordless string trimmer be better for your needs?
The benefit of a corded electric string trimmer is that it isn't limited by a battery's run time. Will the job you need your string trimmer to do take longer than the typical 15-30 minute life of a power tool battery? That's no problem with a corded model. There's no time limit.
Corded weed eaters also tend to be cheaper than their battery-powered counterparts.
Of course, electric string trimmers have to stay plugged in the entire time you use them, so, while they have no time constraints, you can only use them within an extension cord's reach. You'll have to be careful not to run over or trip over the cord while you work.
The greatest thing about a cordless electric string trimmer, obviously, is that there's no cord. You have unlimited mobility with these battery-powered weed eaters.
However, you'll have to make sure you have a battery charged and ready to go before you can use a cordless string trimmer. Some batteries can take hours to charge, so you'll have to think ahead.
Cordless trimmers also have time limits, since their batteries usually only run for half an hour at most. Plus, you'll almost always pay more for a battery-powered string trimmer than a corded one.
Factors to consider while shopping
Once you know the basic type of string trimmer you want, there are several other factors to compare to figure out which specific trimmer is best for you and your yard.
These are the specifications we used to choose our top electric string trimmers of the year, and you can compare the same details to help you make your selection.
Power: For corded electric string trimmers, we measure power in amps. For cordless, we measure the battery's power output in volts.
It's hard to make a direct comparison between amps and volts, but as a general rule, corded power tools are usually more powerful than battery-powered.
For either type, higher amperage or higher voltage means more power, which means cutting through thicker grass and weeds.
If you don't anticipate the need to cut through tough overgrowth, you probably don't need to pay the higher price a more powerful trimmer would cost you.
Cutting swath: To figure out a trimmer's cutting swath (or cutting width), look at how wide the cutting head (or trimmer head) is. A wider cutting head means you'll be able to cover more ground faster.
For example, you'll probably finish trimming your lawn faster with a 14-inch cutting swath than you would with a 10-inch one. Even so, you might decide a smaller cutting head is better for you if you need to trim grass or weeds in tight spaces.
Line diameter: The "line diameter" spec tells how thick of a string (or "line") a trimmer can hold. Thicker strings are less likely to break and more capable of handling thick grass and weeds.
If you want your string trimmer to work to its best potential, make sure you use the right size string for it.
Weight: To use a string trimmer, you have to be able to carry it, sometimes for an extended period of time. That means you need to pay attention to the weight of a potential new string trimmer before you buy it.
If you buy a trimmer that's too heavy for you, you'll wear yourself out quickly any time you try to use it.
Electric string trimmers are almost always lighter than their gas counterparts, and corded models tend to be lighter than battery-powered ones.
Price: When it comes to electric string trimmers, you'll usually have to spend more money for things like more powerful engines, larger cutting swaths, and special features such as auto-feed and variable speed control.
For our purposes, we listed the options that are best for residential use and will give you the most bang for your buck. There are more premium electric trimmers available, though, that can cost around $400.
FAQ
1. What is the best electric string trimmer?

For the money, the best corded electric string trimmer is the BLACK+DECKER BESTA510, while the best cordless electric string trimmer is the Earthwise LST02010. Refer to our reviews above to find out why. 
2. Are electric string trimmers any good?

Yes. They have many advantages over their gas counterparts. Even though electric trimmers tend to have less power output than those with gas engines, they should be powerful enough for use around the house. Some even have power comparable to gas. 
3. What size string trimmer do I need?

For most residential lawns, a cutting head of 10-15 inches should be sufficient. For large spaces, an 18-inch or larger cutting head will make the job go by faster. 
Conclusion
While gas string trimmers remain unmatched when it comes to power, electric string trimmers are the more eco-friendly (and usually more user-friendly) option.
If you think electric is the way to go, you should now have a good idea of what to look for as you shop for string trimmers, as well as some of your best choices to consider.
Main Photo Credit: Shutterstock
LawnStarter participates in the Amazon Services LLC Associates Program, an affiliate advertising program. LawnStarter may earn revenue from products promoted in this article.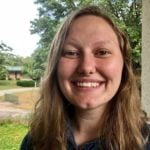 Jordan Ardoin
Jordan Ardoin is a writer and indoor plant enthusiast hailing from Florida. In her spare time, she enjoys chasing her two cats around the house and trying to keep her houseplants alive.