Power rakes go by many names: lawn dethatcher, verticutter, and scarifier, to name a few. Whatever you call it, a power rake is the best tool for getting rid of excessive thatch in your lawn. If you're shopping for a new one, check out our top picks for the best power rakes.
In our list of best power rakes, you'll notice three basic types:
See our buyers guide below for more information about each type to help you figure out which is best for you.

Top 8 Power Rakes – Reviews
Our Top 8 Power Rakes listing includes
2 manual dethatching rakes
2 tow-behind dethatchers
2 electric dethatchers
2 battery-powered dethatchers
Manual dethatching rakes
1. Groundskeeper II Dethatching Rake
Best Manual
Groundskeeper II Dethatching Rake
The Groundskeeper II Dethatching Rake is lightweight and durable, but that means its price is a bit higher too.
Groundskeeper's dethatching rake is extra large to help you clear your yard of thatch buildup in record time. It's also easy on your back thanks to the 55-inch fiberglass handle, which means you won't have to stoop while dethatching the lawn.
Despite its size, the Groundskeeper II is surprisingly lightweight at only 3 pounds, another feature that makes it more comfortable to use.
Other key features include:
With attached springs that allow flexibility, the wire tines can dig through dense thatch at an angle without bending and losing their shape.
The rake's handle has a polymer coating to keep it from breaking under sustained pressure.
Maybe the most important thing about this top-of-the-line dethatching rake is that it's durable and tough enough to pull up thick layers of debris for years to come.
Specifications:
Rake head width: 21 inches
Number of tines: 28
Weight: 3 lbs
Pros:
✓ Extra-large but still lightweight
✓ Durable construction
✓ Takes less effort to use than similar dethatching rakes
✓ Easy to assemble
Cons:
✗ Expensive
2. True Temper Adjustable Thatching Rake
True Temper 2914000 Adjustable Thatching Rake
The True Temper Adjustable Thatching Rake is affordable and has a comfort grip on the handle. The bad news: it's heavy.
This adjustable thatching rake from True Temper is a more affordable but solid alternative to our top pick. This rake has two sets of steel tines: One curved and one straight. With both sets working together, the True Temper rake can break through all kinds of debris from multiple angles.
Like our overall No. 1 dethatching rake, this True Temper power rake was designed with user comfort in mind. The True Temper has a long 54-inch handle to prevent stooping and a cushioned grip to prevent blisters and hand fatigue.
One major downside? Even though this rake is considerably smaller than our top pick, it's heavier because of the hardwood handle. But again, the True Temper is much less expensive and makes a great budget option.
Specifications:
Rake head width: 15 inches
Number of tines: 19
Weight: 4 lbs
Pros:
✓ Affordable
✓ Curved and straight steel tines
✓ Comfort grip on the handle
Cons:
✗ Heavy for its size
Best tow-behind dethatchers
1. Brinly DT-48BH Tow-Behind Dethatcher
Best Tow-Behind
Brinly DT-48BH Tow-Behind Dethatcher
The Brinly DT-48BH Tow-Behind Dethatcher has a universal hitch hookup, a 48-inch-wide steel body, and flexible tines.
Is your yard too big to dethatch with a handheld manual power rake? A tow-behind dethatcher that attaches to your riding lawn mower may be a better option.
The best lawn dethatcher for large residential yards is the Brinly DT-48BH model. Its 48-inch clearing width and two rows of 12 spring steel tines make the DT-48BH perfect for lawns of an acre or more with lots of deep thatch to break through.
Don't have a riding lawn mower? The Brinly DT-48BH might still be an option for you because of its universal hitch, which can hook up to most ATVs and tractors in addition to lawn mowers.
This large dethatcher is durable and safe. The whole structure is made of steel, and the 8-inch rubber-tread wheels move easily through any terrain and won't go flat.
Though it isn't likely the steel tines will break off while in use, Brinly prepared for the worst anyway. If a tine does break, there's a safety rod to keep it from getting caught in your lawn mower blades.
Specifications:
Working width: 48 inches
Number of tines: 24
Adjustable depth settings?: No
Pros:
✓ Large clearing width
✓ Durable all-steel construction
✓ All 24 tines flex independently for strong, flexible clearing
✓ Universal hitch hookup
Cons:
✗ No depth adjustments for different terrain or types of grass
✗ Some users found it difficult to assemble
2. Agri-Fab Tine Tow Dethatcher
Agri-Fab 40-Inch Tine Tow Dethatcher 45-0294
The Agri-Fab 40-Inch Tine Tow Dethatcher is American-made, features adjustable depth settings, and has a 3-year warranty.
This Agri-Fab tow-behind dethatcher is another high-quality power rake for large lawns. It's a little smaller than our top pick from Brinly, but it's just as durable with rustproof and heat-treated tines for dislodging dense thatch buildup.
The Agri-Fab improves on the Brinly in one major way. You can raise and lower the tines while driving your lawn mower in case different areas of your lawn have deeper thatch or different types of grass.
The handle for adjusting the tines' depth is easily accessible so you don't have to miss a beat while adjusting them. Plus, the dethatcher's weight tray can hold up to 70 pounds of cinder blocks or bricks, so you can add pressure as needed to make the tines dig even deeper into the soil.
Bonus points: Agri-Fab manufactures its dethatchers in the United States and backs them up with a three-year warranty.
Specifications:
Working width: 40 inches
Number of tines: 20
Adjustable depth settings?: Yes
Pros:
✓ Rustproof, heat-treated tines
✓ Easy to move and adjust tines
✓ Universal hitch hookup
✓ Made in the U.S.
✓ Three-year consumer warranty
Cons:
✗ More assembly required than the Brinly model
✗ Universal hitch wouldn't fit some users' lawn tractors
Best corded electric dethatchers
1. WORX WG850
Best Corded Electric
WORX WG850
The WORX WG850 is small but mighty. Its light weight and adjustable tines make it easy to use on your whole yard.
The motorized electric WORX WG850 may be small, but it makes dethatching the lawn much easier. Simply push the wheeled dethatcher around like a regular push lawn mower. Its 12-amp motor spins the tines at speeds up to 3,500 RPM for more efficient clearing than you would get with a manual dethatching rake.
Depending on your lawn's needs, you can adjust the tines to three different depths. As you move through the yard, the WG850 collects debris for you in a 0.9-bushel collection bag, so you don't have to clean up your yard afterward. For safety and energy efficiency, the WG850's lock-off switch lets you stop on a dime.
Plus, because this dethatcher is so small, it's lightweight and super easy to store. And despite its size, this power rake still has 24 steel tines for breaking up dense thatch.
Specifications:
Working width: 14 inches
Motor power: 12 amps
Depth adjustments: 3
Number of tines: 24
Weight: 19 lbs
Pros:
✓ Adjustable tine depths
✓ Comes with a collection bag for debris
✓ Lightweight
✓ Folds for easy storage
✓ Durable steel tines
Cons:
✗ Small clearing width
✗ Some users reported issues with the collection bag falling off while in use
2. Earthwise DT71613
Earthwise DT71613 13-Amp 16-Inch Corded Electric Dethatcher
The Earthwise DT71613 Corded Electric Dethatcher is heavier than our #1 pick but it can reach deeper into the soil.
Looking for a larger electric dethatcher for more heavy-duty jobs? The Earthwise DT71613 model might be right for you. This power rake is 16 inches wide, so it clears larger swaths of thatch at once than our top pick from WORX. The DT71613 also has nearly twice as many tines for getting through denser thatch.
The runner-up has some of the same features as our top pick, including a collection bag for debris and a mechanism that stops the rotating tines immediately for safety. You can still adjust the tines' depth with this model, but the Earthwise version has five settings instead of three. It can get deeper into the soil than the WORX model.
The downside of this dethatcher's size and many features is its weight. At 30 pounds, the Earthwise wouldn't be a practical choice for seniors or other homeowners with limited upper body strength.
Specifications:
Working width: 16 inches
Motor power: 13 amps
Depth adjustments: 5
Number of tines: 45
Weight: 30 lbs
Pros:
✓ 45 spring wire tines for heavy-duty work
✓ Large clearing width for an electric power rake/lawn dethatcher
✓ Five tine depth settings
✓ Collection bag for debris
Cons:
✗ Heavy
Best battery-powered dethatchers
1. Greenworks 14-inch 40V Cordless Dethatcher/Scarifier
Best Battery-Powered
Greenworks 14-inch 40V Cordless Dethatcher/Scarifier
Greenworks 14-inch 40V Cordless Dethatcher is lightweight and convenient but you can't adjust its depth.
Consider a battery-powered model like this one from Greenworks for all the benefits of an electric dethatcher without the inconvenience of an extension cord. While the 14-inch working width is on the smaller side, the trade-off is that this tool only weighs 17 pounds, even with the 40-volt battery.
Aside from convenience, this Greenworks battery-powered power rake also boasts durable construction materials. The stainless steel tines stay sharp and efficient even after slogging through extreme thatch on a regular basis.
Do you own any other Greenworks products, such as a lawn mower, leaf blower, or weed eater? A great perk of this brand is that all Greenworks tools use the same batteries. So, if you already own a Greenworks battery and charger, you'll only have to buy the tool this time around.
The 40V battery compatible with this dethatcher runs for up to 30 minutes on one charge, then fully recharges in about 120 minutes.
Specifications:
Working width: 14 inches
Voltage: 40 volts
Depth adjustments: None
Number of tines: 18
Weight: 17 lbs
Pros:
✓ Lightweight and easy to use
✓ Durable stainless steel tines
✓ Battery compatible with other Greenworks products
Cons:
✗ Expensive
✗ Can't change the depth of the tines
2. Einhell GC-SC Power-X-Change Dethatcher/Scarifier
Einhell GC-SC Power-X-Change 36-Volt Cordless 12-Inch Scarifier and Dethatcher
The Einhell GC-SC Power-X-Change is on the heavier side but has an adjustable handle and three depth settings.
This small battery-powered dethatcher from Einhell is a much more affordable alternative to the Greenworks model. Note: On Amazon, the Einhell dethatcher comes as the tool only, and you'll have to buy the battery and charger separately.
Even though this model has only a 12-inch clearing width with 16 tines, it's still heavier than our pick from Greenworks. But the Einhell model has its own perks! Its tines have three depth settings, where the Greenworks only has one. This power rake also has a transport setting that lets you roll the dethatcher over sidewalks and other hardscapes without the tines causing damage.
Specifications:
Working width: 12 inches
Voltage: 36 volts (2 18-volt batteries)
Depth adjustments: 3
Number of tines: 16
Weight: 22 lbs
Pros:
✓ Affordable
✓ Multiple tine depth settings
✓ Adjustable handle for user comfort
Cons:
✗ Small clearing width
✗ Heavy for its size
Buyers Guide
Before you can choose the best power rake for you and your yard, you have to know what to look for. We'll walk you through all the basics of power rakes as a sort of road map to follow while you research which one you want to buy.
What is a power rake?
First, what is a power rake? As you can see from the examples in our list of top picks, a power rake isn't even a rake most of the time.
A power rake is a tool that digs into a yard's thatch to break it up and remove debris from the lawn. Many manufacturers and websites (including LawnStarter) will use "power rake" interchangeably with "lawn dethatcher," "verticutter," "scarifier," and "vertical mower." There may be some technical differences between these words, but they're practically the same thing, and they all do the same job.
Why would you want to remove thatch with a power rake? Here's why: Too much thatch sitting on top of your soil can smother grassroots. When thatch builds up to more than an inch thick, it blocks water, sunlight, and essential nutrients from the soil.
What is thatch? Thatch is the layer of plant matter (dead grass clippings, twigs, fallen leaves, etc.) that naturally builds up between the soil and the grass in your lawn. In the right levels, thatch eventually breaks down like compost, making the soil healthier and more fertile. That means healthy grass, too.
So, if you see a thin layer of thatch (¾ inch or less) in your lawn, let it be. But if you notice thatch piling on too thick, it's time for power raking. That means you'll need a power rake (or dethatcher) — unless you leave the dethatching to a professional lawn care service instead.
Types of Power Rakes
Our top picks include three basic categories:
Manual dethatching rakes
Tow-behind dethatchers
Electric push dethatchers
These are the three distinct types of power rakes. Here's what you need to know about each one:
Manual dethatching rakes: Dethatching rakes work just like any other handheld rake. What makes them special is that the rake head and prongs (or tines) are designed specifically for breaking up and removing thatch.
Of all the tools we'll cover, dethatching rakes take the most work to use. They're best for small yards. Because they're so simple, dethatching rakes tend to be cheaper than the other options included in our Best Power Rakes listing.
Tow-behind dethatchers: Tow-behind dethatchers are much wider than rakes or motorized models, so these are your best bet for large yards of an acre or more. Where rakes and electric push dethatchers might cover around 1 foot at a time, tow-behind options usually reach close to 4 feet.
The caveat is that to use a tow-behind dethatcher, you have to own a riding lawn mower, tractor, ATV, or similar vehicle. You'll hitch the dethatcher to the back, then drive around your lawn and let the power rake work its magic.
Tow-behind dethatchers take practically no effort on your part (aside from maybe some assembly at the beginning). Their price range is usually about the same as that of a motorized dethatcher — unless you don't already own something to tow it with. In that case, you would have to purchase a new riding lawn mower, too, and that will cost at least a few thousand dollars.
Electric push dethatchers: From the user's point of view, a motorized push dethatcher works about the same as a push mower. It's mounted on wheels, and as you push it around your lawn, a motor spins the tines rapidly to break up thatch. Push dethatchers are often referred to as "vertical mowers" because of the similarities in their operation.
Push dethatchers don't require anywhere near as much labor as manual dethatching rakes, but they still aren't a good option for large lawns.
Motorized push dethatchers, since they are powered by electricity, either have to be plugged into an outlet and are limited by an extension cord or hooked up to a battery and limited by how long it can hold a charge. Either way, dethatching an acre or more with one of these would be impossible or, at the very least, a pain.
Beware while shopping that battery-powered models can get expensive, with some costing several hundred dollars. The convenience of not having a cord may be worth the extra cost to you, or you may opt for a more affordable corded option instead.
FAQ About Power Rakes
1. What is the difference between a dethatcher and a power rake?

Essentially, "power rake" and "dethatcher" are two words for the same category of tools. The actual definitions of these terms are loose, and the two are often used interchangeably. Technically speaking, though, here is the difference:

Dethatcher: Uses spring tines to dislodge lighter thatch
Power rake: Uses blades to dig deep into thick layers of thatch and break them up more thoroughly 


2. When should you dethatch your lawn?

That depends on the type of grass growing in your lawn. In general, the best time to dethatch is during the grass's peak growing season. 

For cool-season grasses, you should dethatch in early spring or early fall, when temperatures aren't too hot or too cold. For warm-season grasses, you should wait until the weather warms up and dethatch in late spring or early summer.

3. How can you tell if your lawn has too much thatch?

Here are some signs that your lawn might suffer from excessive thatch buildup:

— Patchy growth
— Tan spots in the lawn
— Thin and/or weak growth

If you notice these signs, check your yard's thatch level by parting the live grass (like parting your hair) and examining the thatch layer. As a rule of thumb, if you can't see the soil at all, there's probably too much thatch. A layer of thatch about ¾ inch or less is healthy. 

Conclusion
Power raking (aka dethatching) can improve your lawn's health because it gives grassroots better access to water, sunlight, and nutrients in the soil. Even though this yard chore is essential for a healthy lawn, it often goes overlooked.
Make power raking a regular part of your yearly lawn maintenance schedule to help your lawn reach its full potential. To do that, you'll want to purchase one of the best power rakes from our suggestions to make the job easier on you (and much cheaper than renting a dethatching machine once a year).
Don't have the time or energy to get out in the lawn and remove thatch yourself? Let a lawn care pro near you do it for you! For a little more money than you would spend on a new power rake, you can keep your hands clean and spend your free time doing what you love instead of working in the yard.
LawnStarter participates in the Amazon Services LLC Associates Program and other retailer affiliate programs. LawnStarter may earn revenue from products promoted in this article.
Note: Amazon star ratings and the number of reviews for the products listed above may have changed since that material was collected.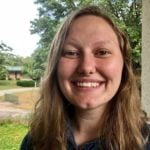 Jordan Ardoin
Jordan Ardoin is a writer and editor with a passion for sustainable, earth-friendly gardening and lawn care practices. When she isn't sharing her knowledge about lawn care and landscaping, you can find her curled up with a good book and a cat in her lap.