Battery-powered lawn care essentials, such as string trimmers, grow more popular every year because they are convenient and eco-friendly, but which one is right for you?
To help you choose a battery-powered string trimmer, we have compiled our top 10 picks, complete with detailed reviews, specs for you to compare, and advice from people who've already used these products.
String trimmers — sometimes called weed eaters, weed wackers, weed trimmers, or grass trimmers — are necessary for a truly polished lawn. Battery-powered models are quiet, clean, and easy to use, but they have their disadvantages, too.
In our comprehensive buyers guide, we'll help you decide if battery-powered is the best option for you and give tips on choosing the right model. But first, let's dig into the best battery-powered string trimmers of the year.
Top 7 Battery-Powered String Trimmers – Reviews
With its powerful 56-volt battery, the WORX WG191 delivers a gas-like performance for taking down especially thick or tall grass. You can tell this trimmer is meant for heavy-duty work because it even comes with a commercial-grade 0.08-inch trimmer line.
Plus, with a cutting head that pivots and an extended-reach straight shaft design, this weed eater can get into all your yard's nooks and crannies.
Whether you need to cut down a patch of weeds or give your lawn a clean edge, the WG191 has you covered. You can convert the tool from a weed trimmer to an edger and back by simply pushing a button and twisting the shaft.
It's versatile for different grass conditions, too, with the variable speed control feature. Using the variable speed trigger, you can up the torque for overgrown spots in your lawn and decrease it during easy parts to extend battery life.
While many users reported that the WORX WG191's power is indeed comparable to that of a gas string trimmer, they also noted some drawbacks.
On one charge (which takes about 90 minutes), the trimmer only runs for about 15-20 minutes. That should be enough time to trim around a typical yard, but it may not be long enough for larger properties.
Also, this trimmer runs louder than many other battery-powered tools.
Specifications:
Voltage: 56 volts
Cutting swath: 13 inches
Line diameter: 0.08 inches
Weight: 6.3 pounds
Pros:

✓ Powerful battery rivals a gas engine
✓ Variable speed control to extend battery life
✓ Converts to wheeled edger with the push of a button
Cons:

✗ Unimpressive battery run time
✗ Users reported it runs loud for an electric model
✗ More expensive than many other options
The LST140C from BLACK+DECKER is the best cordless string trimmer for homeowners on a budget. Here's why: Even though this 2-in-1 trimmer/edger costs about $100, it has a high-performance 40V MAX lithium-ion battery, which is twice as powerful as the other budget picks on this list.
Though it isn't quite as beefy as a gas trimmer, 40 volts should be more than enough power to tackle the usual weeds around a house.
Aside from being powerful, the LST140C is versatile and convenient. Like our top pick from WORX, this BLACK+DECKER model converts to an edger, so you can get more jobs done with one tool.
The LST140C also features an automatic feed spool, which means you don't have to bump the cutting head against the ground to release string as you do with most other string trimmers.
Unlike our top pick, users praised the BLACK+DECKER LST140C's battery run time. On one charge, it runs for about 40 minutes, which may not seem like much but is actually quite impressive for a cordless string trimmer.
Keep in mind that battery life varies greatly depending on specific working conditions, so the trimmer probably won't run for that long every time you use it.
Specifications:
Voltage: 40 volts
Cutting swath: 13 inches
Line diameter: 0.065 inches
Weight: 6.4 pounds
Pros:

✓ Inexpensive
✓ Long battery life
✓ Powerful battery compared to others in the same price range
✓ Converts to edger
Cons:

✗ Uses flimsy line and only has one (opposed to a dual line), which limits performance in thick grass and weeds
✗ No guiding wheel for edger mode
BLACK+DECKER's LST201 model is essentially a smaller, less powerful, and less expensive version of the LST140C. At around $80, this is the most affordable cordless string trimmer of all our top picks.
With a relatively weak 20-volt battery and small 10-inch cutting head, this trimmer certainly isn't the best choice for large yards. However, if you only need to do light work around a small lawn, the LST201 will serve you well.
One substantial benefit of the BLACK+DECKER LST201 is that it's super lightweight — just 4.5 pounds. It should be easy for anyone to carry for long stretches of time working in the yard, even those with limited upper body strength such as seniors.
This model also has the same convenient automatic feed spool and edging capabilities as our other pick from BLACK+DECKER.
Though most users were satisfied with the performance of the LST201 for its intended light-duty work, they reported some issues that you should be aware of before you buy.
One is the trimmer's shaft length, which some users reported was too short for them to use comfortably, which meant hunching over while working and causing back pain. Another concern is the battery's short run time, which is usually about 15 minutes or less on one charge.
Specifications:
Voltage: 20 volts
Cutting swath: 10 inches
Line diameter: 0.065 inches
Weight: 4.5 pounds
Pros:

✓ Inexpensive
✓ Lightweight
✓ Converts to edger
Cons:

✗ Relatively weak battery
✗ Unimpressive battery life
✗ Small cutting swath
✗ Shaft is too short for some users
✗ Automatic feed feature doesn't always work correctly
The WORX WG163 is another lightweight, easy-to-use budget pick suited for small yards. This trimmer "kit" is even more of a bargain because it comes with not one but two 20-volt lithium-ion batteries.
With the extra, you can have one battery charged at all times, so even if you run out of juice while trimming your yard, you can switch out the batteries and keep working. Plus, the batteries are compatible with all WORX PowerShare tools.
Even though its 20 volts of power isn't anything to write home about, the WG163 makes up for it with impressive versatility:
It converts easily to an edger with rubberized wheels for traction and guidance, resulting in smoother cuts, including on uneven terrain.
The trimmer head pivots 90 degrees, and the shaft is telescoping, so this trimmer can fit into all the tight spots in your yard.
An adjustable spacer guard protects your flower beds and other landscape features while you trim around them.
Another notable feature of the WORX WG163 is the "command feed" spool system. Instead of automatically feeding the line, this trimmer gives you complete control over the string's length with a button on the handle.
Specifications:
Voltage: 20 volts
Cutting swath: 12 inches
Line diameter: 0.065 inches
Weight: 5.3 pounds
Pros:

✓ Inexpensive
✓ Lightweight
✓ Telescoping shaft for greater reach
✓ Converts to wheeled edger
✓ Comes with extra 2.0Ah battery
Cons:

✗ Relatively weak battery
CRAFTSMAN's V20 string trimmer represents a happy medium between our more premium picks and budget picks. It still isn't the most powerful, with a 20-volt battery, but it has a wider cutting head to help you trim your yard faster, and it uses a thicker, more durable 0.08-inch string that can manage more dense growth.
Also improving on 20V trimmers from other brands, this CRAFTSMAN model has variable speed control. You can easily switch to the high setting for more torque or the low setting for better battery efficiency as needed. The V20 gives you control over more than just the speed, since it features a push-button line feed system similar to the WORX WG163.
Customer comments: A few reviewers reported problems with the line feed system not working, meaning they had to manually pull the string out, which can be a pain. Users also reported that this model tends to eat through line quickly.
Specifications:
Voltage: 20 volts
Cutting swath: 13 inches
Line diameter: 0.08 inches
Weight: 6.7 pounds
Pros:

✓ Larger and better at cutting thick grass than other 20-volt trimmers
✓ Variable speed control to extend battery life
✓ Converts to edger
Cons:

✗ Relatively weak battery
✗ Push-button line feed doesn't always work
✗ Can go through trimmer line too quickly
Ryobi's RY40250 40-volt string trimmer combines a mid-range battery power level with premium features that make the tool more versatile and convenient. Perhaps most importantly, this trimmer is compatible with Ryobi's full line of "expand it" attachments, which can save you money and storage space by letting one tool do the work of many.
With additional purchases, you can convert the RY40250 to a hedge trimmer, pole saw, cultivator, and other lawn care tools.
Even if you use the RY40250 only as a string trimmer, it has merits that make it stand out.
To extend the battery's run time, the trimmer has variable speed control and an adjustable trimmer head that ranges from 13 to 15 inches wide. Why this is important: Being able to change the cutting head's size not only improves battery efficiency but also makes the tool perfect for both open spaces and tight spots.
There's something else that's special about the RY40250's cutting head: It features a bump-feed line release system similar to the ones used for most gas string trimmers.
This trimmer is close to commercial-grade, with its 40-volt battery, 15-inch cutting swath, and heavy-duty 0.08-inch line. But that capability comes with a major downside: weight. The RY40250 weighs more than 11 pounds, which is most likely too heavy for the average homeowner to carry for an extended period of time.
For similar power output with a more manageable size (and price), try the BLACK+DECKER LST140C.
Specifications:
Voltage: 40 volts
Cutting swath: 13-15 inches
Line diameter: 0.08 inches
Weight: 11.3 pounds
Pros:

✓ Converts to other tools with Ryobi attachments (sold separately)
✓ Variable speed control to extend battery life
✓ Adjustable cutting head size
Cons:

✗ Heavy
✗ More expensive than many other options
The price point for our final pick, the Kobalt KST 2580-06, jumps significantly, and the power level jumps to match it.
With an impressive 80-volt battery, this trimmer can provide gas-like power for up to a full hour. If you have a large, unruly property of more than an acre but you want an electric string trimmer, this might be the string trimmer for you.
In addition to a brushless motor that provides enough torque to power through even the thickest patches of grass, this Kobalt trimmer can hold a 0.095-inch, professional-grade trimmer line. That's usually the thickest line you can find in a residential trimmer, and you'd be hard-pressed to break it.
Similar to the Ryobi RY40250 and gas string trimmers, you release more line while working by tapping the cutting head against the ground.
Even though the Kobalt KST 2580-06 could be all about power, it isn't. It's also versatile, with high/low variable speed options and an adjustable cutting head that goes from 14 to 16 inches.
This trimmer is the largest and most powerful on our list, and the obvious tradeoffs follow. It's also the heaviest and (by more than $100) the most expensive option out of our top picks.
Specifications:
Voltage: 80 volts
Cutting swath: 14-16 inches
Line diameter: 0.095 inches
Weight: 11.7 pounds
Pros:

✓ Powerful battery offers gas-like performance and long run time
✓ Holds extra durable, commercial-grade trimmer line
✓ Variable speed control to extend battery life
✓ Adjustable cutting head size
Cons:

✗ Much more expensive than other options
✗ Heavy
✗ Users reported restringing is difficult
✗ Replacement parts are hard to find if you have problems down the road
Buyers Guide
How does a string trimmer work?
A string trimmer (aka grass trimmer, weed trimmer, weed wacker, or weed eater) consists of a long curved shaft or straight shaft with a cutting head on the end. The cutting head is, as its name suggests, the part that cuts down grass and weeds. It spins a single line (usually a nylon string) or dual lines fast enough to create a blade-like effect that slices through growth.
The point of string trimmers is to reach the overgrown grass and weeds in tight spaces where a lawn mower won't fit, such as the area around flower beds or other landscape features. Since most string trimmers can easily convert to an edger, you can usually use them to create clean edges around your lawn, too.
Pros and cons of battery-powered string trimmers
Just like gas string trimmers and corded electric string trimmers, battery-powered string trimmers have their advantages and disadvantages. Use these pros and cons to decide if battery-powered is the way to go for your yard:
Pros:
✓ Environmentally friendly, no emissions
✓ Quieter than gas models
✓ Lighter than gas models
✓ Easy to start and operate
✓ Low maintenance
✓ More maneuverable than corded electric models
Cons:
✗ Most can't compete with gas in terms of power
✗ More expensive than comparable gas and corded electric models
✗ Limited by battery's run time, usually about 15-30 minutes
✗ Have to buy new batteries about every two to three years
Ultimately, battery-powered string trimmers are best for small yards rather than large yards because of their time limitations. They also are suited for lawns without too much thick grass and weeds, since they tend to lack in power and torque.
What the specs mean for you
When you're looking at different battery-powered string trimmers — either here on this list or on various retailers' websites — you'll find a lot of specs. In this section, we'll help you understand what some of these measurements mean and how you can use them to figure out which trimmer is best for your yard.
These are the factors we used to rank the best battery-powered string trimmers of the year:
Voltage: Most of the time, the first thing you'll notice about a cordless string trimmer is the voltage of its battery. That voltage tells you the trimmer's power output, with higher voltage meaning more power.
More powerful batteries produce more torque, so trimmers with high voltage are necessary to cut through thick, tall grass and weeds.
Cutting swath: A trimmer's cutting swath, sometimes called cutting width, is the area of grass it can cut at once. With a larger cutting swath, you can cover more ground in less time and finish trimming your yard faster. A smaller cutting width might be necessary for tighter spots.
That's one reason string trimmers with adjustable cutting heads, like a few of our top picks, can be so handy.
Line diameter: Line diameter measures the thickness of the trimmer line a given string trimmer can hold. The thicker the string, the more durable it will be and the denser growth it will be able to cut through.
Most residential string trimmers hold a 0.065-inch line, which should be sufficient for your needs. Some can use 0.08-inch string, which straddles the line between amateur and professional-grade, or even 0.095-inch string, which is good for especially heavy-duty work.
Weight: It seems basic, but weight is an important number to pay attention to when shopping for string trimmers or similar power tools. If you get a trimmer that's too heavy, you probably won't be able to carry it long enough to finish working on your yard.
Know the limits of your upper body strength and choose your string trimmer accordingly. Some trimmers can attach to shoulder straps to lighten the load on your arms and back.
Price: As we mentioned before, battery-powered tools are usually more expensive than their gas or corded counterparts. That doesn't mean there aren't affordable options, though, and you'll notice that all our top picks cost less than $300.
Higher-end models can run closer to $500, so don't be surprised if you see higher prices while shopping around. Keep in mind that sometimes, the trimmer comes without a battery and charger, which you'll then have to buy separately.
Most of our top picks include a battery and charger, though, so you might not have to worry about factoring the extra cost into your budget if you choose one of these.
FAQ About Battery-Powered String Trimmers
1. What maintenance does a battery-powered string trimmer need?

You need to clean the cutting head and guard regularly to remove caked-on dirt and grass clippings that could slow your trimmer down. You'll also have to replace the trimmer line eventually. When that time comes, make sure you follow the correct instructions for your specific model. 
2. How can I make my trimmer line last longer?

Soaking trimmer line in water can help it retain its flexibility, which means it won't break as easily and will last longer. 
3. How long should a battery-powered string trimmer last?

It's hard to say how many years a battery-powered string trimmer should last, since these tools haven't been around for very long. Other string trimmers typically last five to 10 years with proper maintenance. 
Conclusion
If you want your lawn to look its best, you can't go without a string trimmer. Many homeowners opt for battery-powered string trimmers because they don't produce harmful emissions like their gas counterparts but aren't tethered to an extension cord, either.
For people who decide a battery-powered string trimmer is right for them, our top picks are the best options that fall within the average family's budget.
Main Photo Credit: Andrewa, / CC BY-SA 4.0 / via Wikimedia Commons
LawnStarter participates in the Amazon Services LLC Associates Program, an affiliate advertising program. LawnStarter may earn revenue from products promoted in this article.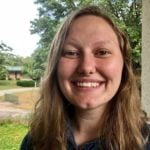 Jordan Ardoin
Jordan Ardoin is a writer and indoor plant enthusiast hailing from Florida. In her spare time, she enjoys chasing her two cats around the house and trying to keep her houseplants alive.