The future is battery-powered: We have hybrid cars, generators that run on batteries instead of gas — even battery-powered lawn mowers. Battery-powered mowers are perfect for eco-friendly homeowners with large yards because they produce no harmful emissions but don't need a cord like other electric mowers.
Are you in the market for a battery-powered lawn mower? Check out our top picks to find the perfect one for you.
Top 8 Battery-Powered Lawn Mowers – Reviews
This battery-powered mower from Snapper is impressive across several categories. It has a high-voltage battery with a maximum run time of more than an hour, a wide cutting deck for faster mowing, and a relatively affordable price tag for a battery-powered mower of its caliber.
This Snapper is versatile, too. For example, this mower gives you plenty of options for disposing of grass clippings — through the discharge chute as you mow, via the attached mulcher, or gathering them in the 1.7-bushel collection bag.
You also can choose from seven different cutting heights to get the perfect mow for all parts of your yard, even if the slope or type of grass varies.
With the Snapper's durable steel deck and reliable engine from Briggs & Stratton, this likely is the only mower you'll have to buy for several years.
Specifications:
Battery voltage: 82 volts
Battery run time: Up to 90 minutes
Cutting width: 21 inches
Weight: 90 pounds
Price range: Under $500
Pros:
✓ Briggs & Stratton engine
✓ 3-in-1 grass clipping disposal
✓ Easy-to-operate cutting height adjustment with 7 positions
✓ Long battery life
✓ Comes with rapid charger
✓ Smart mowing technology that adjusts battery output as you mow for maximum power efficiency
Cons:
✗ Heavy
✗ Replacement blades can be difficult to find
✗ Brand has a poor customer service track record
Greenworks is one of the leading brands in battery-powered lawn care tools, and this 14-inch lawn mower is a prime reason why.
When you buy a Greenworks tool like this mower, it comes with a high-quality battery and charger that are compatible with all the brand's products. That means if you buy a Greenworks string trimmer, chainsaw, pressure washer, or another tool in the future, you won't have to pay for another battery.
Not only that, but this 40V 14-inch mower is also super affordable and comes with a lot of the same features as our top pick from Snapper. You can adjust the cutting height to five different positions ranging between 1¼ and 3⅜ inches, and you have the option either to mulch grass clippings or collect them in the rear bag.
One major downside of the Greenworks mower is its plastic mowing deck, which is easier to break than a steel deck and usually doesn't last as long. However, the plastic construction makes this mower lightweight, so it might be a better choice for some homeowners than our heavy No. 1 pick.
Specifications:
Battery voltage: 40 volts
Battery run time: Up to 45 minutes
Cutting width: 14 inches
Weight: 33 pounds
Price range: Under $300
Pros:
✓ Affordable
✓ Lightweight
✓ 5 cutting height adjustments
✓ 2-in-1 mulching or bagging grass clipping disposal
✓ Battery compatible with other Greenworks products
Cons:
✗ Plastic deck
✗ Relatively small cutting width
✗ Handle isn't adjustable
The WG779 lawn mower from WORX comes complete with two 20-volt batteries compatible with other WORX Power Share tools and a dual-port charger so you can charge both batteries at the same time.
This battery-powered mower also comes with a mulching plug and a plastic-topped rear collection bag with an indicator that tells you when the bag is full and needs emptying.
All of these features are great, but what makes the WORX WG779 special? For one, it has an indicator right on the mower that lets you know when the battery is almost out of juice.
Plus, the mower has an Intellicut torque-on-demand knob to regulate power for tougher or easier grass conditions. Intellicut helps extend battery life while still giving the mower plenty of power to cut through thick grass.
Another benefit is that the WORX WG779 is lightweight at less than 30 pounds and easy to store because of its compact size.
If you want a good battery-powered mower for a small yard and small storage space, this could be the one for you.
Specifications:
Battery voltage: 40 volts
Battery run time: Up to 30 minutes
Cutting width: 14 inches
Weight: 29 pounds
Price range: Under $300
Pros:
✓ Lightweight
✓ Affordable
✓ Indicators to tell you the battery's charge and the collection bag's remaining capacity
✓ Intellicut torque-on-demand technology
✓ Single-lever cutting height adjustment with 6 positions
✓ 2-in-1 mulching and bagging grass clipping disposal
Cons:
✗ Small cutting width
✗ Not powerful enough for very thick grass
This battery-powered Greenworks lawn mower is similar to our other top pick from the same brand, but this one is bigger and therefore a better choice for larger yards.
What's more, this 19-inch model comes with two batteries compatible with all Greenworks tools. That's a great value for the total price of less than $400.
The 19-inch Greenworks mower improves on the smaller version in more ways, too. This one has seven different cutting heights and 3-in-1 grass clipping disposal capabilities, including side discharging, mulching, and rear bagging. It also has a steel cutting deck, which is more durable than the plastic deck on our other top pick from Greenworks.
Specifications:
Battery voltage: 40 volts
Battery run time: Up to 60 minutes
Cutting width: 19 inches
Weight: 53 pounds
Price range: Under $400
Pros:
✓ Comes with a bonus battery
✓ 7-position cutting height adjustment
✓ 3-in-1 discharging, mulching, and bagging capabilities
✓ Durable steel mowing deck
✓ Large wheels are easy to maneuver
Cons:
✗ Batteries sometimes lose ability to charge after a short time
✗ Manufacturer warranty doesn't cover batteries
BLACK+DECKER's 40-volt cordless electric mower also comes with an extra lithium-ion battery. That way, you can charge one while you use the other in case you have a large yard and need to double the run time to about 30 minutes with both batteries. Again, this is a good deal because you get the mower and two batteries for less than $400.
Do you have dips and hills in your yard or different types of grass that need to be cut at different heights? The cordless BLACK+DECKER mower has you covered with six different height settings ranging from 1 to 3 inches. You can adjust the height easily as you mow, using the single-lever system.
Plus, you can collect clippings while you go with the large 9.5-gallon collection bag or use the mower's mulching feature. Even with the collection bag, this mower is easy to store because the handle folds to take up less space. The cutting deck is about 16 inches wide, a size that strikes a good balance between compact storage and cutting large swaths of grass at once.
Specifications:
Battery voltage: 40 volts
Battery run time: Up to 30 minutes with two batteries
Cutting width: 16 inches
Weight: 38 pounds
Price range: Under $400
Pros:
✓ Comes with an extra battery
✓ Batteries compatible with other BLACK+DECKER tools
✓ 6 cutting height settings
✓ Lightweight
✓ Easy storage
Cons:
✗ Relatively short battery life
✗ Not good for large yards
If you have the extra money in your budget, you might opt for a self-propelled battery-powered mower like this one from Yard Force.
As the name suggests, self-propelled lawn mowers move forward on their own, so all you have to do is guide them around your lawn. You won't have to use your own strength to push the mower.
With this Yard Force mower, you can adjust the speed at which the mower propels itself for varying terrain. The lever to adjust speed is easy to access while you mow.
Because of the built-in torque-sense sensors, the mower automatically adjusts its power output as needed, so the blade spins faster when the grass is dense but slows down to preserve battery in easier spots.
This mower can run on two batteries at once for a whopping 120 volts of power and up to 100 minutes of run time on a single charge. It also has the largest cutting width of all the mowers on our list (22 inches), making it a good choice for large yards as far as battery-powered mowers go.
The downside of all that power and size? The mower weighs more than 100 pounds.
Specifications:
Battery voltage: 120 volts
Battery run time: Up to 100 minutes with two batteries
Cutting width: 22 inches
Weight: 109 pounds
Price range: Under $800
Pros:
✓ Self-propelled with adjustable speed
✓ 3-in-1 bagging, discharging, and mulching capabilities
✓ Powerful battery
✓ Impressive battery life
✓ Large cutting width
✓ Automatically adjusts torque for different grass thickness
Cons:
✗ Very heavy
✗ Expensive
This 56-volt, 21-inch mower from EGO Power+ is another great choice if you're looking for a self-propelled option. It has variable speed settings up to 3 miles per hour, suited for any flat or sloped land. The lithium-ion battery runs for up to an hour on a single charge, which gives you plenty of time to mow most residential lawns.
EGO built this mower to withstand any conditions, with weather-resistant construction so the parts won't rust in high humidity or frequent rain. There are even LED headlights so you can mow at night or in the early morning if your schedule demands it. This is the only mower of all our picks that offers this feature.
The EGO Power+ self-propelled mower also has the versatile features you expect of a top-quality lawn mower of this day and age. It has an adjustable cutting deck with six height options ranging from 1.5 inches to 4 inches so you can mow to different lengths as needed.
You also can discharge, bag, or mulch your grass clippings without any additional attachments.
Specifications:
Battery voltage: 56 volts
Battery run time: Up to 60 minutes
Cutting width: 21 inches
Weight: 63 pounds
Price range: Under $800
Pros:
✓ Self-propelled with adjustable speed
✓ Weatherproof construction
✓ 6 cutting height options
✓ 3-in-1 discharging, bagging, and mulching capabilities
✓ Includes LED headlights
Cons:
✗ Expensive
✗ Some users had negative experiences with EGO's customer support and warranty system
Thanks to its brushless motor, the Makita XML03CM1 is quiet and energy-efficient compared to similar lawn mowers with traditional brushed motors. This mower also has a quiet mode that reduces the motor's RPM to produce even less noise, so it might be the perfect choice for you if you're worried about disturbing close neighbors.
The XML03CM1 is impressive in more ways than just being quiet. It has 10 different cutting deck heights, so you can precisely tailor the height of your mow based on the time of year, the type of grass, and any other factors that might affect your needs. The deck is made of commercial-grade, heavy-duty steel that can withstand years of use and weathering.
Not to mention, you get four 18-volt LXT batteries along with the mower for less than $500. Use two at once to power the mower for up to an hour and charge the other two at the same time in case you need more time to mow your lawn.
Specifications:
Battery voltage: 36 volts
Battery run time: Up to 60 minutes per pair of 18V batteries
Cutting width: 21 inches
Weight: 82 pounds
Price range: Under $700
Pros:
✓ Quiet brushless motor
✓ Commercial-grade cutting deck
✓ Adjustable cutting height with 10 settings
✓ Large cutting width
✓ 16-gallon grass catcher bag
✓ Comes with 4 batteries (2 bonus)
Cons:
✗ Heavy
✗ Difficult to maneuver around walls and other obstacles
Buyers Guide
Why would you want a battery-powered lawn mower in the first place? How do you know if this type of mower is a viable option for your yard? What should you look for when shopping for a specific model? We'll help you answer these questions and more.
Why battery-powered lawn mowers?
When it's time to buy a new lawn mower, the first thing you have to decide is whether you want a gas-powered, corded electric, or cordless electric model. Here are some of the pros and cons of battery-powered mowers to help you make your decision.
Pros of battery-powered lawn mowers:
✓ Environmentally friendly; no harmful emissions
✓ No cord needed
✓ Easy push-button start
✓ Low-maintenance
✓ Quieter than gas lawn mowers
✓ Lighter than gas lawn mowers
Cons of battery-powered lawn mowers:
✗ Only run as long as the battery's charge lasts
✗ Not as powerful as gas lawn mowers
✗ More expensive than gas-powered or corded electric mowers
Which battery-powered lawn mower is best for you?
After you decide battery-powered is the way to go for you, you'll have dozens of models from many different brands to sift through. Hopefully, our top picks above helped you narrow down your choices quite a bit, but it's still important for you to know which features are the best fit for your yard.
Voltage
Most cordless electric lawn mowers will have a battery (or sometimes two batteries working together) with a voltage between 36 volts and 120 volts. In general, the higher the voltage, the more powerful the lawn mower will be and the longer the battery will last on a single charge.
For these reasons, lawn mowers with a higher voltage capacity (60 volts and up) are the best options for large yards and lawns with lots of tall or thick grass to power through.
Higher voltage also means a higher price and a heavier mower. If you have a small yard, a frugal budget, or limited upper body strength, you're probably better off with a smaller, lower voltage mower.
Run time
No matter the brand of battery or its voltage, run time will always vary based on the conditions of your yard and how much work the mower has to do to get through it.
For example, a mower might run for an hour on a single charge while you're trimming grass that's already neat and short. The same mower with the same battery may only run for 30 minutes if you're cutting dense grass that hasn't been mowed in several months.
The run time you see on manufacturers' websites (and in this pricing guide) is usually the battery's maximum run time on a full charge. That maximum run time might range anywhere from 20 minutes to 100 minutes depending on the battery's voltage, the size of the mower, whether it's self-propelled or manual, and other factors.
Most of the time, you'll be able to run a battery-powered lawn mower for about 30 minutes at a time, even if the maximum run time you see online is higher.
Even so, comparing the maximum run time of different mowers can give you a good idea of which ones tend to run for longer. Think of how long it usually takes you to mow the lawn and look for a mower with a maximum run time longer than that if possible.
Cutting width
The width of a mower's cutting deck (aka mowing deck) determines the area of grass it can cut in one pass. It's simple: A mower with a cutting width of 21 inches will cut the grass in 21-inch swaths.
Typical cutting widths of push mowers range from 14 to 22 inches. Naturally, larger cutting widths are better suited for larger yards, as they will allow you to cover more ground in less time and finish mowing faster.
A smaller mower with a small cutting width close to the low end of that range might be better suited for your needs if:
You have a small yard
You have limited storage space
Your yard includes many obstacles you'll need to work around (flower beds, landscape decorations, etc.)
Weight
One of the best benefits of battery-powered lawn mowers is that they tend to be much lighter than their gas-powered counterparts. Because of the weight of the battery, though, they're not quite as light as corded electric mowers.
Still, pay attention to the weight of each specific model before you make your final choice. Battery-powered mowers can be heavy if they're large and need lots of batteries (notice that the Yard Force model on our list of top picks weighs more than 100 pounds).
Heavier mowers will take more work for you to push and will be more difficult to maneuver in tight corners.
Price range
Possibly the biggest drawback of any battery-powered tool is its price compared to gas-powered and corded electric counterparts. Generally, a battery-powered model is the most expensive push lawn mower you can buy.
The typical price range of cordless electric mowers is about $200 to $800. Those closer to $200 will likely be small and have shorter run times, while those closer to $800 are usually quite large and come packed with special features. Our top picks include options from all across this spectrum.
FAQ About Battery-Powered Lawn Mowers
2. How long does a battery-powered lawn mower last?

If you choose a high-quality battery-powered mower with solid construction and you maintain it well through the years, your mower should last about 10 years. You'll have to replace the battery a few times over the course of the mower's life, usually every 3 to 5 years. 
3. How do you maintain a battery-powered lawn mower?

Electric mowers in general need a lot less maintenance than gas mowers, but "low maintenance" doesn't mean "no maintenance." Here are some tips to keep your mower in prime condition for as long as possible:

— Sharpen the mower blade regularly. 
— Scrape grass clippings off the undercarriage several times through the mowing season. 
— Lubricate the wheel axles at least once a year. 
— Use a blower or air compressor to clean out dust and debris from the battery compartment and motor at least once a year. 
4. How much do replacement batteries cost?

A new battery from major brands like Greenworks, EGO, or WORX costs anywhere from $70 to $350. Batteries with low voltage and amp-hours, such as 20-volt 2.0Ah batteries, will cost toward the low end of that range. On the high end, you'll find massive batteries with 60 to 80 volts and 5.0 to 6.0Ah.
5. What's the difference between voltage and amp-hours?

If you want to think of voltage and amp-hours in the simplest (though maybe not entirely scientifically correct) terms, you could say that:

— Voltage determines power
— Amp-hours determines run time

Through scientific processes we won't go into right now, the voltage and amp-hours together make up the battery's capacity. 

Think of battery capacity like a fuel tank. A larger fuel tank has the potential to give a mower a longer run time and more power, but only if you fill it with fuel. In the same way, a battery with a high capacity has that same potential, but the actual power output depends on how you use it. 

So, even though, in theory, a battery with higher voltage is more powerful and one with more amp-hours will run longer, the practical results will vary. 
Conclusion
Battery-powered lawn mowers are becoming common fast. Most brands are still working out the kinks for these eco-friendly tools to compete with their gas counterparts in terms of power, but it's clear to see that the future of lawn care is green.
Now you can get on board now with one of the best battery-powered lawn mowers available on the market today with our 8 Best Battery-Powered Lawn Mowers as a guide.
Looking for a lawn care solution that's good for the environment and for your aching back and shoulders? Stay in and forget about mowing the lawn by hiring a lawn care pro to do it for you instead. Depending on where you live, you'll usually be able to find eco-conscious pros who use environmentally sound tools and practices.

* Editorial Note: LawnStarter may receive a commission if you purchase certain products mentioned in this article.
Main Photo Credit: Shutterstock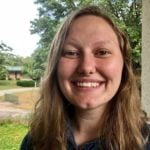 Jordan Ardoin
Jordan Ardoin is a writer and indoor plant enthusiast hailing from Florida. In her spare time, she enjoys chasing her two cats around the house and trying to keep her houseplants alive.