A weed eater, aka weed wacker, aka string trimmer (they all mean the same thing), is a must-have tool for a polished-looking lawn, and with battery-powered models, you don't have to deal with the hassle of a gas engine or an extension cord.
If you're shopping for a new string trimmer, we're here to help with this roundup of the seven best battery-powered weed eaters on the market.
Our top picks are all reliable, highly rated weed eaters, and, since we take price into account, you can rest assured that they're all affordable, too. All the options on this list come complete with a battery and charger, so you won't get the expensive surprise of having to buy them separately later.
Now, let's get into the details of our best battery-powered weed eaters.
Top 7 Battery-Powered Weed Eaters – Reviews
Our top pick might not be the biggest or most powerful weed eater, but it makes up for its small size by being lightweight, easy to use, and most importantly, inexpensive.
The LST02010 model from Earthwise runs on a 20-volt lithium-ion battery that several users report lasts more than long enough for them to trim around their yard. Its 10-inch cutting swath will seem tiny on longer jobs, but it will benefit you in tight spots.
When it comes to ease of use, you can't beat the Earthwise LST02010. At only 4.4 pounds, it's one of the lightest cordless weed eaters, and it should be light enough for anyone to carry for extended periods of time.
The LST02010 is simple to load thanks to its auto-feed spool, and its flip-down edge guard makes edging around landscaping beds more convenient.
Best of all, this Earthwise model costs about $65. It's the cheapest weed eater on our list, and the value for the quality you get is out of this world. If you need a string trimmer for simple work around the house, there's no good reason not to go with the Earthwise LST02010.
Specifications:
Voltage: 20 volts
Line speed: 8,800 RPM
Cutting swath: 10 inches
Line diameter: 0.065 inches
Weight: 4.4 lbs
Pros:

✓ Affiordable
✓ Lightweight
✓ Easy to use
Cons:

✗ Low voltage
✗ Small cutting swath
Our next top pick comes from RYOBI, a manufacturer that specializes in battery-powered tools. That experience shows in this 40-volt string trimmer, which comes packed with special features.
One of the biggest advantages of this model is the wide variety of "expand-it" attachments available from RYOBI, which let this one tool do the work of many.
Another great feature of this RYOBI model is the variable speed trigger, which lets you adjust how fast the string spins (RPM) as needed to save power and increase battery run time. You can adjust the cutting swath between 13 and 15 inches to save power, too.
RYOBI's 40V string trimmer is significantly larger and more powerful than our top pick from Earthwise, but that added oomph comes with added cost. This is the most expensive tool on our list at about $170.
If you need that extra power, this weed eater is worth the high price tag, but for an average lawn, the Earthwise LST02010 should meet your needs just as well (and save you about $100).
Specifications:
Voltage: 40 volts
Line speed: 8,600 RPM
Cutting swath: 15 inches
Line diameter: 0.08 inches
Weight: 11.3 lbs
Pros:

✓ Lots of convenient attachments available
✓ Large cutting swath
✓ High voltage
✓ Variable speed control to extend battery life
Cons:

✗ Expensive
✗ Heavy
This cordless string trimmer from Greenworks strikes a good balance between power, size, and affordability. It runs on a 40-volt battery that can move the "blade" (string) at a high speed of 9,000 RPM to slice through thick, difficult weeds. Its 13-inch cutting swath is plenty large enough for regular household tasks. And for all that, it costs barely over $100.
The Greenworks 21302 isn't just a string trimmer, either. It also functions as a wheeled edger with a head that rotates 90 degrees. When weed wacking or edging, the tool's telescopic shaft helps you cut in hard-to-reach spots.
With any cordless electric power tool, the battery's run time varies widely based on your lawn's conditions, but this tool's 2.0 ah battery from Greenworks typically runs for up to an hour on a single charge, which is quite impressive for a battery-powered weed eater. That should be plenty of time to trim around an average lawn.
Specifications:
Voltage: 40 volts
Line speed: 9,000 RPM
Cutting swath: 13 inches
Line diameter: 0.065 inches
Weight: 9.3 lbs
Pros:

✓ High RPM
✓ High voltage
✓ Converts to wheeled edger
Cons:

✗ Heavy compared to many of our other top picks
✗ Some users reported that holding down the "on" button can be difficult (especially if you have arthritis or similar issues)
The WG184 model from WORX is probably the most versatile weed eater on our list. Like our Greenworks pick, it converts easily to a wheeled edger, and like our RYOBI pick, it has a variable speed trigger to adjust the RPM according to the type of grass you're trimming.
Plus, an adjustable handle helps you find a comfortable working position for any job, and the pivoting head is perfect for slopes and uneven terrain.
Aside from its versatility, another major perk of the WORX WG184 is its convenience. The tool features a Command Feed automatic spooling system that lets you load in a new line by pressing a button.
While it's heavier than many of our other picks at 8.6 pounds, it's still light enough that it should be easy for anyone to carry for extended periods of time.
Because of all these special features, the WG184 is on the pricier side at around $150. For the money, you get a reliable string trimmer that packs 40 volts of cutting power with two 20-volt batteries that are compatible with all 20V or 40V WORX brand power tools.
Specifications:
Voltage: 40 volts
Line speed: 7,500 RPM
Cutting swath: 13 inches
Line diameter: 0.08 inches
Weight: 8.6 lbs
Pros:

✓ High voltage
✓ Converts to wheeled edger
✓ Variable speed control to extend battery life
Cons:

✗ Expensive
✗ Comparatively low RPM
The WORX WG154 is essentially a smaller, simpler, and more affordable version of the WG184 model. This string trimmer runs on a single 20-volt battery, so it's not as powerful, but it's much lighter at only 4.2 pounds.
Even though it's about half the price of the WG184, it still comes with many of the same special features, including the automatic feed line and converting to an edger.
Aside from being less powerful, the WG154 also has a small cutting swath of 10 inches. While the smaller size means trimming your yard will take longer, that smaller cutting width can be a benefit if you will need to maneuver the tool in tight spaces.
The adjustable flower guard around the blade makes this model perfect for working around flower beds, shrubs, and other landscaping features you don't want to damage.
All in all, the WORX WG154 is a solid weed eater for residential use at a great price. It isn't the best option for heavy-duty jobs, though, so keep that in mind if you have an especially thick lawn or large property.
Specifications:
Voltage: 20 volts
Line speed: 8,500 RPM
Cutting swath: 10 inches
Line diameter: 0.065 inches
Weight: 4.2 lbs
Pros:

✓ Cheap
✓ Lightweight
✓ Converts to edger
Cons:

✗ Low voltage
✗ Small cutting swath
For around $100, this is a great bargain from BLACK+DECKER. You get the LCC222 string trimmer/edger along with a sweeper (small leaf blower) for clearing away fallen leaves and other debris.
Bonus points: This kit comes with two 20V MAX lithium-ion batteries, so you'll have a backup if the first one malfunctions or runs out of juice before you finish the job.
The LCC222 is lightweight at only 5.2 pounds, and it's easy to use since it features an automatic feed spool. Many users reported that this model is even quieter than other electric weed eaters, so it's perfect for neighborhoods with noise restrictions.
The tradeoff, of course, is that this model is smaller and less powerful than some of our other picks. It isn't suited for larger properties, especially since several reviewers reported the battery takes hours to charge and runs for only 30 minutes.
Specifications:
Voltage: 20 volts
Line speed: 9,000 RPM
Cutting swath: 10 inches
Line diameter: 0.065 inches
Weight: 5.2 lbs
Pros:

✓ Cheap
✓ Lightweight
✓ Converts to edger
✓ Comes with sweeper tool and extra battery
✓ High RPM
Cons:

✗ Low voltage
✗ Small cutting swath
✗ Long battery charge time with short run time
The Greenworks 21342 weed eater is similar to the 21302 model from the same brand in many ways. The main differences are that this one is smaller, weaker, and costs about $30 less. If you don't need the cutting power of a 40-volt battery, this option lets you save money while still getting the perks of a Greenworks product.
Like the 21302, this model converts to a wheeled edger and features a pivoting head and telescopic shaft for improved maneuverability.
Even with its weaker battery, the 21342 can still move its single line at speeds up to 9,000 RPM. However, that weaker battery means a shorter run time, and the Greenworks 21342 typically only runs for about 25 minutes per charge.
While this model technically includes an auto-feed line like many of our other top picks, several users reported that the feature doesn't work well. For practical purposes, assume that loading the string will be more difficult with this weed eater.
Even with that flaw, the Greenworks 21342 is a solid, affordable option with other convenient features that make it worth the money.
Specifications:
Voltage: 24 volts
Line speed: 9,000 RPM
Cutting swath: 12 inches
Line diameter: 0.065 inches
Weight: 8.8 lbs
Pros:

✓ Cheap
✓ High RPM
✓ Converts to wheeled edger
Cons:

✗ Low voltage
✗ Short battery runtime
✗ Line doesn't feed automatically
Buyers Guide
What is a weed eater?
Also known as string trimmers or weed wackers, weed eaters are power tools used to cut grass and weeds in hard-to-reach spots or places you don't want to risk damaging with a lawn mower, such as landscaping beds.
Weed eaters consist of a long shaft with a cutting head at the end that spins a single or dual nylon string. That string is the "blade" that slices through weeds and grass.
Why battery-powered?
As with most other power tools now, you can find high-quality gas-powered, corded electric, or battery-powered weed eaters. So, what makes battery-powered models better or worse than their gas and corded counterparts?
Let's start with the advantages of a battery-powered string trimmer/weed eater. Since they don't produce emissions like gas weed eaters, battery-powered weed eaters are much better for the environment and your health. They also run quieter and take less maintenance, since you won't have to store or mix fuel for them.
Battery-powered weed eaters are typically lighter and easier to start than gas models, and they're easier to maneuver than corded electric ones since they don't need to stay plugged into a power source.
Now for the disadvantages. Even though they aren't tethered to a cord, battery-powered string trimmers have their own limitations. They can run only as long as their battery (usually about 30 minutes or up to an hour in some cases), so they aren't ideal for large yards.
For jobs that take a long time, you may have to stop and recharge the battery in the middle, which can be extremely inconvenient since some batteries take several hours to charge fully. Battery-powered motors tend to be weaker than their gas counterparts, too.
Factors to consider
Once you have decided you want a battery-powered weed eater, there are several factors you can compare to figure out which specific model might be best for you.
Here, we'll explain the factors we used to choose our top seven best battery-powered weed eaters and how they can affect your use of the tool.
Voltage: Voltage determines how powerful a battery is. For heavy-duty jobs (trimming thick, overgrown grass and weeds, etc.), you'll want a higher voltage.
Keep in mind that you'll usually pay more for more power. You'll have to decide if saving money or being able to take on tougher jobs is more important for you.
Line speed: Measured in RPM (rotations per minute), this describes how fast the string (the "blade") can spin. Just like with voltage, higher RPM or line speed is better for tough, thick grass.
Cutting swath: Basically, the cutting swath (or cutting width) determines how long it will take you to trim a certain area. A weed eater with a 10-inch cutting swath can only cut 10 inches at a time, so it will take longer to finish a job than it would with a 15-inch cutting swath. That being said, if you anticipate trimming in tight spots, you might be better off with a smaller cutting swath.
Line diameter: The line diameter is the thickness (or diameter) of string that a weed eater can hold. The thicker the string, the thicker the grass it can cut through.
All the weed eaters on this list hold string that ranges from 0.065 to 0.08 inches, which is the recommended size for residential use. Commercial-grade weed eaters for more heavy-duty use will use thicker strings, but they will also cost more money.
Weight: Weight is an important consideration, since you will carry your weed eater around your yard. If you choose a weed eater that's too heavy for you, you'll wear yourself out quicker and won't be able to use the tool for very long at one time.
Know the limits of your upper body strength and shop for a weed eater accordingly. Some weed eaters can attach to a shoulder strap to make them easier to carry.
Price: Battery-powered weed eaters can range in price from under $100 to around $500. Larger models with more voltage will typically cost more, so determine the right balance of affordability and functionality for your yard.
Price point is an important factor in our ranking, so you'll notice that all the weed eaters on this list cost less than $200. Premium or commercial-grade weed eaters will typically cost significantly more.
FAQs About Battery-Powered Weed Eaters
1. Do I need a string trimmer/weed eater?

If you want a well-manicured lawn with clean edges, yes, you need a weed eater. 
2. Are battery-powered weed eaters any good?

Yes. Many might even say they're better overall than gas weed eaters (for residential use, at least). 
3. Can you use a battery-powered weed eater on wet grass?

This is not recommended because wet grass is more difficult to cut and will wear out your battery faster. You'll also usually get a sloppier cut than you would with dry grass. 
Conclusion
With battery-powered electric weed eaters, you can get the clean-looking yard you want without the hassle of a gas engine. And you don't have to break the bank to do it.
All the string trimmers on our list of the best battery-powered weed eaters will give you a hefty bang for your buck and take care of all your lawn trimming needs.
Main Photo Credit: Justin Taylor / Flickr / CC by 2.0
LawnStarter participates in the Amazon Services LLC Associates Program, an affiliate advertising program. LawnStarter may earn revenue from products promoted in this article.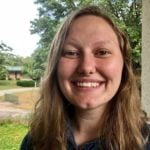 Jordan Ardoin
Jordan Ardoin is a writer and indoor plant enthusiast hailing from Florida. In her spare time, she enjoys chasing her two cats around the house and trying to keep her houseplants alive.