Thinking of adding a garage to your home? Be prepared to spend between $19,450 and $42,377 for construction, including materials and professional labor. How much you spend will depend on the size and complexity of your garage, as well as the materials you use.
Across different types of garages, including attached and detached, the national average cost to build a garage is $30,914. Material and labor costs together typically fall between $35 and $70 per square foot.
How much does it cost to build a garage?
National average cost: $30,914
Typical price range: $19,450 – $42,377
Extreme low end cost: $6,000
Extreme high end cost: $110,000
Even before you plan out the details of your new garage with your contractor, you can estimate that the project will cost between $19,450 and $42,377. Attached garages will fall closer to the low end of that range, while detached garages make up the higher end since they'll require more construction.
A small garage that won't take too much work to build — such as a prefabricated garage kit or covered car storage area without walls — could cost as little as $6,000. But, if you're looking at a large project like a detached garage with a finished loft on top, you might spend around $110,000, rivaling the cost of a small home.
Cost by Size of Garage
The three largest factors that will affect the cost of your garage are size, whether it's attached to your home or detached, and the various construction materials you use. Let's start by talking about size.
Remember, the typical cost for professional construction of a garage ranges from about $35 to $70 per square foot. That makes the average cost $53 per square foot.
When planning the size of your garage, you'll need to consider what you want to use the space for. Do you need room for one car, two cars, or more? Do you want extra space for storage? Would you like to set up a workspace in the garage?
Using the average cost per square foot, we've calculated approximate total project costs for garages of different sizes with different uses. These cost ranges cover both attached and detached garages.
GARAGE CAPACITY
APPROXIMATE SQUARE FOOTAGE
APPROXIMATE TOTAL COST
* includes material and labor
1 car
240 – 380
$12,720 – $20,140
1 car + workshop/storage space
320 – 530
$16,960 – $28,090
2 cars
440 – 620
$23,320 – $32,860
2 cars + workshop/storage space
520 – 740
$27,560 – $39,220
3 cars
620 – 820
$32,860 – $43,460
3 cars + workshop/storage space
680 – 960
$36,040 – $50,880
4 cars
800 – 1,060
$42,400 – $56,180
Attached vs. Detached Garage Cost
To figure out an appropriate budget, decide if an attached or detached garage better suits your property and needs.
If you have a lot of empty space around your home, an attached garage might be the better choice for you. They're usually cheaper than detached garages because you don't have to build what amounts to a whole new building from the ground up.
An attached garage could be especially convenient if your home already has a side door, offering easy access from the house to the garage.
Your property's layout might make a more expensive detached garage necessary. For example, if you don't have a lot of room between your house and your neighbors but you do have extra space in the backyard, building a detached garage could be the solution.
A detached garage might also be a good idea if you plan to make a lot of noise in there — such as using a loud saw or having band practice.
Keep in mind, your homeowners association or municipality might not allow you to construct a separate building on your property. Check local regulations before getting your heart set on a detached garage.
TYPE OF GARAGE
TYPICAL PRICE RANGE
* includes materials and labor
Attached
$14,750 – $28,550
Detached
$22,125 – $44,100
Cost Breakdown of Construction Materials
You can control your budget for building a garage by choosing less expensive materials. We'll go over every piece of construction, covering the different options for each part of the process and their respective prices.
Framing material
Your garage's frame is its bones, so choose this material wisely. Your options are a simple wood frame (aka stick-built frame) or concrete/cinder blocks.
Cinder blocks are the more durable, more convenient, and more expensive option. Unlike with wood, you'll never have to worry about termites or rot with a cinder block frame, which makes it perfect for humid climates. Plus, the blocks are more likely to stand up through severe weather such as hurricanes or tornadoes.
If you live in an area where you don't have to factor in humidity or storms, you could save a significant amount of money by opting for a wood frame garage instead.
FRAMING MATERIAL
TYPICAL PRICE RANGE PER SQUARE FOOT
* includes materials and labor
Wood
$7 – $12
Concrete/cinder blocks
$10 – $13
Roofing material
Most garages have a simple asphalt shingle roof. Asphalt shingles will usually be your most affordable roofing option, but you may choose a different material to match the aesthetic of your home and neighborhood.
Here are the most popular roofing materials with need-to-know facts about each:
Modified bitumen
Asphalt-based material for flat roofs
Lasts 10 to 15 years
Typically costs $1.50 to $5 per square foot
Asphalt shingles
Most popular roofing material in the U.S.
Comes in several different styles and colors
Lasts 20 to 30 years
Typically costs $2 to $5 per square foot
Cedar
Comes in the form of shakes, shingles, or boards
Lasts up to 50 years with proper maintenance
Typically costs $4 to $10 per square foot
Metal
Several options, including corrugated metal, aluminum, tin, lead, copper, stainless steel, and others
Low-maintenance
Lasts up to 100 years
Typically costs $5 to $20 per square foot
TPO (thermoplastic polyolefin)
A rubber-like single-ply roof membrane
Lasts up to 40 years
Typically costs $6.50 to $11.50 per square foot
Tile
Low-maintenance, durable, and long-lasting
Installation can be difficult
Typically costs $7.50 to $17 per square foot
Clay
Comes in many shapes and styles
Heavy and difficult to install or replace
Lasts up to 100 years
Typically costs $10 to $20 per square foot
ROOFING MATERIAL
TYPICAL PRIVE RANGE PER SQUARE FOOT
* includes materials and labor
Modified bitumen
$1.50 – $5
Asphalt shingles
$2 – $5
Cedar
$4 – $10
Metal
$5 – $20
TPO
$6.50 – $11.50
Tile
$7.50 – $17
Clay
$10 – $20
Siding material
As with the roof, you can choose your garage's siding either to match your home or to complement it. You also can choose an affordable material like vinyl or aluminum for the siding to keep your project under budget.
If you live in an area where storms or other issues can damage roofs, you may want to opt for one of the more durable siding materials such as stucco, stone, or brick.
These are some of the most common siding materials, with their related costs.
SIDING MATERIAL
TYPICAL PRICE RANGE PER SQUARE FOOT
* includes materials and labor
Vinyl siding
$2 – $4
Aluminum
$3.50 – $6.50
Fiber cement
$4 – $8
Wood
$4 – $9
Stucco
$6 – $11
Brick
$8 – $11
Stone
$10.50 – $27
Type of garage door
You'll pay for each garage door separately, so the more doors you need, the higher this cost will be.
For one door, expect to pay between $600 and $1,767 for materials and professional installation. The material of the door will decide whether you pay closer to the low end or high end. Multiply that cost for a two-car garage, three-car garage, or larger.
Along with the door itself, you'll need to install a remote garage door opener so you can get in and out while in the car. For the opener itself and the labor to have a professional install it, you'll pay between $255 and $646.
Choose the material of your garage door based on your specific needs. If you're working with a tight budget, you may want to go with a more affordable, lightweight material like vinyl or aluminum.
The most durable garage door options are steel and fiberglass, while wood is a good choice for someone whose priority is style.
GARAGE DOOR MATERIAL
TYPICAL PRICE RANGE PER DOOR
* includes materials and labor
Steel
$329 – $2,585
Aluminum
$655 – $1,350
Vinyl
$725 – $1,400
Fiberglass
$1,185 – $1,875
Wood
$1,250 – $2,015
Garage foundation
Where you live will play a part in the type of garage foundation you need. In climates with freezing temperatures, you'll need a more complex concrete foundation style like monolithic or block, since these materials include frost protection.
The type of soil on your property also can affect the selection of your garage foundation. For example, if you are building on top of soil that tends to shift, a floating foundation would not be a reliable option for you.
While concrete is by far the most stable and durable material for a garage foundation, you could use gravel instead to save money. Keep in mind: A gravel foundation will work only for a detached garage that isn't too large.
Not sure what kind of foundation you should use? Don't worry. Once you get a contractor onsite, he or she will be able to help you make the best decision.
TYPE OF FOUNDATION
TYPICAL PRICE RANGE PER SQUARE FOOT
* includes materials and labor
Gravel pad
$4 – $10
Floating concrete
$8 – $14
Monolithic concrete
$9 – $15.50
Concrete block
$11.50 – $14.50
Type of insulation
If you plan on spending a lot of time in your garage or using it to store temperature-sensitive items, insulation is a must — especially if you live in a freezing climate.
However, if your garage is just for parking the car or you live in a temperate climate, you can probably skip insulation and the associated expense.
If you decide to insulate your garage, you will have to choose which type of insulation to use. Depending on your contractor, your options will likely include batt insulation, blown-in insulation, and spray foam insulation.
TYPE OF INSULATION
TYPICAL PRICE RANGE PER SQUARE FOOT
* includes materials and labor
Batt
$0.50 – $1.50
Blown-in
$1 – $2
Spray foam
$1.50 – $4
Drywall
To finish or not to finish? That is the question when it comes to interior garage walls.
But whether you paint or install wall panels, you'll need a base layer of drywall. In most places in the U.S., building codes require that you install drywall in the garage for fire resistance.
Repeat: Drywall is not optional. While painting, wall panels, and other design-friendly finishing touches are up to your personal preference, drywall is a necessary part of constructing your garage.
Expect to pay a contractor about $1.50 – $3 per square foot to install drywall.
Gutters
Gutters around the outside of your garage aren't necessary, but they're definitely helpful, and they don't have to be too expensive. Gutters catch and direct rainwater to protect your home's foundation and surrounding landscaping from water damage.
Gutters would make up a relatively small part of your total project budget, and the benefits are worth the added cost. You usually will be able to choose between vinyl or aluminum gutters.
GUTTER MATERIAL
TYPICAL PRICE RANGE PER LINEAR FOOT
*includes materials and labor
Vinyl
$3 – $6
Aluminum
$5 – $11
Other Cost Factors
Now that you have an idea of the costs associated with the essentials of your garage, you should have a good baseline budget estimate. In addition to the basic building blocks, several other factors can add to your expenses.
For a more accurate cost estimate, consider which of these add-ons and related services you might end up paying for based on your specific project.
Add an apartment
A garage with a loft apartment on top is a major home addition, so be prepared to pay for such.
Here's why: A detached garage with an apartment is essentially a whole new building unto itself. That includes all the intricate inner workings of electrical work, plumbing, ventilation, and the like.
Long story short: Adding an apartment on top of your new garage is a huge investment. Your project would likely cost between $55,000 and $133,000.
RV garage
Paying for an RV garage is pretty much the same as paying for a car garage when we're looking at per-unit material costs.
The difference? A garage to hold your recreational vehicle needs to be wider, deeper, and much taller than a normal garage, so your overall material and labor costs will both be significantly higher.
You can expect to spend about $52,000 to $70,000 on a new RV garage, with versions attached to the house at the low end and detached versions on the high end.
Prefabricated garage kits
Instead of building a custom garage from scratch, you could purchase a prefabricated garage kit for a quicker and cheaper project.
These kits are usually simple structures, sometimes made of steel. They typically come with four walls, so you could either build one as a detached garage or attach it to the house with a covered breezeway.
Prefab garage kits make relatively easy DIY projects (compared to custom-built garages), and they cost between $3,500 and $9,000.
Unfortunately, prefabricated garages can be unsightly and sometimes hurt property values. Many HOAs don't allow them.
Windows and skylights
If you plan on spending a lot of time in your garage — if it includes a workspace, for example — you probably will want sources of natural light. Windows and skylights can make your garage feel more like a living space and less like a stifled storage container.
A skylight can provide some level of natural, energy-efficient heat in winter. Keep in mind, though, skylights are prone to leaks and need frequent repairs.
The cost of adding a window will vary based on the style and material. Expect to pay $193 to $845 per window and $805 to $3,089 per skylight, including materials and professional installation.
Walk-through entry doors
For a new attached garage, unless your home already has a side door, you'll have to knock out part of the wall and install a new door.
For a detached garage, you can decide whether to include a walk-through door for easy access that doesn't require opening and closing the large car door every time.
You'll pay about $393 to $2,013 for materials and labor to install a walk-through door. The size of the door and the complexity of its design will affect the cost.
Electrical work
Even if your garage won't include a living or working space, you may want an electrical hookup for lights, outlets, and automatic garage door openers. That way, you'll be able to plug in and charge electric power tools, children's toys, and other grimy outdoor items you want to keep in the garage.
Basic electrical work will usually cost between $630 and $1,930 for an average-sized garage. The contractor building your garage might be able to install the wiring, or you may need to hire a separate electrician.
Site preparation
Before you can get a building permit for your project or even decide where to put your new garage, you'll need a professional land survey of your property. The national average cost to hire a land surveyor is about $353 to $876 .
To make room for the garage, you may also need land clearing. A land clearing service will remove trees, stumps, brush, and other obstacles from the construction site for $1 to $2 per square foot.
Building permits
In most places, you'll have to obtain one or more building permits before work can begin. How much you spend on permits will depend on where you live, so check local regulations or ask your contractor for an accurate number. Permits range from $250 to $850.
Add a driveway
Let's say you build a detached garage away from the house. How will you get your car inside without driving across the lawn? You may want to install a second driveway leading to the garage.
Most driveways are paved with concrete or asphalt, but you could opt for a more cost-effective gravel driveway or more stylish pavers.
DRIVEWAY MATERIAL
TYPICAL PRICE RANGE PER SQUARE FOOT
* includes materials and labor
Gravel
$1 – $2
Asphalt
$7 – $13
Concrete
$8 – $18
Pavers
$10 – $50
Cost to Build a Garage by Location
Homeowners in the northern U.S. where winters bring frost and snow will need to take precautions to protect the garage from freezing. The need for greater insulation and a more complex foundation will mean northerners have to pay for more materials and more labor than people in more temperate parts of the country.
The cost of living in your city will affect how much you pay for your garage, just like it affects the price of everything else. Hourly labor rates and the cost of materials will both be more expensive in metropolitan areas than in small towns.
Remember, the approximate prices given throughout this guide represent national averages. To find out how much new garage construction will cost in your area specifically, you'll need to get quotes from local pros.
We recommend reaching out to at least three contractors to compare quotes.
FAQ About Garage Construction
1. Does adding a garage increase home value?

Yes. You can expect a 60% to 80% return on investment for the garage when you sell your house.
2. How much does it cost to remodel a garage?

Remodeling an existing garage costs much less than building a new structure from the ground up. Depending on the complexity of the remodel design, you might pay anywhere from $6,000 to $20,000. 
3. What is the cheapest way to build a garage?

Prefab garage kits will usually be the cheapest option, but your HOA may not allow them. Another affordable option would be a simple covered carport/storage area without walls instead of a full-on garage. 
Conclusion
If you want a new garage, be prepared to spend tens of thousands of dollars on the project. Most homeowners nationwide pay about $19,450 to $42,377 to build an attached or detached garage.
Rest assured, though, that you'll get a lot of your money back in the form of increased property value.
Breaking down the cost of your project by size and types of materials will help you pinpoint your budget more accurately. You'll also need to consider the cost of any additional services you might need to complete the garage project.
Main Photo Credit: cindylouwhoknows / Flickr / CC BY 2.0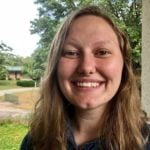 Jordan Ardoin
Jordan Ardoin is a writer and editor with a passion for sustainable, earth-friendly gardening and lawn care practices. When she isn't sharing her knowledge about lawn care and landscaping, you can find her curled up with a good book and a cat in her lap.