A Japanese hori hori knife (aka Japanese digging knife, weeding knife, or soil knife) is as versatile as it is fun to say. You can use a hori hori knife for transplanting, planting seeds, weeding, loosening compacted soil, pruning, sawing, harvesting, and more. Many people even use hori hori knives outside the garden for things like camping and metal detecting.
Want to get your hands on one of these multi-purpose tools? Check out our top picks for the best hori hori knives on the market right now.
How do we know which hori hori knives are the best, you might ask? We ranked several of the most popular knives for home gardeners based on quality construction, must-have features, and affordability. We'll talk more about what you should look for in a good hori hori knife in our buyers guide at the end of this article.
But first, here are our reviews of the 5 best hori hori knives you can buy today.
Top 5 Hori Hori Knives – Reviews
Dino Tooth's hori hori knife has everything you could want (and everything we looked for) in a high-quality knife. It's durable enough for heavy-duty digging in rocky or clay soil and sharp enough to slice through weeds and roots easily.
Top marks for durability: This knife's blade is full tang and riveted to the hardwood handle in three places. Its construction is secure enough that you couldn't snap the blade off the handle if you tried.
Another plus is the stainless steel blade, which lasts a long time because it naturally resists rust and corrosion. The blade includes a ruler on one side so you can measure the depth of the soil when planting without reaching for a second garden tool.
Dino Tooth also supplies everything you need to keep your knife working its best for years to come. Even with a low price of less than $20, this knife comes complete with a nylon sheath for storage and a whetstone for sharpening.
The whole package is backed by a lifetime warranty in case the knife doesn't live up to your expectations — but we don't foresee that happening.
Specifications:
Overall length: 12.25 inches
Blade length: 7 inches
Blade material: Stainless steel
Handle material: Hardwood
Accessories: Nylon sheath, sharpening stone
Pros:
✓ Very sturdy construction
✓ Hand guard to keep your hand from slipping onto the blade (uncommon in hori hori knives)
✓ Less expensive than other knives with comparable features and accessories
✓ Lifetime warranty
Cons:
✗ Sheath has parts that may tear easily
✗ Rivets in the handle aren't filed down and might cause discomfort
This stainless steel digging knife from Black Iron is another affordable option with more special features than you would expect for its price.
Before we get into the bonuses, let's talk about the basic construction of the tool. Here we have another blade that resists rust and corrosion and a hardwood handle that won't bend or break.
The handle is treated so it won't rot, even if you forget it outside (although we still recommend indoor storage). The full tang blade is attached to the handle with three rivets, the most durable construction you'll find in a hori hori knife.
Like our top pick, the Black Iron knife features a built-in ruler for measuring soil depth. It also comes with a high-quality leather sheath and a handheld whetstone.
Downside: Black Iron's hori hori knife has only one significant downside. Several users reported that the metal tang sticks out from the edges of the wooden handle and hurts their hands. The rivets also stick out a little more than they should because they haven't been filed down enough.
However, you can counteract this design flaw with a thick pair of gardening gloves. The tool is still worth its snuff, especially for the low price.
Specifications:
Overall length: 12 inches
Blade length: 7 inches
Blade material: Stainless steel
Handle material: Hardwood
Accessories: Leather sheath, sharpening stone
Pros:
✓ Durable construction for heavy-duty digging and cutting
✓ High-quality sheath made of solid leather, stitched and riveted all the way around
✓ Wood handle resists rot even if you leave it outside
Cons:
✗ Tang extends past the edges of the wood handle
✗ Rivets aren't filed down
✗ No warranty
What's interesting about CIELCERA's hori hori knife is that there's a "left-serrated" version for easy right-handed use and a "right-serrated" version for easy left-handed use. The etched-on ruler is on opposite sides of the blade in the two different versions.
Left-handed gardeners will appreciate this, as they know better than anyone that gardening tools (like most things) are typically designed with right-handers only in mind.
Other than having two different versions, this knife is pretty similar to the top 2 picks we've already covered. It has a full tang stainless steel blade attached to a wenge wood handle with three metal rivets. Wenge is a hardwood made from the African rosewood tree, praised for its strength, hardness, rot-resistance, and attractive dark color.
Perfect gift for gardeners: With this hori hori knife, CIELCERA includes a thick leather sheath with a belt loop and a diamond sharpening rod. All three items come in pretty floral packaging designed for gifting.
Specifications:
Overall length: 12 inches
Blade length: 7 inches
Blade material: Stainless steel
Handle material: Hardwood (Wenge/African rosewood)
Accessories: Leather sheath, diamond sharpening rod
Pros:
✓ Full tang blade riveted to handle for durability
✓ Hand guard for safety
✓ Also comes in a left-handed version
Cons:
✗ Some users received a "pleather" sheath instead of real leather
✗ Handle can be slippery when wet
✗ No warranty
This knife from RiverView has almost everything in common with our top pick from Dino Tooth. If it weren't for the logos engraved in the blade, you might think they were the same knife.
RiverView's version features a hard wenge wood handle with a full tang stainless steel blade attached with rivets. Several users praised the blade for how sharp it was when they took it out of the box. A very sharp knife is definitely what you want, but be careful of your fingers when opening the package.
Like our top pick, the blade also has measurements etched into one side. There's a hand guard between the handle and blade, too, to protect your hand from slipping and getting cut by that extra-sharp blade.
What this knife and the Dino Tooth version don't have in common? The low price. RiverView's version costs about twice as much as our No. 1 pick.
Why this version is more expensive: The reason for this knife's higher price is its heavy-duty genuine leather sheath complete with a belt loop. The leather is thick, and it's both stitched and riveted all the way around for durability and longevity.
Bottom line: If you like our top pick but would rather have a leather sheath than nylon, you might find RiverView's version worth the splurge.
Specifications:
Overall length: 12 inches
Blade length: 7 inches
Blade material: Stainless steel
Handle material: Hardwood (Wenge/African rosewood)
Accessories: Leather sheath, sharpening stone
Pros:
✓ Very sharp blade
✓ Construction holds up for a long time even with frequent use
✓ Includes hand guard
✓ Sheath is durable and high-quality
✓ Lifetime warranty
Cons:
✗ Some rivets stick out of the handle
✗ Tang protrudes slightly from the wood of the handle
After reading about our other top picks, you might not find Garden Guru's hori hori knife particularly special at first glance, even if it is high-quality.
All the features you expect in a good hori hori knife: The Garden Guru knife doesn't disappoint in durability. It features the rust- and corrosion-resistant stainless steel blade you want in a gardening knife, and the full tang blade is riveted to the hardwood handle in three places so it won't snap in half under pressure.
Unlike some of our other picks, several users said this knife feels lightweight and comfortable in your hand. That can be difficult to achieve with a foot-long garden tool made of steel and hardwood. The reverse of that, though, is that this tool might not be heavy-duty enough to dig through denser soils.
Unlimited warranty: Perhaps the most impressive thing about Garden Guru's knife is its "no questions asked" lifetime warranty. Most lifetime warranties are limited and only cover things like manufacturer defects, but not so in this case. For as long as you have the tool, no matter why you want a replacement or refund, Garden Guru will give it to you. That shows confidence that their tool won't give out from wear and tear, even after years of use.
Specifications:
Overall length: 12.25 inches
Blade length: 7 inches
Blade material: Stainless steel
Handle material: Hardwood (Rosewood)
Accessories: Nylon sheath
Pros:
✓ Lightweight and comfortable in the hand
✓ Lifetime "No Questions Asked" warranty
Cons:
✗ Doesn't come with a sharpening tool
✗ Some users reported the knife was dull when they opened it
✗ Not heavy-duty enough for denser soils
Buyers Guide
You could take our word for it that these are the best hori hori knives for home gardeners, but the only way you can be 100% confident in your purchase is if you know what to look for yourself. In this buyers guide, you can learn more about hori hori knives so you know you're buying the best tool for you.
Hori hori knives are made up of two primary components: the blade and the handle. We'll explain the best materials and features of both components.
Hori Hori Knife Blades
A unique blade design is what makes hori hori knives so multifunctional.
You can use a hori hori knife to scoop soil similarly to how you would with a trowel or spade thanks to the concave blade (which means it curves inward). The tip of the blade is pointed and sharp to break ground when digging. There's a smooth, sharp edge for slicing and a serrated edge for sawing through thick vegetation.
Those are the basic features any hori hori knife will have. So what's special about the highest quality blades like the ones on our list of top picks?
Here are some things you should expect of the best hori hori knife blades:
Made of stainless steel: Stainless steel won't rust or corrode, and it's harder and more durable than aluminum, another common material for hori hori knife blades.
At least 7 inches long: The longer the blade, the deeper you can dig into the soil. The standard length of a hori hori knife is generally 7 inches, and this size should serve your needs as a home gardener.
Includes a ruler: Many (but not all) hori hori knives have measurements etched into one side of the blade. With this built-in ruler, it's easy to measure soil depth while digging holes for transplanting or planting seeds.
Full tang: The "tang" is the part of the blade that extends down into the handle. Full tang means the blade extends all the way to the bottom end of the handle, which is best for durability. You can tell a knife has a full tang blade if you see a strip of metal extending all the way down the side of the handle.
Hori Hori Knife Handles
For the handle of your hori hori knife, you need to pay attention to the material and how securely it's attached to the blade. No matter how sharp and strong the blade is, it's no use if the handle snaps off when you try to dig.
The best materials for handles are hardwood and bamboo because they don't bend or break easily, they last a long time, and they offer a non-slip grip.
Rubber or plastic: You might prefer a rubber or plastic handle if you find these materials more ergonomic.
Alternative handle materials aren't necessarily bad, they're just more likely to break than hardwood or bamboo.
Whatever material you prefer for the handle, make sure it's secured to the blade with rivets. High-quality hori hori knives should have two or three rivets along the length of the handle to hold the blade in place and keep it from coming loose.
Hori Hori Knife Accessories
Sometimes, hori hori knives come with extra accessories to help you keep the blade in tip-top shape.
These are the most common accessories:
Sheath: You absolutely must store your hori hori knife in a sheath for both rust prevention and safety. You'll have to buy one separately if you don't choose a knife that comes with its own sheath, and it can be hard to find one that fits your knife's exact measurements. The most durable sheaths are made of real leather, but nylon is a good vegan alternative.
Sharpening tool: Look for a hori hori knife that comes with a sharpening rod or whetstone. No matter how sharp your knife is when you take it out of the box, it will go dull eventually if you use it regularly, and you'll have to resharpen it. You can always buy a sharpening tool separately, but it's easier (and usually cheaper) if you buy a knife with its own sharpening tool included.
Now that you know all about the different parts of a hori hori knife, you'll have an easier time figuring out which one is best for you. Check out this short video guide from Garden Ninja for a demonstration of all the handy ways you can use your new hori hori knife around the garden:
FAQ About Hori Hori Knives
1. How do you use a hori hori knife?
Hori hori knives have countless uses. Most home gardeners use them to:

— Dig holes for planting bulbs or small plants. 
— Create small troughs in the ground in which to plant seeds. 
— Cut down and dig up weeds, roots and all. 
— Slice through small stems and saw through small branches when pruning flowers or shrubs. 
2. How long should a hori hori knife last?
A hori hori knife can last 10 years or more if it's made with high-quality materials (such as a hardwood handle and stainless steel blade) and if you take care of it properly. 
3. How do you care for a hori hori knife?
Here are a few simple steps you can take to keep your hori hori knife in prime working condition and make it last longer:

— Clean the blade after each use.
— Wipe the blade with an oiled rag before storing. 
— Always store your hori hori knife in a sheath. 
— Rub down the wooden handle with linseed oil every once in a while. 
— Sharpen the blade once a year at the beginning of whichever season you use it the most. 
4. What does hori hori mean?
The word "hori" means "to dig" in Japanese, and these knives originated in Japan. "Hori hori" is a reference to the sound digging makes.
5. Are hori hori knives safe to use?
Most hori hori knives don't have a bolster or finger guard to keep the user's hand from slipping onto the blade during use, so you might say they can be dangerous to use when slippery. It's a good idea to wear gardening gloves to protect your hands when using a hori hori knife.
When to Use Your New Hori Hori Knife
Thanks to the hori hori knife's incredible versatility, you know you can use it for all kinds of gardening tasks, but how often will you need to pull it out and get to work?
Use your hori hori knife to:
Remove weeds from your garden once a week.
Prune small plants such as flowers and shrubs five or six times a year (once every other month).
Plant new seeds or plants every spring after your old annuals die out.
Harvest fruit from fruit trees several times during their season.
If that sounds like a lot of work to you, you might be in trouble, as these are only a few of the regular maintenance tasks that go into a healthy lawn and garden. But you don't have to do that work on your own. You can always hire a local landscaping company to help you out.
Main Photo Credit: miheco / Flickr / (CC BY-SA 2.0)
LawnStarter participates in the Amazon Services LLC Associates Program, an affiliate advertising program. LawnStarter may earn revenue from products promoted in this article.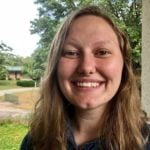 Jordan Ardoin
Jordan Ardoin is a writer and indoor plant enthusiast hailing from Florida. In her spare time, she enjoys chasing her two cats around the house and trying to keep her houseplants alive.