No, a garden fork isn't for eating snacks in the garden. A garden fork, also known as a gardening fork, is a tool you can use to loosen hard soil, work fertilizer or organic material into the soil, turn your compost pile, spread mulch, or harvest root vegetables and potatoes in your edible garden.
Want to add a versatile garden fork to your toolshed? Here are the best garden forks of the year for home gardeners, followed by a buyers guide to help you choose the best one for you.
Top 5 Garden Forks – Reviews
1. Fiskars Ergo D-handle Steel Garden Fork
Best Overall
Fiskars Ergo D-handle Steel Garden Fork
The Fiskars Ergo D-handle Steel Garden Fork has a 35″ handle which is great for tall people. It's durable, light, and affordable.
If you're familiar with gardening tools, you probably know Fiskars is one of the top brands in this market (our No. 1 pick for the best garden shears also comes from Fiskars). But name recognition isn't the only reason we love this long-handled, tough-built garden fork.
Here are some of the reasons this garden fork is a standout:
Sturdy materials: First, let's talk about high-quality construction. Both the tines and the shaft are made of steel, so neither will bend under heavy strain. The tines are actually made of a boron-steel alloy that's harder and more difficult to damage than regular steel. A powder coating on the metal makes the whole tool rust-resistant.
The shaft and head are connected by a heavy-duty rivet. You shouldn't ever have to worry about the head coming loose, a somewhat common problem for garden forks that use the heat-and-insert method of attachment (learn more on that in our buyers guide at the end of this best garden forks list).
The usual downside of all-steel garden forks is that they're heavy and expensive, but not this model. It's surprisingly lightweight for a steel tool because of the tubular handle. The price (under $50) is reasonable for the average homeowner.
Ergonomic: Fiskars designed this garden fork to be easier on your hands, arms, and back. The D-grip handle reduces wrist strain, although it's the only part of the tool made of plastic, so it isn't as durable as the shaft or head. There's also a cushioned grip in the middle of the shaft for jobs that require two hands. Since the shaft is 35 inches long, you won't have to stoop as much as you would with a typical 30-inch garden fork.
With a combination of durability, affordability, and ease of use, this Fiskars tool definitely deserves top marks compared to other garden forks. To top it all off, this garden fork also comes with a lifetime warranty in case something goes wrong.
Specifications:
Type of garden fork: Digging/spading fork
Length: 47 inches
Shaft material: Steel
Handle shape: D-shaped
Tine material: Boron steel
Tine shape: Flat-faced, pointed tips
Pros:
✓ Durable all-steel construction
✓ Head riveted to shaft so it won't come loose
✓ Powder coating to resist rust
✓ Affordable for a steel garden fork
Cons:
✗ D-handle is made of plastic
✗ Pointed tines aren't as sharp as you would expect
2. DeWit Forged Hand Fork
Best Hand Fork
DeWit Forged Hand Fork
The DeWit Forged Hand Fork has sharp boron steel tines and a 10-inch hardwood shaft perfect for use in small gardens.
Do you have a small garden or flower bed to tend? This DeWit hand fork might be a better fit for you than our top pick. Its 10-inch hardwood shaft fits right in one hand and, by several accounts, it handles comfortably and won't cause hand or wrist strain.
Why this is the best hand fork you can buy: The main appeal of the DeWit hand fork is its durable materials and construction. It features boron steel tines, which are hard and sharp enough to loosen heavy clay soil and dig through root clusters. Those tines stand up to real-world tests. One user described this fork as "rock solid, strong as an ox."
Like all the best garden tools, this one comes with a lifetime guarantee from the manufacturer. Note: A "guarantee" isn't necessarily a full warranty. The terms will vary from company to company.
Specifications:
Type of garden fork: Hand fork
Length: 10 inches
Shaft material: Hardwood (European ash)
Handle shape: One-handed
Tine material: Boron steel
Tine shape: Flat-faced, pointed tips
Pros:
✓ Solid construction
✓ Good for heavy-duty digging
✓ Long-lasting
Cons:
✗ No rust-resistance
✗ Tines are too sharp for harvesting potatoes and root vegetables
3. True Temper 2812200 Digging Fork
Best Digging Fork
True Temper 2812200
The True Temper 2812200 has steel tines and a wooden handle. It's also lightweight but not great for heavy-duty jobs.
True Temper's digging fork is a solid choice — it's lightweight, versatile, and shorter than most other garden forks on our list.
Let's look at the details and things to note about this garden fork:
This garden tool has a hardwood shaft (instead of steel) and a standard length of 30 inches, which might better suit your preferences. Because it's shorter and made of wood, the True Temper fork weighs less than our top pick.
Versatile digging fork: A major advantage of this model is its hard, forged steel tines that won't bend. They have sharp pointed tips for digging and breaking up tough soil. Even with the sharp tines, users reported this fork is also good for harvesting potatoes.
Disadvantages: Keep in mind that this fork's wood shaft, even though it's lighter and won't rust, isn't as sturdy as steel. It might warp or even break under pressure in ways you wouldn't have to worry about with a steel shaft, so this fork isn't as well-suited to heavy-duty jobs. Another downside is the head, which isn't riveted or bolted and could become loose in time.
Specifications:
Type of garden fork: Digging/spading fork
Length: 30 inches
Shaft material: Hardwood
Handle shape: D-shaped
Tine material: Forged steel
Tine shape: Flat-faced, pointed tips
Pros:
✓ Lightweight for having a hardwood handle
✓ Shorter handle length is easier to use for people of short to medium height
Cons:
✗ The head isn't riveted or bolted to the handle
✗ A handful of users reported the handle snapped in half even without excessive pressure
4. Flexrake CLA324 Classic Hand Fork
Flexrake CLA324 Classic Hand Fork
Flexrake's CLA324 Classic Hand Fork has sharp carbon steel tines and a 10″ wooden handle great for typical gardens.
The Flexrake hand fork from Classic is a slightly less expensive version of our top-choice hand fork from DeWit. The overall design, materials, and aesthetic of the two tools are similar, but the DeWit model stands up better to heavy-duty digging and comes with a lifetime guarantee.
Still, the Classic hand fork should serve you well for typical garden uses. It features carbon steel tines with sharp, pointed ends perfect for breaking up soil and removing weeds. The angled shape of the head helps you get under weeds to pull them out, roots and all.
The downside is in the small metal portion of the handle that connects the head to the oak handle. Several users reported that part of the tool bending under duress, which is why the DeWit ranks higher for durability.
Value pick: All in all, this hand fork is excellent for light uses like planting and weeding, and it's the least expensive option on our list at less than $20. As long as you don't put too much strain on it, the Flexrake Classic hand fork should last you a long time.
Specifications:
Type of garden fork: Hand fork
Length: 10 inches
Shaft material: Hardwood
Handle shape: Handheld
Tine material: Carbon steel
Tine shape: Flat-faced, pointed tips
Pros:
✓ Aesthetic design
✓ Works well for digging and weeding
Cons:
✗ May not be suitable for heavy-duty jobs such as heavy clay soil or dense roots
5. Razorback 72103 Ames Company Spading Fork
Best Spading Fork
Razorback 72103 Ames Company Spading Fork
The Razorback 72103 Spading Fork has a steel D-shaped handle on its 30″ hardwood handle. It's versatile and durable.
Our final recommendation is another spading/digging fork, this one from the brand Razorback. Razorback's spading fork is the typical 30 inches long, and the handle is made of hardwood.
The tines are made of forged steel for hardness and durability, and their diamond-shaped tips are good for breaking up and loosening soil. Users reported that this fork works well for aerating soil, turning soil and compost, and even digging potatoes (just be careful with the sharp tines).
No plastic parts: Like the other digging forks on our list, this one has a D-shaped handle that makes it more comfortable to use and easier to control. But the Razorback's handle is made of steel instead of the less durable plastic handles of the Fiskars and True Temper models. If the plastic handles on our other picks worry you, this Razorback fork is a good alternative.
Specifications:
Type of garden fork: Digging/spading fork
Length: 30 inches
Shaft material: Hardwood
Handle shape: D-shaped
Tine material: Forged steel
Tine shape: Flat-faced, pointed tips
Pros:
✓ Durable
✓ Users report this garden fork is good for several uses, including digging potatoes
Cons:
✗ Heavy
✗ Attachment of the head to the handle could be better
Buyers Guide
When you start getting serious about gardening, you learn about a lot of tools you didn't know existed before. The garden fork is definitely one of them. But don't worry. In this buyers guide, we'll teach you everything you need to know about garden forks to choose the best one for you.
Types of Garden Forks
Our list of the best garden forks of the year includes the most common types used in home gardening, the spading or digging fork and the hand fork. But there are several other types, too (though they're typically used in farming).
Depending on what you plan to use your garden fork for, decide which of these best suits your needs:
Digging fork/spading fork: These have a long handle and are used standing up. They usually have three or four tines. Their primary purpose is digging into compacted soil to aerate and loosen it, but you can also use them to turn compost piles, spread mulch or fertilizer, and sometimes harvest root crops. Digging forks are the most versatile type of garden fork.
Hand fork: As their name suggests, hand forks are small enough to fit in your hand. They're perfect for digging, planting, and weeding in flower beds and small gardens. But that's about it. Tending a large garden or whole yard with a hand fork would take a very long time.
Pitchfork: Pitchforks are the ones you picture when you think of an angry mob, although that isn't all they're good for. Farmers use them to move hay, straw, and other loose materials. Pitchforks have curved tines, and they're NOT made for digging.
Potato fork: Potato forks are designed for … drum roll please … harvesting potatoes! If the only reason you want a garden fork is to lift your potatoes from underground, you definitely want a potato fork. Potato forks don't have sharp ends, so you don't have to worry about puncturing your spuds in the process. They also have more tines that are packed closer together than other garden forks to keep any small fries from slipping through the cracks. Keep in mind: Harvesting potatoes (and maybe some other root vegetables) is about all you can do with one of these.
Compost fork: This is another specialty fork intended for one purpose only: turning compost. Compost forks are larger than other garden forks so you can turn large compost piles quickly, and the tines form a kind of scoop to make the job easier.
Broadfork: You only need a broadfork if you have a large area, such as a field of vegetables, to work on. Broad forks are much wider than your typical garden fork, so wide that you have to use two handles to operate one. Common uses include tilling soil and harvesting root crops in bulk.
Which Type of Handle is Best for You?
There are a couple of differences to look for in the handles of various garden forks. You want to choose one with a shaft made of a sturdy material that won't break under pressure, but that's not too heavy for you to use comfortably. You also want a handle on the end of the shaft that won't hurt your hand.
The most common shaft materials are:
Steel: Unless you have hulk-like strength, steel shafts won't break or bend, no matter how much pressure you put on them when digging into the soil. The downsides are that they rust and they tend to be really heavy.
Hardwood: Hardwood handles are lighter than steel and they won't rust, but they can bend and break. Hardwood is far more durable than fiberglass, though, so it's a good option right in the middle.
Fiberglass: Fiberglass handles are appealing because they're so lightweight, but there's a reason they're so lightweight. Compared to hardwood and steel handles, fiberglass is far more likely to break, especially when used for heavy-duty work. We don't recommend any garden forks with fiberglass handles.
When it comes to the shape of the handle at the end of the shaft, you usually have two options, D-shaped or T-shaped. Which one is better is really a matter of personal preference, but we recommend D-shaped handles because most people find them easier to hold onto and find it easier to control the garden fork.
Types of Garden Fork Heads
Just as there are different types of garden fork handles that serve different needs, there are also several variations in a garden fork head (the part with the tines). The material, the shape of the tines, and the way the head is attached to the handle are all factors you should pay attention to.
Most garden fork heads are made of one of these materials:
Forged, hardened, or heat-treated steel: The best garden forks have heads made of steel that has been hardened in some way to make it sturdier and prevent it from bending. That could mean heat-treated steel or a steel alloy with an element that increases hardenability, such as boron.
Stainless steel: Stainless steel is always helpful in an outdoor tool like a garden fork because it doesn't rust. But stainless steel tines are less sturdy and more likely to bend under pressure than hardened steel.
Aluminum: Avoid aluminum heads if possible. Aluminum will bend pretty easily, and it isn't suitable for any tool that will be used for heavy-duty digging. Like stainless steel, the benefit of aluminum is that it won't rust.
Which tine shape is best for you depends on the kind of work you'll use your garden fork for.
Flat-faced tines: Flat-faced tines are best for digging and lifting dirt or other materials. Think of flat tines kind of like a garden spade. You'll want a fork with flat-faced tines if you plan to use it for things like aeration and loosening soil.
Round tines: You usually won't see round tines in a spading fork or hand fork, the most common types of garden forks for home gardeners. Round tines don't really work for digging or lifting soil. They're better for moving loose material like hay and for harvesting root vegetables.
Pointed tips: Both flat-faced and round tines can have sharp, pointed tips. These are good for breaking up tough soil when you're digging or aerating. However, they can damage root vegetables during harvesting.
Blunt tips: Garden forks with blunt tips are best for harvesting vegetables because they won't puncture them.
Finally, the method used to attach the head to the handle is an important part of a garden fork's durability. Here are the most common methods:
Welded: When the head and shaft of a garden fork are both made of steel, they can be welded together directly. This one-piece construction is the best and most durable method because the handle can't break off or come loose.
Riveted or bolted: The next best thing to a welded head is a head that's riveted or bolted to the shaft. The rivets or bolts hold the handle in place and keep the two parts from separating.
Heat-and-insert: This is a more old-fashioned method, and it's the least durable. In the heat-and-insert method, the metal head is heated until it's malleable, then the handle is inserted into the metal. As it cools, the metal seals to the handle and locks it in place. It sounds good enough on paper, but the handle almost always comes loose eventually, and then your garden fork is useless.
Now that you're an expert on all the different kinds of garden forks you could buy, you're ready to decide which one is right for you. Want to see a garden fork in action to get a better idea of how to use it in your landscape? Check out this video from Spoken Garden, featuring the True Temper digging fork from our top picks:
FAQ About Garden Forks
1. What do you use a garden fork for?
In home gardening, the most common uses for garden forks are:

— Digging into hard, compacted soil to loosen it
— Turning compost piles for aeration
— Mixing compost, fertilizer, and other amendments into the soil 
— Lifting potatoes and other root crops to the surface for harvesting
2. Can you use a garden fork to harvest potatoes?
Yes. Most garden forks should be fine for lifting potatoes out of the ground. There's even a particular type of garden fork, the potato fork, made specifically for this purpose. Be careful if using a garden fork with sharp tips, as they can pierce the potatoes.
3. How many tines does a garden fork have?
Most garden forks have four tines. Some have six tines or even more, but four is plenty for home uses. Plus, the more tines there are, the thinner and more bendable the tines will usually be.
4. How do you maintain a garden fork?
Scrub the garden fork's tines with warm water and a wire or bristle brush after use to remove dirt and prevent rust. Store the fork in a dry place safe from the elements, such as a garage or shed. 
Next Steps for You and Your New Garden Fork
So, you have a garden fork and you know how to use it. What now?
Use your new garden fork to:
Aerate the soil in your garden once a year to prevent compaction.
Turn your compost pile at least once every 4 to 5 weeks, or every 2 to 4 weeks to produce usable compost quicker.
Work fertilizer or organic material into the soil of your garden every 4 to 6 weeks to boost plant growth and health.
Spread a fresh layer of organic mulch on top of the soil in your garden once the old layer decomposes, usually every 1 to 2 years.
And those are only a few of the tasks that go into maintaining a healthy garden. If you don't have the time or energy or willpower to do all that work all year-round, a local landscaping professional can lend you a hand (and a green thumb).
LawnStarter participates in the Amazon Services LLC Associates Program and other retailer affiliate programs. LawnStarter may earn revenue from products promoted in this article.
Note: Amazon star ratings and the number of reviews for the products listed above may have changed since that material was collected.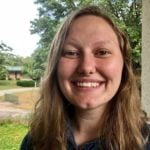 Jordan Ardoin
Jordan Ardoin is a writer and editor with a passion for sustainable, earth-friendly gardening and lawn care practices. When she isn't sharing her knowledge about lawn care and landscaping, you can find her curled up with a good book and a cat in her lap.