As a homeowner who cherishes your time outdoors, you want a beautiful lawn but one that's also durable enough to take the pounding of little feet, pet paws, and Sunday barbecues. That means choosing the best turfgrass for high-traffic yards is all you need.
Top Grass Types for High-Traffic Yards
1. Perennial Ryegrass
Perennial ryegrass is a cool-season grass that spreads widely in the Northern and Southern lawns of the United States. It does well when the summers are moderate and winters are cool.
Perennial ryegrass will provide your lawn with permanent solution erosion.
Characteristics of perennial ryegrass
Robust rooting system
Coarse blades and dense growth make the grass a good choice for picnic areas and playgrounds
It germinates faster and establishes quickly and thus can be grown together with other grasses such as Kentucky bluegrass, which takes at most three weeks to germinate
Recovers from dormancy when watered
The grass has little tolerance for shade
The perennial ryegrass easily recovers from damage
To keep your lawn green when other grasses are dormant during winter and summer, seed your lawn with perennial ryegrass.
Care and maintenance
Perennial ryegrass requires about an inch of water per week during summer. Avoid overwatering.
Apply nitrogen fertilizer twice a month during the growing season and once a month after the grass has been established.
Perennial ryegrass requires regular mowing to 1.5 to 2.5 inches because the grass grows rapidly.
The downsides of perennial ryegrass
Despite tolerating traffic well, perennial ryegrass has some disadvantages. These include:
Due to its rapid growth, perennial ryegrass can be a host for dangerous bacteria and viruses.
Highly competitive, perennial ryegrass can affect the growth of other grasses, such as St. Augustinegrass.
It is difficult to eradicate perennial ryegrass because of it is resistant to herbicides and other weeds on the lawn.
Perennial ryegrass requires a lot of maintenance with regular fertilization, watering, and mowing.
2. Zoysiagrass
Zoysiagrass is a warm-season grass with improved cold tolerance. The grass does well in the Southern United States and California, with hot and humid climate conditions.
Even though it grows slowly, Zoysiagrass spreads by stolons and rhizomes, forming a dense carpet, making it favorable for warm climates and good turfgrass for high traffic yards.
Homeowners often use Zoysia on playing grounds and for entertainment areas.
Characteristics of Zoysiagrass
The grass is tolerant to heat and drought, making it suitable for warm seasons.
The stolons and rhizomes give the grass a thick carpet and can sustain wear from kids and pets.
Zoysia tolerates light shade.
Due to the dense growth, a Zoysia lawn has few weeds.
The grass has a deep root system that allows it to conserve water making it a drought-resistant turf.
Care and maintenance
Zoysia has a high silica content that hardens long blades. To promote the comfortability of lying, sitting, or playing on the lawn, mow it to 3-5 inches high.
Because of the tough stems of Zoysia, it is easily prone to thatch buildup. You need to dethatch it for a healthy lawn.
Zoysiagrass does not require a lot of water. It requires only about 2 inches of water during summer.
Downsides of Zoysiagrass
A Zoysiagrass lawn is prone to thatch build-up and thus requires regular dethatching.
Pet urine does not drain easily in thick Zoysiagrass and thus will damage the grass.
Despite its drought tolerance, Zoysia may turn brown and dormant during extreme conditions without proper watering.
Zoysia grows slowly — it will take time for your lawn to recover from dormancy.
Zoysia requires regular mowing in summer. Mowing twice a week may make your Zoysia lawn thick, making it difficult to mow.
3. Kentucky Bluegrass
Kentucky bluegrass is a perennial cool-season grass suitable for northern lawns of the United States from coast to coast.
Kentucky bluegrass grows in shades of blue and emerald that make it appealing to the eye, and its fine texture is gentle on bare feet.
With proper care and good growing conditions, Kentucky bluegrass can produce a lush, dense, and durable lawn that will live up to its reputation. The grass is excellent for high-traffic lawns.
Characteristics of Kentucky bluegrass
Excellent winter hardiness.
Kentucky bluegrass requires direct sunlight.
The grass can recover from damage through sodding.
Some varieties are vulnerable to heat and drought stress.
The grass is established from seeds that have a high tolerance to traffic.
Kentucky bluegrass spreads by rhizomes forming a dense, thick turf that recovers easily after damage.
Kentucky bluegrass goes dormant during extended periods of drought but recovers quickly after irrigation.
Care and maintenance
Kentucky bluegrass requires deep, thorough irrigation to encourage root growth.
The grass needs to be fertilized to promote a healthy, green lawn.
Kentucky grass requires mowing of 2 to 2½ inches.
Dethatch Kentucky bluegrass grass every one or two years to keep it healthy.
Consider planting a Kentucky bluegrass seed if your lawn is prone to heavy foot traffic.
Downsides of Kentucky bluegrass
Kentucky bluegrass has a low drought tolerance.
The grass is highly susceptible to diseases.
Kentucky bluegrass needs a lot of maintenance.
The grass requires a lot of fertilizer, which may be costly.
Kentucky bluegrass requires regular watering.
4. Tall Fescue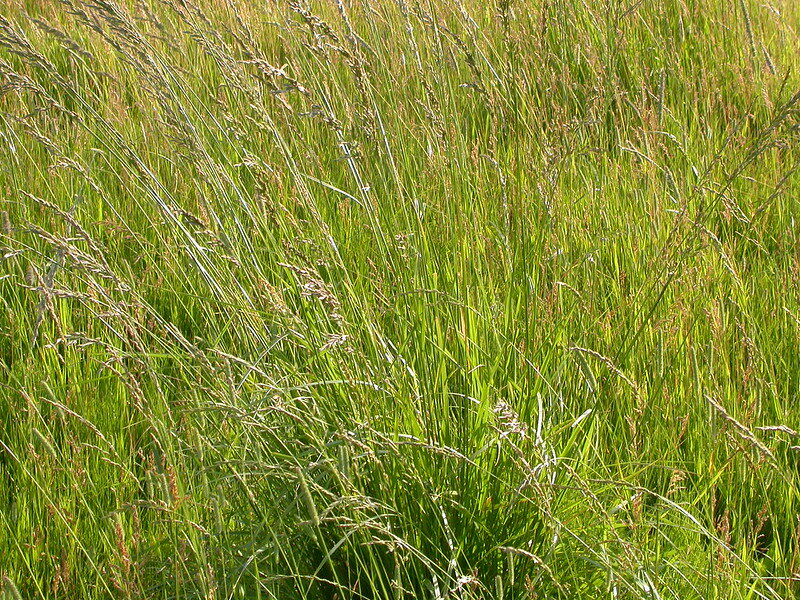 Tall fescue grass is a cool-season turf with deep roots that tend to grow numerous bunches of grass. Tall fescue is found in northern lawns and the southern transition zones.
Tall fescue is another turfgrass that withstands high traffic in yards because of its tough and upright blades and the ability to form bunches of grass. Tall fescue grass is thus a good choice for sports fields.
Tall fescue is also the best grass seed for dog owners as it is not damaged by dog urine.
Characteristics of tall fescue grass
Tall fescue has a high cold tolerance.
The grass has deep roots that make it tolerate heat and drought.
The grass seeds germinate easily and more quickly.
The grass stolons spread horizontally above and below the ground, thus resisting high traffic.
Tall fescue grass can also spread vertically by grass shoots called tillers.
Care and maintenance
Tall fescue does not require regular watering, thus it's eco-friendly.
Mow your tall fescue grass lawn to a maximum blade height.
Due to its bunchy nature, tall fescue does not require fertilizer.
When the grass is dormant due to extreme drought conditions, you need to water the lawn in moderation for a fortnight.
The downsides of tall fescue grass
The grass has a bristly feeling that might be uncomfortable with little feet.
It is prone to pests and diseases in high humidity and poorly drained areas.
5. Bermudagrass
Bermudagrass is a perennial warm-season turfgrass mostly found in the southern parts of the United States. The grass tolerates urine from pets and is resilient to wear and tear.
Apart from its durability, Bermudagrass is also a good drought tolerant turf.
Due to its extensive rooting system, the Bermudagrass is another good turf grass for high-traffic yards. The grass develops quickly with full sun and requires a lot of maintenance.
Characteristics of Bermudagrass
The extensive root system makes it durable and tolerant to high traffic.

Bermudagrass tolerates drought and heat.
The grass grows back via lateral runners called stolons and rhizomes, thus recovering quickly after damage.

Bermudagrass color ranges from blue-green to gray-green and finally dark green.
Care and maintenance
Mow to a height of 1 to 2 inches twice a week during the growing season.

Fertilize the Bermudagrass for a healthy and lush lawn.

Remove excess thatch on your lawn.
Downsides of Bermudagrass
The grass has a low tolerance to shade.
Due to its rapid growth, Bermudagrass has a high thatch build-up.
It is hard to control the grass in pathways and flower beds as it spreads through stolons and rhizomes.
Bermudagrass has low winter tolerance, and in case of cold conditions, it becomes dormant and turns brown, leaving the soil exposed to erosion.
FAQ About High-Traffic Grasses
Q. What are some signs of high traffic damage and impact on my lawn?
A. These include flattened grass, brown or dead grass, yellowing of the grass, turf increasingly invaded with weeds, and the grass thinning out.
Q. What type of grass is best for a golf course?
A. Perennial ryegrass is a fast-growing, drought-resistant grass with tough blades and a strong root system. That's why it is a popular on the golf courses in the northern climates of the United States. The grass is durable and can withstand heavy traffic.
Q. Should I plant seed or sod in high-traffic areas?
A. Quality and certified sod make a quick turnaround in high-traffic areas as it has fewer or no weeds. The sods also establish fast when installed during their peak growth and outcompete with weeds.
When to Call a Lawn Care Pro
You can maintain a healthy lawn with traffic-tolerant grasses despite the number of activities. You can achieve this by choosing the grass that best suits the conditions of your area.
If you need help with lawn maintenance, you can seek help from a LawnStarter lawn care pro.
Main photo credit: iStock
Millicent Onchari
Originally from the Nairobi area of Kenya, Millicent Onchari is a freelance content writer. She is passionate about digital marketing, fashion and design, gardening, and health and wellness.