Mowing the lawn is the quintessential summertime chore.
Parents and kids alike take to the front yard to get it ready for the annual game of Thanksgiving flag football or to earn a few bucks for the piggy bank.
Unfortunately, many of those people also end up in emergency rooms.
While working with power mowers may be common, taking your safety for granted could leave you with a serious injury or worse.
"Remember, you're dealing with something that has a motor on it and has no brain," says Neal Denton, Extension Agent and Co-Director of the Knox County Extension in Tennessee. "It cuts anything it touches."
Most people underestimate the danger, he says, and find themselves at the emergency room.
"There's no way, if you get your foot or hand under there, that [blade] is going to miss," Denton says.
Know the Dangers
A September 2018 study from Johns Hopkins found that close to 6,400 injuries every year come from lawn mowers.
Nearly half of the more than 50,000 lawn mower injuries studied were lacerations. Fractures and amputations were common, and the most likely to be injured were hands or wrists followed by feet and toes.
That's what Denton hears most, he says, cuts on feet and toes from slipping.
Based on that, it's pretty easy to see the danger lawn mower blades pose.
Men were far more likely to be injured, the data says, and usually in the hand by rotating blades. Young children were often injured by hot surfaces or on their lower extremities.
Researchers say this shows that when adults or older teens get injured, it's when they stuck their hands in to remove debris.
Special Risks for Children
When the children were injured, it's from running out to the lawnmower when an adult was cutting. Or by getting their feet caught in the mower while sitting in the operator's lap.
Children are especially at risk.
A study published in June 2017 American Journal of Emergency Medicine found out just how much.
Between 1990 and 2014, it says, roughly 212,258 children under 18 went to the emergency room for a mower-related injury. That's nearly 12 for every 100,000 American children.
Not all were injured directly from the lawnmower. Half of those injured, if not with direct contact from the lawn mower, were hit by flying projectiles.
It's getting better, but mowers remain dangerous. The injury rate dropped almost 60-percent over the 25-year study period. Still, the authors conclude, "Lawn mower-related injuries continue to be a cause of serious morbidity among children."
Lawn Mower Safety Improves
Safe mowing starts with the right lawnmower and the right safety features.
In 1982, a safety standard for walk-behind power rotary mowers developed by the U.S. Consumer Product Safety Commission took effect.
Ever since, those mowers must meet mandatory safety measures aimed at keeping hand and feet away from the moving blades.
The rule means mowers must be outfitted with certain safety devices:
Blade brake control
This stops the spinning blades in three seconds when the operator releases their grip on the controls. If the operator isn't in control of the machine, the blade doesn't spin. That rule has some caveats, too, that result in further safety features. If the mower has a manual start only, the blade must stop without shutting down the engine. That is, unless it has a 360-degree foot shield or a pull cord at the top of the handle.
Foot shield
One must be installed at the rear of the mower to stop the operator's feet from slipping under the mower deck. These shields are strength-tested, the CPSC says. They either close automatically or prevent operation of the mower when open. Some mowers that catch clippings mean this shield must be removed. If that's the case, the mower won't start unless either the foot shield or grass catcher is in place.
Labels
All new mowers sold since the safety standard must come with a warning label near the discharge chute telling operators to keep hands and feet away from the chute. Those labels also have to show that the mower meets CPSC blade safety requirements.
How Young is Too Young to Mow?
So when can you delegate mowing to your kid so you can sit back and relax while they do the hard work? There are no legal restrictions or age limits, so it's up to parents to decide.
The American Academy of Pediatrics makes it simple:
12 years old to operate a push mower.
16 years old for a riding mower.
Kids need to be both mature enough and physically capable of operating the mower. Take the time to properly train and teach them how to operate it safely. Make sure they take proper precautions such as eye protection and never mow in bare feet.
Supervise them while they work until you're confident they can manage it by themselves.
For a little extra training, Denton says the extension offers courses to middle schoolers every spring on proper and safe lawn mowing.
Once that's done, they're good to take over your favorite summertime chore.
Lawn Mower Safety Tips
What you do before cranking up the lawnmower is just as important as what you do behind it.
Denton's No. 1 piece of advice? "Just don't be dumb with it."
He also adds some steps most people probably skip, saying that if you just filled up the gas tank, give it a second to evaporate.
Messing with spark plugs or other components can ignite those fumes.
"It only takes a spark to make a torch," he says.
Also, if it's the start of spring and you're cranking up the mower for the first time, take it easy.
Denton says it's common for people to throw out biceps and shoulders when they give the pull cord that first wrenching after winter.
Lawn Mower Startup Safety Checklist
The Mississippi State University Extension lists the essential safety tips to check off the list so you start out on the safe foot:
Read the operator's manual. Knowing proper operation and safety guidelines goes a long way.
Dress appropriately. That means long pants, close-fitting clothes, sturdy shoes, safety glasses and hearing protection.
Check yourself. Mowing requires physical ability. Double check your handle on the controls and ability to physically push it around the yard.
Check your equipment. Fill the gas tank before you start. Check and adjust oil, tire pressures, belts, cutting height and mower blades. Everything must be in good working order.
Clean up the yard before mowing. Pick up objects in the lawn; everything from sticks, twigs and rocks to kids' toys, cans and bottles.
Denton makes a special point about eyewear, especially for weedeaters or other trimmers.
He also recommends sun protection: a wide-brim hat and sunscreen, especially if you'll be out for a long time.
Once you're ready to go, survey the mowing area. Take note of the area you plan to mow and how you plan to mow it.
Make sure the discharge won't be turned toward people, pets, homes, streets or cars.
Is there any debris you can't pick up? Like a gravel path or driveway?
Ohio State University says to make sure the mower is turned off and the blades have stopped completely before crossing gravel paths.
And when mowing, make sure you can always continue to push the mower forward.
Never pull a mower toward yourself, which can lead you to slip under the mower.
If you've got check marks by all that, you'll be winning that flag football game and getting compliments on your lawn before you know it.
Riding Mower Safety Tips
That big riding lawn tractor is the pride of your garage. It makes quick work of your yard and leaves it looking great. Denton says they're somewhat safer, too.
They keep you up off the ground and away from the blades, but that doesn't mean they're foolproof.
8 Riding Lawn Mower 'Don'ts'
Riding mowers require some extra safety considerations. Here are eight things you should never do on a riding lawnmower, compiled from Denton, the Kansas State University Extension and the AAP.
Don't: 
Make sharp turns at high speeds, especially on a hill. Denton says if you have to adjust your weight to make the turn, it's too steep. Find a safe place to turn around, as they also tip over backward, he says.
Let children ride as passengers.
Mow wet grass, which can clog up machinery and cause you or the mower to slip.
Mow without enough daylight or in bad weather.
Put hands or feet under a running mower. Always shut off the engine and disconnect the spark plug first.
Use a mower without all guards in place.
Dismount a running mower.
Back up the mower with the blade spinning. Kids, pets and more can sneak up behind you. Stay aware of your surroundings.
Post-Mow Safety
Lawn cut? Good. But you're out of the woods. You still have to get the mower back to storage, safely.
When parking the mower, make sure to lower any raised components that may pinch or crush unwary fingers later.
Stop the engine, remove the key and put it in a secure place. This will keep kids from hopping on top and starting the mower just like they saw you do.
Remove grass and debris. Clean and service the engine as needed. Lock up the storage room or garage, and you're all done.
Keep up with good preparation and operation, and you can be confident that each and every lawn mowing job will be successful and safe.
"Pay attention. Be aware of your surroundings," Denton says. "Just pay attention."
Main image credit: Parker Knight, CC2.0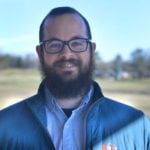 Derek Lacey
Formerly the agriculture writer for the Hendersonville Times-News, Derek Lacey's articles have appeared in U.S. News & World Report, The Charlotte Observer, News & Observer, and The State. He has won 15 awards from the North Carolina Press Association and GateHouse Media, for pieces ranging from news features and investigative reporting to photography and multimedia projects.