Replacing a garage door is an easy way to boost your home's curb appeal, and research shows this home improvement project has a high return on investment.
Whether your garage door has aged and broken down or you just want to update your home's aesthetic, expect to spend between $590 and $1,650 on a professional garage door replacement. The national average cost is about $1,120, including materials and labor.
If you are looking to replace your garage, we highly recommend calling (330)-975-2234 to speak with a top-rated garage door expert – free of charge. Garage door replacement can be tricky, and you don't want to go into it without an expert explaining the process.
How Much Does a Garage Door Replacement Cost?
National average cost: $1,120
Typical price range: $590 – $1,650
Extreme low end: $375
Extreme high end: $4,540
Most homeowners will pay a professional garage door installer about $590 to $1,650 to remove the old door, including the old hardware and tracks, and install everything new. Keep in mind, the average range of prices to replace a garage door will vary. Specifics like the size and quality of the garage door will determine your project's actual budget.
If you need to be extremely cost-efficient, you could choose to have a simple non-insulated aluminum or steel garage door installed on old tracks, sometimes for as low as $375 total.
High-end projects for homeowners looking to splurge can cost as much as $4,540. A replacement at this price point might include a double garage door large enough for two cars made out of a more stylish material like wood or even glass.
Talk to a Garage Door Expert
Don't make the wrong decision on replacing your garage door. Call the number below to talk with an expert for FREE!
Where will your garage door replacement cost fall on this spectrum? We'll discuss individual pricing factors to help you decide the best budget for your needs.
Garage Door Replacement Cost by Garage Size
Will your garage need to store one, two, three, or even more cars? The size of your garage determines how many garage doors you need and how big they should be. Garage size is an important indicator of door size, so it's a significant factor in figuring out your project budget for a garage door replacement.
A one-car garage door, or single garage door, will usually be about 7 to 10 feet wide and 7 to 8 feet tall. Garages intended to hold one car will have only one opening of this size. Expect to spend from $500 to $2,500 to replace a one-car garage door. The price range is so wide because garage doors come in many different materials and styles.
When it comes to multi-car garages, you have a few different options for garage doors. If you have two cars, you might have two separate single garage doors or one larger door that's typically 16 feet wide at least and 24 feet wide at most.
Replacing two single-car doors will cost about $1,100 to $4,700, while the cost of replacing one double two-car garage door would be more like $750 to $4,000.
Your options are similar for a three-car garage. If your garage has three separate single doors, replacing them all would cost about $1,600 to $7,000. Replacing one double door and one single door together is slightly more affordable, at $1,300 to $6,400.
GARAGE SIZE
AVERAGE COST TO REPLACE GARAGE DOORS
*includes materials and labor
1-car garage
$500 – $2,500
2-car garage (1 double garage door)
$750 – $4,000
2-car garage (2 single garage doors)
$1,100 – $4,700
3-car garage (1 single garage door and 1 double garage door)
$1,300 – $6,400
3-car garage (3 single garage doors)
$1,600 – $7,000
Other Cost Factors
Size matters when you're replacing a garage door, but it isn't the only factor affecting the price of your home improvement project. There are countless differences between one garage door and the next, from the style of the door to the material to the degree of insulation. These varying aspects of garage doors result in a wide range of budgets for different projects.
Below, we'll cover several significant cost factors to give you a good idea of what you should expect to spend on your garage door replacement.
Type of garage door
Just like with other exterior home features, you'll get the best results in terms of boosting your home's curb appeal if your new garage door blends well with the rest of your house.
You can choose your garage door style based on aesthetics and function. One type of garage door might match your home better or suit your needs because of space considerations.
Garage door styles also vary in how they open. A garage door might roll up or tilt up onto tracks in the ceiling to save room or swing forward to open for a more rustic look.
Here are some of the most common types of garage doors, with details on how they work and how much they cost:
Tilt-up garage door
One large, solid piece of material instead of panels
Needs extra room because it swings out when opening
Comes in fully retractable styles or versions that form a small canopy over the mouth of the garage
You usually have to open them manually
Typical cost: $480 – $1,530
Sectional garage door
Several smaller panels hinged together to slide up into the ceiling easily
Most popular style in the U.S.
Don't need extra room for opening and closing
Usually has an automatic opener
Typical cost: $480 – $1,770
Roll-up garage door
Rolls up into a bundle instead of sliding into tracks in the ceiling
Comes in sectional and one-piece styles
Durable, rarely needs repairs or maintenance
Installation can be difficult
Typical cost: $630 – $2,370
Glass roll-up garage door
Glass panels hinged together with aluminum or steel frames
Rolls up in sections
Insulated or non-insulated glass
Rarer and more expensive than other roll-up garage doors
Typical cost: $850 – $5,950
Carriage house garage door
Double doors that swing out in the middle to open
Gives your home an upscale, traditional appearance
Come in many designs and styles, some with arched or rounded tops
Often feature windows
Typical cost: $980 – $6,130
Walk-through garage door
Garage car door with a walk-through door embedded
Often requires a custom garage door design
Typical cost: $1,000 – $4,750
French garage door
Like other French doors, double doors made of glass that open outward in the middle
Not good for insulation because of all the glass
Not very common for garage doors
Typical cost: $1,670 – $5,170
Even within the same style of garage door, prices for materials and installation vary widely. Each garage door type comes in different materials and sizes, with higher or lower quality models from different brands. Consider the intersection of all these factors for an accurate replacement garage door price estimate.
GARAGE DOOR STYLE
AVERAGE COST TO INSTALL
*includes materials and labor
Tilt-up garage door
$480 – $1,530
Sectional garage door
$480 – $1,770
Roll-up garage door
$630 – $2,370
Glass roll-up garage door
$850 – $5,950
Carriage house garage door
$980 – $6,130
Walk-through garage door
$1,000 – $4,750
French garage door
$1,670 – $5,170
Garage door material
Most garage doors are made of low-cost aluminum or steel, but you have other options in material. If you're willing to invest more money in your garage door installation, you can get a more stylish material like wood or glass or a lower-maintenance vinyl door.
Some materials — wood, especially — may require lots of maintenance and repairs over the years. Make sure to keep future costs in mind when choosing the material for your garage door.
A glass, fiberglass, or wood garage door may require installation by a specialist. Make sure your contractor has experience working with the garage door material you want before you hire him or her.
GARAGE DOOR MATERIAL
AVERAGE COST TO INSTALL
*includes materials and labor
Aluminum
$530 – $2,800
Steel
$570 – $2,900
Wood composite / faux wood
$720 – $4,370
Vinyl
$780 – $2,470
Fiberglass
$800 – $2,700
Wood
$870 – $4,270
Glass
$950 – $4,750
Garage door brands
Different garage door brands have specialties. For instance, Amarr brand doors are affordable and eco-friendly because they're made from recycled materials. Clopay brand doors are always built-to-order, so you can completely customize your selection. Garage doors from Overhead Door come with 24/7 maintenance and repair services.
Each brand has its own perks and pitfalls. Talk to your garage door installer to find out if he or she has relationships with any brands that could result in savings for you. Your installer also can help you decide which brand would best meet your specific needs.
Some of the most popular makers of garage doors include:
Amarr
Hormann
Clopay
CHI Overhead Doors
Raynor
Wayne Dalton
The Overhead Door
We estimated approximately how much a new garage door costs from each of these brands using pricing data from around the web. While these cost estimates may not cover every single model available from every single brand, they should still give you a general idea of which brands tend to be more affordable than others.
BRAND
AVERAGE COST TO INSTALL
*includes materials and labor
Amarr
$425 – $4,150
Hormann
$425 – $6,300
Clopay
$475 -$4,500
CHI Overhead Doors
$490 – $2,825
Raynor
$600 – $4,000
Wayne Dalton
$700 – $7,000
Overhead Door
$750 – $4,000
Custom garage doors
If you have room in your budget, you don't have to compromise your vision just because the major brands don't quite understand your style. You can think beyond the stock model and design your own custom or semi-custom garage door — for a price.
You may need to go the custom route if your garage door is a non-standard size or if you want a particular color or design. Custom and semi-custom doors will almost always cost more than cookie-cutter stock options. Expect to spend $1,800 to $9,300 on a custom garage door installation. Things like material and the degree of customization will affect that price.
Insulated garage doors
If you want to spend time working or playing in your garage without freezing or melting during the most extreme parts of the year, you'll want to choose a garage door with some level of insulation.
Insulated garage doors contain one or more layers of polystyrene or polyurethane. The more layers, the more effective the insulation will be. Manufacturers rate a garage door's insulation capabilities using R-values. R-values range from 0 (no insulation) to 20 (thick insulation, usually only necessary in very cold climates).
As a general rule of thumb, assume that the higher a garage door's R-value, the more you'll pay for it. Most insulated garage doors cost between $500 and $3,000. Keep in mind that some of the more expensive garage door materials — namely glass and wood — would be difficult to insulate.
Windows
Many stock garage doors of different materials already have small glass or fiberglass windows. In some cases, you may have to add windows as a customization option if you want them. Either way, you should expect a garage door with windows to cost more than one without.
Prices for standard steel or aluminum garage doors with windows usually start at about $700, and the price goes up from there depending on the number and style of the windows. A single-car garage door with windows can cost as much as 70% more than one without, while windows typically add 30% to 50% to the cost of a two-car garage door.
Garage door opener
Unless you want to open and close your garage door manually every time you leave the house or come home, you'll need to install a new garage door opener. Garage door openers usually connect to a remote that you can keep in your car and/or install inside the garage. That way, opening your garage door will be as simple as pressing a button.
If you need the opener replaced along with the garage door itself, make sure you communicate that to your installer. A garage door replacement price quote may not automatically include the cost of installing a new opener.
Most of the time, replacing a garage door opener will cost between $186 and $648 for the opener itself and the labor to install it.
Permits
Because a garage door replacement is such a minor home improvement project, you may not need to obtain a permit. Whether you need a permit will depend on where you live and the extent of your project.
For example, if you're knocking out part of the wall to make the garage door opening bigger or adding a second door, you're more likely to need a building permit.
Your contractor should know what permits you need, how much they cost, and how to obtain them. Ask local garage door installers for an accurate picture of what your permit fees might be. Nationally, building permits for this kind of project usually fall between $40 and $190.
Extra Services
Think of all the extra work that could surround a garage door replacement. You may need an existing door removed (which most replacement quotes will include), you might have to install electrical wiring for the garage opener, and the door will likely need repair at some point.
We'll go over these additional services and their associated costs to help you avoid surprises when you're going over your garage door replacement bill later.
Garage door removal
The first step in a garage door replacement is removing the old door. Removal is such an integral part of the process that most contractor quotes automatically include removal in the overall garage door replacement price. Usually, removing the old door means removing the old tracks and hardware, too.
Garage door removal on its own costs about $35 to $130. The cost is so low because homeowners only have to pay for labor. There are no new material s involved that you would have to purchase. If for any reason your old garage door is already gone and you don't need your contractor to remove it, you can subtract this cost from your overall project budget.
Electrical work
Most garages are already equipped with electricity and have at least a few sockets, including one in the ceiling for hooking up the garage door opener. But there are always oddballs for any number of reasons. If your garage doesn't have electricity or doesn't have a socket in the right spot, you'll have to hire an electrician to install new wiring before you can install an automatic garage door opener or other electrical features.
The cost of electrical work completely depends on the scope of what needs doing. Adding a single socket or repairing a minor wiring issue would cost a lot less than installing wiring for the entire garage. Electricians nationwide typically charge between $40 and $100 per hour of work, so smaller and quicker jobs will always be cheaper.
Garage door repair
What happens if, a year from now, a cable in your new garage door system snaps or a spring breaks (and your garage door didn't come with a warranty)? Do you have to replace the whole thing again? Of course not. Issues like broken garage door springs and cables have quick, simple fixes.
Some of the most common garage door repairs include:
Repair or replace springs
Repair or replace cables
Repair or replace tracks
Repair or replace rollers
Repair or replace sensor
Repair or replace automatic garage door opener
Window repair
Typical garage door repairs are much more affordable than full replacements. You'll usually pay a contractor about $106 to $325 per repair. If you don't have your heart set on a whole new garage door, you likely will save money by repairing a few essentials and keeping your existing door.
Garage Door Replacement Cost by Location
One reason it's hard to pinpoint an exact garage door installation cost without talking to a local contractor directly is that material and labor costs can vary widely depending on where you live.
Contractors (and in turn, homeowners) in states with high taxes might pay hundreds of dollars more than someone in another state for the exact same garage door. The cost of living in a particular city will impact labor rates, too.
For example, in a huge city like New York or Los Angeles, a garage installer's hourly rate will be much higher than it would be in a small town in middle America.
Take the national averages presented in this guide into consideration, but take them with a grain of salt. Remember that you won't know for sure how much your garage door replacement — or any other home improvement project — will cost until you get quotes from local contractors.
Note: We recommend getting at least three quotes to compare prices before settling on which contractor to hire.
FAQ About Garage Doors
1. How long does it take to replace a garage door?

That depends on the door size and type, but generally speaking, a pro will usually take 3 to 7 hours to remove the old garage door and install the new one. 
2. Can you replace a garage door yourself?

A garage door replacement shouldn't be a DIY project. For starters, garage doors are large and heavy, so you would likely have a hard time hauling the old door to the dump and transporting the new door. 

Even if you manage to figure out transportation, you could easily mess up the installation or, worse, hurt yourself, because garage doors have so many complex parts. A door installed by a pro will be much more reliable, and your family's peace of mind is worth the cost of labor. 
3. Does homeowners insurance cover garage door replacements?

Many insurance policies will cover a garage door replacement in the event of fire, theft, vandalism, plumbing leaks, and other events usually covered by home insurance. That typically doesn't include normal wear and tear or severe weather (for which you would need separate hurricane insurance, flood insurance, etc). 

If you need a new garage door because someone hit the old one with their car, the driver's auto insurance may pay for the replacement. 
4. Can you install a new garage door on old tracks with old hardware?

If the new door is exactly the same size and style as the old one, you can install it on the old tracks. However, the cost of a professional garage door replacement usually includes installing new tracks and hardware. 
Conclusion
If you hire a local contractor to replace your garage door, expect to spend between $590 and $1,650 for materials and labor.
This price range typically covers standard doors made of mid-range materials. For a larger garage door, one made of wood or glass, or a custom design, you can assume you'll spend significantly more than the average cost.
You may be able to save a little money by removing the old garage door yourself if you're handy, but we recommend leaving the installation of the new door to the pros. You'll spend more than you would if you installed it yourself, but you'll end up with a much better finished product.
Plus, most installers will offer a warranty on their work in case something goes wrong down the line, and you definitely won't get that through the DIY route.
Main Photo Credit: Alan Light / Flickr / CC BY 2.0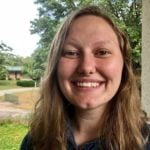 Jordan Ardoin
Jordan Ardoin is a writer and editor with a passion for sustainable, earth-friendly gardening and lawn care practices. When she isn't sharing her knowledge about lawn care and landscaping, you can find her curled up with a good book and a cat in her lap.