It's no secret that we're lawn geeks.  So, we've searched high and low, evaluated hundreds of pictures, and interviewed students, alumni and faculty to bring to you the Top 10 Best College Landscapes on the East Coast.  It wasn't easy, given the number of beautiful campuses around, but we've narrowed it down to the top 10.  Factors that went into our ranking include the amount of green space on campus, the prevalence and uniqueness of landscape installations, and the attention given to lawns and landscapes on campus.  Without further ado, here are the Top 10 East Coast college lawns.
1)  Duke University – Durham, NC
Duke University was a clear winner, above and beyond all the rest.  In addition to a beautiful campus, Duke boasts the Sarah P. Duke Gardens, which dominate college landscapes similar to the way the Blue Devils dominate the basketball courts  Winner of Horticulture Magazine award for Garden Excellence, the Duke gardens are a fantastic place to take in. The ornate landscaping in these gardens make Duke second to none when it comes to college landscapes.
2) Harvard University – Cambridge, MA
Coming second is none other than Harvard University, which, in true Harvard fashion, spares no expense when it comes to it's grounds.  The campus is full of quads with beautifully manicured lawns with ornate landscape installations.
3) The College of William and Mary – Williamsburg, VA
As the second college in the nation, William and Mary has had over three centuries to develop it's green beauty.  Located in historical Williamsburg, VA, Wiliam and Mary boasts near-perfect lawns along with rich history.
4) University of Maryland – College Park, MD
The University of Maryland is undoubtedly a beautiful place, as evidenced by this shot of the McKeldin library lawn, which consists of a masterfully designed fountain surrounded by lush green grass.  For Maryland students and alumni, it's no shock that UMD comes in at number 4 on our rankings.
5) University of Vermont – Burlington, VT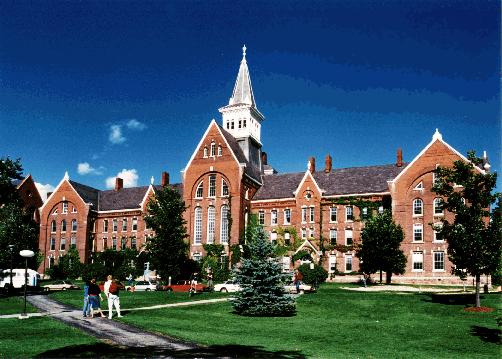 Like most places in Vermont, this University has a lot of grass – 451 acres of it.  We're talking about the lawns here, such as the historical University green.
6) Virginia Tech – Blacksburg, VA
Located in the New River Valley, Virginia Tech is home to a lot of lawn.  At the center of the campus is the drillfield, which is surrounded by an intricately designed War Memorial Chapel.  The Duck Pond and Horticulture Gardens are other great green additions to the campus.  The horticulture department even managed to breed flowers that bloom in orange and maroon – the school colors – which is why Virginia Tech ranks at number 6 on our list.
7) University of Virginia – Charlottesville, VA
Originally founded by Thomas Jefferson, the University of Virginia boasts incredible lawn and landscapes.  The Lawn is a UVA landmark which is surrounded by 10 pavilions and culminates with The Rotunda, which was originally designed Thomas Jefferson himself.  Undoubtedly a beautiful campus (or "grounds" for you Cavaliers out there).
8) Yale University – New Haven, CT
Yale has graduated more notable alumni than we can count, but that's not why it made our list.  Surveying it's campus, the numerous well-maintained landscape installations, along with clean-cut lawns in nearly every quad, Yale is a horticulturists dream campus.
9) University of North Carolina – Chapel Hill, NC
UNC Chapel Hill is without question a great place to visit.  With quaint, southern design and beautifully manicured lawns, it's easy to see why UNC made our list.  Notable landscape installations include the Forest Theatre, and the Old Well (pictured above).
10) College of Charleston – Charleston, SC
Charleston, SC is a place that deserves an award in it of itself, so it's no surprise that this small liberal arts college made our list.  This southern-style campus is adorned with a wide variety of well-maintained palms, trees and shrubs that really make it stand out.
Think we missed your school?  Contact us and let us know, and we'll be happy to reevaluate.
Honorable Mentions:
LawnStarter makes lawn care easy all over the east coast.  Get lawn care near you today.
Popular locations for lawn care services:
Scott Johnson
Scott is a research analyst and writer for the LawnStarter blog. He's a lawn care expert, avid gardener, and dog lover.