The place typically reserved for HVAC units, natural gas meters, and other utility boxes, side yards are often forgotten when it comes to landscaping. But limited space doesn't have to equal limited creativity. Leverage every inch of square footage you have with these small side yard landscaping ideas.
1. Light a Path
Turn a narrow space into a pathway from the front yard to the back with stepping stones, concrete pavers, or stamped concrete. Line the walkway using small plants, boxwood shrubs, or actual fencing. For added ambience (and increased nighttime safety), light the pathway with overhead string lights or solar-powered in-ground lights.
2. Build a Garden Retreat
Utilize the area against your house wall to grow flowers, vegetables, or herbs. Install a trellis for vertical planting or hang plant boxes to resemble framed art. You can also include in-ground greenery and potted plants. Top off the area with a bench or consider constructing a plant station on either side of the wall.
3. Deck Things Out
Backyard too small for a deck or patio? Construct one on the side, instead. Leading from the back door, a leveled deck can add depth to your small space and provide the perfect seating area. Turn the environment up a notch by surrounding the deck with mulch, greenery, and landscaping stones.
4. Entertain the Littles
Patios, pavers, gardens, and the like are great for adults-only spaces. But for kids on the scene, it can lead to skinned knees, bumped heads, and unsightly holes dug just for fun. Give children their own space to play by converting the side yard into a wall of activities. Mount an outdoor chalkboard or sticky wall, install a sandbox, build a rock climbing wall, or hang jump ropes, plastic buckets, and other toys from a trellis for easy playtime access. Cordon off the area with an elegant gate and fencing.
5. Fit in a Plunge Pool
These narrow pools can go right up against the side wall of your house or in the middle of the wall and fencing. Keep animals and unsupervised children out of the area with decorative barriers. Not much of a swimmer? Put in a koi pond, instead.
6. Make an Outdoor Gallery
Have an eye for amazing art but lack a green thumb? Cultivate a garden made mainly of statement sculptures and rocks, rather than plants. From water fountains to statues to creative seating, your small side yard will be anything but drab.
7. Add Some Arches
Whether you decide to leave the structures bare, string lights around them, or train vines and other plants to grow up the sides, arbors and pergolas can create an air of elegance and invite visitors to explore the path.
When to Call in the Pros
For help bringing your side yard landscaping ideas to life, enlist the help of a landscaping professional. Dedicated to enhancing property values and aesthetics, these experts can install flower beds, lay down walkways, plant trees, and build arbors, patios, and decks, among other things. Most importantly, they'll listen to your design goals and develop a customized plan for you.
No longer neglected, your upgraded side yard will be ready to delight all who come through.
Main photo: Iriana Shiyan / Adobe Stock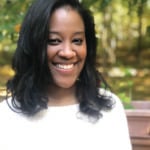 Andréa Butler
Descendant of the Fulani tribe, Gettysburg-obsessed Marine Corps brat, and lover of all things writing and editing, Andréa Butler launched Sesi magazine and has penned articles for sites, such as LivingSocial, Talbot Digital, Xickle, Culturs magazine, and Rachel Ray. Andréa holds a B.A. in English from the University of North Carolina at Greensboro and an M.A. in magazine journalism from Kent State University.