Landscape lighting covers all the necessary bases — safety, security, and splendor. But why choose solar lights over traditional electric ones? They're weather-resistant, energy-saving, cost-efficient, and only need direct sunlight as a power source.
In this article, we will cover five ways to use solar lights around your home:
Light a pathway with solar stakes
Set a mood with string lights
Increase security with floodlights
Showcase your landscape with spotlights
Illuminate outdoor spaces with wall lights or post lights
5 Ways to Use Solar Lights in your Landscaping
Here's how to choose the best types of solar lights to illuminate different areas of your property.
1. Light a pathway with solar stakes
Besides increasing nighttime safety for you and your visitors, solar pathway lights can also boost curb appeal after dark.
Benefits:
Allows you to enjoy outdoor activities long after sunset
Reduces the chance of injury
Increases security
Solar LED lights can last 20 to 25 years
Weather-resistant 
Eco-friendly and easy to install
Adds decorative beauty to garden paths and front walks
No need to place it near the electric outlet
Details: Solar path lights come in many varieties and should be located in areas that receive full sun. This will allow your landscape lighting to store up enough energy to emit light come nightfall. As these tend not to shine as bright as electric lights, consider buying more than you think you may need to achieve the right intensity.
Cost: Depending on the number of lights you plan to purchase and whether they're white lights or colored lights, prices range from around $20 to more than $100.
2. Set a mood with string lights
Bathe your back patio in soft light to create romantic vibes, or hang multicolored string lights to encourage a more party-like atmosphere.
Benefits:
Reduces carbon footprint/saves energy
Weather-resistant 
A breeze to set up
Solar LED bulbs can last 20 to 25 years
Can provide around 10 hours of light when fully charged
No need for electricity; runs on rechargeable batteries powered by the sun
Details: Hang string lights in an area that receives full sun during the day, so the rechargeable batteries can be energized by the natural light. There are a number of different styles to match whatever vibe you're going for.
Cost: Prices can vary depending on style and amount; plan to spend between $20 and $60.
3. Increase security with flood lights
Whether it's for your home or business, LED flood lights make your property safer for visitors and help keep your energy bills low, all at the same time. Here's how:
Benefits:
Low voltage still emits super-bright light/conserves energy
Deters crime/improves nighttime safety
LED bulbs are not easily broken; can last 10 to 20 years
Great for remote locations; only needs direct sunlight for power
Helps other security devices, such as cameras, catch clearer pictures
Details: For optimal security, use an LED flood light equipped with a motion sensor. This also helps save energy, as the light is only triggered when something moves within its field of view. Install these near doors and above your driveway. Options include:
Cost: Expect to pay anywhere from $50 to $300.
4. Spotlight hardscapes and flower beds
Have a garden design you're particularly proud of? Want to highlight your favorite statue or shrub no matter the time of day or night? Opt for a solar spotlight.
Benefits:
Easy to install, affordable, energy-efficient
Durable and weather-proof
Can double as security lighting; also perfect for lighting up the pool area
No need for wires, sunlight provides power
Adjustable light coverage can be trained on specific items or larger areas
Details: Solar spotlights are also great during the holidays. Shine one on entryways to accentuate festive decor, such as wreaths. A few to try:
Cost: Prices can range from $10 to $70.
5. Illuminate outdoor spaces with wall lights or post lights
Maximize your outdoor living spaces, such as decks, patios, and front porches, with solar lights that turn on after dark. Host evening soirees or enjoy a solo retreat well into the night.
Post lights can easily fit over deck railing posts, while wall lights can be mounted on the exterior of your home.
Benefits:
Wire-free; only needs the light of the sun to charge
DIY installation is simple
Eco-friendly, energy-efficient, and weather-resistant 
Also works for porches, garages, and fences
Details: Solar post lights and wall lights also come in a multitude of colors and styles:
Cost: Depending on the type and number you'd like, prices range from $15 to more than $100.
FAQ About Solar Landscape Lighting
How do solar lights work?
Landscape lighting that's solar powered works when these lights are placed in areas that receive direct sunlight throughout the day. When energy from the sun brings the batteries inside the lights to full charge, nightfall triggers the lights to "turn on."
What are lumens and how many do I need for outdoor lighting?
Lumens describe how bright a bulb will shine — the greater the number of lumens, the more light a bulb will emit. For security lights and spotlights, you'll need a higher number of lumens than path lights and postal lights.
This handy guide can help you determine the right amount of lumens for your landscape lighting projects.
When to Hire a Landscaping Professional
Installing solar outdoor lighting is an easy DIY project. But a landscape pro can help if you live in an area with more shade than sun.
These experts can help by setting up a separate solar panel for the lights on top of your roof or in another area of your yard that receives more direct sunlight.
No matter where you live, you'll be able to reap the benefits of solar power.
Main Photo Credit: Geraldas / Adobe Stock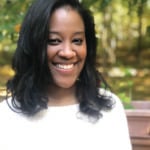 Andréa Butler
Andréa Butler is a writer and editor who loves crafting witty turns of phrase and informative, compelling copy on various topics. She especially enjoys sharing her knowledge of landscaping and pest management to help others create the outdoor spaces of their dreams.