Your patio space may be limited, but your decorating ideas know no bounds. Whether you envision a moonlit dinner for two, a cafe-style reading nook, or a cozy, outdoor living room, there's room outdoors.
We've compiled a list of 12 small patio ideas, some requiring a little effort and expense, to help you discover the best fit for you.
But First: How to Build a Patio
Forging a backyard patio design from scratch takes a bit of know-how. If this is your very first DIY project, you may want to consider hiring a professional. But if you're up for the challenge, here's a quick overview of the steps involved.
Decide if you prefer a brick patio, stone, or decking for your floor.
Locate underground utilities.
Select a location for your new patio.
Outline the shape and dig up the grass.
Lay landscape fabric as base and cover it with gravel and sand.
Put bricks, flagstones, or decking in place.
Since your patio won't use a lot of square footage, you can complete this project in a weekend.
12 Small Patio Ideas for Your Yard
1. Snuggle by the fireside
The addition of a fire pit or outdoor fireplace will have you enjoying the fresh air even as the seasons change and the temps drop.
Effort: Constructing a DIY fire pit is pretty easy, with a few simple supplies.
Pre-cut stone
Concrete or brick pavers
Steel fire pit ring with grates
Gravel
Construction-grade adhesive
Patio paver base cloth
Check out this tutorial on how to build a fire pit. Or, buy a fire pit kit to simplify the process even more.
Cost: Fire pit kits range from a little more than $200 to a little over $1,000. You can save a little money by purchasing the individual materials themselves for less than $200.
2. Dine in the open air
A moonlit dinner for two. Lunch with a friend amid nature. Either way, the relaxing sights, sounds, and smells of greenery, birds, and maybe a water feature are sure to enhance your patio dining experience.
Effort: An easy way to transform your small space into a true outdoor living space is to select the right-sized furniture for your al fresco dining area. It can be as simple as a small, wooden table with two chairs or as elegant as a three- to four-piece bistro set. 
Cost: A dining set for two people can cost less than $400 and a set for up to four can cost between $200 and $1,000.
3. Grow a garden
Mount a trellis against the exterior wall of your patio to raise climbing plants such as honeysuckle, ivy, bougainvillea, pole beans, or tomatoes. Or, add color and texture with potted plants or hanging flower baskets.
Effort: Vertical gardening is not as taxing on the body as traditional in-ground gardening, since there's no need to bend over as much. And with container plants, all you need is a few bags of potting soil, as many flowers or vegetables as you want to plant, a watering can, and fertilizer.
The most effort will go into mounting a trellis (or attaching pots to a wall) because you'll need to cut materials and do some drilling.
Cost: Depending on size and material, planters can cost between $2 and $80 each. To save money and boost creativity, you can repurpose old chairs, hanging shoe pockets, tires, or other items lying around your house or yard.
4. Invite with colorful comfort
Augment the tranquility of your small outdoor area with floor pillows (and if there's enough room for a sofa, throw pillows) perfect for lounging. A quick and simple patio makeover, pillows come in a variety of patterns and colors to brighten the space.
Effort: You just need to buy as many pillows as you'd like, and arrange them in the way you see fit. They're also easy to switch out for the seasons, which is a definite bonus.
Cost: Floor pillows can range from $20 to $100 each, depending on size and brand. Sofa throw pillows can run you between $12 and $70.
5. Add ambiance with lighting
The warm, glow of traditional string lights can set up a romantic vibe. Colorful, creatively shaped string lights can give your patio area a more party-like mood. Moon lamps, floor lamps, lanterns, or an outdoor chandelier are other options to try.
Effort: Hanging string lights requires an outdoor hanging kit, hammer, screwdriver, zip ties, and an extension cord. You can also opt for solar lights. To install an outdoor chandelier, have the area wired (if it's not already) or use a solar version. Then, install the mounting hardware, connect it to the wiring, and hang the chandelier.
Cost: String lights ($15 to $50), chandelier ($100 to $1,000), moon lamps ($30 to $100+), floor lamps ($200 to $1,000+), lanterns ($20 to $200+)
6. Create a private retreat
Escape from a busy household by creating a respite just a few steps away. Think of it as a mini destination that can serve as a small reading nook, decked out with a petite, but comfy, sitting area and coffee table. Or, catch some much-needed Zzzs under the stars by hanging a hammock or two.
Effort: Take some time to decide how you'd like your backyard staycation spot to look and feel. Then, purchase the sofa, side table, pillows, outdoor rugs, lighting, and anything else you need. Once your orders arrive, you can set them up in an afternoon.
Cost: You can outfit your seating area with this round, bamboo chair for around $455. You also can purchase a side table, pillows, outdoor rugs, and lighting for a total of $500 to $1,000, depending on style, materials, brand, and number of each item ordered.
7. Devise a makeshift kitchen
Most likely, your small patio won't have room for a full outdoor kitchen; however, you can improvise one.
For the smallest of patio areas, a bar cart is your best bet. You can load up a cart with drinks and snacks and roll it outside for temporary use. Or, opt for an outdoor kitchen island. Bonus points if you can nab a portable one. Another idea? A hibachi table that doubles as an outdoor fire pit.
Effort: No assembly needed for the bar cart, so the only effort on your part will be searching for the model you want, purchasing it, and putting it in its place once it arrives. For the outdoor kitchen island, there may be some assembly required, and you'll need to call in a pro to hook up any water or gas lines.
Cost: You can buy a bar cart for as low as $40 and as high as $1,000. Expect to pay between $1,000 and $6,000 for an outdoor kitchen island and another $300 to $700 for an expert to install electricity and water.
8. Include a mini water feature
Just because your outdoor space is small doesn't mean you can't enjoy aspects of larger backyard patio ideas. One such aspect is a containerized water garden — aka a pond in a pot. Using any receptacle (a jar, tub, or pot, for example) that can hold water, grow aquatic plants, including water lilies, oxygenating grasses, and bog plants. 
Effort: All you need is a pot or other container, a fountain pump, and river rocks. Put the fountain pump in first, then add in the containerized plants and river rocks, and fill the pot with water. Easy peasy.
Cost: Save money by repurposing an old bucket, bowl, or tub; or, you can buy a planter for as low as $5. There are also aquatic patio pond kits available, albeit pricier at more than $150.
9. Switch up the patio flooring
Not thrilled with the look of your small, concrete patio flooring? You're not stuck with it, and switching it up can be as easy as laying down laminate floor tiles or rubber patio pavers resembling wood, stone, or brick. You can also accent the space with a colorful rug.
Effort: Installation can be as simple as snapping pieces together or gluing them in place. There may be some cutting involved to make sure all parts fit correctly in your outdoor space.
Cost: Expect to pay around $50 for one pack of teak laminate flooring and around $6 per paver patio square. Area rugs can be bought for $25 to $100+.
10. Incorporate wall art
Hang a mirror on an exterior wall to help make the space seem bigger, put up a decorative privacy screen to add separation between you and your neighbors, or give your outdoor living space a room-like feel by putting up garden decorations.
Effort: It will take only a few minutes to hang a mirror or other decoration, and you can do so with a hammer and nails or with weather-resistant, removable hooks. You can also install a decorative privacy screen. This will take a bit more work, as you'll need to attach it to a fence post or other anchor.
Cost: Outdoor mirrors can cost anywhere from $50 to $200+. For decorative privacy screening, plan to spend between $50 and $100.
11. Use multifunctional furnishings
When selecting your outdoor furniture, look for ones that double as storage. Choose a wicker storage ottoman to match your seating. Or, purchase a side table with a top that lifts for added space.
Effort: All you need to do for this is purchase the furniture you want and set it up in your space.
Cost: You can get a storage ottoman for a little more than $500. 
12. Install a small pergola
Made from wood or vinyl, a pergola is an outdoor structure that can be freestanding or attached to an exterior wall.
On your small patio, a pergola can serve as a focal point and add shade, privacy, and ambiance to your entertaining space. For even more protection from the sun's ultraviolet rays (and nosy neighbors), install curtains or privacy panels to the tops and sides.
Effort: You can build a DIY pergola in an afternoon, especially if you're aided by a pergola kit.
Cost: A custom-built pergola can run you about $3,500, while a pergola kit can range in price from $400 to almost $2,000.
Small Patio Ideas: Other Things to Know
What's the easiest way to install a small, DIY patio?
The easiest way to put in a small backyard patio is to use patio pavers or pre-cut stones. Before laying the pavers or stones down:
Locate the area you want your patio to go.
Dig up the grass in that section and make a base with sand and gravel.
Lay stones or pavers.
Enjoy.
When to Call in the Pros
You're comfortable handling the choosing and placing of outdoor decor and furniture, but when it comes to actually building a small patio, or even stringing lights and installing a fire pit, you'd feel better if you had some help.
Call in a landscaping contractor for help with those larger projects. They'll finish the job quicker, and you won't have to worry about making any mistakes and potentially having to start from scratch.
Main Photo Credit: Delphotostock / Adobe Stock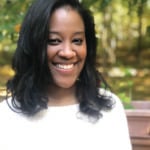 Andréa Butler
Andréa Butler is a writer and editor who loves crafting witty turns of phrase and informative, compelling copy on various topics. She especially enjoys sharing her knowledge of landscaping and pest management to help others create the outdoor spaces of their dreams.