From landscapers to plumbers to HVAC techs, all kinds of field service professionals are moving away from paper record-keeping and into the future with software. But how do you know which apps you can trust with your livelihood? LawnStarter waded through dozens of programs to find the best field service management software (aka FSM software) on the market.
We chose our top picks based on general user experience (gathered from hundreds of reviews across the web), affordability, and the tools each software provides to help your business succeed.
Here's your treasure map to find the best FSM software for your business needs:
Top Field Service Management Software of 2023 – Reviews 
Take a look at our top picks and how they scored out of five stars based on three categories: user experience, price, and features.
How did we come up with these scores?
First, we researched each program and rated them out of 5 stars across the following three categories:

User experience: Based on real user reviews from various independent review sites
Price: Based on the price of each software as compared to the average cost of similar programs
Features: Based on how many essential business management features each software offers
Then, we averaged together those three scores, all weighted equally and rounded to the nearest half to get the overall score for each software.
1. Jobber
Jobber is one of the most popular software programs for field service businesses because it has the rare combination of a huge suite of features, an affordable price tag, and overwhelmingly positive feedback from users.
This all-in-one software is simply designed and easy to use. It's perfect for newer business owners who are learning the ropes or seasoned professionals who know their trade inside and out but aren't so good with tech. Jobber gets top marks for customer service, so you can rest assured you'll get the help you need if there's anything about the software you don't understand.
For more details about this program's key features, see our in-depth review of Jobber (including in-app screenshots so you can see it in action for yourself).
Scores
| | |
| --- | --- |
| User experience score | 4.5 out of 5 |
| Price score | 5 out of 5 |
| Features score | 5 out of 5 |
| Overall score | 5 out of 5 |
Cost
Jobber starts at just $15 per month for its Lite plan, which is insanely cheap for a decent business management software. The price increases as you add more users (office or field employees who need a login for the software).
Jobber's complete pricing structure is as follows:
Lite plan: $15/month if billed annually or $19/month if billed monthly; allows one user; includes online quoting and invoicing tools
Core plan: $39/month if billed annually or $49/month if billed monthly; allows one user; includes all features
Connect plan: $119/month if billed annually or $149/month if billed monthly; allows seven users; includes all features
Grow plan: $239/month if billed annually or $299/month if billed monthly; allows 30 users; includes all features
Even though it starts out affordable, Jobber is exponentially more expensive for larger teams. If you have 30 or more team members who will need to access your software, you can probably find a more cost-effective option.
Pros and Cons
Pros
Cons
🗸 Affordable for small businesses
🗸 Offers a free trial so you can test-drive it before purchasing
🗸 Easy to learn
🗸 Integrates with QuickBooks for finance management
🗸 Highly praised customer service
✗ Mobile application has limited features
✗ Expensive for larger teams
✗ Managing recurring jobs in the scheduling tool can be difficult
✗ UX in the mobile application isn't intuitive
2. ServiceM8
ServiceM8 is nowhere near as well known as Jobber, but it gives you even more bang for your buck. For just $9 per month, you get all the essential tools you should look for in FSM software, and you can have unlimited users.
Based on the price tag, you could probably guess that ServiceM8 isn't the fanciest program out there. But it still has many of the important features for most FSM industries, including:
Online quoting and invoicing
Client scheduler (with automatic appointment reminders for you and your team)
GPS tracking of field employees
Onsite and online payment processing
Photo and video storage for each job
Automatic on-the-way notifications to customers
Job checklists
Electronic forms
Mobile signature capture
QuickBooks or Xero integration
The biggest problem with a newer, less established company like ServiceM8 is that it doesn't come with the same level of customer support as a big dog like Jobber. ServiceM8's customer service is pretty hit-or-miss and only available through email or online chat (there are no over-the-phone customer service representatives).
Scores
| | |
| --- | --- |
| User experience score | 4.5 out of 5 |
| Price score | 5 out of 5 |
| Features score | 5 out of 5 |
| Overall score | 5 out of 5 |
Cost
ServiceM8 includes unlimited users on all of its plans. The cost increases based on which features you want to pay for and how many jobs your company needs to manage per month.
ServiceM8 offers the following pricing tiers for businesses of different sizes:
Lite: $9/month; includes basic features; allows up to 15 new jobs per month
Starter: $29/month; includes all Lite features, plus progress invoicing and recurring jobs; allows up to 50 new jobs per month
Growing: $79/month; includes all Starter features, plus asset management, electronic forms, and in-app email inbox; allows up to 150 new jobs per month
Premium: $149/month; includes all Growing features, plus business analytics tracking; allows up to 500 new jobs per month
Premium Plus: $349/month; includes the same features as Premium; allows 1,500 (or more) new jobs per month
You can clearly see that ServiceM8's pricing structure is designed so that it's super affordable for small businesses but a lot more expensive for larger companies.
Pros and Cons
Pros
Cons
🗸 Affordable for small businesses
🗸 Allows unlimited staff members
🗸 Different plans scale up with your business
🗸 Easy to use
🗸 Adding new features all the time
🗸 Offers a free trial
✗ Limits the number of jobs you can add per month
✗ Mobile app isn't available on Android
✗ Customer support is email or chat only
3. GorillaDesk
GorillaDesk is huge in terms of features. It includes all the essentials and then some. What sets it apart is the great service it helps you provide to your customers. It comes with a full suite of customer experience features, including:
Automated appointment confirmations and reminders
Customer portal (which allows customers to request estimates, book appointments, and more online, at any time)
Text notifications to let customers know when a technician is on the way
Electronic form templates
Customer surveys
These features come in addition to the basics such as client management, scheduling, and invoicing.
It's important to note that the starting cost of GorillaDesk is significantly higher than that of Jobber or ServiceM8. But overall, it's still affordable compared to most other all-in-one FSM programs (unless you have many different routes – then you're in for a bit of sticker shock).
Scores
| | |
| --- | --- |
| User experience score | 4.5 out of 5 |
| Price score | 5 out of 5 |
| Features score | 5 out of 5 |
| Overall score | 5 out of 5 |
Cost
GorillaDesk starts at $49/month for the Basic plan, which comes with limited features, and $99/month for the Pro plan, which includes all features.
From there, the price increases based on how many routes your business serves. See the pricing table below for details.
| | | |
| --- | --- | --- |
| Number of routes | Cost of Basic (Per Month) | Cost of Pro (Per Month) |
| 1 | $49 | $99 |
| 2 | $99 | $149 |
| 3 | $149 | $199 |
| 4 | $179 | $249 |
| 5 | $209 | $299 |
| 6 | $239 | $349 |
| 7 | $269 | $399 |
| 8 | $299 | $449 |
| 9 | $329 | $499 |
| 10 | $359 | $549 |
| > 10 | Request pricing | Request pricing |
You'll pay less overall if you sign on for a year and pay the whole year's price upfront.
Pros and Cons
Pros
Cons
🗸 Offers free trial
🗸 Comprehensive customer service suite
🗸 User-friendly app
🗸 Solid customer support
✗ Mobile app doesn't work in areas with poor cell service
✗ High rates for credit card processing
4. Plannit
Plannit's main selling point is that it literally does your work for you. The app automatically completes everyday tasks such as scheduling appointments, collecting payments, communicating with customers, tracking employee hours, and renewing contracts – without you lifting a finger.
If you opt for the Premium+ plan, you even get a "phone bot" that answers the phone for you when you're off the clock.
Considering how unique and advanced Plannit is, it's surprisingly affordable. Unfortunately, there's no free trial, so you'll have to pay to find out if this set-it-and-forget-it style software suits you.
Scores
| | |
| --- | --- |
| User experience score | 4.5 out of 5 |
| Price score | 5 out of 5 |
| Features score | 5 out of 5 |
| Overall score | 5 out of 5 |
Cost
Plannit has three tiers, which include more features as they increase in price.
Pro: $45/month (billed annually) or $59/month (billed monthly)
Premium: $99/month (billed annually) or $125/month (billed monthly)
Premium+: $149/month (billed annually) or $175/month (billed monthly)
All three plans allow up to three users. If needed, you can add more users for $10 extra per user per month. Premium and Premium+ require a one-time $300 onboarding fee.
Pros and Cons
Pros
Cons
🗸 Automates many tasks
🗸 Easy to set up automations
🗸 Responsive customer support
✗ No free trial
✗ Invoicing tool doesn't allow for multi-property clients
5. Orcatec
Orcatec was made by contractors for contractors to be a simple and realistically affordable business management solution. It includes an office app for administrative tasks like scheduling and dispatching and a field app for generating proposals, taking payments, and more while you're at a job site.
The field and office software package starts at $10 per user per month, with optional add-ons that cost extra. The trade-off for that low price is a lack of advanced features. Orcatec is for field service pros who only need the basics, such as booking appointments, managing clients, and sending invoices and proposals.
Orcatec users' No 1 complaint is that it can be difficult to learn the software at first, but customer support is by all accounts helpful and responsive throughout the onboarding process. Once they get used to it, users say Orcatec is super easy to use.
Scores
| | |
| --- | --- |
| User experience score | 5 out of 5 |
| Price score | 5 out of 5 |
| Features score | 4 out of 5 |
| Overall score | 4.5 out of 5 |
Cost
Orcatec's basic pricing structure is $10 per user per month. Even if you have a team of 10 or more, that's pretty affordable compared to many other options on the market.
However, some features are behind a paywall. If you want more than 1 GB of cloud storage for all your data, you'll have to pay an additional 99 cents per GB per month.
Other features that cost extra (Orcatec doesn't specify how much extra) include:
Customer reviews
QuickBooks integration
Equipment ordering
Scheduling recurring appointments
Shareable task lists
Route optimization
GPS tracking
Accounting suite
Pros and Cons
Pros
Cons
✓ Affordable
✓ Simple and easy to use
✓ Field users can access office features from the mobile app
✗ Many features cost extra
✗ Only comes with 1 GB of cloud storage for the base price
✗ Can't schedule jobs on a recurring basis without paying an additional fee
6. Service Autopilot
Service Autopilot has everything you could want in a field service management solution: client management, scheduling, accounting, and business analytics reporting. Learn more about its features in our Service Autopilot review.
What sets Service Autopilot apart from the competition is its automations that go beyond the standard follow-up emails, appointment reminders, and past-due payment notifications. You can get super specific with the messages that go out to your clients automatically, with options like:
Upselling popular or seasonal services
Reminders to schedule a follow-up appointment for recurring services after a certain amount of time has passed
Feedback/review requests
Requests to update contact or billing information
Recapturing canceled clients based on their specific reason for canceling service
Contract renewal requests
Two-way texting (clients can message you back)
Automatic marketing emails and texts like the ones described above are perfect for widening your customer base and selling more services. If you're looking to grow your business, Service Autopilot can help.
The problem is that it gets expensive if you want access to all of its features, especially the automations. While the starting plan is affordable, it comes with a limited selection of tools and only allows one user. Service Autopilot is definitely an investment – one that can pay off in a major way, but only if you have room in your budget to invest in growth.
Scores
| | |
| --- | --- |
| User experience score | 4 out of 5 |
| Price score | 5 out of 5 |
| Features score | 5 out of 5 |
| Overall score | 4.5 out of 5 |
Cost
Service Autopilot offers three plans, which increase in price as they increase in features:
Pro Plus: $279 per month (this is the only plan that includes Service Autopilot's signature automations)
All three plans let you manage unlimited clients, but you can only have one user, which means only one employee can access the software at a time. Additional users cost $29 each per month for office users and $19 each per month for mobile device-only users.
Pros and Cons
Pros
Cons
✓ Automations are great for marketing
🗸 Has a ton of features
🗸 You get lots of help through the onboarding process
🗸 Startup plan is inexpensive
✗ Adding more users and features gets expensive
✗ Not all plans come with automations
✗ Users have had negative experiences with customer service recently
7. Kickserv
Even if you have absolutely no wiggle room in your monthly budget, Kickserv can still provide the organization basics to help your business run more smoothly. It offers a 100% indefinitely free version that includes:
2 users
Digital estimating and invoicing
Customer management
Job management
10 GB of storage for attachments (such as photos and videos)
Mobile app access
Integration with Mailchimp for email marketing
See our in-depth Kickserv review for more details on all the features it offers.
Of course, the point of the free version is to give you a taste of Kickserv's full capabilities in hopes that you'll subscribe to a paid plan to get more features. As the plans get more expensive, they give you more management tools and allow more users, up to unlimited users.
Kickserv is the perfect software to grow with you if you're just starting out in the field service industry. You can start small with the free plan, and as you get more customers and employees, you can simply upgrade your software instead of switching to a whole new program.
For more software options that won't cost you anything, see our list of free FSM software.
Scores
| | |
| --- | --- |
| User experience score | 4 out of 5 |
| Price score | 5 out of 5 |
| Features score | 5 out of 5 |
| Overall score | 4.5 out of 5 |
Cost
Aside from the free version, Kickserv offers five plans for businesses of different sizes. As they increase in price, they also increase in features and user capacity.
Lite: $47/month (billed annually) or $59/month (billed monthly); allows 5 users
Standard: $95/month (billed annually) or $119/month (billed monthly); allows 10 users
Business: $159/month (billed annually) or $199/month (billed monthly); allows 20 users
Premium: $239/month (billed annually) or $299/month (billed monthly); allows unlimited users
Enterprise: Request custom quote; allows unlimited users
Pros and Cons
Pros
Cons
🗸 Free version
🗸 Responsive customer support team
🗸 Easy to customize for your business
✗ No routing or mapping feature
✗ Can be difficult to navigate to different features
How to Choose FSM Software for Your Business
Every field service company is different, which means every company needs something different from its software. We at LawnStarter can't tell you which program would be best for your business, but we can teach you how to find the best program for yourself.
Here are the main things you should think about when you're shopping for new FSM software.
Industry-Specific Software
Generic FSM software – that is, software designed for any industry with field workers who do the bulk of their job away from the office – may not cater to the needs of your specific business. That's why the first thing you should look for is high-quality software tailored to your industry.
Most industry-specific programs are developed by people with hands-on experience in that industry, so they're full of practical tools to make your everyday tasks easier.
Check out LawnStarter's industry-specific recommendations for:
Pricing Structures
When researching the cost of different software options, look beyond the starting price. Get familiar with the company's whole pricing structure to find out how much you'll actually have to pay for the usage you need.
Some examples of pricing structures for software include:
By users: Many software companies charge a certain price per user. A user is anyone who needs access to your business software, whether in the office or in the field. This type of pricing structure is best for small businesses that only need one or two users because you can get a full suite of features for a low price.
By tiers: Some software providers have set tiers or "plans." Each tier comes with certain features and allows a certain number of users. The more features and users included in a tier, the more it will cost you. Tiered pricing structures typically give you a good balance of features and number of users.
By features: In some cases, all of a software's pricing plans include unlimited users, and they only increase in price when you add more features. This pricing structure is best for large companies with 10 or more employees needing access to the software.
By features + additional charges for extra users: This is the trickiest pricing structure that can end up with you paying way more than you expected. It combines the by users and by features structures in this way: Different plans include different features, increasing in cost the more features they have. On top of the base price of each plan, you have to pay an additional fee every month for each user after the first one.
User Capacity
How many employees do you have who will need to use your FSM software? Are you planning to grow and hire more people in the future? These are questions to answer before you choose software.
Some programs limit how many users they can accommodate, while others can accommodate unlimited users, but the price increases astronomically the more people you add. Try to choose software that fits the size of your workforce now and in the future.
Features
FSM software can include countless different features to streamline different workflows. There's no way we could list all the possibilities. But these are the most important features we looked for when rating our top picks in the Features category:
Scheduling
Dispatching
Routing
Route optimization
CRM (Customer Relationship Management)
Employee time tracking (mobile timeclocks, timesheets, etc)
Quotes/estimates
Invoicing
Payment processing
Customer portal
Integrations with other apps
Lead tracking/managing
Automations (automatically sending texts/email notifications to customers)
Real-time GPS tracking
Business analytics reporting
The more features a software program has, the more it will cost. Decide which features would have the biggest impact on your day-to-day field service operations and which ones you could live without, and you'll be able to find an affordable and effective software solution.
FAQ About FSM Software
How much does field service software cost?
Field service software ranges from free to more than $400 per month, but the most common starting cost is between $100 and $200 per month. Anything less than that range could be considered inexpensive, while anything above that range could be considered especially pricey.  
What is field service ERP? 
ERP stands for Enterprise Resource Planning. ERP software manages the business side of your operations, such as accounting, managing work orders, and budget planning. Many field service software solutions include ERP capabilities. 
What is field service CRM?
CRM stands for Customer (or Client) Relationship Management. CRM software manages the people side of your operations, such as storing customer information and communicating with clients. CRM is one of the core features of most field service software. 
How do you optimize field services with software?
Field service software makes you and your team more efficient (the definition of optimization) by storing all your information in one easily accessible and searchable location. With field service software, your office staff and field technicians alike can quickly and easily look up customer history, schedules for everyone on your team, and more. 

Many field service software solutions also make customer service faster and easier. They let your customers request estimates, book services, or pay invoices online with a few clicks. 
Save Time and Money with the Right FSM Software
Ask any field service pro who's made the switch from paper bookkeeping to FSM software, and they'll tell you how much easier and faster it makes everyone's jobs. When you have the right software for your business and know how to use it, it can do the job of several employees – for a lot less money.
Check out our top picks for the best field service management software on the market today (or the many other options out there) and bring your business to the next level.
Main Image by Louiesharpe from Pixabay with text overlay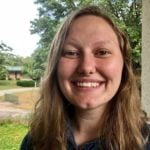 Jordan Ardoin
Jordan Ardoin is a writer, editor, and classical literature student based in Colorado. When she isn't reading or writing, she enjoys goofing off with her cats and spending time in nature.