ServiceM8 is a simple, low-cost business management solution designed for all kinds of trade contractors and home service pros (such as landscaping, pest control, HVAC repair, etc). We tried out the app on desktop and mobile to show you how it works, what it looks like, how much it costs, and more.
What we found: ServiceM8 offers plenty of guidance to help you set up and manage your account, and it includes all the essentials for an affordable price. It's straightforward, and so is its pricing structure.
Thanks to its low price and ease of use, ServiceM8 is one of our top picks for the best field service management software of the year.
Here's everything we'll cover in this review:
ServiceM8 Overview
LawnStarter Rating
5 out of 5
Price Range
$9 – $349 per month
Free Trial?
Yes
Free Version?
No
Pricing Model
Charges by features and number of jobs per month
Made For
Trade contractors and home service pros
Platforms
iOS App
Yes
Android App
No
Desktop
Online software
Features
• Onboarding Help
• Job Management
• Invoicing
• Employee Tracking
• Client Management
• Business Analytics Reporting
• Field App
• Integrations
ServiceM8 Overall Rating: 5 out of 5 Stars
ServiceM8 Key Features
ServiceM8's software package includes a desktop app for administration tasks and an iOS-only mobile app that field workers can access while they're out on job sites. It comes with all the features you need to manage your business, including:
Both the desktop and mobile apps are easy to use, as I found out for myself after taking advantage of the 14-day free trial.
Onboarding Help
If you look at ServiceM8's user reviews, you'll see the number one complaint is a lack of customer service. That's because ServiceM8 only offers online support, and it can take a while to get a response. You can schedule a live phone call with a customer service rep to help you get started, but that offer is only valid for the first seven days after you sign up.
To counteract the lack of live customer service, the app comes preloaded with an Account Setup Wizard and a Getting Started guide to help you open your account and figure out how to use all of ServiceM8's features. I found the onboarding process easy with these aids.
Account Setup Wizard
The first thing you'll do after starting a ServiceM8 account is enter all your company's information, including:
Company name
Website
Contact information
Logo
Invoicing details
Accounting software information (for integration)
Payment methods you accept
As you fill in your information, the Account Setup Wizard explains what you need to input and how the app will use each piece of information – even the stuff that seems simple. It's a dummy-proof process.
The best part about this setup process is that once you put in your company information, you'll never have to again. ServiceM8 will autofill the basics on all of your quotes, invoices, and other customer communications.
Getting Started Guide
After you input your information, the Getting Started guide takes over to illustrate how to use every feature in ServiceM8.
The guide works like a tutorial in a video game: Every time you navigate to a new page in the app, a help menu populates in the bottom left corner of the screen. Click the menu to access step-by-step video instructions relevant to the page you're on. I was able to operate every tab of ServiceM8 successfully with help from the guide (and I'm not the most tech-savvy person).
Job Management
In my opinion, the best thing about ServiceM8 is its job management function. From one page, you can create and schedule a job, convert it to a quote or invoice, and store all information relevant to that job, including a record of communications with the client.
Creating a Job Card
The first step is to create a job card, from which you can manage and keep track of every aspect of a job.
Step 1: To get started, go to the Dispatch Board tab and click New Job in the upper lefthand corner.
Step 2: Fill out basic information such as customer name and address, job description, and the job category (quote, work order, completed, or unsuccessful). You can update the category as the job moves through the stages of development. Each category is color-coded on the calendar.
Scheduling a Job
Once you have the job card filled out, scheduling is easy. Just click the Schedule icon located at the top of the job card. Assign the job to an employee, fill out the date and time of service, and select Save Booking.
As soon as you schedule a job, it automatically appears on the assigned staff member's schedule.
The job also loads into the admin calendar, where you (or your dispatchers) can view all jobs, color-coded by employee.
My favorite part about scheduling a job is that if your field employees have the ServiceM8 mobile app downloaded on their phone or tablet, they'll automatically receive a notification any time a job is added to their schedule.
Convert Job to Quote
From the job card, you can easily convert a job into a quote to send to the client via email or snail mail.
Step 1: Navigate to the Quotes & Invoicing tab on the job card.
Step 2: Add line items to the quote, including materials and labor costs. You can preload your services and products for quick selection, or you can enter each item manually every time you create a quote. If you haven't preloaded them, add the prices of each service.
Step 3: Click Produce Quote. In a few seconds, ServiceM8 will load the quote as a PDF document complete with the costs you added and the company information (including your logo) you added during account setup.
Step 4: Email the PDF to your customer right from ServiceM8 or print it out and send it via snail mail. Either way, the quote PDF will appear as an attachment on the job card from now on under Job Notes so you can find it easily in the future.
Convert Job to Invoice
When your work is done and it's time to get paid, you'll use the job card to create and send your invoice.
Step 1: Change the job category to Completed. When a job is marked completed, it will appear in the Invoicing tab (see Invoicing), and you'll be able to produce an invoice.
Step 2: From there, the process is exactly the same as creating a quote. Go to the Quotes & Invoicing tab. If you previously converted this job to a quote, the line items you added to the job at that time will still be there. You can make adjustments to the prices in case things didn't go quite as planned.
Step 3: Click Produce Invoice. Just like with the quote, ServiceM8 will load the invoice as a PDF that you can email to your customer or print out. This PDF will also be added to the job card under Job Notes.
Invoicing
That brings us to the Invoicing tab, where you can track payment from all your clients. As we already covered, a job automatically moves over to Invoicing when you mark it as Completed.
Invoicing Dashboard
From the Invoicing Dashboard (the first screen you see when you click the Invoicing tab), you can view metrics such as the amount of money you're making each month and which customers owe you ("Debtors").
Tracking Invoices
From the Invoicing Dashboard, you can access four tabs that track invoices through the stages of the payment process:
Awaiting Approval: Shows invoices you haven't double-checked and approved yet

Check the box next to an invoice and click the Approve button at the top of the screen to approve.
Once you approve an invoice, it will load into your accounting software (QuickBooks, Xero, etc) if you have it integrated with your ServiceM8 account.
Awaiting Payment: Shows invoices you've approved but the customer hasn't paid yet

From this tab, you can add cash or credit card payments to an invoice.
Paid: Shows all recently completed invoices

Jobs remain in the Paid tab for two weeks. After that, they're archived.
View archived jobs in the Job History tab.
Employee Tracking
If your employees download the mobile ServiceM8 app to their phone or tablet, you can use the program to track their time and location whenever they're at work.
Clocking In and Out
To clock in and out, field employees will go to the Jobs tab to view their schedule.
Step 1: Tap on the job you're headed to.
Step 2: Tap Start Job. From there, you'll have the option to navigate to the job site using Apple Maps or Google Maps. If you already know where you're going, you can skip navigation.
Step 3: Whether you choose to navigate or not, from this point on, you're clocked in, and ServiceM8 is tracking your hours worked and your location.
Step 4: When you're finished with a job, go to the same screen where you clocked in.
Step 5: Click the red Check Out button.
Step 6: Selected whether the job is Complete or Not Complete.
Step 7: Add notes to the job if there's any additional information you want your team members to be aware of. Anyone who clicks on the job on desktop or mobile in the future will be able to see the notes you leave here.
Step 8: Verify that the billing information on the screen is correct. Tap Finish to complete the job and create the invoice. If you would like to send the invoice straight to Awaiting Payment without an extra round of approval, toggle the switch next to Approve Invoice.
Step 9: Tap Clock Off to end your working hours for the day (or at least for this particular job).
GPS Tracking
While your employees are clocked in to a job, you'll be able to track them via GPS through the desktop version of ServiceM8. On the Dispatch Board tab, click on the staff member you want to track from the Staff Members block in the upper right corner. Select Locate from the drop-down menu that appears, and ServiceM8 will display that employee's exact location on a map.
From the same drop-down menu, you can choose to send an SMS text message directly to that employee's phone.
Client Management
Through the Clients tab in ServiceM8 (available on both desktop and mobile), you can keep an easily searchable database of all your clients. You can store all kinds of details, including their contact information, billing details, job history, and additional notes.
You can add clients to your ServiceM8 database one by one or import them in bulk from a .CSV file (spreadsheet). I didn't test drive the bulk import feature, so I can't say how well it works, but I imagine it would save you a lot of time if you have more than 10 clients to load.
If you somehow end up with duplicate entries of the same client, you can easily clean up your database with the Merge Client feature. Simply check the box next to the two clients you want to merge and select Merge from the Actions dropdown menu at the top of the screen.
Business Analytics Reporting
From ServiceM8's business analytics dashboard, you can view concise data regarding:
Revenue
Jobs completed
Average job value
Quote win rate
First-time fix rate
Returning customer rate
Days to payment (number of days it takes your customers to pay an invoice on average)
Set your dashboard to show data for the past 28 days or the past 7 days.
In addition to the main dashboard, you can use the tabs on the lefthand side of the screen to view breakdowns of your data by month, by category, by status, by client, and more.
Field App
We've already touched on some of the functions of ServiceM8's mobile app, but in addition to what we've already covered, your field workers can use it to access most of the features included in the desktop application.
The mobile app's biggest problem: It's only available on iOS, so you have to have an Apple product (iPhone or iPad) to use it. For a limited time, ServiceM8 is offering to purchase five iPhones for any small business that subscribes to ServiceM8 but doesn't have access to Apple products.
Daily Schedules
The most handy feature of the mobile app for field crews is the ability to keep up with daily schedules on-the-go. Employees can see their upcoming jobs in three different ways:
1. Calendar view:
2. List view:
3. Map view:
Other Functions
Your field crews may never have to venture beyond clocking in and out or viewing their daily schedule in the mobile app. But just in case you need to access company data from the field, you can view and edit other ServiceM8 pages in the app, as well, including:
Invoicing
Clients
Staff
Business Analytics Reports
Integrations
ServiceM8 does a lot on its own, and even if you need additional functions, it can probably integrate with an app that provides them.
You can integrate your ServiceM8 account with dozens of different software programs you may already be using, including but not limited to:
Stripe Payments
Xero
MS Excel
QuickBooks Online
MS Office 365
MailChimp
Deputy
Zapier
Wink Reports
ServiceGuru
Most integrations are available on any ServiceM8 plan at no extra charge, but some ServiceGuru functions will cost you an additional 99 cents – $47.99 per month on top of the base price of your ServiceM8 plan.
ServiceM8 Pricing
ServiceM8 offers five different plans, and all of them allow unlimited users. As the plans increase in price, you get access to more features and the ability to manage more jobs. See the pricing table below for details.
Plan
Cost Per Month
# of Jobs Per Month
Features
Lite
$9
15
• Job cards
• Scheduling
• Quotes and invoicing
• Payment processing
• Job history
Starter
$29
50
• All Lite features
• Progress invoicing
• Recurring jobs
Growing
$79
150
• All Starter features
• Asset management
• Electronic forms
• Inbox
Premium
$149
500
• All Growing features
• Job profitability
• Margin billing
• Knowledge
Premium Plus
$349
1500+
• All Premium features
ServiceM8 is designed to be affordable for small businesses and scale up in price as a company grows, gains more clients, and needs more advanced features.
ServiceM8 User Reviews
User-friendly: "Its interface is simple, fast, and easy to use." – Juan V from g2
Limited reporting options: "The reports are extremely basic and don't really allow you to customize, but you can export it to Excel and sort and work your magic that way." – Emily B from g2
Perfect for startups: "Great software for a startup company or even a large company. I love the fact that when we started out we could easily afford this software, and as we grew, we could level up the software and still afford it." – Jason N from Capterra
Difficult to reach customer support: "I have reached out to understand the features and struggle to communicate with customer service. I just want to pick up the phone and speak to a human. ServiceM8 stop hiding behind email." – Chris G from Capterra
Lack of support resolving glitches: "Zero follow-up or support when reporting glitches." – Danielle A from Capterra
Pros and Cons of ServiceM8
ServiceM8 is inexpensive and easy to use, especially for small businesses and startups. However, when it glitches (as all software occasionally does), there isn't a great customer support network to resolve the issues.
Pros
Cons
✓ Scales up in size and price along with your business
✓ Most features are accessible in mobile
✓ Simple and easy to use
✓All plans allow unlimited users
✓ Lots of integrations
✗ Poor customer service reputation
✗ Mobile app only works on Apple products
✗ Lower tier plans limit the number of jobs you can add each month
Alternatives to ServiceM8
Maybe you don't want to use an iPhone, or maybe a lack of customer service is a dealbreaker for you. For whatever reason, if you don't like the sound of ServiceM8, there are loads of other field service management (FSM) programs you can try. Here are a few to check out:
Jobber: Jobber is affordable and feature-packed, and it has a huge leg up on ServiceM8 in terms of customer service reputation.
Kickserv: Kickserv is highly rated and offers a free version.
ServiceTitan: As a "titan" of the FSM industry, ServiceTitan offers tons of features and great customer support at a high price.
FieldRoutes: Another pricier option, FieldRoutes is well-designed and makes it easier to manage recurring services.
RazorSync: RazorSync is another option that starts out affordable for small businesses and increases in price as you grow. It has an attractive, user-friendly interface.
Service Autopilot: SA has some interesting, unique features, but those features cost a lot of money, and the company's customer service reputation is pretty discouraging.
Our Verdict
ServiceM8 was super easy for me to set up and navigate. It doesn't look too fancy, but it does what you need it to do to manage a field service business. The biggest problem is, if you do run into issues, customer service is unresponsive and unreliable.
Main Image from Canva Pro with text overlay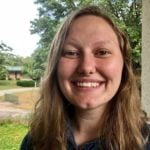 Jordan Ardoin
Jordan Ardoin is a writer, editor, and classical literature student based in Colorado. When she isn't reading or writing, she enjoys goofing off with her cats and spending time in nature.