Reintroduce your home to the neighborhood and elevate its curb appeal with these landscaping ideas for a small front yard. From border plants to flower beds and everything in between, we've got the inspiration you need to launch your next DIY project.
1. Update Your Entryway
Put in a brick walkway, a decorative gate, planters, and small trees to frame your house. Design elements, such as water and fire, are also dynamic features.
In a recent interview with Architectural Digest about landscaping for small spaces, David Godshall, of the Los Angeles- and San Francisco-based design firm Terremoto, noted, "The sound of water can reduce the psychological proximity of urban street noise. A fire pit [can produce] warmth and visual interest and can really activate a garden at night."
2. Select the Right Trees
Choose a tree that isn't too large for your small front yard — trees that mature at a height of 15 to 20 feet are recommended by the University of New Hampshire extension. Great options include Eastern redbuds, star magnolias, and dogwoods.
3. Make it No-Mow
Why worry about having to cut, trim, and edge a small section of grass when you can transform your yard into a super low-maintenance locale using ground covers, stepping stone paths, mulched areas, and plants. Candytuft, hosta, creeping phlox, and liriope add curb appeal, and mulching this cover with organic materials, such as colored wood and pine bark mulch will enrich the soil.
4. Play Up the Perimeter
A quick way to punch up the look of your small front yard is to cultivate a border of colorful flowers along the base of your foundation. Plant the blossoms directly into the soil, or use individual potted plants to create a different effect. For added texture, mix large and small rocks into the garden design.
5. Create a Border
Using a mix of evergreen, deciduous, and coniferous shrubs — think boxwoods, azaleas, and dwarf pines — line your driveway or front walk. Experts suggest grouping shrubs in odd numbers for balance. Bordering with pavers of a different texture can also increase the element of elegance.
6. Promote Individuality
While your overall landscape design should fit in with your community, there should be an expression of personal style, as well. If you're a bike enthusiast, repurpose an old cycle as a lawn accent piece. Other ideas include a wishing well, metal sculptures, or a gazebo.
7. Bring on the Seating
Whether it's off to the side of your yard or made a part of an extended front walk, a small seating area can add a welcoming vibe, as well as level up your lawn's charm. Choose furniture that doesn't overwhelm the space, and add in a fire pit for enjoyment year-round.
8. Embrace Privacy
"On small lots, it has become increasingly popular to screen the front yard with fencing, shrubs, or vertical plantings," according to horticulturists at the University of Kentucky. Go with a traditional white, picket fence, or warm things up with the sleekness of a modern-styled, wood-colored option. Metal partitions can also step up a yard's presentation.
You don't have to tackle these projects all on your own. Call in help from your local landscaping pros, and they'll survey your property to develop a custom plan that incorporates your goals.
Main Photo: Binyamin Mellish / Pexels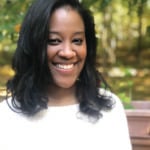 Andréa Butler
Descendant of the Fulani tribe, Gettysburg-obsessed Marine Corps brat, and lover of all things writing and editing, Andréa Butler launched Sesi magazine and has penned articles for sites, such as LivingSocial, Talbot Digital, Xickle, Culturs magazine, and Rachel Ray. Andréa holds a B.A. in English from the University of North Carolina at Greensboro and an M.A. in magazine journalism from Kent State University.