What you do in your yard is none of the neighbors' business, and it's none of our business either. We're just here to give you ideas for how you can landscape for privacy so you can wear your polka-dot pajamas outside whenever you like.
Interested in a living, green barrier? We've got plenty of plant options. Worried about the nosy neighbors with an aerial view from the second floor? We've got you covered there, too.
These 15 landscaping ideas for privacy designs will help keep out unwanted visitors, block the view of your neighbor's ugly compost pile, and free you and your pajamas from the piercing eyes of judgment.
15 Landscaping Privacy Ideas
1. Wood lattice fence
A wood lattice fence around the yard lets you get creative with the level of privacy you want. This flexible landscape design helps keep the kids and pets safe in the yard while also allowing you to share a friendly hello with the neighbors.
But if you'd prefer more privacy from lookers through the lattice work, consider hanging potted plants along the fence or adding greenery wrapping around fence posts and beams with ivy, climbing roses, or hydrangeas.
These plant solutions can add gorgeous texture and color to the fence while also offering an extra dose of privacy.
2. Vines
Vines add a classical, beautiful atmosphere to your yard while also providing privacy. Nothing says charm and elegance while drinking your morning coffee surrounded by green vines and wearing your favorite slippers.
These plants will make such an excellent thick cover around your fence or wall that your gossipy neighbors will struggle to see (and hear) any drama going on in your yard.
Vines like Boston ivy and creeping fig are grown on freeway overpasses to block out traffic noise, so covering your wall or fence's surface with vines will likely help absorb sounds coming from your yard.
3. Roof
A privacy roof is a perfect solution to blocking the view of those neighbors living on the upper floors. A roof outdoors can serve as more than just a sky fence. It provides shade on those hot summer days and can be a great aesthetic complement to your outdoor living space.
Consider hanging decorative lights or petunias for a cozy evening outdoors.
4. Privacy hedges
If you prefer a natural look for your lawn, then a living barrier may be just what you need. Hedge barriers are excellent at absorbing noise, blocking wind, reducing dust, and encouraging wildlife to call your lawn home.
A well-maintained hedge can invite birds and small animals while also protecting them from getting trapped in the lawn by a non-living barrier, like a fence.
A clipped hedge with an eye-catching design can turn any yard into a charming space.
Before calling your local landscaper to have them plant your new barrier, note if the chosen hedge will lose its foliage during the year. A deciduous hedge will lose its leaves each fall, though it still will provide some privacy.
An evergreen, however, will provide year-round privacy, even during your snowball fights.
5. Privacy fence
A solid fence can offer privacy solutions for homeowners with small spaces who can't afford to lose space to overgrowing barriers like privacy hedges or vines.
While fences may have a less natural look, this can easily be remedied with a few shrubs and flowers planted along the sides to spruce up your yard.
Wood is a popular material for privacy fences because it adds a more natural look to the lawn and can be painted or stained to match your style and taste.
Fences are also low maintenance compared to a living plant barrier, which needs routine watering, trimming, and fertilization.
6. Curtains
Hanging curtains around your pergola, porch, gazebo, or back deck can add shade and intimacy to your outdoor living space. Have you been attempting a romantic dinner outside, but the neighbors keep interrupting to share how "adorable" you two are? Time to turn date night into your night and make it a private event. Draw the shades.
7. Tall plants
If you're happy to have butterflies and hummingbirds stopping for a visit, then tall plants, large bushes, and small trees can make a great barrier between you and the neighbors.
A gorgeous barrier of tall sunflowers, ornamental grasses, and stunning hydrangea bushes will give you a gorgeous view of something other than your neighbor's trash cans.
8. Trees
While serving as privacy and sound barriers, trees also can provide plenty of fun landscaping opportunities. Why not make a tree stand out from the lawn with a gorgeous retaining wall or beautiful flower beds?
Trees also can be the perfect spot to build a hammock, place a bench under the leaves, or grow a shade garden. This living barrier also helps to promote clean air and control pollution.
According to the Arbor Day Foundation, a mature tree will absorb more than 48 pounds of carbon dioxide from the atmosphere per year.
Even better? Trees can add significant value to your landscape and the resale value of your home. Trees are a wise investment, if you don't mind raking leaves in the fall.
9. Gate
Even when you're having an intimate conversation with a friend, Mr. Nosy Neighbor has no problem interrupting and asking why your lights were on at 2 a.m. A gate can be the perfect privacy solution for those neighbors walking onto your lawn without an invitation.
Gates offer flexibility, enabling you to open or lock your entrance any time you choose.
10. Retaining wall
A retaining wall can create a stylish enclosure. Consider topping off your retaining wall with raised flower beds, complimenting its stones with an elegant water fountain, or building it around your living space.
A retaining wall is a low-maintenance barrier that also can offer excellent erosion control on hilly terrain.
11. Shelved barrier
If you're going to put up a barrier, why not make use of its walls? Give your fence or wall some shelves to spruce things up.
Add flower pots, gnomes, or other small ornaments to the stands to give your yard some personality and charm.
12. Raised flower beds
Raised flower beds can be the perfect compliment to privacy panels. Why not do your gardening and get the privacy you need with this multi-use landscape design?
This creative design makes excellent use of limited space where you can't have room for a separate garden and an enclosing barrier.
13. Add a water feature
Turn your blasé barrier into a visual interest with a sleek, modern water feature design. Perhaps a wall with a fountain mounted in the center as a focal point.
Not only will you add the comforting feeling of privacy to your yard, but you'll also experience an atmosphere of tranquility and calm.
14. Privacy screen
If you're not looking for an enclosure that surrounds your yard's perimeter, a privacy screen can be an excellent solution.
Typically made of horizontal slats, a privacy screen stands near the living space you wish to remain private, such as a pool or small dining area.
Privacy screens can either surround your private living space or simply be installed as a single panel that provides some separation between you and the neighbors.
15. Trellis
A trellis is among the best ways to provide privacy for a designated space rather than enclosing the entire yard. Similar to a wood lattice fence, a trellis can support self-climbing plants.
A trellis adds charm and elegance to the yard and creates a gorgeous wall around your private living spaces. Nothing makes an outdoor evening dinner more romantic than a privacy wall of climbing red roses.
FAQ About Landscaping for Privacy
1. Is building a privacy barrier considered 'rude'?
Fence etiquette is not uncommon in some neighborhoods. A privacy barrier can sometimes cause neighbors to assume an unfriendly or unwelcoming statement. But privacy barriers do not always mean "keep out."
Privacy barriers serve many purposes and are a great way to keep kids close to the home, ensure your dog doesn't ruin the neighbor's flower beds, and to add an extra layer of caution against intruders.
2. How tall can my barrier be?
Check your local building codes or homeowners association (HOA) to determine the legal maximum height of your barrier. Each city has its own fencing height regulations.
Standard measurements for backyard fences are typically between 6 to 8 feet tall, but the height varies depending on your city's laws and the type of barrier you are building.
When to call a landscaping professional
If you're struggling to implement your landscaping ideas because of a small yard, a professional can help make the most of limited space with expert hardscape and landscape designs.
Call a professional landscaper near you to discuss cost estimates, design ideas, and the installation process.
Need landscaping for privacy on a budget? Many landscape designers market themselves as budget-friendly and work closely with clients to design within budget.
How to block those prying eyes
Whether you prefer a natural hedge barrier that blends in with the environment or a customized stone retaining wall, a privacy barrier can add aesthetic value to your yard and match your style.
Privacy is as important in the yard as it is inside the home. A neighbor's prying eyes shouldn't ruin a romantic outdoor dinner, and a neighbor's unsightly tanning shouldn't disturb your view.
And if the neighbors still try to spot you in your polka-dot pajamas? Well, then you may need more than a tall fence.
Main image credit: George Hodan, Needpix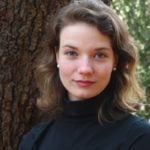 Jane Purnell
Jane Purnell is a freelance writer and actor in New York City. She earned her B.A. from the University of Virginia and enjoys a warm cup of French press coffee.