Wouldn't it be amazing if you had a beautiful yard that looks like you've spent countless hours in the Houston humidity pruning and caring for it — even though you hadn't?
You can. Houston is rich with low-maintenance possibilities for plants, groundcover, ornamentals, and more, that require little work, yet give your yard great curb appeal. Today we will look at some low-maintenance landscaping ideas that you can easily incorporate.
Low-Maintenance Ideas for the Front Yard
What if you could create a space worthy of the coveted yard-of-the-month award with a low-maintenance landscape design? Whether you live in the heart of the city, or one of the outlying suburbs such as Spring, the Woodlands, Katy, or Pearland, these low-maintenance plants and landscape ideas will add stress-free beauty and curb appeal to your front yard.
Texas Lantana
Texas lantana (pictured above) is a beautiful and vibrant native flower that thrives in Houston. It requires little water and can even be used as a ground cover in poor soil. This is a great low-maintenance plant that will keep your yard colorful long after other flowers have wilted in heat of summer.
False Aloe
False aloe is a perennial plant that is part of the agave family. It's not only an attractive addition to your front yard flower bed, its low maintenance, drought-resistant and makes a great addition to rock gardens and xeriscaping projects.
Black-Eyed Susan
Black-eyed Susan is a perennial flower that is sometimes called either brown Betty or brown-eyed Susan. It produces beautiful yellow and black daisy flowers and it's deer resistant. So if you live in places such as Kingwood or near one of the many Houston golf courses, this is a great low-maintenance plant to help keep the deer away.
Backyard Low-Maintenance Landscape Ideas
Where front yard landscaping is mostly about curb appeal, backyards are an extension of your living space. These next low-maintenance landscape ideas can help you enjoy your backyard space without breaking your back.
Hardscapes
One of the easiest ways to maintain your backyard is to incorporate hardscapes into your Houston landscape design. Patios, sidewalks, and poolside decks do not need any pruning or watering – just a regular broom and occasional pressure-washing to keep them in tiptop shape throughout the year.
Evergreens
Another great addition to your backyard is evergreen shrubs. Evergreen shrubs not only add beauty and dimension to your backyard, but they also are easy to maintain, and they can help shade and protect your home. Dwarf pittosporum is a great low growing shrub that can also serve as a border. Central Texas sage is another great option. It's attractive and it loves full sun.
Water Feature
Another easy and low-maintenance way to enhance your backyard is by incorporating a water feature in your yard. Water features are easy to clean, soothing, and they can even add to the value of your home.
Small Trees
One of the problems with flowers and other delicate plants in the backyard is that they can easily be trampled on. If you have kids or pets, then small, flowering trees have a much better chance of survival in your backyard than some plants – even the low-maintenance ones. Some beautiful and easy trees to incorporate include sweet acacia and Russian olive.
Ideas for Small Spaces
A growing trend in Houston, and especially inside the Loop, are very large homes with very small yards. With real estate at a premium, many of these homeowners have just a small patio space. To keep this already low-maintenance area pretty and easy to care for, here are some landscape ideas.
Succulents
Succulents come in many shapes, sizes, and textures. They can grow in containers, flowerbeds, or even incorporated into groundcover. A few succulents that do very well in the Texas climate include paddle plant and aeoniums.
Vertical Gardens
Vertical gardens can be easy or difficult depending on how you build them. For the purpose of low-maintenance landscaping, incorporate plants such as ferns, begonias, and hostas into the design. Vines, including ivy and philodendrons, also do well.
Additional Ideas for a Low-Maintenance Landscape
While these are a few ways you can make your yard pretty yet easy to maintain, there are so many more. Rubber mulch, smart lighting, and even artificial turf can also help to transform your Houston lawn. If you prefer a more natural look, but want to stay low-maintenance, look for Texas native plants that are drought-resistant and have a history here in Houston. If you aren't sure where to look, ask a landscaper or visit a local nursery that specializes in native plants.
Main photo: Texas lantana (Lantana urticoides), Clinton and Bill Roberts, CC 2.0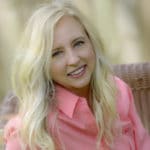 Jennifer Lester
Jennifer Lester is a freelance writer and social media strategist who covers a variety of home and garden topics. She's a graduate of Texas A&M University and the proud mom of three boys. In her spare time, she volunteers in her community and her children's schools.