Houston, we have a problem. The problem is boring landscapes. Does your yard look the same as all the others in your neighborhood? You can transform your southeast Texas yard into a tropical oasis with these tips and ideas on how to landscape with palm trees in Houston.
Tree care and more at the click of a button
With LawnStarter
Challenges of Planting Palm Trees in Houston
Planting palm trees in southeast Texas can be a struggle for two reasons: the climate and the soil.
Houston is in USDA Hardiness Zone 9a, which means temperatures can drop to around 20 degrees in the winter. That's simply too cold for most palm trees to survive. You have options, though. There are several cold-hardy species of palms that grow well in the Houston area.
Aside from cold winters, southeast Texas also has a lot of clay soil, which retains water. Palms prefer sandy soil that drains quickly. Planting palm trees in unaugmented clay soil can drown their roots and quickly kill them. If you have heavy clay soil in your yard, you'll want to add sand for these tropical plants.
Despite the obstacles, palm trees can thrive in Houston. In fact, Texas has two native palm trees that grow in the wild, the Mexican palmetto (Sabal mexicana) and the dwarf palmetto (Sabal minor).
If palms can grow in the Texan wilderness, they can grow in your yard, too. Here are five ideas on how to enhance your landscape with palm trees.
How to Landscape With Palm Trees in Houston
1. Plant Drought-Tolerant Palms Beside Succulents
Succulents are a staple of Southwestern gardening. They love full sun, and they're drought-tolerant, making them perfect for Houston's climate. Some palm trees are the same way.
Planting drought-tolerant palm trees and succulents together in your landscape creates an incredibly low-maintenance garden that's visually stunning. The hard spines of succulents contrast the feathery texture of palm fronds.
With this landscape design, your yard will still be unmistakably Texan, with just a touch of that tropical landscaping feel.
Houston-friendly drought-tolerant palms to plant beside succulents:
Mexican palmetto (Sabal mexicana)

Canary Island date palm (Phoenix canariensis)

Guadalupe palm (Brahea edulis)

Chestnut dioon (Dioon edule) (This one is technically not a palm but a cycad.)
2. Keep Small Palm Trees in Indoor/Outdoor Pots
Planting your small palm trees in containers gives you more flexibility when it comes to cold hardiness. Just bring your palm trees inside and keep them as houseplants during the winter.
There are lots of options for potted palm trees. You could choose a smaller variety or a slow grower, which can grow large but only after many years.
Potted palm trees are great for gardens of all sizes, even if you live in an urban area and don't have a yard. You can arrange your container garden around your stoop or on your rooftop.
Houston-friendly small palms for indoor/outdoor pots:
Pygmy date palm (Phoenix roebelenii)

Fishtail palm (Caryota mitis)

Lady palm (Rhapis excelsa)

Kentia palm (Howea forsteriana)
Get the best tree care service at an affordable price
With LawnStarter
3. Spruce up Your Flower Bed With a Small Palm Tree
Everyone loves a classic flower bed with colorful blooms, manicured shrubs, mulch, and maybe some decorative statues. Adding a small palm tree as a focal point can take your flower bed to the next level.
Palm trees make a perfect centerpiece because their fronds arch in every direction. Plant a vibrant rainbow of flowers around the palm to make it really pop. The eastern purple coneflower, Texas lantana, and Gulf Coast muhly grass are all colorful native Houston plants that would look great surrounding your palm tree.
Houston-friendly small palms for flower beds:
Sago palm (Cycas revoluta) (This one is also a cycad.)

Mazari palm (Nannorrhops ritchiana)

Blue Mediterranean fan palm (Chamaerops humilis var. cerifera)

McCurtain dwarf palmetto (a cultivar of Sabal minor)
4. Make a Privacy Hedge out of Clumping Palm Trees
If you need a little privacy in your front or backyard but don't like the look of a traditional fence, a privacy hedge might be for you. Clumping species of palm trees, which grow a thick layer of fronds, can create a natural privacy screen (aka living fence).
A palm tree privacy hedge is also an easy solution if you want some separation between your swimming pool area and the rest of your yard. Palms are good poolside plants because they don't shed much at all and have non-invasive roots that won't damage underground plumbing.
Houston-friendly palms for privacy:
European fan palm (Chamaerops humilis)

Mexican blue fan palm (Brahea armata)

Needle palm (Rhapidophyllum hystrix)

Emerald Island giant dwarf palmetto (a cultivar of Sabal minor)
5. Frame an Entryway With Two Tall Palm Trees
You can use this bold look to accentuate your front door, the entrance to your driveway, or an outdoor living space. Palm trees create a natural archway with their sprawling fronds that's sure to make your home look more exotic and inviting.
Tall palm trees work best for this look because they create more drama, but not all tall palms will grow in Houston. Remember, you're looking for cold-hardy varieties that can survive winter in zone 9. These types of palms typically grow 10-20 feet instead of the towering 50+ feet you might see in South Florida.
Houston-friendly palms to frame an entryway:
Sabal palm (Sabal palmetto)

Pindo palm (Butia capitata)

Windmill palm (Trachycarpus fortunei)

Chinese fan palm (Livistona chinensis)
Best Palm Trees for Houston, Texas
If you're worried that palm trees in Texas can't stand up to below-freezing winter temperatures, here are a few of the best cold-hardy palm trees for Houston:
Cabbage palmetto (Sabal palmetto): This part-shade, slow-growing palm is cold hardy below 20 degrees. The cabbage palmetto commonly grows up to 30-40 feet but may grow up to 100 feet in some cases.

Dwarf palmetto (Sabal minor): A Houston native palm that grows from 5-6 feet tall and 4-6 feet wide and can withstand Houston's cold winters. The mature purple fall fruits are a favorite of local wildlife.

European fan palm (Chamaerops humilis): Also known as the Mediterranean fan palm, this is a slow-growing palm with fan-shaped leaves. A good fit for a smaller yard. Usually grows from 8-12 feet tall. Hardy to below 20 degrees.
Mexican fan palm (Washingtonia robusta): If you're interested in a tall, majestic palm for your Houston landscape, Mexican fan palms grow from 50-100 feet tall and tolerate Houston's below-freezing winter temperatures.

Needle palm (Rhapidophyllum hystrix): One of the most cold-hardy palms in Texas, the needle palm is a slow-growing plant that is good for small spaces. Needle palms grow from 6 to 8 feet tall and are becoming more popular in the nursery trade as homeowners become interested in palms that tolerate the cold.

Pindo Palm (Butia capitata): A full-sun feather palm that grows up to 20 feet tall and about 15 feet wide. The pindo palm is hardy to below 20 degrees.

Sago palm (Cycas revoluta): Not a true palm, the sago palm is a common cycad in Texas. Its feathery leaves resemble those of true palms, though, and it prefers partial shade in the landscape. The sago palm is a smaller plant, growing from 3-10 feet tall and wide.
Caution: Avoid if you have pets or young children. The sago palm is highly poisonous and may result in permanent damage or death if any part of the plant is ingested.
Windmill palm (Trachycarpus fortunei): A single-trunked palm with matted fibers covering the trunk. Fan-shaped leaves that may tear in strong winds. Grows to about 10 feet tall in the home landscape. The windmill palm is a popular palm plant in home and commercial landscaping. Hardy down to zone 7a (0 degrees Fahrenheit).
Source: Texas A&M
FAQ about Landscaping with Palm Trees in Houston
When to Hire a Landscaping Professional
Many local Houston nurseries carry types of palm trees that could never survive the winter here. It can be tricky to find the right species on your own. A professional landscaper can make sure you get a palm tree for your landscape that will last longer than one season.
A professional can also help you design a more personalized landscape. If you have certain features you would like to incorporate along with your palm trees, a landscaping pro can figure out the best way to do it.
You might not live in the tropics, but that doesn't mean your landscaping can't have a tropical feel. With these design ideas, you can fill your Houston landscape with palm trees, the classic symbol of a tropical vacation.
Order top-notch tree care service with easy online booking
With LawnStarter
Main Image Credit: Pixy.org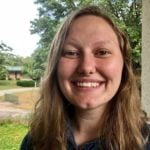 Jordan Ardoin
Jordan Ardoin is a writer and editor with a passion for sustainable, earth-friendly gardening and lawn care practices. When she isn't sharing her knowledge about lawn care and landscaping, you can find her curled up with a good book and a cat in her lap.