When it's 95 degrees outside and you can actually feel the humidity in the air clinging to your skin, the last thing you want to do is go out and work in the lawn or garden. But this is Orlando! In a hopping tourist town, you've got to dress to impress (both yourself and your landscape).
The good news is you don't have to sacrifice beauty for convenience. You can have a gorgeous landscape that boosts your home's curb appeal without breaking your back (or leaving your air-conditioned living room).
These 12 low-maintenance landscaping ideas for Orlando will have your friends and neighbors asking how your yard looks so good when they never see you working in it anymore.
12 Steps to a Low-Maintenance Orlando Landscape
1. Hello, hardscapes!
A hardscape is any landscape feature that isn't a plant. Retaining walls, stone pathways, and outdoor living spaces such as patios and decks are all examples of hardscapes.
The great thing about these features is they don't require any maintenance, and they fill empty space that would otherwise contain grass and other plants you would have to take care of.
Installing a hardscape is a simple, one-time job that looks great and even increases property value. Outdoor living spaces are especially valuable and useful in Orlando, where it almost never gets too cold to spend time outside, even deep into winter.
Pro Tip: Though it might seem like extra work in the meantime, you'll want to lay a solid foundation for paver or flagstone features. You'll save time and money in the long run by preventing issues like shifting or breakage.
2. Mulch ado about nothing
Mulch doesn't just look pretty. It also prevents weeds and helps your plants get the moisture they need, creating a well-kept garden bed with much less work on your part.
You can use organic mulch, such as wood chips, that will eventually break down and add nutrients to the soil, but you'll have to replace it every spring. Alternatively, you could use an inorganic mulch like rocks or rubber that will never need replacing.
For even stronger protection against weeds and even less maintenance, consider laying landscape fabric or another weed barrier alternative under your mulch. Some landscape fabrics can effectively smother weeds for several years without any upkeep.
3. Go native
If you're looking for low-maintenance landscape plants, think local. Native plants that grow naturally in Orlando's climate will require less watering, fertilizing, and pest control. Essentially, native plants can fend for themselves without much help from you.
Orlando has many beautiful, easy-to-grow native trees, shrubs, and flowers, including the sabal palm (pictured), azaleas, and violets.
Pro Tip: Native grasses will require less work, too. Some of the best grass types for a low-maintenance lawn in Orlando are bahiagrass, Zoysia grass, and centipedegrass.
4. Get into ground cover
Most Orlando homeowners will agree that mowing the lawn is the most annoying yard chore. Mowing requires hard labor and, even worse, in the middle of the summer temperatures can reach 100+.
If you're sick of mowing, consider replacing traditional grass with a ground cover plant. Ground covers can give you a lush, healthy lawn without all the hassle. Stunning ground cover plants that do well in Orlando's USDA hardiness zone include English ivy (pictured), periwinkle, and creeping phlox.
5. Put the art in artificial grass
If a ground cover lawn alternative is still too much work for you, artificial grass might be your solution. While ground cover plants still need sunlight and some water to survive, artificial grass is literally maintenance-free. Simply install it (or have a professional install it for you), and you're done.
Though artificial grass can get quite expensive, it can be worth it for the lawn mower-less future it presents. It's an especially good option for homes with children and pets who constantly crash through your yard like a hurricane, destroying every blade of grass in their path.
6. Xeriscaping marks the spot
Xeriscaping looks like a big, scary word, but it's actually quite simple. A xeriscape is a water-wise garden that uses drought-tolerant plants and hardscapes to reduce water use. With xeriscaping, your yard will look good year-round with no watering from you.
This gardening practice is more common in areas that suffer from drought (Orlando can't relate), but adhering to water restrictions isn't all xeriscaping is good for. Xeriscapes are extremely low-maintenance, and they can save you big bucks on your water bill.
Succulents and drought-tolerant native plants such as black-eyed Susans or Fakahatchee grass do well in xeriscaped garden beds.
7. Contain yourself
A container garden, in which you arrange potted plants in your yard, is easier to care for than a traditional flower bed. You can plant a container garden without any digging or hard labor.
You'll also find it easier to protect potted plants from weeds and pests than plants in the ground. Not to mention it's much easier to replace a potted plant if the old one dies or you simply want a seasonal change of color.
Container gardens are a great landscaping option for people with limited mobility, such as seniors or people with disabilities. They won't have to get on their knees in the dirt to care for these plants.
8. Rain, rain, go away (into a rain garden)
While a rain garden does require some effort to build, you can basically forget about it once it's established, making it a perfect low-maintenance landscaping solution.
A properly placed rain garden will collect your property's stormwater runoff and therefore won't need additional watering from you to thrive.
Because rain gardens reduce flooding and help control erosion, they also can save you from the hassle of dealing with larger landscape issues in the future.
9. Pretty in perennials
Perennial plants are a one-and-done solution for adding colorful flowers to your garden. Unlike annuals, perennials come back year after year on their own. All you have to do is plant them and make sure they get the proper water and sunlight, and you'll have a reliable landscape plant for years to come.
Orlando has many low-maintenance native perennials, including Florida's state wildflower, tickseed (pictured), blanket flower, and blazing star.
10. Forever and evergreen
Evergreen plants come in all shapes and sizes, from towering trees to hedge-friendly shrubs to low-growing ground covers.
No matter what evergreen plants you choose for your low-maintenance landscape, you can rest assured that — and rest easy because — they'll look their best year-round, since they don't shed leaves.
If you're looking for shade or specimen trees that won't require cleanup come fall, there are many Florida native species of evergreen trees that could be perfect for you. Palm trees, for example, are low-maintenance and diverse.
11. The irrigation sensation that's sprinkling the nation
Even if you don't have a water-wise landscape, you won't ever have to worry about watering your lawn or garden if you install an automatic irrigation system. All you'll need to do is set a timer, and your sprinklers will take care of watering your landscape for you.
Having sprinklers installed can be expensive, and regular use will drive up your water bill, but they'll save you hours of work in the garden and increase your home's property value.
12. Rock 'n roll
Instead of a flower bed or other traditional garden, consider a rock garden for your low-maintenance landscape. The focal point of a rock garden is not plants but (you guessed it) rocks, stones, and boulders of different shapes and sizes.
You can design your rock garden in any style that suits your home. The best part is you don't have to water, fertilize, weed, or prune rocks.
You can include plants in your rock garden as accent pieces, but these will still require far less effort to maintain than a full-on garden bed filled with shrubs and flowers.
FAQ about low-maintenance landscaping in Orlando
What maintenance does a landscape need?
A typical Orlando landscape requires lawn mowing, watering grasses and plants, weeding, fertilizing, pruning trees and shrubs, preventing pests, and removing leaves and other debris.
The low-maintenance landscaping ideas detailed above can cross some of these tasks off your list.
What is a good budget for landscaping in Orlando?
Ideally, you should spend 5% to 10% of your home's value on landscaping. Since the average value of a home in Orlando is about $270,000, a good landscaping budget for here would be about $13,500 to $27,000. (Keep in mind these numbers include all landscaping costs, from materials to installation).
When to call a landscaping professional
If you're just getting started with your low-maintenance landscaping plans, a professional landscaper in Orlando can help you come up with a beautiful design that suits your home, your needs, and the level of effort you're willing to put into your yard.
Alternatively, you could create whatever landscape you want and hire a regular landscaping service to maintain it for you. You'll still have a low-maintenance landscape (as far as you're concerned, anyway), but without limitations on plant types and design options.
However you choose to construct your landscape, remember that the less maintenance your yard needs, the more free time you'll have to enjoy it.
Main Photo Credit: Pixabay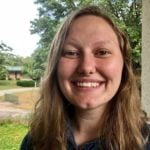 Jordan Ardoin
Jordan Ardoin is a writer, editor, and classical literature student based in Colorado. When she isn't reading or writing, she enjoys goofing off with her cats and spending time in nature.