Life in a world-famous paradise like Miami should be a year-round vacation. For you, that might mean working on your tan at the beach or simply sleeping in on the weekends. However you choose to spend your blissful days, one thing's for sure: You don't want to toil in the yard for hours in the middle of a sweltering Miami summer (or spring … or fall … or even winter).
That's where low-maintenance landscaping comes in. There are many ways to design a landscape that packs a maximum visual punch with minimal effort.
With these 12 low-maintenance landscape ideas, you can have a paradise-worthy yard without working your grass off for it.
12 Low-Maintenance Landscaping Ideas for Miami Yards
1. Natives are necessary
Native plants are greenery that grows naturally in Miami and therefore won't need much help to thrive in your landscape. Native shrubs, trees, flowers, and other plants will save you time and money on watering, fertilizing, and pest control. They're definitely the best option for a low-maintenance landscape.
Since Miami is one of very few cities in the United States in USDA Hardiness Zone 10b (meaning the lowest temperature in winter is 35-40 degrees), it's home to tons of rare native plants you won't see anywhere else in the country. Some of these exotic beauties include the Bahama cassia shrub (pictured), the gumbo-limbo tree, and the wild coffee plant.
2. Perfectly perennial
Plant colorful flowering perennials once, and you'll have a vibrant garden for years to come. Perennials are plants that come back every year on their own, so you won't need to plant new flowers every spring like you would with annuals.
Perennials come in a diverse range of colors, shapes, and sizes, so you should be able to find the perfect plants for your garden, no matter the style. Blanket flower, passion flower, and Elliott's aster (pictured) are some of the prettiest native Miami perennials.
3. Lean, mean evergreens
When fall (or South Florida's version of fall) rolls around, you won't have to worry about raking or leaf blowing if you plant evergreen trees. Evergreens retain their leaves year-round, so they don't require any cleanup, and they look good in your landscape even in the dead of winter.
You can also use evergreen shrubs for a long-lasting, low-maintenance hedge and evergreen ground covers to keep your garden beds looking neat throughout the year.
The most popular evergreens for South Florida are, of course, palm trees, including the sabal palm, Florida's state tree (pictured above). Other Miami native evergreen plants include marlberry shrubs, buttonwood trees, and seagrape.
4. Rain it in
With a rain garden, you can say goodbye to your stormwater runoff and erosion control problems. You also can say goodbye to manual watering. As the name suggests, a rain garden collects rainwater and doesn't need you to water it.
Though rain gardens can be a hassle to build, they're low-maintenance once established. You should use native plants that are both drought-tolerant and flood-tolerant in your rain garden. Miami natives that would work well include swamp mallow, fakahatchee grass, and firebush.
5. No-brainer container gardens
If you want a botanical pop of color in your yard but don't have the time or green thumb it takes to grow a full garden, consider an easier route: container gardens. A container garden consists of plants in pots, planter boxes, or other containers.
Potted plants will be easier to care for than plants in the ground, especially for people with limited mobility. Potted plants are also easier to replace if one dies or if you want to display different plants for different seasons.
6. Xeriscaped crusader
You can help save the world with xeriscaping, a method of landscaping that uses drought-tolerant plants and hardscapes to conserve water.
Xeriscaping isn't only good for the environment. It's also good for your wallet and your schedule, since it can drastically reduce your water bill and your landscape won't need regular watering like a traditional yard would.
Though xeriscaping is more common in desert climates where water is scarce, it can look great and function well in your Miami landscape. Succulent gardens are a popular plant choice for xeriscapes, and drought-tolerant Florida natives such as beach sunflowers can work well, too.
7. Cover more ground with ground cover
Are you sick of pushing a heavy lawn mower in the middle of summer when the Miami heat (no, not the basketball team) is at its most unbearable? Think outside the box and replace your grass with a ground cover that won't need mowing.
With ground cover, you won't have to worry about lawn care anymore. Bonus: Many ground cover plants are pest-resistant, too.
You could go with a less showy plant like the mondo grass pictured above for a traditional-looking yard or wow your neighborhood with a colorful flowering ground cover such as ice plant or creeping phlox.
8. Artificial isn't all bad
Artificial grass is a lawn alternative that needs even less maintenance than a ground cover. In fact, it's maintenance free. You'll never have to cut artificial grass, it will never attract pests, and your pets and little ones can trample it to their hearts' content without destroying it.
Artificial grass is truly the most low-maintenance lawn you could ask for.
Of course, convenience comes at a price. Artificial grass is expensive to install, so it isn't an option for everyone, but it can save you hours of yard work in the future if you've got the budget for it.
9. Mulch obliged
Mulch is one of the best, easiest, and cheapest ways to make your landscape more low-maintenance.
Installing mulch in your flower beds will prevent weeds, so you won't spend hours on your knees digging unwanted, invasive plants out of your garden. It can also help your plants get the water they need and add nutrients to the soil as it breaks down (if you use organic mulch).
You have lots of options for mulch in your yard depending on what landscaping style and function you're going for. Organic mulches such as bark or wood chips are good for your soil, but you'll have to replace them every spring. Inorganic mulch such as rocks or rubber will usually last for years but won't benefit your soil.
You also can install landscape fabric under your mulch to smother weeds more effectively and keep your garden looking neat for a longer period of time. Traditional landscape fabric does have some drawbacks, though, so you may want to consider using an alternative weed barrier.
10. Rock the boat
Throw convention to the wind and create a garden that uses maintenance-free rocks, stones, and boulders as its main focus instead of plants. That's right: a rock garden.
Rock gardens are highly customizable and come in many different styles, from calming Japanese-inspired spaces to wildlife gardens.
For a touch of color, add a few low-maintenance native Miami plants as accents in your rock garden.
11. Go hardscape or go home
Consider replacing the needy grass and plants in your yard with hardscapes. Hardscapes are features in your landscape other than plants (which are called softscapes). This category includes patios, paver pathways, retaining walls, water features, fire pits, and gazebos.
Hardscaping might be a more involved (and expensive) project than simple landscape plantings, but it will pay off in the long run. Most hardscapes don't require any maintenance beyond occasional cleaning. As an extra bonus, a good hardscape can add value to your home, especially in a mild climate area like Miami.
12. Irresistible irrigation
With an automatic irrigation system, you can set it and forget it. Put your sprinklers on a schedule, and your lawn and gardens will be watered every day (check local water restrictions and rules).
Why sprinklers are a low-maintenance landscaping idea: Automatic irrigation systems will keep your plants healthy with no effort.
Installing a new irrigation system can get expensive, especially since the extra water use will balloon your monthly water bill. On the other hand, just like hardscapes, automatic sprinklers will increase your home's property value.
FAQ About Low-Maintenance Landscaping in Miami
What is Florida-friendly landscaping?
Florida-friendly landscaping means using native plants and environmentally sustainable gardening practices to benefit your local ecosystem and make your landscape easier to care for. Learn more on University of Florida's Florida-Friendly Landscaping Program website.
What are the best low-maintenance plants for Miami?
We've already covered some low-maintenance natives such as beach sunflowers, fakahatchee grass, Elliott's aster, and sabal palms. But there are hundreds more. Check out UF's database of 350+ low-maintenance landscape plants specifically for South Florida.
When to Call a Landscaping Professional
For help striking that perfect balance of low-maintenance and aesthetically pleasing in your landscape, consider hiring a pro landscaper who knows all the best tips and tricks.
A landscaping pro can help you select the best native plants for your home's specific soil type and level of sun exposure. He or she also can provide expert, high-quality construction for large projects such as outdoor living spaces.
If you truly don't want to deal with landscape maintenance, you could even hire a regular landscaping service to do it for you. Many local landscaping companies offer services such as bush trimming, lawn treatments, and plant care.
Whether you DIY your landscape or hire a pro, keep these ideas in mind to create your own low-maintenance, Miami-worthy landscape. After all, you want to spend more time in the sun or just enjoying life and less time mowing, weeding, and raking.
Main Photo Credit: Pxfuel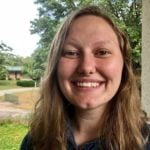 Jordan Ardoin
Jordan Ardoin is a writer, editor, and classical literature student based in Colorado. When she isn't reading or writing, she enjoys goofing off with her cats and spending time in nature.