What's your Miami vice? Ours is palm trees.
You can find their iconic arching trunks and feathery fronds everywhere in Miami: lining the streets downtown, dotting the world-famous beaches, and giving local landscapes a tropical flair. There may be no other city more suited for landscaping with palm trees than Miami, both in climate and tropical vibes.
Whether you want your landscape to blend into the crowd or stand out as a masterpiece, palm trees are a great addition.
How to Choose the Right Palm Trees in Miami
South Florida is about as tropical as you can get without leaving the United States. Miami falls under USDA Hardiness Zone 10b, which means the lowest average temperature in winter is 35-40 degrees. It also means that almost every species of palm tree can thrive here.
Even though you won't have to worry about finding a cold-hardy palm tree variety, there are still some local limitations to keep in mind when choosing what type of palm you want to plant.
Since Miami gets hit with so many tropical storms and hurricanes, you'll want a palm tree that can withstand strong winds and saltwater spray. For some, that might mean sticking with palms that have shorter, thicker trunks. But there are a lot of tall palms that are nearly hurricane-proof, too, including date palms, manila palms, pindo palms, and Florida's state tree, the sabal palm.
With more than 2,500 species of palms to choose from, your landscape design choices are limitless. We've got five suggestions for how to incorporate different types of palm trees into your landscape.
1. Use palm trees for shade
You probably don't think of palms when you think of shade trees, but you should. Many species of palms have long, spreading fronds that create the perfect amount of shade for a day in your backyard paradise.
Because of their feathery appearance, palm fronds cast dappled shadows that block out just enough sunlight. Relax in your swimming pool or on your patio with specks of light dancing across the scene like in some tropical fantasy.
Be careful when choosing palm trees for shade, though. You don't want a palm tree with thorns, since it will be near where you and friends and family regularly hang out. You also want to avoid species with invasive roots, since they could potentially damage your pool or other structures (patio, shed, fence, gazebo) as they grow.
Types of palms that would work well for this look:
Buccaneer palm (Pseudophoenix sargentii)
Pygmy date palm (Phoenix roebelenii)
European fan palm, aka Mediterranean fan palm (Chamaerops humilis)
Sago palm (Cycas revoluta) (technically a cycad, not a palm)
2. Make a privacy hedge of palm trees
Palm trees can grow thick and tall in Miami's climate, so it's easy to turn certain species into a privacy hedge.
Privacy hedges serve as a natural, visually striking fence to keep prying eyes out of your yard. Palm privacy hedges look good in your front yard, backyard, or around your swimming pool. Essentially, this is a great option for anywhere in your landscape where you want privacy.
Clumping species of palms work best for creating a solid privacy hedge. You also can use certain hurricane-resistant tall palm trees for a more dramatic and glamorous look.
Types of palms that work well for this look:
Areca palm, aka butterfly palm (Dypsis lutescens)
Fishtail palm (Caryota mitis)
Paurotis palm (Acoelorrhaphe wrightii)
Royal palm (Roystonea regia)
3. Frame an entryway with palm trees
Highlight your front door or the entrance to your driveway with a regal frame of palm trees. Planting one tree on either side of an entryway creates an inviting archway of palm leaves.
If you're nervous about using tall palm trees in your landscape because of hurricanes, this design might be a good fit for you. Just about any palm tree, big or small, will look good as a frame. The benefit of using a tall palm would be a heightened sense of drama and exoticism.
Types of palms that would work well for this look:
Sabal palm (Sabal palmetto)
Pindo palm (Butia odorata)
Canary Island date palm (Phoenix canariensis)
Queen palm (Syagrus romanzoffiana)
4. Plant a small palm as the focal point of your flower bed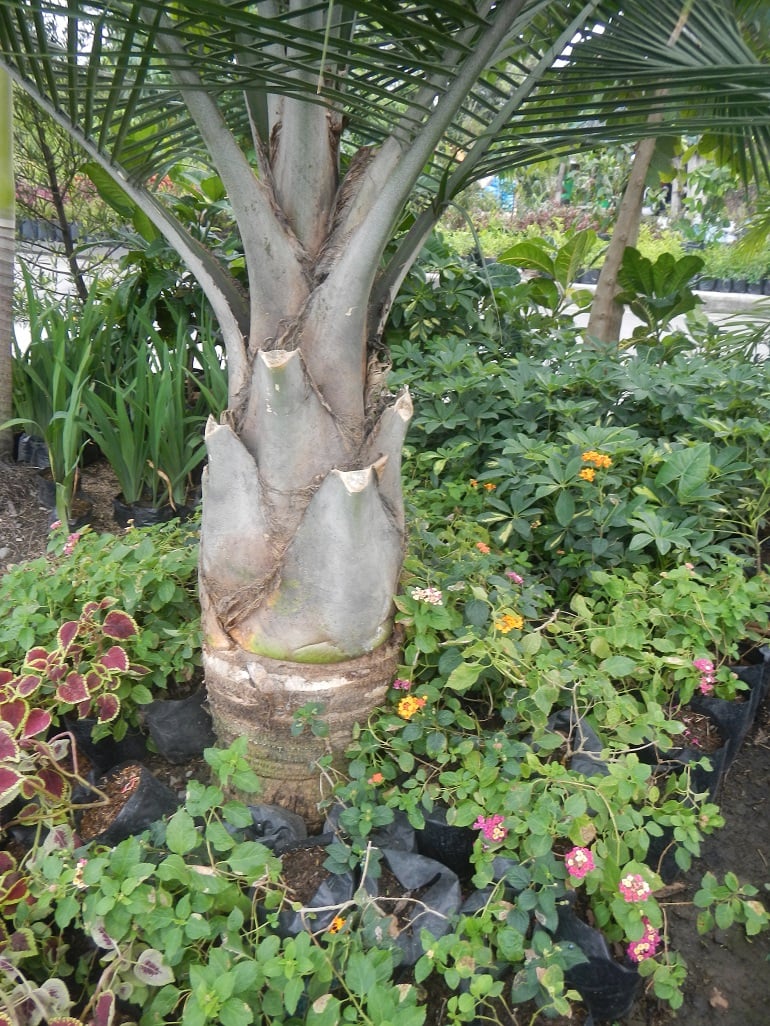 A small palm tree in your flower bed functions just like the centerpiece of a beautifully set dinner table. It draws the eye and makes the whole bed look more interesting. The added benefit of a palm tree is that it can give any plain flower bed a tropical feel.
The other flowers and shrubs provide a colorful backdrop of blooms for the palm's bright green fronds to stand out against. Use mulch and borders to tie the bed together into one cohesive landscape feature.
This is another landscape design idea that suits Miami homeowners who don't want to risk tall palm trees falling on their homes during a hurricane. You can choose a small species or a slow grower, which will take a long time to grow to its full potential.
Types of palms that would work well for this look:
Bamboo palm (Chamaedorea seifrizii)
Majesty palm (Ravenea rivularis)
Cat palm (Chamaedorea cataractarum)
Coontie palm (Zamia pumila) (another cycad)
5. Make your yard pop with colorful palm trees
We've established that palm trees are everywhere in Miami. If your goal is to make your landscape stand out from the crowd, planting a run-of-the-mill palm species won't be enough.
Luckily, there are plenty of exotic palm trees with surprising pops of color that can set your yard apart from the rest. From the flame thrower palm's flash of red new growth to the purple king palm's bluish-purplish trunk, there's a whole rainbow of palm trees out there.
If you really want to wow your neighborhood, try planting a grove of palm trees with different color accents. Mix and match the yellows, oranges, reds, purples, and blues that palms offer.
Types of palms that would work well for this look:
Purple king palm (Archontophoenix purpurea)
Flame thrower palm (Chambeyronia macrocarpa)
Lipstick palm (Cyrtostachys renda)
Mexican blue palm (Brahea armata)
FAQ about landscaping with palm trees in Miami
When is the best time to plant palm trees in Miami?
Technically, you can plant palm trees at any time of the year in Miami, and they should be fine. But since most newly planted palm trees need frequent watering, it's best to plant palm trees in early summer when it rains often.
What native Miami plants look good with palm trees?
You'll want to surround your palm trees with colorful blooms and foliage. South Florida is home to many vibrant and tropical plants. A few that would pair well with palm trees include:
Sage (Salvia)
Bougainvillea (Bougainvillea glabra)
Canna lily (Canna x generalis)
Blanket flower (Gaillardia)
When to Hire a Landscaping Professional
If you want more unique landscape design ideas for your specific space, call a professional landscaper. Pros will help you figure out which species of palms would look best on your property and thrive in your soil type.
Whatever grand dreams you have for your landscape with palm trees, odds are there's a landscaping pro in your area who can make those dreams a reality.
In Miami, nearly everyone has palm trees in their yards. To keep up with the Joneses and add your own signature style, the five ideas for how to landscape with palm trees in Miami should help you stand out from the crowd. All you need to do now is pick the right palms, pick your design idea, roll up your sleeves, and dig in and plant your palm trees.
Main Image Credit: Pikrepo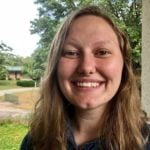 Jordan Ardoin
Jordan Ardoin is a writer and indoor plant enthusiast hailing from Florida. In her spare time, she enjoys chasing her two cats around the house and trying to keep her houseplants alive.