Even if you don't have the budget for a premium lawn mower with all the bells and whistles, you can still get a reliable machine that will meet your lawn's needs. Many manufacturers strike a good balance between quality and affordability, and we've collected those here to give you the eight best lawn mowers under $300.
Whether you're looking for a powerful gas engine or an eco-friendly electric option, this list has affordable picks for you. We've got mowers suited for big lawns, small lawns, and tight spaces — all for less than $300.
Top 8 Lawn Mowers Under $300 – Reviews
If price point is your main priority, you can't go wrong with an affordable manual push reel mower, and the MJ502M from Sun Joe gives you a lot of bang for your buck.
Its 20-inch cutting width is large for a reel mower, so you can cover more ground with each pass and finish mowing your lawn faster. This mower also comes with a grass catcher to collect clippings and dual wheels for increased stability and maneuverability.
The MJ502M is versatile, too, and should work well for any type of grass. It has nine different cutting height settings ranging from 1.2 to 2.4 inches, so you can tailor the cut to your lawn. The mower's five-blade reel slices through grass for a cut that's healthier than you'll get with most gas or electric mowers.
While this mower should work for most flat, small lawns, some users reported that it doesn't do well with bumpy ground or tall grass. If your lawn is easy to mow, the MJ502M is a great budget option, but otherwise, you might need to go with a more powerful (and more expensive) mower.
Specifications:
Power source: You
Power level: N/A
Cutting width: 20 inches
Weight: 30 pounds
Pros:

✓ Lightweight and compact
✓ Cheap
✓ Large cutting width
Cons:

✗ Requires more effort to use than gas or electric mowers
✗ Doesn't function well on uneven terrain
Sun Joe makes good lawn mowers for small budgets, so it's no surprise its MJ401C battery-powered mower comes in at No. 2 on our list.
This model has a small cutting width of only 14 inches, so it's ideal for small to medium lawns. Its 28-volt lithium-ion battery runs for about 25 minutes on a single charge.
One major benefit of the MJ401C is how easy it is to use. Because it's so small, it's also lightweight at only about 23 pounds. Anyone should be able to push it for the length of the battery's run time without tiring out.
Users reported that the instant start is quicker and easier than starting many other mowers.
With a price point of around $150, the Sun Joe MJ401C is a great mower for the money (especially for a cordless mower). It even comes with a few perks, such as the three cutting height adjustments and the 10.6-gallon rear bag for collecting grass clippings.
Specifications:
Power source: Battery-powered electric
Power level: 28 volts
Cutting width: 14 inches
Weight: 23.1 pounds
Pros:

✓ Cheap
✓ Lightweight
✓ Easy to use
✓ Comes with rear bagging attachment
Cons:

✗ Small cutting width
✗ Battery runtime less than an hour
This mower from Yard Machines, with its 132 cc OHV engine, definitely isn't the most powerful mower on the market, but it can effectively take care of most small- to medium-sized yards, and it's super affordable.
Many reviewers also reported that it's easy to use since it's lightweight for a gas mower and compact enough to maneuver around obstacles such as trees, shrubs, and flower beds.
For a mower in this price range, this Yard Machines model has a wide cutting deck of 20 inches. The deck has three adjustable height options that you can choose depending on the type of grass in your yard and how tall you've let it grow between mows.
Unfortunately, if you prefer mulching or bagging your grass clippings, this isn't the mower for you. It only has a side discharge chute. Even so, if you're looking for a simple gas mower for a typical residential yard, this pick from Yard Machines is a reliable option for a great price.
Specifications:
Power source: Gas
Power level: 132 cc
Cutting width: 20 inches
Weight: 47 pounds
Pros:

✓ Large cutting width
✓ Lightweight for a gas mower
Cons:

✗ Weak engine compared to other gas mowers
✗ No bagging or mulching capability
You can get a lot of corded electric lawn mowers for under $300, and the Scotts Outdoor Power Tools 50620S is a solid option. It has a powerful and efficient 12-amp motor, a wide 20-inch cutting deck, and an easy-to-use single-lever cutting height adjustment between 1.5 and 4 inches.
Improving on our pick from Yard Machines, this Scotts mower has 3-in-1 capability to bag, mulch, or discharge grass clippings. It comes with the necessary attachments for all three, including a 16-gallon rear bag.
Of course, this electric mower isn't as powerful as its gas counterparts, but users reported that it gets the job done for small- to medium-sized yards.
Reviewers also mentioned problems with the mower's wheels. Many advised to ensure the wheels are tightly bolted before each use, as they can sometimes get loose and fall off. Aside from that issue, the mower is easy and comfortable to use, with a cushioned grip and a convenient handle-mounted safety control for the blades.
Specifications:
Power source: Corded electric
Power level: 12 amps
Cutting width: 20 inches
Weight: 53 pounds
Pros:

✓ Large cutting width
✓ 3-in-1 grass clipping disposal
Cons:

✗ Wheels get loose easily
✗ Heavy for an electric lawn mower
BLACK+DECKER, one of the most well-known and trusted names in power tools, doesn't disappoint with the MM2000 corded mower. For less than $200, you get a powerful 13-amp motor that starts easily every time and a wide 20-inch cutting deck with seven height adjustments between 1.5 and 4 inches.
For the price point, this mower packs some impressive special features. One is BLACK+DECKER's EdgeMax deck design, which lets you cut right up to fences or hardscapes for a clean edge. Another is the mower's 3-in-1 bagging, mulching, and discharge capabilities. It's also foldable for convenient carrying and storage.
If you anticipate mowing a lot of overgrown grass but still want an electric mower, the MM2000 might be the best option for you. Its motor, if not as strong as a gas engine, is still powerful enough to handle tough or wet grass.
Specifications:
Power source: Corded electric
Power level: 13 amps
Cutting width: 20 inches
Weight: 46.2 pounds
Pros:

✓ Powerful motor for a corded electric lawn mower
✓ Large cutting width
✓ 3-in-1 grass clipping disposal
Cons:

✗ Relatively expensive compared to other corded options on this list
✗ Heavy for an electric lawn mower
✗ Some users reported mower only lasting 3-4 years
Sun Joe makes our list again with the affordable MJ403E corded mower. It features a powerful 13-amp motor like the BLACK+DECKER MM2000, but it's a little smaller, with a 17-inch cutting width.
That smaller cutting width means it would take you more passes to finish cutting your grass with this mower, but it also means this one will fit in tighter spots and take up less storage space.
In addition to the powerful engine compared to most corded electric mowers, this model has an instant push-button start, an easily adjustable cutting deck with seven positions, and mulching and rear bagging capabilities. That's about as many convenient special features as you can hope for in a mower that's so inexpensive.
Reviewers reported that the MJ403E is easy to use even for those without a lot of upper body strength or experience with power tools. Most said that even with the corded and smaller cutting deck, this mower gets the job done for a typical yard.
Specifications:
Power source: Corded electric
Power level: 13 amps
Cutting width: 17 inches
Weight: 31.5 pounds
Pros:

✓ Powerful motor for a corded electric mower
✓ Lightweight
✓ Cheap
Cons:

✗ Small cutting width
✗ Some users reported issues with the cutting height adjustment feature
At over $200, the Remington RM130 is the most expensive mower on our list, but not without reason. Its 140 cc OHV gas engine packs enough power to deal with hills and overgrown grass.
This mower is also better for uneven terrain because of its heavy-duty 7-inch front wheels and 8-inch rear wheels. Plus, its 21-inch deck is the widest on our list, making it a better option for large lawns.
Like many of our other top picks under $300, the RM130 can discharge, mulch, or bag grass clippings. This one improves its mulching feature, though, with a SureCut blade that lifts grass as it cuts to prevent clumping and give you a cleaner, smoother cut.
Keep in mind that because of its large size and gas engine, this mower is significantly heavier than all our other picks. It might not be an option for homeowners with less upper body strength or stamina (such as senior citizens).
Specifications:
Power source: Gas
Power level: 140 cc
Cutting width: 21 inches
Weight: 63.24 pounds
Pros:

✓ Powerful engine
✓ Large cutting width
Cons:

✗ Heavy
✗ Relatively expensive compared to other picks
We're rounding out our list with another corded electric lawn mower from BLACK+DECKER, the BEMW472BH model. This one is less powerful and smaller than the MM2000, but it's also significantly cheaper.
If you have a smaller yard that doesn't require a lot of extra strain on the motor, you can save yourself some money and go with this model instead.
This 10-amp, 15-inch mower is ergonomic, lightweight, and easy to use. Its innovative bike-style handle is comfortable and easy to steer for longer jobs.
Like other electric mowers, it features a reliable push-button start. This mower also has rugged treads on its wheels that make it easier to push through thick, overgrown lawns.
The BEMW472BH comes with a collection bag for grass clippings. It features six cutting height adjustments ranging from 1 to 3 inches for different types of grass.
Specifications:
Power source: Corded electric
Power level: 10 amps
Cutting width: 15 inches
Weight: 38.9 pounds
Pros:
✓ Cheap
✓ Easy to control
Cons:
✗ Relatively weak motor
✗ Small cutting width
Buyers Guide
Even with a budget of less than $300, you have a lot of options to sort through when it comes to lawn mowers. You can find high-quality reel, corded, battery-powered, and gas mowers for this price point.
In this guide, we'll help you figure out what type, size, and power level of mower would be best for you.
Types of lawn mowers
This list includes four basic types of lawn mowers: reel, corded, battery-powered, and gas. Which one is best for your lawn? Only you can decide that, but we can help.
Reel: Manual push reel lawn mowers take a little extra work to push because your strength is what makes the blades turn (as opposed to an engine, as with other types). That being said, they typically aren't too difficult to use for a small yard.
You'll definitely save money by going with a reel mower, but keep in mind that you might wear yourself out trying to mow a large lawn with one of these.
The good news is that your grass will be healthier with a reel mower. The way they cut grass is more precise than the hacking blades that other types of mowers use.
Corded: You'll find that most of the good mowers available at this price point are corded electric mowers. These are usually lightweight and easy to use, but they aren't an option for large lawns because they have to stay plugged into an outlet.
The cord might also cause problems for lawns with flower beds or other obstacles to maneuver around. That being said, corded mowers are a great option for neighborhoods because they're quiet and don't produce emissions.
Battery-powered: Battery-powered electric lawn mowers are quiet and eco-friendly like their corded counterparts, but they don't have the same limitations of a cord. Instead, they're limited by their battery's runtime.
If it takes longer than 30 minutes to an hour to mow your lawn, a battery-powered mower probably isn't for you (unless you want to stop and charge the battery in the middle of mowing).
Battery-powered mowers are typically the most expensive, so there aren't many available for under $300. Many of these models come without the battery and charger included, so pay attention to what you're buying and factor any extra costs into your budget.
Gas: Most gas mowers are significantly more powerful than their electric counterparts, meaning they're better at mowing tough grass and going up inclines.
Because they run on fuel, gas-powered mowers don't have the same space or time limitations as electric mowers. However, those powerful gas engines take a lot of maintenance, and they're usually quite heavy to push around your lawn.
Gas-powered mowers also are much louder than electric mowers, so you might not be able to use a gas mower if you live in a neighborhood with noise restrictions.
Gas engines produce emissions, too, so they aren't good for the environment.
Bottom line: If your lawn doesn't require the extra power, you're probably better off with an electric lawn mower.
Factors to consider
When you're comparing specific lawn mower models, there are several quantifiable factors to take into account. These are the factors we used to choose our top picks, and you can use them to figure out which mower is most likely to meet your needs.
Power: The more power a mower has, the stronger the blades will be as they spin, and the tougher grass you'll be able to cut. That means if you're going to be mowing tall, thick, or wet grass regularly, you'll want to look for more power.
Mowing up hills also takes more power. Specific models vary, of course, but as a general rule of thumb, gas mowers usually have the most powerful engines, then corded electric, then battery-powered.
Cutting width: How wide a mower's deck is determines its cutting width. With a wider deck, you can cover more ground with each pass and finish mowing your lawn faster.
However, a smaller deck might be better for you if you'll need to maneuver through tight spots in your lawn or if you have limited storage space.
Weight: With a push mower like the ones on this list, weight is more important than you might think. If you buy a mower that's too heavy for you to push around, it will be useless to you.
Pay attention to weight when shopping for a mower and don't get one that will make mowing difficult and tiresome for you. Corded electric mowers and reel mowers are usually the lightest types.
Price: Since we're focusing on lawn mowers under $300, this list doesn't include more premium options such as self-propelled mowers or riding mowers. However, if you have a property of over half an acre, you may want to consider splurging on one of those, as they will make your life much easier.
For a small- to medium-sized yard, though, there's no reason to break the bank. Our picks for the best lawn mowers under $300 should get the job done for your lawn.
FAQ
1. Which brand of lawn mower is best?

The overall best lawn mower brand is subjective, but some of the best brands for a budget include BLACK+DECKER and Sun Joe.
2. What is a good cc for a lawn mower?

Most gas push lawn mowers range from 140-190 cc.
3. Are reel lawn mowers any good?

Yes, reel mowers will cut your grass well if you're willing to put in the extra work to use one. However, they probably aren't worth the effort if you have a large yard. 
Conclusion
Shopping for a lawn mower on a budget limits your options to a degree, but there are plenty of high-quality mowers on the market for under $300.
Whether you need something that packs a lot of power or that's small and easy to maneuver, you should be able to find what you're looking for within this price range.
Though you will have to sacrifice some features when you're looking to save money, affordable mowers like the ones on this list will provide for all your basic lawn care needs.
Main Photo Credit: Pixabay
LawnStarter participates in the Amazon Services LLC Associates Program, an affiliate advertising program. LawnStarter may earn revenue from products promoted in this article.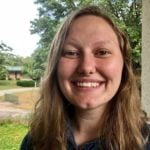 Jordan Ardoin
Jordan Ardoin is a writer and indoor plant enthusiast hailing from Florida. In her spare time, she enjoys chasing her two cats around the house and trying to keep her houseplants alive.