Thinking about planting a new tree in your Houston home? Visit any home and garden store or nursery and you'll find plenty of options -but that doesn't mean that they are the best options. Never fear, in this article, we will cover the six best trees you can plant in Houston.
1. Nuttall Oak
If you are interested in large trees, the Nuttall oak (pictured above) is a red oak that is native to the Houston area. According to Skip Richter, Horticulturist for the Texas AgriLife Extension, the nuttall oak is one of the best large shade trees to plant in Houston.
"The Nuttall oak puts up well with the soggy wet soil we experience here in Houston," he said. "It's not easy to find because the market doesn't demand it. The Shumard oak is a red oak that's popular here, but the Nuttall is a better choice because it's so tolerant of our soggy clay soil."
2. Drake Elm
The best fast-growing and shade-providing tree you can plant in Houston is the drake elm, also known as the Chinese elm. While this beautiful tree is underutilized in neighborhoods, it is seen quite often in shopping strips. It's distinguishing feature is bark, which flakes off in colors of gray and orange.
Skip Richter recommends this tree for several reasons. "It's tolerant of crummy conditions, and it is really pretty," he said. "The drake elm provides light shade and your grass around this tree has a better chance of survival."
3. Mandarin Orange
If you're looking for a good fruit tree to plant in your yard, try a mandarin orange tree. (Sure, some might argue that persimmon trees are the best because of how well they grow, but have you ever tasted a persimmon? Ick!)
Now, there are two main types of orange trees available, mandarin (Citrus reticulata) and sweet (Citrus sinensis). Although sweet orange trees like Valencia and naval sound tempting, they don't hold up well to the occasional cold winter snaps we experience in Houston. Mandarin orange trees like satsumas and clementine are tolerant of both Houston soil and the occasional cold spell.
4. Redbud
The Redbud tree (Ceris canadensis) is a beautiful small flowering tree that blooms pink flower clusters in early spring around the same time as the azaleas. It's drought-tolerant, adaptable to most types of soil and reaches heights of around 20 feet when it is fully mature. In autumn this is one of the small trees that provides great fall color with pretty shades of yellow.
5. Southern Magnolia
The Southern magnolia (Magnolia grandiflora) is an evergreen tree that's common here in Houston – and for good reason. It's elegant and stately and produces beautiful fragrant white flowers each spring. This tree's leaves are dark and dense and offers great privacy. Avoid planting this tree in your front yard, however, if you'd like to show off the front of your home because it's thick leaves will obstruct the view.
6. Mexican Fan Palm
Houston summers are hot, no doubt. And many Texans have pools in their backyards, which most likely means that the trees of choice are palms. While the queen palm is very popular, the Mexican fan palm is a better choice. Mexican fan palms grow fast, and, unlike other varieties of palm trees, they are very tolerant of both the Houston droughts and the occasional cold freezes.
Why Not Pecan, Texas' State Tree?
You might be asking why the pecan tree isn't on this list. After all, this Texas tree is the state tree. And what about live oak? There are hundreds of these in Houston – doesn't that qualify it for the list of best trees to plant in Houston. Well, no.
When we caught up with Skip Richter, Texas Agrilife horticulturalist and Harris County Extension agent, we asked him about the pecan tree, and this is what he had to say:
"Pecan is not a good tree for Houston," Richter says. "Pecan trees are found along river bottoms and they like deep alluvial soil, not the black clay soil common here. Plus, they are kind of messy and have a good chance of breaking in a hurricane or strong storm."
As for live oaks, yes they are beautiful and abundant here in Houston, but, as Skip put it "most people want trees and a lawn. Trees shade out grass and grass steals nutrients from trees."
And if you haven't noticed, it's very difficult to grow grass under a live oak tree…which is one of the reasons he recommends the drake elm for those wanting both grass and trees.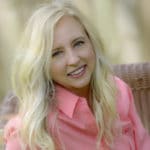 Jennifer Lester
Jennifer Lester is a freelance writer and social media strategist who covers a variety of home and garden topics. She's a graduate of Texas A&M University and the proud mom of three boys. In her spare time, she volunteers in her community and her children's schools.