As the eighth-most expansive city in the country, Houston's sprawl makes accommodating landscape trees easy — and mandatory, too.
The local Tree and Shrub Ordinance requires the planting of at least one tree, depending on lot size, so let's explore the many ways you can landscape with trees at your H-Town home.
1. Cultivate Trees to Increase Property Value
The more your property is worth, the higher your chances are of refinancing, selling, and improving your financial health by building equity. How? Areas with mature trees in their landscape design have been shown to:
Lower crime.
Boost curb appeal with focal points in front yard and bursts of color all over.
Reduce heating and cooling costs.
Enhance overall well-being.
Lessen storm water runoff and soil erosion.
2. Plant Trees to Conserve Energy
Consider deciduous trees to help lower your home's energy costs. While in leaf during the hot, summer months, their canopies can provide shade and lower inside temps up to 10 degrees. In fall and winter, after leaves have dropped, the bare branches will allow sunlight to stream in and add warmth. Deciduous options for Houston include:
Crepe myrtles
Redbuds
Silver maple trees
Sweetgum
Willow oak
"Planting evergreen trees on the north side of your home will slow winter winds, which can reduce heating costs by up to 30%," advises the Houston Area Urban Forestry Council. Evergreen trees, including conifers, that grow well in this metro are:
Shortleaf pine
American holly
Southern magnolia
Loblolly pine
Eastern red cedar
3. Grow Trees to Attract Wildlife
Urban development may have led to habitat loss for local animals, but you can help remedy that by planting trees in your large or small yard. Not only do these towering plants provide shelter and food, but they also welcome diverse wildlife species — think birds, butterflies, deer, rabbits, squirrels, and foxes.
The best trees for attracting wildlife include:
Hawthorns
Southern wax myrtles
Cherry laurels
A variety of oaks
4. Use Trees to Raise Food
Besides delivering shade, curb appeal, and wildlife, trees can also produce tasty, healthy treats. The Texas state tree, the pecan tree, is a popular yard tree for this very reason. As long as it's planted in deep, well-drained soil and given plenty of space to grow, this tree should prosper. Be careful of planting pecan trees in shallow or clay-based soils, though, as they will require much more work to keep up.
Fruit trees to consider include:
Apple trees
Avocado trees
Pomegranate trees
Grapefruit trees
Kumquat trees
Lemon and lime trees
Mandarin, nectarine, tangerine, and orange trees
Plum trees
Fig trees
Mulberry trees
Peach trees
Pear trees
Persimmon trees
Olive trees
5. Plant the Right Tree in the Right Place
Before planting any trees, select a type that fits what you're looking for, whether it's beauty, wildlife, shade, curb appeal, environmental reasons, or all of the above.
Would you prefer a flowering tree over a fruit tree, a small tree over a large tree, a fast-growing tree over a slow-growing one, or a deciduous tree over an evergreen? Consider spacing, whether a tree needs full sun or partial shade, and the location of underground and above-ground utilities and structures, too.
For example, the flowering dogwood tree (cornus florida) grows best underneath other shade trees, as the hot sun can scorch it.
Plant deciduous trees on the south and west sides of your home to block the hot sun from early spring to late summer. Evergreen trees on the north side of your home will serve as a windbreak.
You can plant smaller trees underneath power lines, while large trees should be planted away from all utilities, driveways, sidewalks, and your home — they need unobstructed space to grow their roots and canopies. You can also incorporate trees as part of your garden design.
FAQ about planting trees in Houston
What are the best trees to grow in Houston?
This region's humid, subtropical climate is marked by very hot summers, mild winters, ample rainfall, and a long growing season. Ideal trees to grow in this hardiness zone 9a include:
American beech
Silver maple
Oak trees
Eastern black walnut
Linden
Crepe myrtles
Sycamores
Apple trees
Avocado trees
Pawpaw trees
Southern magnolias
American holly and these other  best trees to plant in Houston
On the other hand, avoid the following trees, as they do not do well in Houston's climate:
American arborvitae
Crabapple trees
Lilac bushes
When is the best time of the year to plant trees here?
The Houston Area Urban Forestry Council recommends planting new trees between mid-November and late-February. This allows a tree's roots to establish themselves before the summer heat arrives.
What are the best privacy trees to plant?
For curb appeal with an added privacy/screening function for your outdoor spaces, select a tree, such as:
Southern wax myrtle
Cherry laurel
Eastern red cedar
Shortleaf pine
American holly
What are the best trees to plant for fall color?
After spring and summer blooms die off, you can still showcase spectacular color in the autumn months with these options:
Redbuds
Crepe myrtle
Shantung maple (similar to Japanese maples, but more heat-tolerant)
River birch trees
Green ash
Sweetgum
white oak
Shumard oak
Bald cypress
Cedar elm
American elm
Red maple trees (acer rubrum)
When to Call a Landscaping Professional
Of course, you could head to the garden center on your own and DIY your tree planting, but if you're not an expert yourself, a certified arborist or landscape architect can help. They'll survey your property, review your plans for tree planting sites, and assist in starting your tree off right for a long, healthy life.
The Woodlands may be around the corner, but with a selection of beautiful trees in your own yard, you won't have to leave home to enjoy a forest-like feel.
Main Photo Credit: Pixabay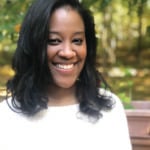 Andréa Butler
Andréa Butler is a writer and editor who loves crafting witty turns of phrase and informative, compelling copy on various topics. She especially enjoys sharing her knowledge of landscaping and pest management to help others create the outdoor spaces of their dreams.