It's a boiling Houston summer, your muscles are tense, and the office has you stressed –– what you need is a dip in the pool. The only problem is, your backyard swimming pool has never looked more uninviting.
Turn your poolscape around with these tips and tricks for landscaping around a pool. They'll have you feasting on your sizzled steak, beating the heat, and listening to your favorite Taylor Swift album.
And all while poolside.
10 Ways to Landscape Around Your Houston Pool
1. Install an outdoor kitchen
Time to serve up your favorite Houston grub. When you've got an outdoor kitchen, your pool party guests will never want to leave. Steak, tacos, crawfish –– everyone in the neighborhood will want a bite of your seasoned meals and a dip in your sparkling pool.
An outdoor kitchen also helps keep the utility bills down and prevent burning odors from stinking up the room. A hot working oven and stove are quick to raise a kitchen's temperature and cause the air conditioner to work harder. And every cook knows their guests prefer not to smell burning garlic and oil. Keep the cooking outside, and your air conditioner will get the break it needs, and the dining room won't smell.
Effort: High. You'll need to invest plenty of time and patience while your outdoor kitchen is built. You'll likely want to work closely with the landscaper to ensure your expectations are met, and you may not be able to use your pool during construction. An outdoor kitchen takes anywhere between three weeks to four months to build.
Cost: High. A typical outdoor kitchen ranges between $5,000 and $21,000. A luxury kitchen may cost up to $100,000.
2. Keep out the mosquitoes
Every Houston local knows bug spray keeps away the mosquitos. When you're sunbathing by the pool, nothing ruins your relaxation more than small pinches on your legs and itchy bites.
An automatic mosquito misting system can help keep these pests under control and away from your pool. Regular misting in your landscape will help ensure a protective shield around your poolscape and give you the peace of mind you need to relax by the water's edge.
Effort: Low. Misting systems are usually installed and maintained by a professional, so you don't have to lift a finger.
Cost: Medium. The installation of automatic mosquito misting systems typically ranges between $1,000 and $2,000.
3. Beat the Houston heat
With Houston temperatures reaching over 90 degrees in the summers, you don't want to break a sweat as soon as you leave the pool. A pool is meant to cool you off, and your landscape shouldn't be heating you up again.
Give your pool area more shade, and you'll have a much better chance at dodging the boiling sun. Consider adding umbrellas around your pool patio or building a pergola over your outdoor living space. You'll love how the extra shade helps your body stay cool and prevents patio areas from burning your feet.
Effort: Medium. The time it takes to build a pergola varies. It can be as little as one week to as long as 12 weeks. For a faster solution with instant shade, install umbrellas around the pool.
Cost: Low-High. The average cost of building a pergola is $3,500​. Some pergolas may cost as high as $6,000. Pool umbrellas typically range in price from $50 to $400.
4. Grow low-maintenance gardens
Having a high-demand garden to maintain isn't going to give you more relaxing hours by the pool unless you can hire help (and LawnStarter can help with that). Low-maintenance gardens, container plants, and DIY gardens (like rock gardens) can be the perfect fit for your pool, adding both a refreshing landscape and dose of nature.
Succulent gardens
A succulent garden is easy to maintain, and the exotic textures and shapes will pop in your Houston pool landscape. Fleshy leaves help succulents conserve water, making them the perfect plants for first time plant-owners who often misplace the watering can.
Rock gardens
Rock gardens are another option for an excellent, low-maintenance garden near the pool. They accentuate stones of various shapes, sizes, and colors and go great with drought-resistant plants like cacti and succulents. You won't have to spend much time mowing or watering, and you can feature all of your favorite stones, like river rocks, pea gravel, or large boulders.
When designed right, a rock garden can provide a calming space that soothes you at the end of a stressful day.
Plants to avoid
It's important to know what greenery to avoid before shopping around for plants. You likely won't want pine trees by the pool, as their needles may prick your feet on your way for a swim.
You'll also want to avoid planting a garden with lots of flowering plants. Plants like crepe myrtle, azalea, honeysuckle, or ash trees create lots of debris you won't want to spend time cleaning up. These plants will litter your poolscape and create a thick petal blanket over your pool water.
Effort: Low. We're recommending low-maintenance gardens for a reason. It's time you start relaxing by the pool instead of pulling weeds.
Cost: Low-Medium. Landscaping rock projects cost an average of $600 to $700. Succulent prices may vary, depending on size. A miniature succulent plant can cost between $2 and $6.
5. Update your turf
Dead grass around the pool isn't going to make an afternoon swim all that desirable –– time to spruce up that turf and give your poolscape a soft cushion for your feet.
But first, you'll need to consider Houston's climate and your lifestyle before you spend the big bucks on new green. You may really like the look of tall fescue grasses, but that's not going to work here in Houston.
These are the five best grass types the Texas A&M AgriLife Extension recommends for the greenest and easiest-to-maintain lawns in Houston. Keep in mind that each grass type has different tolerance levels and management needs.
Bermudagrass
Centipedegrass
Seashore paspalum
St. Augustine grass
Zoysiagrass
Warm-season grasses
Living in Houston, you'll want to go with a warm-season grass type. These grasses grow best in the Southern states, where temperatures are warm throughout the year, and winter is mild.
Cool-season grasses, like tall fescue, won't have much chance of surviving in Houston's heat. They much prefer the cooler temperatures up North.
Wear-tolerance
Are you a big party planner? If you expect pool parties and cookouts on the weekends, then you'll likely want a grass that can withstand heavy foot traffic. With guests coming and going from the pool to the house, the last thing you want is for their feet to tear up your new turf.
Effort: Easy-Medium. Time and energy spent on a new lawn will depend on whether you buy sod or plant from seed. Lay down sod, and your new turf will be ready to go; no waiting-period is needed. If you're growing your grass from seed, you'll need to spend time watering your turf and waiting between five and 30 days for the seeds to germinate.
Cost: Medium. Depending on the type of turf you choose, rolls of sod cost about 28 to 45 cents per square foot. If you have a professional install your sod, then the cost may increase to about $1 to $2 per square foot. Seeding a lawn will generally cost between $400 and $1,500.
6. Fix up the patio
Fix up those cracks, replace that chipped concrete, and say hello to a brand new pool patio. Give your Houston pool patio or deck a makeover with a quality design including wood, poured concrete, natural stone, or pavers.
For a sleek, uniform look, match your patio or pool deck's building materials with hardscape features already around your pool. If natural stone retaining walls surround the pool, then natural stone may be the best hardscape material for the patio.
Effort: High. Your new pool decking will be ready in one to two weeks. The hardest part here is patience and not getting to use the pool.
Cost: High. A pool deck's cost ranges between $3,000 and $12,000.
7. Hang string lights
Your pool party shouldn't' have to stop after the sun says goodnight. Flip on the switch and let the party carry on. Landscape lighting can accentuate your pool's architectural features, provide security, and offer a safe path from your pool to your home, sauna, or pool house.
Interested in adding a cozy aesthetic to your poolscape that signals a romantic evening? Hang string lights from the shade trees or along the pergola to create a charming landscape under twinkling lights. You won't remember the last time the pool felt this wonderful without the sun.
Effort: Low. If you're adding landscape lighting yourself, you can make a quick trip to the store for some string lights to hang around your pool landscape. Otherwise, call a professional to help with installation and design of lights that will go near a body of water.
Cost: Low-High. Hiring a professional to create a complex lighting design for your home may cost between $2,000 and $6,000.
But simple outdoor string lights may cost as low as $15 to $50. Even better, head to a dollar store, outlet store, or even the seasonal aisle of your grocery store for cheaper outdoor string light sales.
8. Add a sauna
Building a sauna near your in-ground pool will turn your poolscape into a dream, backyard oasis. When designed right, a sauna can provide a charming focal point, endless relaxation, and double as a pool house.
Nothing will relieve your stress like relaxing your muscles in the hot sauna and then taking a quick dip in the pool after a long workday. Now that's what we call the perfect dose of self-care.
Keep in mind that while a sauna is an entertaining feature to have in your backyard, it should always be used safely, just like your pool.
Effort: Medium-High. While an outdoor sauna can be a DIY project, taking on this project yourself will require plenty of time and energy. Building a sauna yourself may also lead to costly mistakes or injury, especially if you don't have the needed experience. Hiring a professional will decrease any chance of injury, expenses spent to correct errors, and your own time and energy.
Cost: High. Outdoor sauna installations typically cost between $3,000 and $6,000.
9. Jam out to landscape speakers
We love our music festivals and concerts here in Houston. Why not bring the music to your own backyard? With landscape speakers, you can transform your pool into an area with fun pop songs, your favorite jazz, and the best of country music.
A professional can help you determine the right speakers for your landscape and where to install them. Some yard areas may be better than others as sound can easily be absorbed by nearby structures, like hedges.
If you don't want to have visible speakers near your pool but like the idea of music at the pool party, consider buying speakers designed to look like rocks. They blend in with the natural landscape and won't stick out like a sore thumb.
Effort: Low. This backyard landscaping project will likely require little backache from you, as speaker installation is usually done by a professional.
Cost: Medium. Speaker installation cost typically ranges between $670 and $1,370. Costs will vary depending on the quality and number of speakers you buy.
10. Landscape for privacy
Don't let judging eyes or nosy neighbors ruin your private sunbathing or family cookout. If you need to block wandering eyes or want a better sense of security in the backyard, consider landscaping for privacy.
Privacy landscapes not only help create an intimate space; they also absorb sound and help keep out unwanted visitors. Some privacy barriers, like trees and hedges, are excellent at absorbing sounds. So, if your neighbors are complaining about the music coming from your yard (or you're the one complaining about them), tall trees, wood fences, or trellises may be perfect for your poolscape.
Effort: Low-High. The effort spent developing your privacy landscape will vary depending on the scale and scope of the project.
Cost: Low-High. Costs will vary depending on many project elements, including materials, the perimeter of your yard, and the barrier's height.
A Pool Perfect for Houston
Delicious grilled meals, no mosquitoes, and your favorite tunes –– that's what we call a stress-relieving afternoon by a Houston pool. With these tips and tricks for landscaping around your pool, you won't remember the last time your pool looked this inviting (or when you felt this good). So let's fire up the grill, call up your friends, and get down to relaxing.
When to Call a Landscaping Professional
Call a landscaping professional near you to turn your backyard pool into the getaway of your dreams. Consider working with a professional designer to ensure your design ideas exceed your expectations.
Need a whole new pool? Discuss potential swimming pool designs with a professional. Hiring a professional to design your landscape or pool may help save time, energy, and money.
Swimming in pool landscaping ideas but not a lot to spend on improvements? No worries. Many landscapers market themselves as budget-friendly and are happy to work within a set price range to give you the affordable landscape of your dreams.
Main image credit: Tim Gouw, Pexels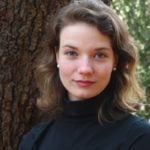 Jane Purnell
Jane Purnell is a freelance writer and actor in New York City. She earned her B.A. from the University of Virginia and enjoys a warm cup of French press coffee.