Some people may have switched to those artificial trees with the fancy, pre-strung lights and remote controls. But not you – you are a diehard real Christmas tree fan who is all about picking your tree "in the wild."
You don't really care that a fake tree can be used year after year. It will never look (or smell) as good as the real thing – or create the same kind of magical experience.
Now, the question is, where do you find go to cut your own tree? There aren't many farms in the middle of Houston. But venture just a little farther out and you are in for a real holiday treat!
Today, we're sharing the scoop on a very special type of Houston tree: fabulous Christmas tree farms that are close to Houston.
Dewberry Farm is a beloved family favorite each holiday season. The farm, located west of Houston in Brookshire, opens to the public each year in September for fall fun and pumpkin picking, then transforms into a holiday wonderland after Thanksgiving. You can enjoy holiday shopping, a magical trail of lights, wagon rides, and yes, even cut down your own tree. The farm carries three different types of trees: Leylands, Murrays, and Blue Ice. Each one is individually priced based on the type and size, but the average tree costs about $90.
Where: FM 362 & Morrison Road, Brookshire, TX 77423
Distance, direction from downtown Houston, drive time: 45 miles, northwest, 55 minutes
For those of you closer to Friendswood, Pearland, or other southern parts of town, Holiday Acres in Manvel is the place to go. When you visit Holiday Acres, you are actually getting two neighboring farms for the price of one! Holiday Acres grows both Virginia Pines and Cypress trees on its farm. Included with your tree purchase, you'll receive a hot cup of cocoa or cider, a hayride, and a cozy fire to warm up after choosing your tree. Prices start at $48.
Where: 8919 Mustang Bayou Rd., Manvel, TX 77578
Distance, direction from downtown Houston, drive time: 26 miles, south, 36 minutes.
Spring Creek Growers is located between Tomball and Magnolia north/northwest of Houston. This unique Christmas tree farm has been around since 1921 and sells Leyland Cypress and Virginia Pine Christmas trees. When you buy a Christmas tree at Spring Creek, not only do you get the experience of choosing your own tree, you and your family can also enjoy hayrides, games of cornhole, fishing, and more good old fashioned fun. Tree prices start at $65.
Where: 23803 Decker Prairie-Rosehill Road, Magnolia, TX 77355
Distance, direction from downtown Houston, drive time: 39 miles, northwest, 45 minutes.
On the east side, well, northeast to be exact, if you trek a little farther up Highway 59, you'll find Double Creek Farm, located in Livingston. Double Creek opens its Christmas tree farm around Thanksgiving time. It prices the trees by the foot, starting with 5ft trees – so they range from $40 up. You can cut your own Virginia pine, or choose from a variety of precut firs, spruce, or pine trees from Michigan. Or, if you are a Peanuts fan, there may be a Charlie Brown tree for you to cut. While you are there, be sure to catch a hayride, enjoy a hot steamy drink, and shop for unique gifts in the farmhouse giftshop.
Where: 1288 Oakdale Loop, Livingston, TX 77351
Distance, direction from downtown Houston, drive time: 79 miles, northeast, 1 hour 20 minutes.
Bonus Insights on Houston Christmas Tree Farms
To gain a little more insight into these tree farm gems, we asked someone who's been to all but one of them in recent years…
Laura Chiles of LC Photographers, a local photographer, has visited these farms both as a mom and for work – capturing holiday memories for families in and around Houston. She has spent time at Dewberry Farms, Holiday Acres, and Spring Creek during the holiday season.
"Dewberry is definitely an experience. It's a very large farm and all of the trees are beautifully maintained and manicured," she said.
"But Holiday Acres is fabulous! The property is smaller, and the trees are more natural and not as manicured as those at Dewberry, so you are not getting a perfect triangular tree," she said. "I actually prefer that for my photoshoots."
She also noted that Spring Creek was amazing. "It's somewhere between Dewberry and Holiday Acres as far as the size of the farm and how much the trees are manicured. What's neat about this location is that they give you a great map to follow to find a tree."
While each of these Christmas tree farms offers a slightly different experience, they all do a great job of helping you create fun family memories – whether you cut down a local Virginia pine or cypress tree, or purchase a pre-cut Frazier fir, visiting a Houston Christmas tree farm is worth the trip!
Main image credit: Christmas Tree farm, Richard Masoner, CC by SA 2.0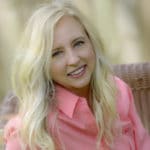 Jennifer Lester
Jennifer Lester is a freelance writer and social media strategist who covers a variety of home and garden topics. She's a graduate of Texas A&M University and the proud mom of three boys. In her spare time, she volunteers in her community and her children's schools.