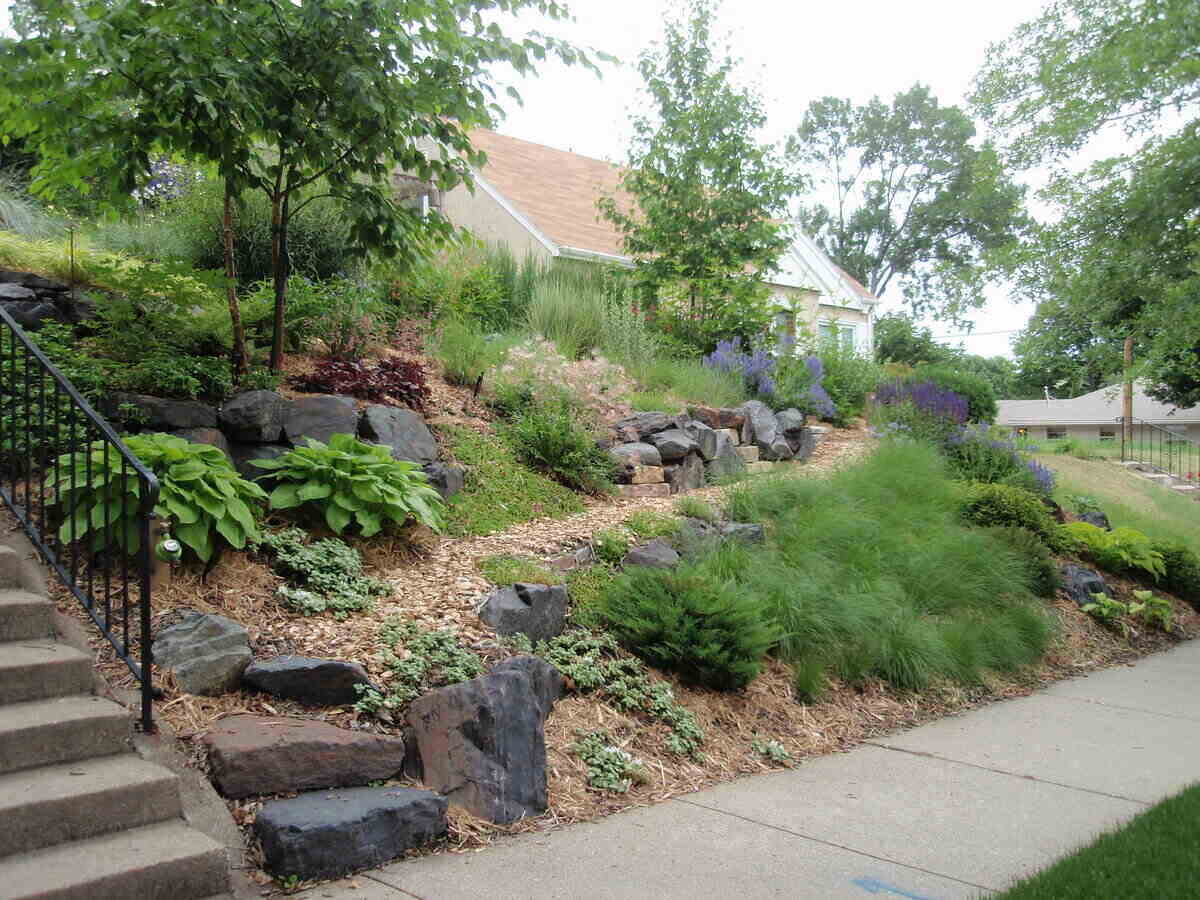 Of all the landscaping projects a homeowner will face, thinking of creative ideas to landscape a slope is probably the most challenging. However, when properly designed and landscaped, a slope can add eye-catching appeal to the area and be a problem-free addition for years to come.
Check out these striking slope ideas.
Landscaping and more at the click of a button
With LawnStarter
6 Creative Ideas to Landscape a Slope
1. Mulch Your Slope
The easiest and least expensive option is to mulch your slope. For best results, use gorilla hair mulch, which is fibrous and has more traction. After laying landscaping fabric (to reduce weeds), put down jute netting to ensure the mulch stays put.
2. Plant Your Slope
A sloping garden is a simple way to spruce up your slope. Choose plants that have deep, fibrous roots to keep the soil and themselves in place. Good options for your garden include low, ground cover plants like violet, periwinkle, and ice plants, which can be used in both small and large areas. If you're looking for additional options, try shrubs or low cleanup plants like elderberry or creeping juniper.
3. Install a Wood Structure
A wooden structure can range from a small reclaimed wooden staircase to an expensive, elaborate wooden arch. Other ideas include:
Railroad ties
Ramps
Railings
Tiered garden beds
Wooden sculptures
Keep in mind that some options are more labor-intensive, planting the bases of structures into slopes for stability. However, with imagination, options are limitless.
4. Erect a Retaining Wall
A retaining wall has tons of media options: wood, poured concrete, concrete blocks, stone blocks in various shapes, colors, and sizes, and the list goes on. This option can be more expensive as many homeowners choose to hire a professional. If you choose to DIY your retaining wall, just be sure to install proper drainage.
Get quality landscaping at an affordable cost
With LawnStarter
5. Create a Water Feature
Water features can be one of the more expensive options, but the results are stunning. Taking advantage of the natural gravity of a slope, fountains, waterfalls, and small ponds are all gorgeous options, and they come in a wide range of colors, sizes, and infinite styles.
6. Create a Combination
Why settle on one idea? Try a combination of these ideas to turn your slope into a unique showstopper. Whether it's stairs flanked by a tiered garden or simple mulched area dotted with unique wooden sculptures and perennials, the world is your oyster. You can even dig into the slope to add a fire pit.
Factors to Consider Before Landscaping a Slope
Grade of the Slope
Knowing the grade of your slope is the first important consideration when choosing among landscape ideas for a slope. You can probably tell by looking at the slope whether its grade is steep or not. Mississippi State University defines steep slopes as having the land rise greater than 20 percent in angle.
In everyday terms, this translates to a 2 feet elevation change for every 10 feet of area for walking.
Steep slope: If you have a steep hillside with a rise of 50 percent or more, you won't be able to rely strictly on vegetation to hold everything in place and will require a combination of landscape design methods to control erosion and the loss of topsoil.
Shallow slope: Slopes that range around 20 percent are usually more stable and not difficult to maintain, as you don't have the same problems with erosion as you do with a steep slope. It is possible to stabilize slopes of 33 percent or less by establishing vegetative plantings on them.
Drainage and Soil Erosion
Steep slopes: The biggest concern when it comes to steep slope landscaping ideas is water runoff or drainage from the top of the slope to the bottom, which causes soil erosion if not properly dealt with.
When conditions are especially windy and rainy, water drains from the top carrying down soil, mulch, or rocks and depositing them at the base of the slope. In some cases, the runoff causes channels to form in the slope and can undermine the top's stability.
Soil types also play a part in erosion, as sandy types wash away easier than heavier soils like clay. In addition, you want to make sure the water drains away from your home's foundation.
Shallow slopes: When dealing with a smaller slope, you don't have these same concerns with drainage and erosion as you do with steep slopes, provided you use appropriate plants to help hold the soil in place.
Don't fret because when it comes to ideas for landscaping a slope that is steep, you have various methods to deal with the problems of drainage and erosion.
Options for Preparing the Slope
Whether you are landscaping a sloped backyard or landscaping a sloped front or side yard, you have a wealth of options that fit into your design style and solve the problem of the slope's steepness causing erosion.
Those dealing with a smaller slope can also incorporate these landscaping ideas to add more elements to the outdoor space design. Regardless of if you are installing a low-maintenance, low-budget bare rock garden, or a front-yard landscaping showstopper where the expense isn't a problem, there's an option for everyone.
Erosion Control Fabrics: There are various options in erosion control fabrics available to use on a steep slope, including biodegradable choices with prices fitting into everyone's budget.
Landscape fabrics for hillside gardens include coir netting, logs, and mats, as well as selections in geotextiles. These products lay on top of the soil holding it in place.
Trenches: A relatively inexpensive way to control erosion and the flow of water, as well as add to the slope's design is by creating properly placed trenches in the slope that direct the flow of water.
Line the trench with river rocks to add to the design, as well as controlling the erosion. Drip irrigation is also an option, or you may opt for drought-tolerant plants.
Retaining Walls: Although you might require a building permit depending on the size of the retaining wall, adding a retaining wall at the base of the slope will not only assist in stopping erosion but can work as a design feature.
For those landscaping a slope on a budget, using pressure-treated landscaping timbers is not only a low-cost option, but they will last for quite a few years.
A more expensive but more natural look is creating a large-rock wall at the base of your hillside landscaping. In addition to a natural stone wall, you can use bricks, cinder blocks or concrete to form the barrier.
Step Terracing: Adding step terracing to your slope acts as several retaining walls spaced throughout the hillside garden. Terracing also creates garden paths, giving you access to your flower beds and colorful groundcover plants.
Various areas on the slope are flattened, with landscape timbers or railroad ties supporting the sides of the step. Landscaping a terraced slope also has options to fit into everyone's backyard landscaping design budget.
Planting the Slope
When it comes to landscaping a slope, plants do more than create attractive focal points. They do double-duty, controlling erosion while looking pretty. Those landscaping a slope on a budget have a wealth of options that won't break the piggy bank.
However, there are some key points about your slope you need to take into account before you go on a plant-buying spree.
Water runs downhill. Blame that darn gravity. So the soil at the top of the slope will have a tendency to be drier than the soil at the bottom, so choose plants accordingly.
Note the slope's light conditions throughout the day. Are you landscaping a shady slope area or one located in the sun? Select groundcover plants that will thrive in the conditions.
Once you take all the conditions of the slope into account, now comes the fun part – purchasing your plants.
Purchasing Plants for a Slope
Since the plant's root system works as soil anchors, holding it in place, it's best to use a mix of plants including groundcovers, ornamental grasses and shrubs. You can also space annuals throughout the area and replace them with the change of seasons.
Native plants offer you the least amount of problems, as they are used to the climate conditions in the area. You can usually find native plants ranging in grasses, flowering types, and shrubs.
Grass and Mowing on a Sloped Yard
Grass is, of course, an option for landscaping a slope. But landscaping a slope will have two challenges, one short-term, and one long-term.
The short-term issue with grass on a slope is getting it to grow. Growing grass from seed is the less-expensive option, but that gravity thing rears its head again: Scattering seed on a slope and then watering it will cause the seed to wash downhill.
How to Plant Grass Seed on a Slope
Till thoroughly
Seed as normal
Cover the new seed with mulch
Water gently
Remove the cover when the grass seedlings emerge.
Growing grass from sod is more expensive but has the benefit of near-instant gratification. Lay sod at right angles to the direction of the slope, and use sod stakes to hold them in place.
How to Mow Grass on a Slope
Use proper mowing techniques. With riding mowers, experts say, always mow up and over the hill. Do not ride at a tilt where the top-heavy riding mower could tip over on its side.
The U.S. Occupational Health and Safety Administration advises those with riding mowers to consult their owners' manuals, which should specify how steep a slope the mower can tolerate.
If no specific advice is available for your mower, set a limit of no more than a 15 percent slope.
It's the opposite with push mowers, which are more bottom-heavy and can tolerate being tilted a bit more. Push mowers should run along the slope, rather than up and over it.
Although figuring out how to properly design and prepare your slope, especially if you're landscaping a steep slope, can take a bit of time and preparation, the result is worth it. You end up with a functioning slope that is problem-free for years to come and can be the star of your property.
FAQ about Sloped Landscaping
Can I Plant Shrubs on a Slope?
Yes. You can plant shrubs on a slope, but like other plants, be sure to choose shrubs that have deep roots to hold them in place. Shorter shrubs are best to keep gravity from taking effect and tilting your plants. Some great choices include:

• Dwarf forsythia
• Golden St. John's wort
• 'Texas Scarlet' flowering quince
'• Sixteen Candles' summersweet
• Cutleaf stephanandra
Can I Plant a Vegetable Garden on a Slope?
As long as the slope isn't too steep, yes, you can plant a vegetable garden on a slope, but choose your veggies wisely. They'll need deep roots. Plant them in rows perpendicular to the hill. Great hillside vegetables include:

• Salad leaves like lettuce or spinach, grown best in a shaded area
• Root vegetables like carrots or radishes
• Vined vegetables like squash, but they'll need room to grow
• Peppers should be planted as seedlings after the last frost

Consider using a tiered garden too. 
If my Slope is too Steep, can I Change It?
Yes, you can use terraces. Cut from one part of the slope and fill in another part. This will reduce the slope grading, making landscaping on a slope easier.
Don't Shoulder the Slope Alone
Landscaping and hardscaping results are satisfying. But they're also back-breaking, time-consuming, and, especially if you're a beginner, frustrating. You don't have to shoulder the time, labor, and frustration alone. In fact, you can have this project done fast, without breaking a sweat or the bank.
There are tons of local, experienced, highly rated landscaping professionals in your area. Whether you're looking for information, ideas, or to hire a professional today, we've got your back. A free, fast, and easy quote is just a call or click away.
Order top-notch landscaping service with easy online booking
With LawnStarter
Main Image Credit: Field Outdoor Spaces / Flickr / CC BY 2.0
Joyce Starr
Joyce Starr has been writing on horticultural and landscaping topics for over 15 years. In addition, for the past 20 years she's owned and operated a landscaping and design business. She shares her experience and passion for all things green through her writing.