No of-fence, but I think your front yard is missing something.
Building a fence around your front yard can increase your home's curb appeal, elevate your landscape design, and make your home more secure. And with so many fencing options, you don't even have to break the bank to do it.
If a new fence is starting to sound like a good idea to you, check out these 11 front yard fencing ideas.
Note: All prices mentioned here are estimates to help you compare the cost of different front yard fence ideas. To find out how much your project will really cost, visit your local hardware store or contact a professional landscaper who installs fences.
11 fencing ideas for your front yard
1. Picket fence
If you've ever heard the words "American dream" home, you're familiar with the concept of a white picket fence. This classic front yard fence style won't make your yard much more private or secure, but it's useful for marking your property line and keeping neighborhood pets from doing their business on your lawn.
Depending on how much money you want to spend, you can use wood or PVC vinyl fencing for your picket fence. Wood fencing will be cheaper in the moment, but vinyl requires far less maintenance in the long run.
Cost of materials: $10-$20 per linear foot for wood, $20-$25 per linear foot for vinyl.
Necessary maintenance: Repaint or restain a wood fence every two to three years, wash a vinyl fence as needed if you notice dirt buildup.
2. Aluminum/wrought iron fence
Aluminum and wrought iron fences make a great border for a beautiful front yard. With spiked railheads like the ones pictured, these decorative fences also can serve security purposes. Wrought iron/aluminum fences come in limitless styles and colors, so you should be able to find one to match any front yard landscaping.
Cost of materials: $20-$35 per linear foot.
Necessary maintenance: Apply a fresh coat of primer every five years to prevent rust and remove rust ASAP if you notice any.
3. Tall privacy fence
Tall privacy fences block views, so they're more common as backyard fences. But maybe you don't care about curb appeal or showing off your landscape to the world. Maybe you just want to keep your neighbors out of your business. If that's the case, you can build a privacy fence around your front yard using wood, vinyl, or composite material.
You don't have to completely sacrifice your home's exterior aesthetic in favor of privacy, though. A more modern fence with horizontal slats or a unique design can be just as eye-catching as an impressive landscape design.
Before you start building your privacy fence, check your city, county, and homeowners association's front yard fence height rules to make sure it's allowed.
Cost of materials: $10-$20 per linear foot for wood, $20-$25 per linear foot for vinyl, $15-$45 per linear foot for composite material.
Necessary maintenance: Wooden fences require painting or staining every two to three years, while vinyl and composite only need occasional washing to look their best.
4. Privacy hedge
If you want privacy in your front yard but a tall fence doesn't match your style, maybe a privacy hedge is the best fence idea for you. Planting a privacy hedge around your front yard will keep out prying eyes without sacrificing curb appeal. Privacy hedges also block out excessive noise and wind.
Some of the best plants to use for privacy hedges include leyland cypress, Korean boxwood, and privet.
Cost of materials: Check a local nursery for plant prices.
Necessary maintenance: Plant care, regular pruning.
5. Brick or stone columns/fence posts
Incorporating brick or stone columns in your front yard fence might not be the most budget-friendly fencing option, but it's great for boosting your home's curb appeal and property value. This feature will make your home look classier and more upscale.
Between the columns, you can install your choice of ornamental iron, wood, vinyl, or composite fence panels. Depending on which you choose, this type of fence could be good for security and privacy in addition to landscape decoration.
Cost of materials: $10-$80 per square foot of brick or stone (price varies greatly depending on the thickness of your columns, how many you need, and what specific brick or stone you use).
Necessary maintenance: Scrub away grime and dirt buildup as you see fit.
6. Stacked stone fence
Building a low stacked stone fence or wall around your front yard will give your home the rustic look of a cottage in the country. You could easily incorporate this type of fencing into your garden design.
If you make your stacked stone wall high enough, it can also keep energetic pets and small children safely contained.
Cost of materials: $5-$60 per square foot depending on wall thickness and quality of the stone.
Necessary maintenance: Clean and apply sealant every year or two.
7. Split rail fence
Another rural-inspired fence design idea, the split rail fence is a classic. This type of fence can't provide much privacy or security, but it's great for marking your property line while still showing off your landscape. A split rail fence could be a quaint addition to your front yard garden design.
Cost of materials: $4-$12 per linear foot.
Necessary maintenance: Apply boiled linseed oil to protect and seal the wood.
8. Trellis/lattice fence
Trellises and lattice panels are perfect for garden fences. You can thread vines and other greenery through this fence to make your front yard more private and create an eye-catching landscape feature that will make a great first impression on your neighbors and guests.
For added oomph, incorporate a matching pergola or arbor with your trellis or lattice fence.
Cost of materials: Varies depending on the material it's made of and whether you DIY or buy it.
Necessary maintenance: Cleaning as needed and plant care/pruning for vines.
9. Chain-link fence
Chain-link is an inexpensive fencing option that adds an extra level of security to your home. While this fence won't make your front yard private, it's effective for keeping wild animals out and pets or small children in your yard.
Chain-link is also durable and versatile since you can find it in several different heights for different needs.
Cost of materials: $5-$40 per linear foot (the upper range is only for tall, thick-gauge chain-link used for extra security).
Necessary maintenance: Apply rust protection yearly for maximum longevity.
10. Wire fence
Aside from being affordable and low-maintenance, wire fencing is also relatively easy to install as a DIY fence project. Like chain-link fencing, this option won't work as a privacy fence. What it will work great for, though, is containing pets and protecting your garden from pest animals.
Cost of materials: $3-$5 per linear foot.
Necessary maintenance: Repairs if damaged.
11. Driveway gate
If you're looking for the perfect combination of security and style, driveway gates let you manage who can enter your property, and they come in a huge variety of designs to match any front yard landscaping.
You can choose an automatic gate that responds to remote controls or motion sensors, or you can go for a traditional manual gate with a latch.
Cost of materials: Prices vary based on which fencing material you use and the size of the gate, but generally expect to spend about $800-$4,000 for materials.
Necessary maintenance: Regular cleaning, greasing, and rust removal.
FAQ about front yard fencing
How close to my property line can I build a fence?
In most cases, you can build your fence right on your property line. Check your local city, county, and homeowners association rules before you begin your project to make sure.
What is the cheapest front yard fence to put up?
Hog wire is the cheapest front yard fence, with some types of privacy hedges (privet and bamboo, for instance) coming in close second.
When to Call a Landscaping Professional
If you want creative landscaping ideas that seamlessly incorporate your front yard fence and improve your home's curb appeal, seek help from a professional landscaper. With their trained eyes for landscape design, pros can help your front yard landscaping reach its full potential.
You're also better off hiring a landscaping pro if your project involves an automatic driveway gate, stone or brick elements, or any other feature that's more complicated than your basic fence panels.
Fences aren't just for the backyard. You've got plenty of front yard fencing options that can enhance your landscape design and help your home dazzle passersby at first sight.
Main Photo Credit: Pixnio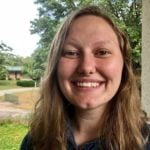 Jordan Ardoin
Jordan Ardoin is a writer and indoor plant enthusiast hailing from Florida. She enjoys reading fantasy novels, cuddling with her bulldog, and collecting succulents (because they're so hard for her to kill).